Well, why give it away on the cover?? That's right, lil' ol' Spider-Man is about to fight one of the most powerful beings on the planet one-on-one. But unlike that whole Firelord debacle, there's a reason he can hold his own this time. Erik Larsen & Al Gordon tag in as penciler and inker, with Erik even redrawing Todd's cornerbox Spidey up there. Peter opens the issue experimenting with his powers, demonstrating how he can make his webbing into a giant model of its chemical composition with a thought.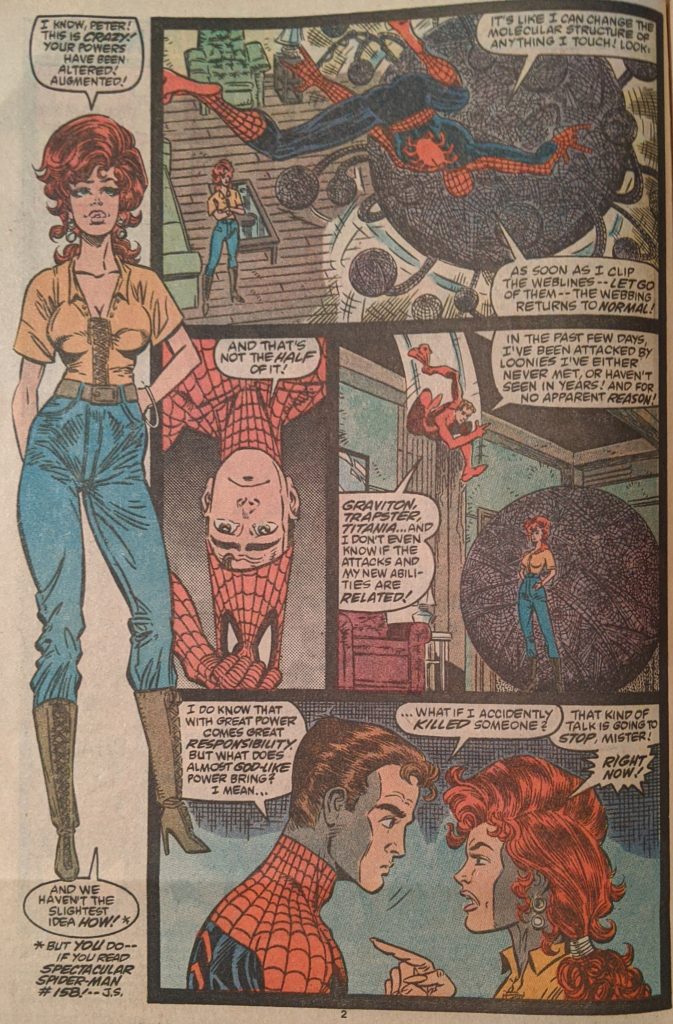 The implication that MJ is about to try to sweep up that giant ball is baffling. In the news paper text down there, Larsen writes "McFarlane walks!" 328 is his last issue on the title, and then Larsen will be the new guy, and I guess he already knew that this month. Doom, Magneto, Kingpin & The Wizard discuss how they've had 2 goons routed by Spider-Man, and Acts of Vengeance isn't going to work if they don't destroy their targets. Magneto volunteers to go next, for reasons of his own. Meanwhile, Pete & MJ watch Flash Thompson handily knock down his sparring partner, and Peter tells him he probably has a chance as a boxer. But he asks him if he worries about hurting the other guy. Flash says you have to look out for yourself first in a fight. Then he goes to take a shower, and his new girlfriend Blaze proceeds to hit on Peter and the guy Flash fought in a matter of seconds. Poor Flash. Peter heads to school as Magneto start looking for Spider-Man, thinking about his reason why.
I wonder if Larsen was told to adopt these kinds of page layouts because Todd did them, if he chose to do it Todd's way to give the book consistency, or if he arrived at a similar page design philosophy on his own. Hard to know, but not hard to see it happening. Anyway, Peter's looking for clues in Dr. Lubisch's lab, something the Doc doesn't appreciate even a little, so he's out of luck there. He decides to go test his powers, and finds a junkyard where he can zap come cars to bits. But the guy who's supposed to be crushing those cars calls in a tip to a TV station. But meanwhile…
It's our first look at Sybil Shane, MJ's character on Secret Hospital. Back at the docks, Spidey is lifting a giant barge like it was nothing, marveling at his own strength, when it gets yanked out of his hands by Magneto. Spidey wonders why until he sees the news crew filming him. Then Magneto launches a cloud of jagged metal at him, which he handily dispatches with a barrage of his new finger zaps.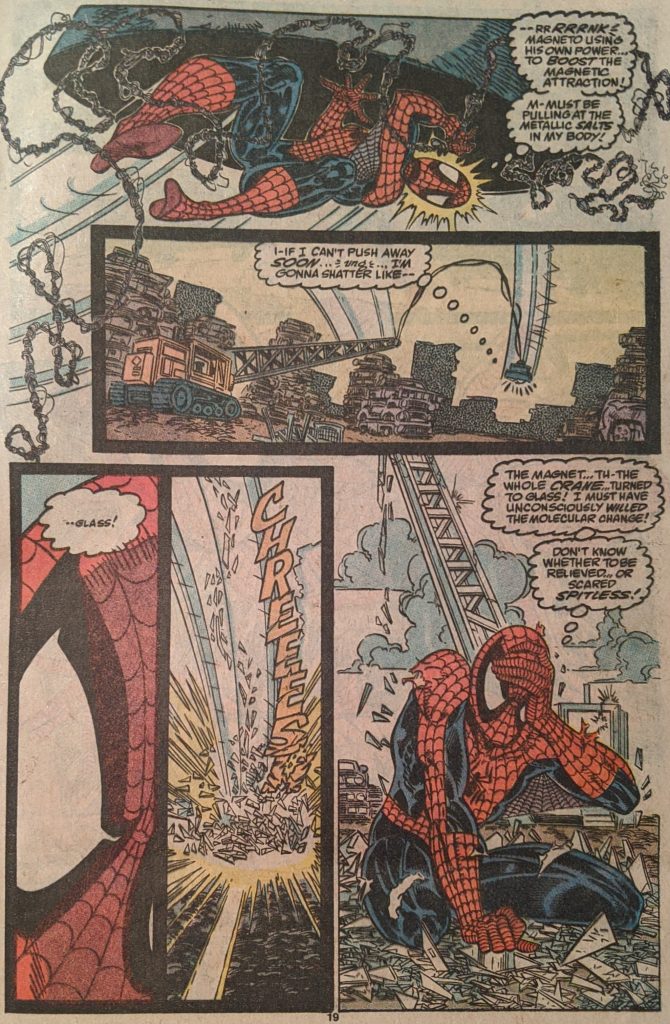 Spitless! A fun use of Magneto's powers, and a crazy expansion of Spider-Man's. Magneto starts throwing cars at him, so Spidey webs up a giant baseball bat and knocks them to bits before launching himself into the air to try to get some answers.
Spidey flies the boat to shore, then swings back home because he's way too freaked out.
You might think this can't go on much longer. This is too weird. But you'd be surprised. Now, me, as a child of 11? I was loving this. My favorite guy was suddenly looking like the most powerful hero in the whole Marvel Universe! I had no theories about what was going on, I just knew it was all right with me. I remember having arguments with my few comic reading friends about it. I was caping hard for Spider-Man. Nothing could stop him now!