Acts of Vengeance! This was a simple but fun crossover idea where the villains of the Marvel U, realizing they never seem to beat their chosen guy, get together and swap. So for a few months, all the heroes were being assailed by random villains they'd usually never met, and fun and unique pairings resulted. Like this one: Spider-Man vs. The Avengers' gravity-altering foe, Graviton. You will note that's certainly not Todd McFarlane. It's Colleen Doran, making an unusual appearance in the superhero world. She was known at this time and after for her long-running independent comic A Distant Soil, and has gone on to work with the likes of Neil Gaiman and Warren Ellis. She is, frankly, kinda slumming it here. But nabbing a fill-in on ASM in 1989 was probably a very lucrative choice, so good for her! David Michelinie and Bob Sharen hang in there from the regular team, with Andy Mushynsky rounding things out in the inker position. Peter & MJ (Let's be honest, mostly MJ) are throwing a housewarming party for themselves in the loft they recently started renting from Harry Osborn.
A lot to take in. Sambouka! Phil Chang is back, and a professor now! Randi, Candi & Bambi back from obscurity! Is the white guy in the first panel supposed to be Steve Hopkins? Whoops. The fancy stuff is from Jonathan Caesar, of course, still trying to intimidate MJ even from prison. She's overwhelmed for a moment, but after talking it out with Peter, gets her game face back on. Eventually, the party winds down, and Peter has to go check in at The Bugle. Flash says he's going the same way.
It's interesting, seeing Doran's pages in this title at this time. Her art is a far cry from what's rapidly becoming the hot trend in comics in '89, and yet, it's so much more solid and… I hesitate to say "professional" looking, I don't mean to dog McFarlane and the other rising stars of his time (Well, some of them), but… consistent, let's say that. A jarring change from Todd and Erik Larsen. Anyway, at The Bugle, Peter finds things in chaos, Puma's acquisition of the paper having people not sure about the future. As Joy Mercado puts it "I like the raise I got, but I'm not sure I like the job as much." Kate Cushing has no time for our hero, so he's outta luck, and leaves thinking how crazy it is that this is all because of him. He switches to Spider-Man and heads for Queens to see Aunt May, but we check out Graviton instead.
Bit of an ego for being a straight C-lister. He crumples up the helicopter and watches it fall into the ocean before setting his sights on The Daily Bugle to draw out Spider-Man. Unfortunately, he's only just gotten to Aunt May's house. He runs into Arthur Checkov on the street, who is moving out of the boarding home, so we won't be seeing him again. Inside, May is happy to see him, but worried about Nathan.
I miss when Nathan wasn't a grouch. I can only assume first DeFalco and then Michelinie started making him less cool with the intent of making it easier to get rid of him someday, but even so, as conceived by Roger Stern, Nathan was cool. Back at Pete & MJ's apartment, Harry says MJ missed a call from some guy he's never heard of, and she thinks it was probably Caesar. Meanwhile, Graviton walks into The Bugle, and then, trying to decide how to get Spider-Man's attention, levitates the entire building into the sky!
We are on page 20 of 30 and the hero hasn't even encountered the villain yet! But he quickly does, making excuses, changing clothes and swinging over there as fast as possible.
Owing Nick Katezenberg one for that can't make Spidey too happy, but he presses the advantage. Joy Mercado points out that Spider-Man can't knock Graviton out or the building will crash to the ground, and that realization leaves him open to attack. He very nearly fails to Nick Katzenberg from being crushed by office furniture for his role in the fight, but Spidey himself doesn't come out as lucky.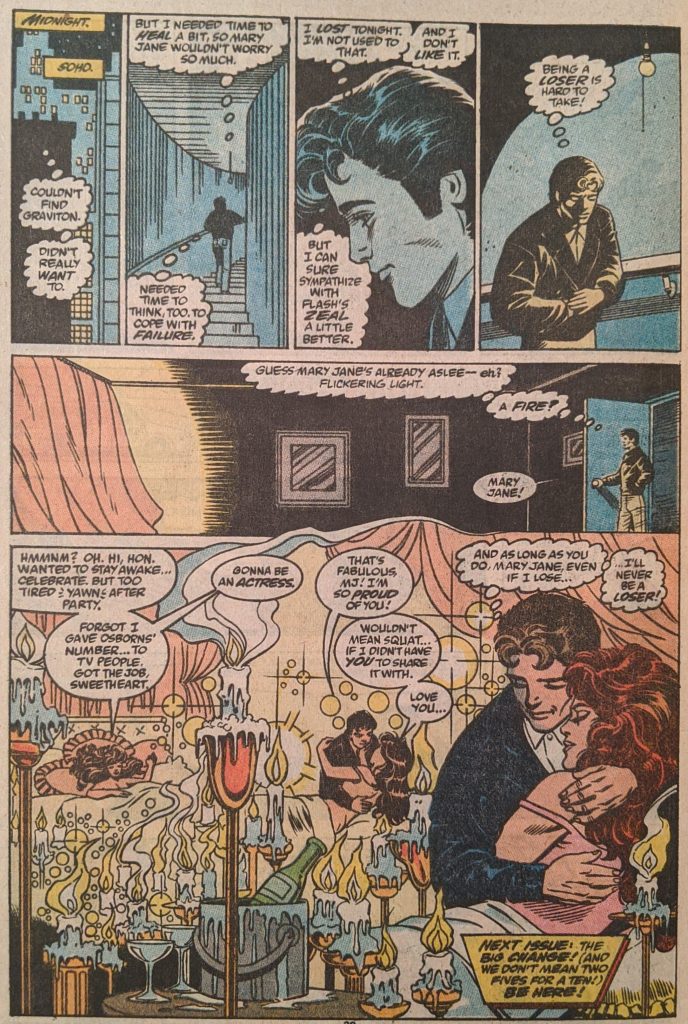 MJ's gonna be a TV star! And while a soap opera might not be her ideal move, it fits nicely with her backstory of wanting to be an actress since she was a kid. We'll see how that turns out. Kind of a strangely structured issue. I hazard a guess that Michelinie realized Graviton was so far out of Spider-Man's weight class that giving them more time to fight wouldn't be good idea. I got to meet Colleen at Heroes Con in 2019, and in among beautiful, award winning books from all through her career, she still had copies of this at her table. I guess Spider-Man makes a good conversation starter. Next post, things get weird! If you're not familiar with this period of Spider-Man, you sure won't see it coming.