Now there's a cover! Who could resist finding out what this is all about? Inside, new regular writer Peter David makes his debut. We've actually seen the end of his run since we do this all out of order, but here's the beginning. David, of course, is most famous for a superlong run on Hulk, but he did all sorts of things. He's joined by new semi-regular penciler Rich Buckler, a longstanding Marvel fixture by now, inker Armando Gil and the ubiquitous Bob Sharen. We start with Captain Jean DeWolff and Spider-Man having a talk with a dude who says they didn't think anyone would get hurt before beginning to tell his story.
Almost immediately, we get to the kind of thing that has always prevented me from being a Peter David fan:
David loves the sort of over-the-top "comedy" represented by the kid up there reenacting Batman's origin. Ho ho. Never as clever as he thinks it is, but always distracting enough to take you rrrrrrright out of the story. I do not like it. At any rate, the guys set out to map Spider-Man's movements throughout the city, and more or less did. Now, the Spider Sense is always a tricky thing. People routinely have it react to things I think historical evidence says it should not. But here were have it not reacting to something I think it should. Spider-Man has routinely gotten a warning when someone would see him unmask, or when he shouldn't go into a place, or when someone with ill intent just walks by. I submit that being spied on like this should count. It's a nonsense power so I'm not holding that against anyone, just saying. The dudes also realized all his pictures in The Bugle are taken by Peter Parker. Along the way, we learn that Ashley guy is also in the room in the present with DeWolff and Spidey, and they're all in a hospital, which doesn't bode well for the 3rd guy. We're told the gang decided to make up a fake villain to harass Spider-Man, and the 3rd guy, Thomas, created him by rolling an RPG character.
(She-Hulk was photographed sunbathing topless by a paparazzo in Fantastic Four thanks to comics' horniest writer/artist, John Byrne) Inside the envelope is a note saying "Spider-Man — your time is near!! — The Blaze" which bursts into flame after a few seconds. JJJ wants to go on the attack, but Robbie says he won't encourage this, because Robbie is the smart one. Later, Mayor Ed Koch is doing a photo-op at a renovation project when "Spider-Man you are doomed The Blaze" is found written in fire on a wall (Somehow?). The boys delight in the panic it causes, except for Thomas, who says he wants out. Ashely and Barry continue, letting Spider-Man wonder who The Blaze is for a few days while continuing to monitor him and also while working on a costume.
I'm going to guess doing this in front of that "ESU" sign is going to prove a mistake. Rather inexplicably, the whole staff of The Daily Bugle is now rattled by The Blaze in a montage, including Peter Parker. Feel like anyone who's been through what he has to this point should need a little more than 2 pranks before getting worried.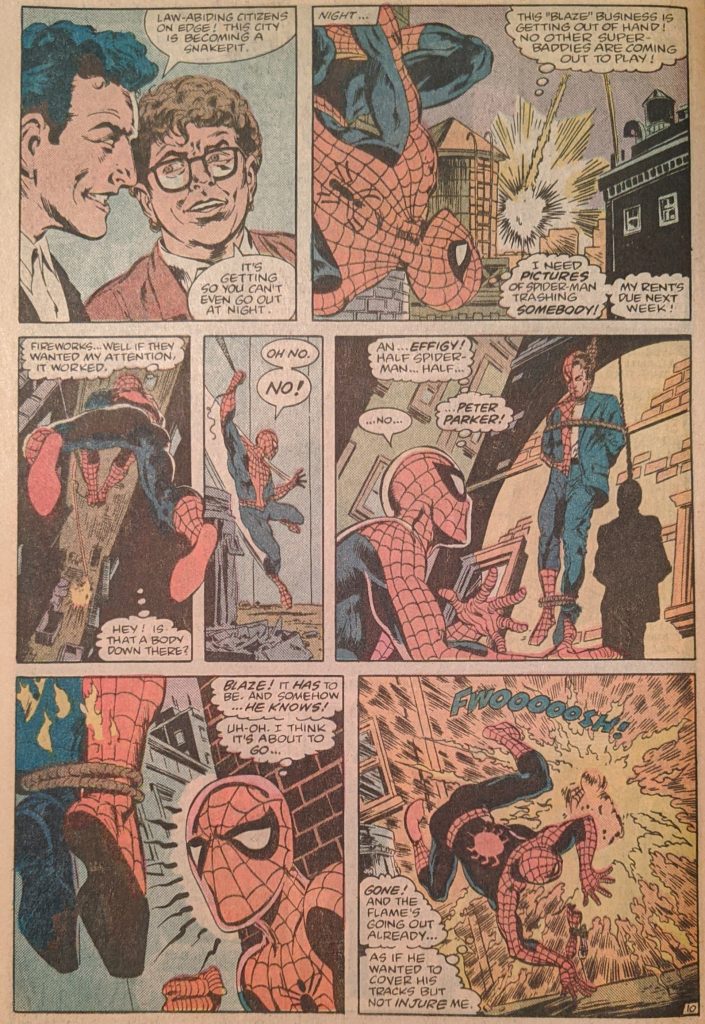 Now there's a lucky guess!
See, the boys say that 2 days later, they were in the library plotting to make a giant hologram of The Blaze when The Blaze showed up. They were pretty shocked since he's not real, but he said he's grateful to them for making him the man he is today and walked out a 3rd story window, disappearing. Soon after, Spider-Man saw a "B" signal flare, and when he arrived to confront The Blaze, the apparently real villain disappeared in a flash of light. He left behind a note saying to meet him at "the arch" at 10 pm tonight. Then Ashley & Barry got a similar note saying to come see Spider-Man fry.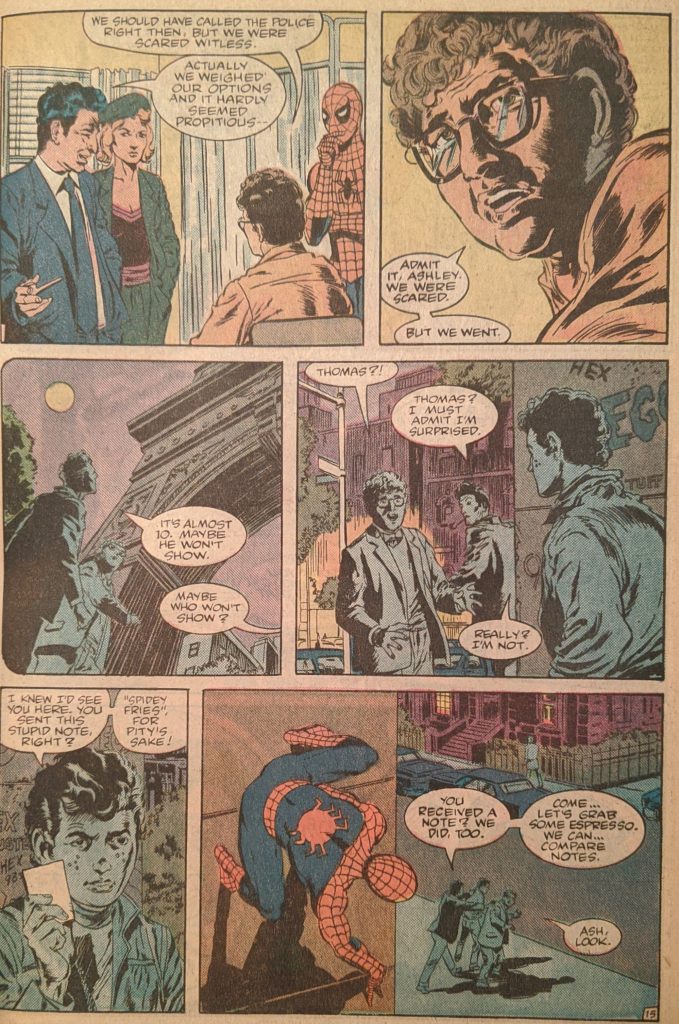 Spidey intercepted the kids and told them to leave (They were already leaving?) and then The Blaze showed. He seemed to be controlling fire through pyrokinesis, amazing the teens. Spider-Man was having no trouble avoiding The Blaze's attacks until he threw a "killer frisbee" (What now?) which managed to wing him in the head. Thomas decided he had to save Spider-Man.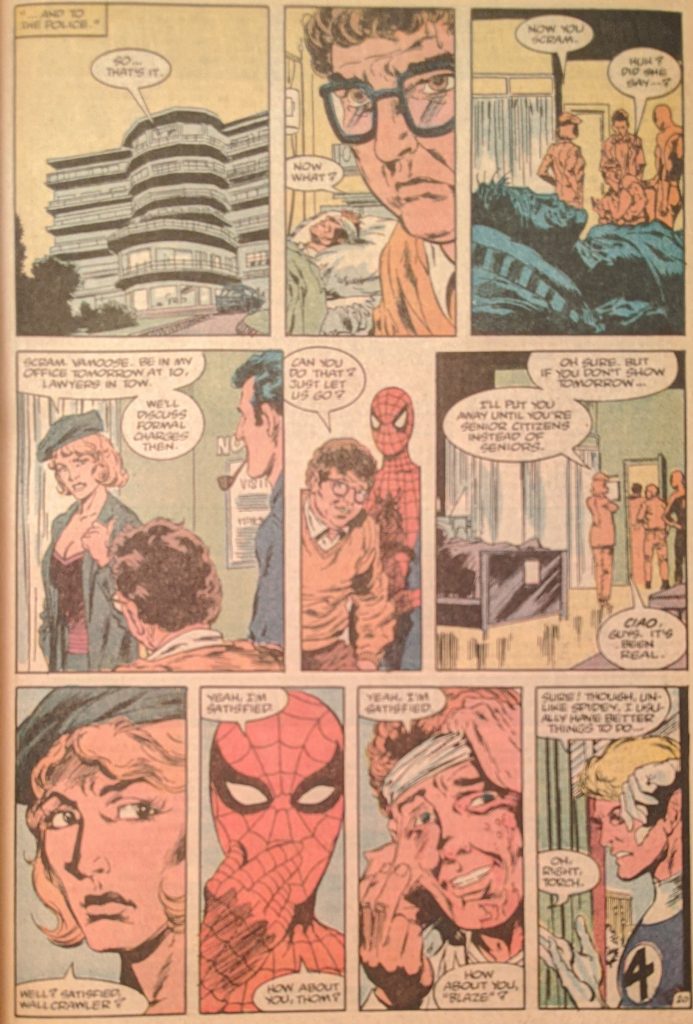 Spidey wanted nothing to do with this until Torch promised him $50. Well, that's what Torch tells DeWolff, anyway, but Spider-Man thinks back to how Peter Parker really got involved…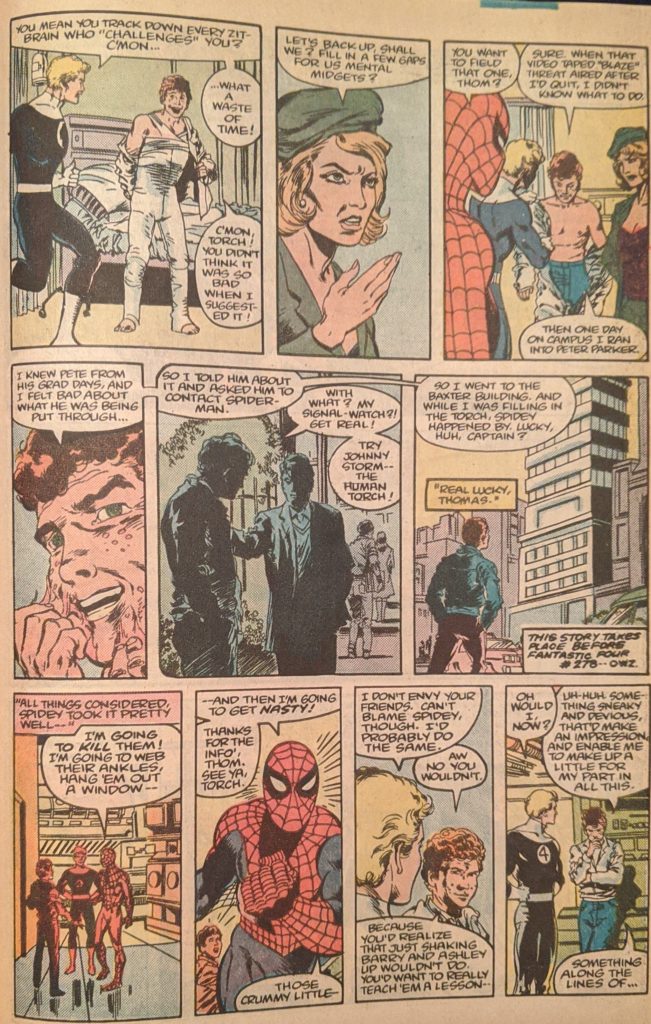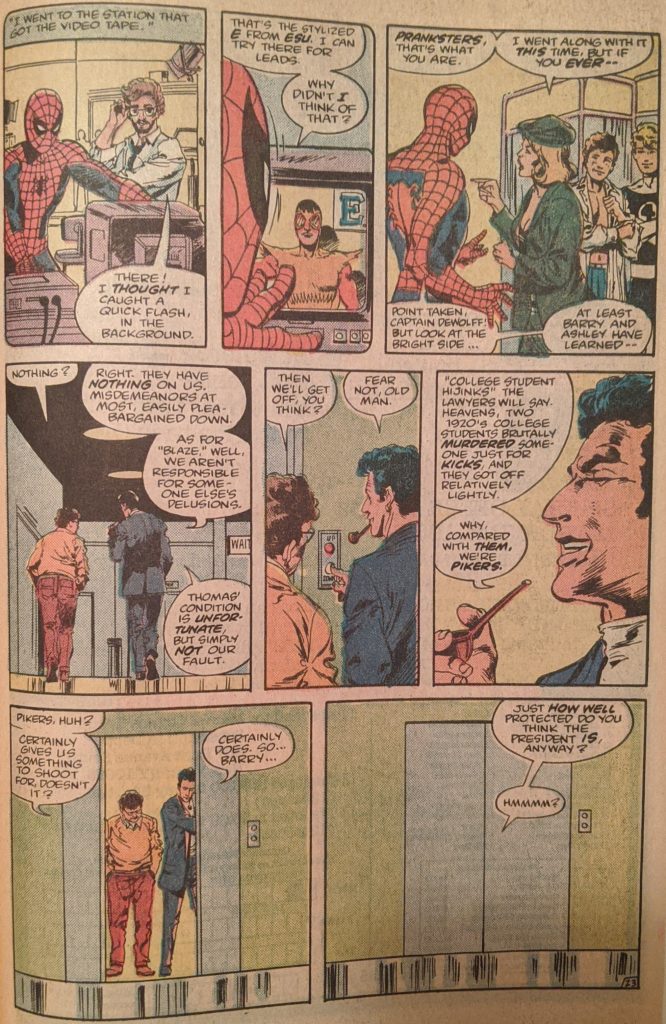 Hey, I called it. That explanation was ridiculously over complicated. And that story was just ridiculous. It did not live up to its cover.