Looks like either $5.00 or $8.00 written on that bag. No longer have a clue what I paid for it, but probably not that much. For the moment, Web is still Louis Simonson, Greg LaRoque, and Jim Mooney, with the mysterious "Dr. Martin" on colors. This comic was colored by a shoe! We begin with The Vulturions, latest in a long line of noble but futile attempts to replace Adrian Toomes. You know, Honcho, Gripes, Sugar Face and Pigeon! Household names. They're mad that Spider-Man made them look like jerks last issue.

Whoever that is hits Gripes with a blowgun dart that almost kills him, but they have an antidote. The boss says they're going to practice til they're all good with the blowguns, then rob a bank, then kill Spider-Man. A very full afternoon. Might I suggest a weapon that doesn't require you to put both hands to your mouth when wearing a wing suit? They can't hear me. Elsewhere, Spider-Man is swinging around, doing Spider-Man stuff and recapping, the usual for him, on the way to buy Aunt May a hat for her birthday. You may recall the thrilling saga of The Hunt for Aunt May's Hat in the final issues of Team-Up. While he's doing that, the Vulturions rob an armored car with their goofy blowguns, hoping it'll put them on The Kingpin's radar. So many goons do so many things hoping The Kingpin will notice them around here. Say, what's Peter Parker up to now?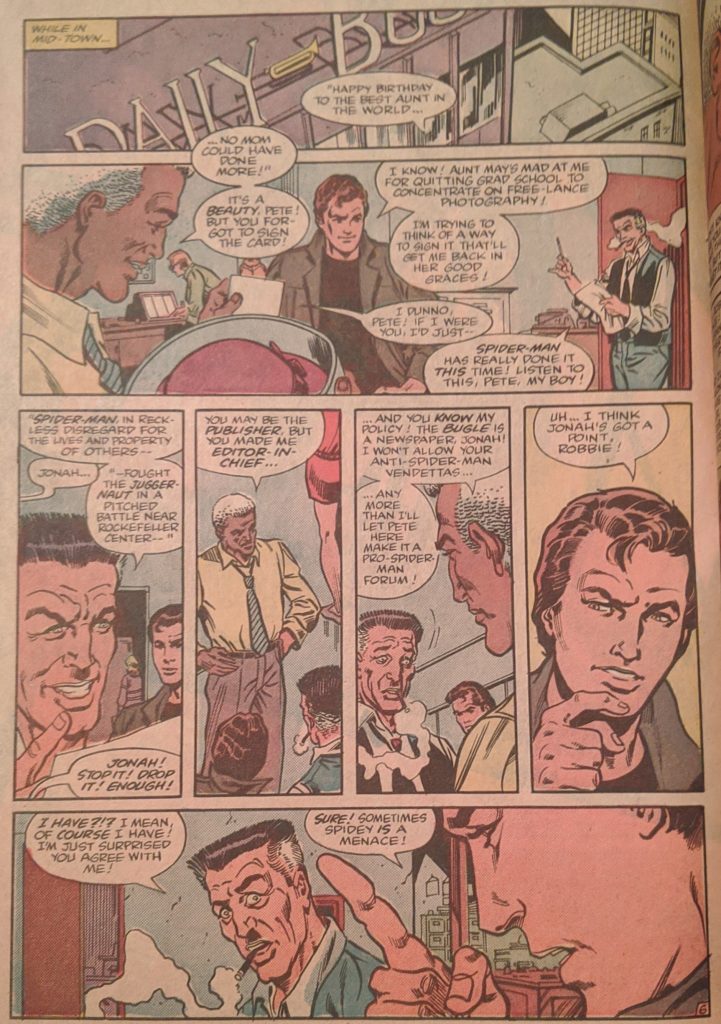 JJJ's got a new scheme! What could it be? We'll find out. Was that Jimmy Olsen? Anyway, The Vulturions will have to wait, as Spidey heads out to meet MJ at the hospital to see Liz & Harry's kid. Say, didn't he just do that in ASM 263? Jeez, the continuity around here is pitiful. Unfortunately for him, The Vulturions are out looking for him, hoping to kill him in front of Kingpin's tower so he'll make them his new assassin. That's a very specific plan. For his part, Spidey's decided to go drop his hatbox off at home before doing anything else, but Bambi, Candi & Randi are on the roof, as usual.

The Kingpin is hanging out with poor Vanessa, hoping old movies will make her happy, when he gets a call from someone claiming to represent The Vulturions (How are they calling him and flying?), saying they want to be his assassins, and if he looks out his window, he'll see them killing Spider-Man. He's only mildly interested, though, far more concerned with his wife.

I can't believe this plan is sort of working. I think I've said it before, but I'll say it again, I really like the look of Greg LaRoque's Spider-Man. As Spider-Man gets dizzy, we cut to Aunt May & Nathan, worrying about more bills than they can pay. Nathan suggests Peter might be able to help, but May is both still mad at him and doesn't want to worry him, so she forbids Nathan to talk to him about it. Back at the fight, Spidey is slowing down, having more trouble. He manages to take out a 2nd Vulturion, but he loses his grip on the hatbox in the process. Kingpin observes Spider-Man ignoring the villains to dive after a hat and is pretty curious now. This hat is really the talk of the town today!

Nooo, of course not. Our poor hero keeps on fighting, mostly to save the hat, and gets down to just one winged weirdo bothering him, but that last one manages to get another dart in him as he's driven into a window, and Spider-Man crashes down into an alley and passes out. Kingpin has seen it go down, and thinks Spider-Man has done him a service by taking out the goons who upset Vanessa, but he would've had an easier time if he wasn't worried about that hat.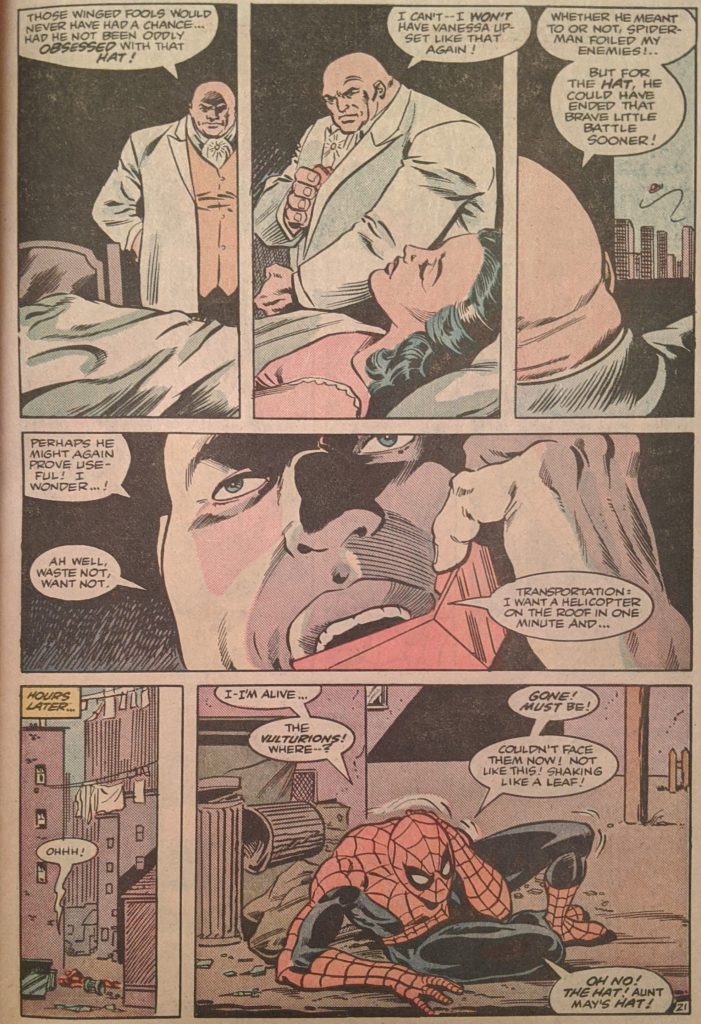 That's wacky. I like it. After all this build up, I literally can't wait to see Aunt May get this hat!