This is a really unusual cover. It's Terry Austin, best known for enhancing John Byrne's supple linework, inking Romita, but it's got that extremely rough, Frank-Miller-inking-himself look. Super gritty. Frank Giacoia taps in to the ever-changing inker slot and Glynnis Oliver takes over colors. It's one of the crimes of 80s comics that they couldn't pin down a regular inker for this run (Preferably Bob Layton). But Frank is obviously no slouch, either, and this issue looks sharp.

In fact, Giacoia gives Romita's line a super crispness that not many people do, and it fits really well. Keating pretty rudely says not only could Spidey not stop The Vulture, but he heard he got Black Cat shot up, too. That's mean, dude. Spidey asks if he's got helicopters searching for Vulture, then makes off with Keating's walkie talkie. He orders his men not to open fire so they can't break his radio, which is pretty funny. Keating grabs another guy's and starts berating Spidey over it before Spider-Man switches his off. Our man thinks he get a tracer on The Vulture, but he'll need to monitor the police bands to get close enough to use it. Meanwhile:

The Watsons are back! And Peter having more or less just started his relationship with Black Cat. That should be awkward. Those dudes down there have spotted The Vulture flying his hated foe Bestman around town and radio for help. That puts Spidey on the case. He hitches a ride on the bottom of a helicopter and waits. Vulture, now entering New Jersey, naturally hears the copters coming and dives for it, losing them among the trees. Spidey takes his cue, dropping off his helicopter taxi with a web parachute as The Vulture watches the helicopters move on from what appears to be a base he's set up in an old grain silo. Spider-Man is now close enough that his danger sense leads him right to it, though.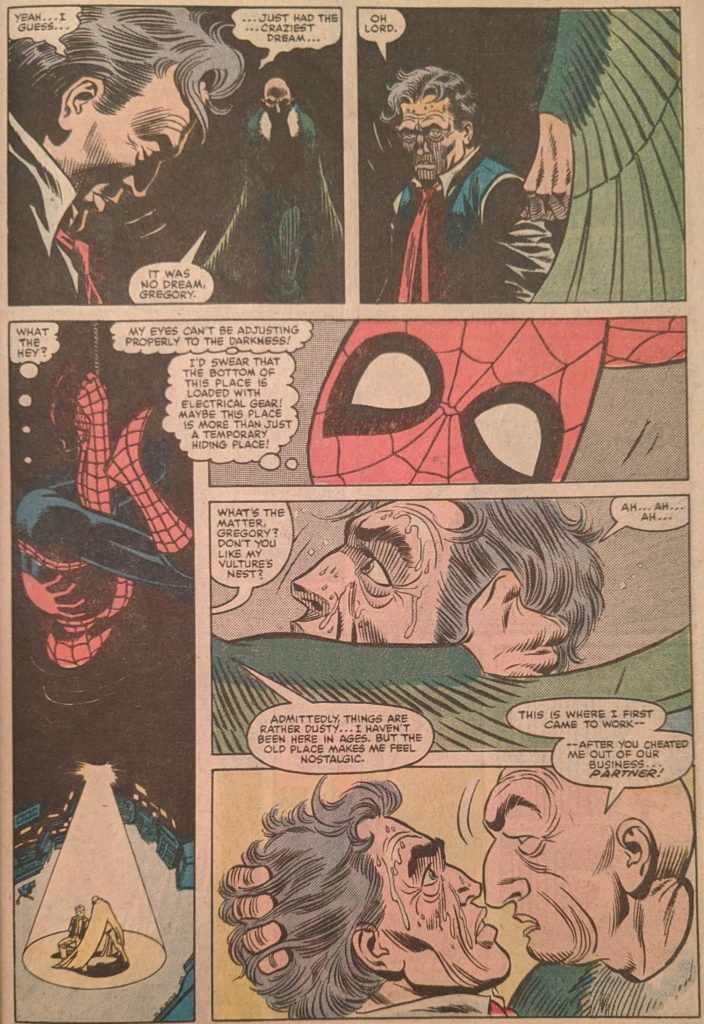 Looking kinda romantic down there! From here, believe it or not, in 1983, more than 20 years since his introduction, The Vulture tells the story of his origin for the first time ever. How he & Bestman opened an electronics company, where he first began work on his wing suit, but then he learned Bestman was cheating him out of most of their profits. In his anger, he also learned his wing suit tests had somehow given him super strength. Bestman threw him out of his own business, and he found out he'd signed all his rights away, so he retired to the farm they're in right now. There, he completed his wings and tested his crazy new strength. His first move upon finishing the suit was to go ransack his former employer.

Spidey feels bad, having heard Vulture's tale of woe, but he's also had his walkie talkie broadcasting the whole time, giving those helicopters a chance to find them. Infuriated, Vulture flies up and tosses Bestman out a window. Spider-Man just barely catches him in a web. Vulture sees he's going to have a problem with all these cops and tips over a landing helicopter so the blades begin flinging dirt everywhere. And then it's time for Spidey and The Vulture to battle through the surrounding woods for awhile, but inevitably…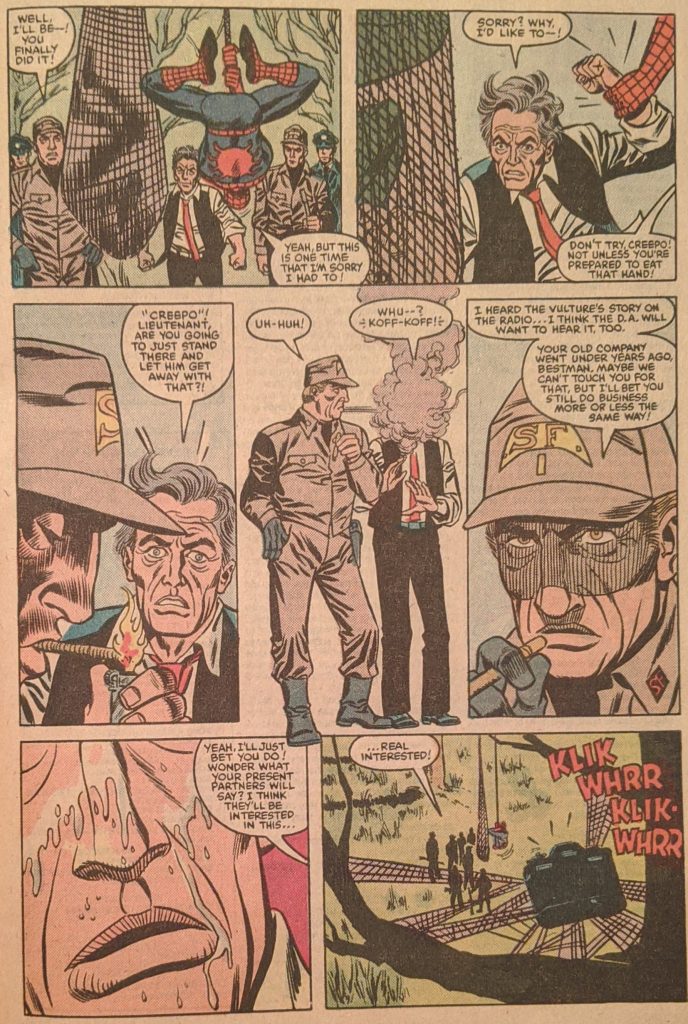 All that and Peter even got pictures. How is that not suspicious? How could he possibly have been at this fight?

Things are looking complicated for Peter! Back in the letters, we see a real outpouring of approval for the new Captain Marvel and her introduction in ASM Annual 16. Seems like they really nailed it with that one. If only she'd gone on to a bigger role in the Marvel U. I mean, she eventually got to lead The Avengers, but at a time when they weren't nearly as big a deal as they are now, and she never got her own book. Ah, well.