It's Denny O'Neil's last issue of ASM, and he's only sort of here. JM DeMatteis scripts over an O'Neil plot, while John Romita, Jr. and Al Milgrom start us off with a quintessential JRJR Spider-Man pose: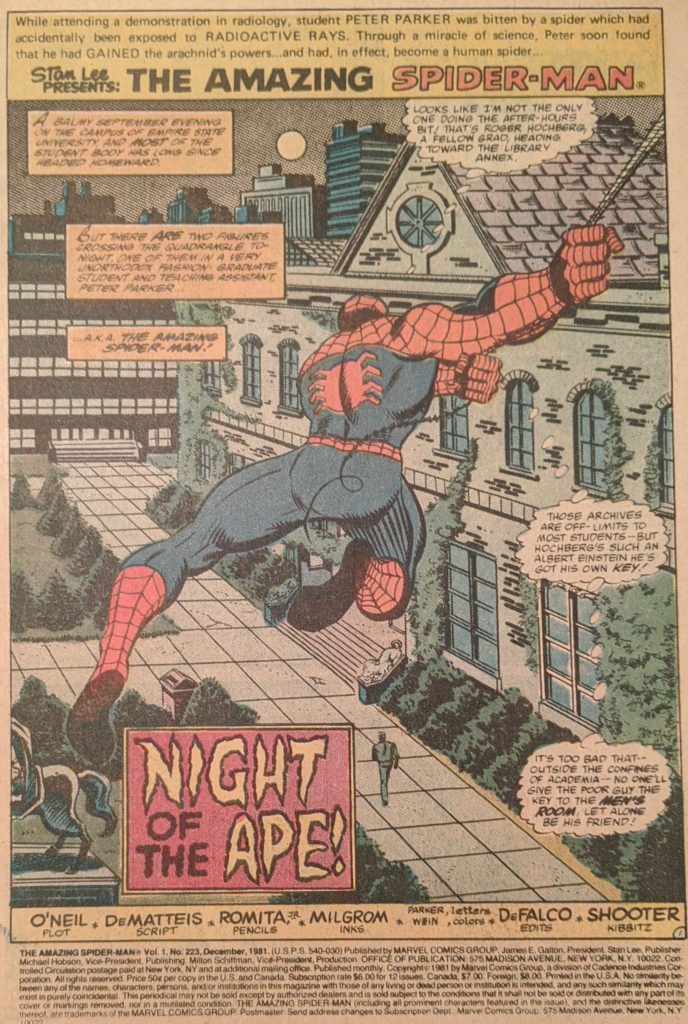 It's September now. Like 7 issues ago it was November. Time has no meaning in the Marvel Universe. Maybe that's why the characters don't age. They're living in all eras, simultaneously. I have already gone off track, look, here's our man swinging to campus for some school stuff as this guy, Roger, goes into the fancy smart people building. I don't know that I believe he's just smart enough that they gave him a key. But he may soon wish they didn't, because as he's reading, the villains show up, materializing out of thin air behind him:
Yes, The Red Ghost and his Super Apes. If you're not familiar, he's a Russian cosmonaut with a haircut that looks like he lost a bet, and he and his 3 primate companions were bombarded by the same kind of cosmic rays that gave the Fantastic Four their powers, so they got some, too. Now they run around doing bad guy things together, like sneaking into this archive. Ghost sends his pals after Roger, and the gorilla accidentally sets the place on fire throwing stuff around. Spider-Man, of course, was nearby, and comes running. He reaches for a fire extinguisher, but…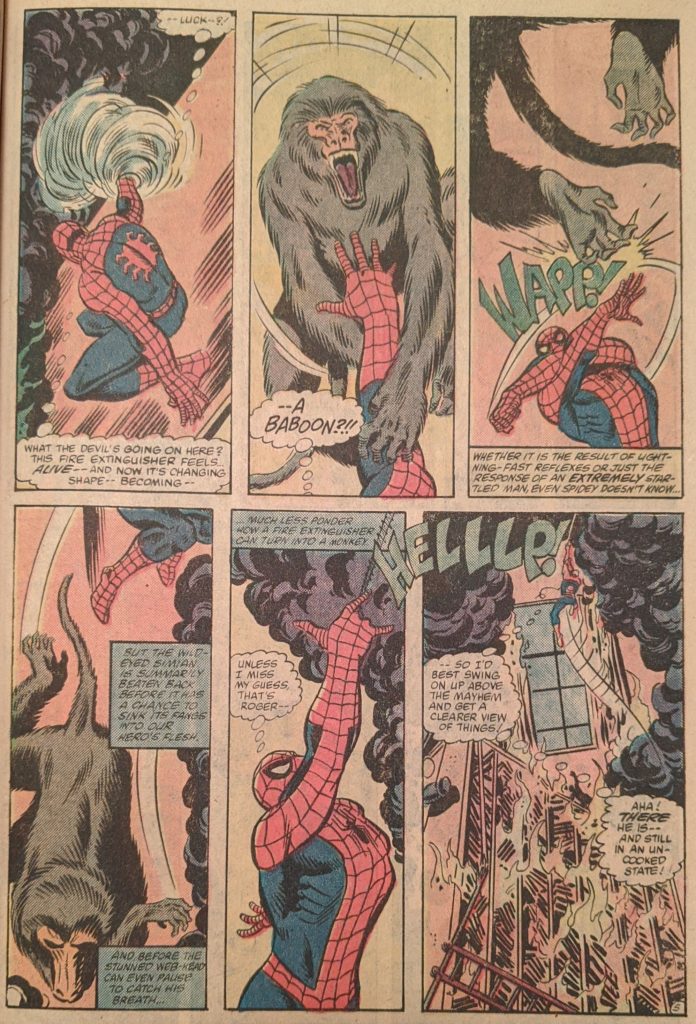 Yeah. Ivan Kragoff, the Red Ghost, can become intangible. One of the apes is super strong. One of the apes has magnetic powers. And the last… is a shapeshifter. Why he pretended to be a fire extinguisher, we may never know. The baboon scampers off, and Spidey swings up above the fray to figure out where the cries for help are coming from. Spidey rescues Roger, but…
REEEP? Kragoff says they have to find and kill Roger, since he's the only one who's seen them in the US. Meanwhile, Peter Parker is over at The Daily Bugle, asking reporters if they've ever heard of a shape shifting baboon, and one of them actually has a file on Red Ghost & Co. JJJ comes along and does his usual yelling, and then Pete's off back to campus, where the aforementioned baboon has located Roger. But Peter sees him first, and the Super Ape is smart enough not to attack if people would see him.
This is like when Betty Brant was trying to force Pete to be friends with Phil Chang many issues ago, and that actually worked out pretty well. Speaking of Betty, where on Earth has the supporting cast of this book been? O'Neil has had no interest in Harry & Liz, Flash, Betty, and so forth, and he hasn't much used the new college cast from Spectacular, either. Kinda weird. Anyway, Roger heads to his classes, and the baboon follows him all day. Later, Peter gets Roger to go to the party. It doesn't go well.
Get 'em, Pete-o. Roger retreats to the familiarity of the library, and The Red Ghost & Pals are on his tail. But so is Peter Parker, and when his Spider Sense alerts him to the bad guys on the roof, he realizes he's got a job to do.
It's fightin' time. Spidey lures the Super Apes out onto the roof, then the fight moves to the sidewalk outside, all further and further from the villains' intended victim. Then Kragoff, who came down here to kill Roger because he didn't want anyone to know he was in the US, has his pets take Spider-Man to the campus stadium, in the middle of a baseball game, so everyone will see his defeat.
Rrrrather hard to imagine people getting all excited because someone called the cops, but hey, why not? It let us end on a positive note.
And that's it for Denny O'Neil's Spider-Man. I'd never read it before, and it was extremely weird. It often felt really tossed off, but he tried some weird things, came up with a villain who will actually stick around (No small feat), and wrote a genuinely funny Spider-Man. A mixed bag, but a lot of positive stuff to take away. Next, we jump ahead just a few years to get back into the Stern/Romita, Jr. glory days.