Alright, part two! I'ma keep it real witchu, chief: I do not like that cover. Never did! I think it's considered an iconic Frank Miller cover, but it's like… why is Spider-Man a giant? Why is his crotch glowing? Why have you chosen a shading technique that makes it look like Spider-Man is balding and his hair is wet? Who thought this was a good idea? This is way off track.Ed Hannigan jumps in on pencils as the Beetle attacks! Spider-Man is battered and out of it, but he's irritated enough to keep fighting.
The goofy Gibbon ruminates on how stupid it was to come here all the way from Florida to get beat up (They make TV shows in Florida in the Marvel Universe?), while his buddies up in the helicopter are ecstatic. Between Gibbon gettin' got and now Beetle showing up, this has been the chance of a lifetime for them. Back at the fight, Spidey begins to notice The Beetle seems to be predicting his moves, which sounds crazy to him. And it is crazy, but apparently the floppy disk in Beetle's suit is really doing its thing. So, Spidey leaves himself open for a shot to see what happens.
The delirious Gibbon says he was trying to help. Spidey catches him and then toss him on a roof, and thus can't avoid getting zapped. He goes into evasive maneuvers, but he's tired, and eventually another shot connects.
Beetle thinks he can lure Spiey back into battle by zapping and kidnapping The Gibbon, having seen Spidey try to save him, but Spider-Man only just popped up out of a manhole, and barely catches a glimpse of them flying away.
Some days it's just no fun being a superhero. Peter's finishing up his shower as the ridiculous Coach Barnstorm from a few issues back of Marvel Team-Up bursts in, angry that he's using the showers after flunking that basketball player. Peter has no time for that, tells him he doesn't own the facilities and leaves. As he leaves, he walks by someone setting off his Spider Sense. But it's… Greg Salinger? Of course, due to the out-of-order nature of this blog, we know why.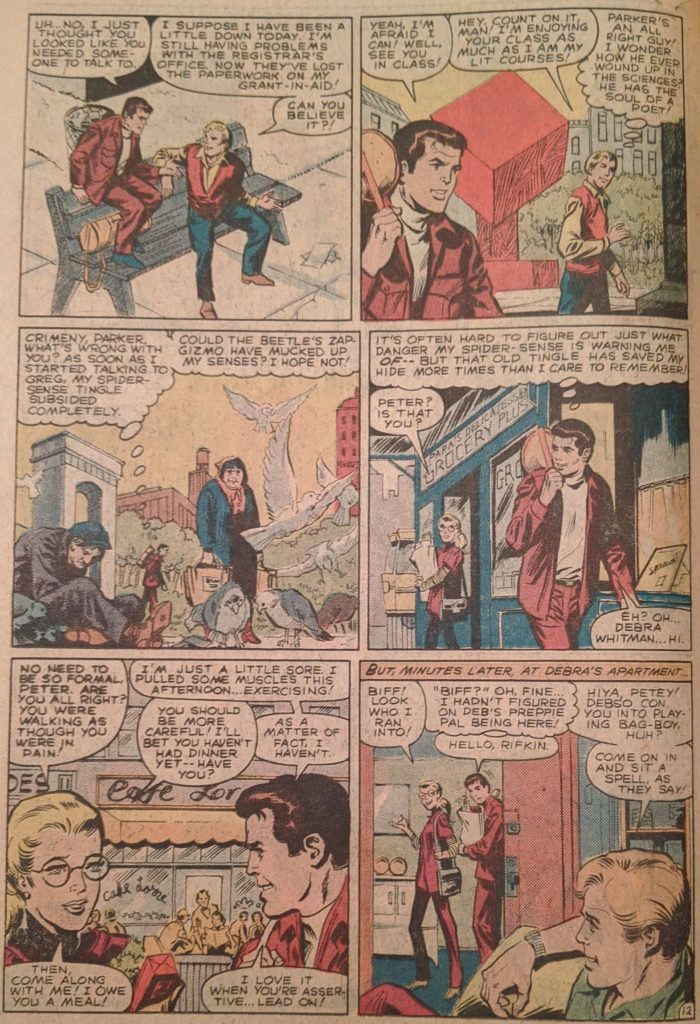 BIFF RIFKIN is watching TV, where a special news bulletin informs the public that Martin Blank, aka The Gibbon, was kidnapped earlier by The Beetle, before the reporter is handed an update saying The Beetle has challenged Spider-Man to meet him in an hour, or he'll kill The Gibbon. Uh-oh. Time to ditch Deb again. She thinks about he he seemed upset, and it's probably because BIFF was there, and how Peter is nice but BIFF is dependable. Soon, Spider-Man has made it to The Kreller Building, where Beetle wanted him to go, and it's surrounded by news vans. And on the roof, he finds a gang of cops being managed by Spidey's old not-pal, Lt. Keating.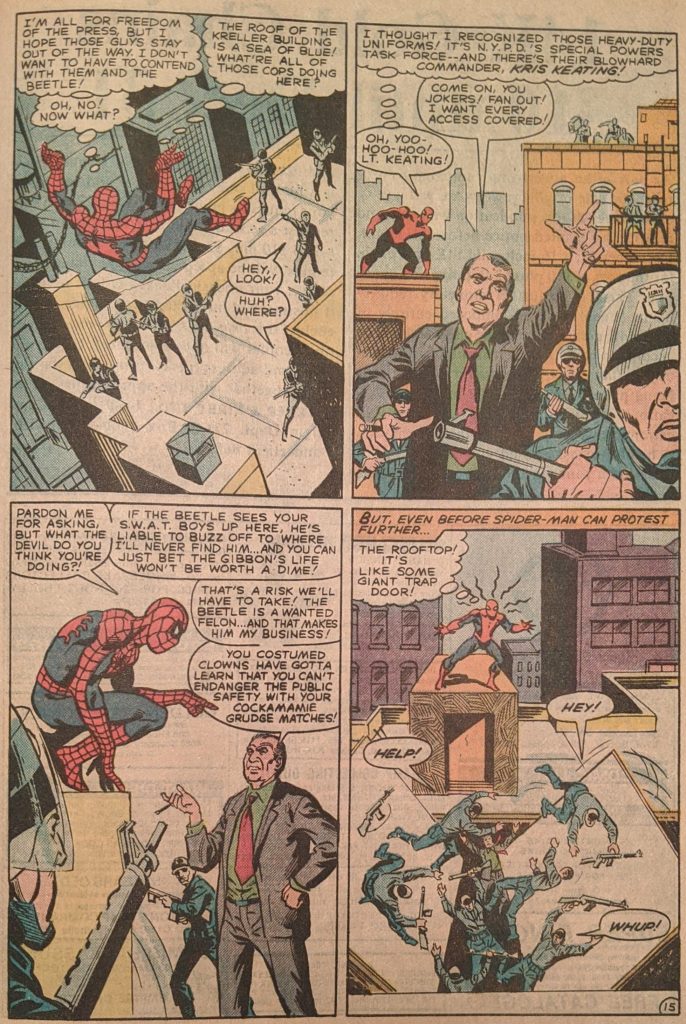 Pretty ridiculous! The collapsing roof is a revolving door, as it happens, and on the other side, we find The Beetle and The Gibbon, the latter trussed up in one of those X-shaped crucifixions that seem to happen a lot in comics. Beetle says he planned all this weeks ago. I guess that's explanation enough for the crazy roof gimmick. The battle is joined. Spider-Man tries to free The Gibbon, but is kept away by The Beetle's zaps. He finally decides he's just got to go for it.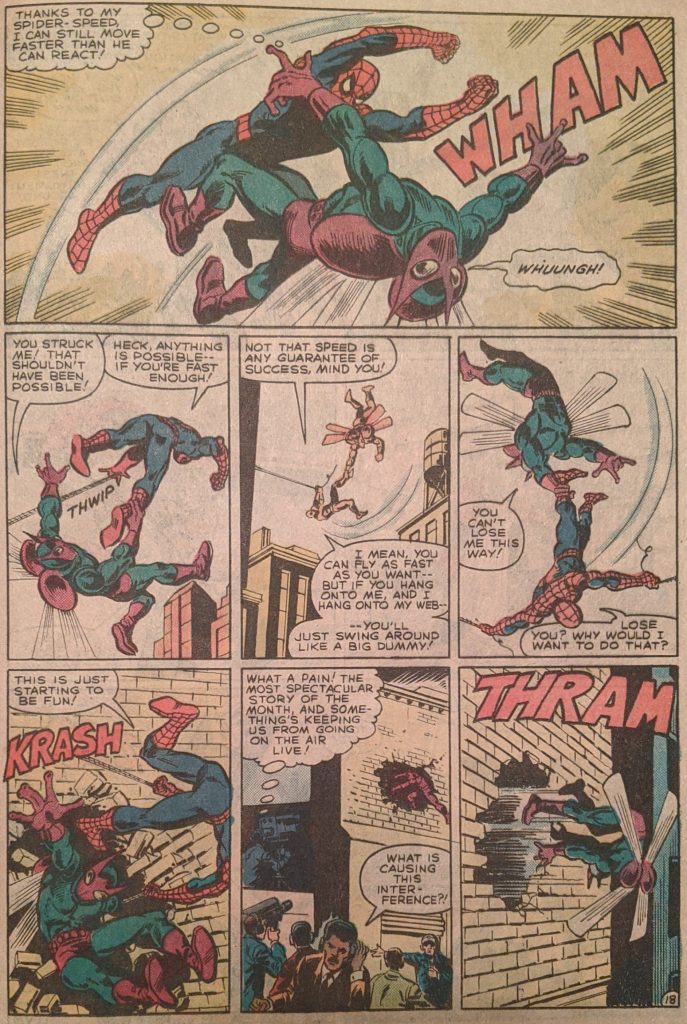 Down on the ground, the news people are noticing they can't get a signal to go live on the air. Back up on the roof, Spider-Man has used the chance to escape and free The Gibbon before The Beetle shows back up.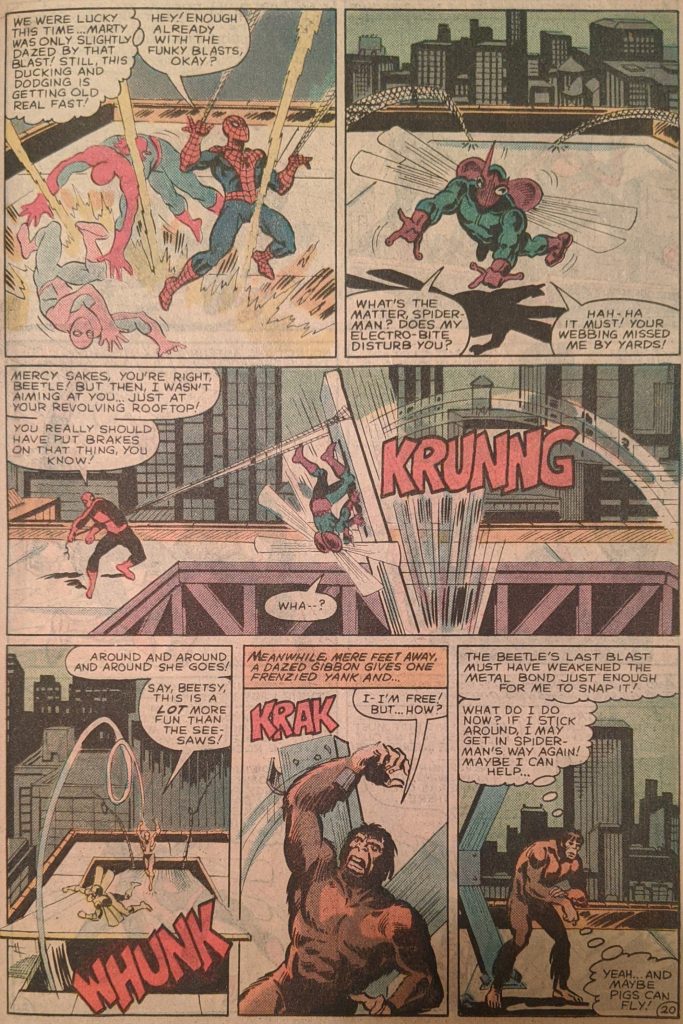 Nice! Spidey and Beetle get into actual fist fighting, and Spider-Man breaks one of the horns off his helmet… which turns out to be "the focusing point of his power," hitting both of them with a huge zap and letting the news crews below start broadcasting again. Spidey gets one last big punch in, and that's all he's got.
Peter Parker just can't win. There follows a re-telling of Spider-Man's origin… again… by Stern ,Greg LaRoque & Bob Wiacek. Stern expands it slightly, adds a couple extra beats, but it's so similar to the original I don't know why they didn't just reprint it. LaRoque & Wiacek even do their best Ditko impression, and reproduce some panels almost exactly. Retellings of the origin were sort of popular back before trades were easy to get, but still, it seems like a lot of wasted effort. And that's it for the big anniversary issue.