Team-Up time. Same art team as usual recently, with Herb Trimpe credited with the plot to this one, and David Michelinie back on the script. As the story opens, Spider-Man swings over a Manhattan that seems to have a sudden earthquake!
A typically friendly J. Jonah Jameson tells Peter he's late, and that he wishes he could send Lance Bannon, and also refuses to tell him what job he's supposed to be doing. Out in the city room, Robbie clues him in:
So Peter heads out to Long Island, where Tony Stark is taking questions about his "long range sonic strata scanner," which he says will be able to trace the source of future tremors. And, right on cue, there's a big one.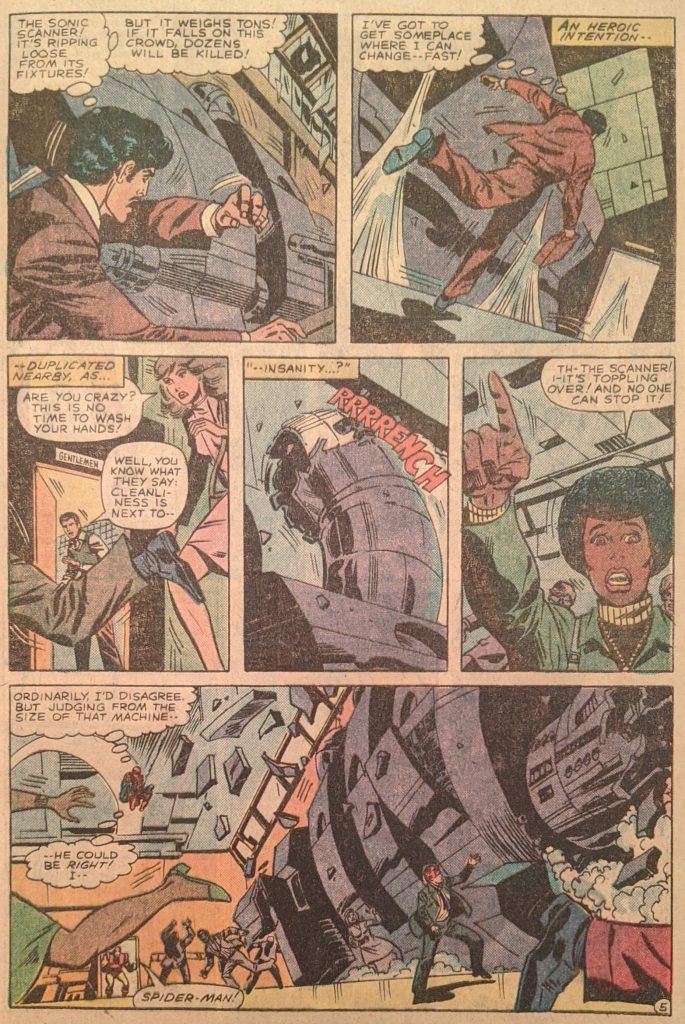 "He?" Iron Man appears on the scene just moments later. Spidey is able to hold up the machine while Iron Man zooms around blasting debris so no one is hit by it. A technician runs in and tells them they tracked the source of the quake 2 miles south and half a mile below the surface of the Earth, so IM suggest he & Spidey jump in a big futuristic drill machine Stark happened to have on hand and go looking for it.
So, I gotta ask, what do they think is gonna happen here? Are they gonna go punch out some tectonic plates? Or do they just assume a supervillain must be causing this? At any rate, you know it is, in fact, a supervillain, because you've seen the cover. A supervillain with some pretty significant resources at his disposal.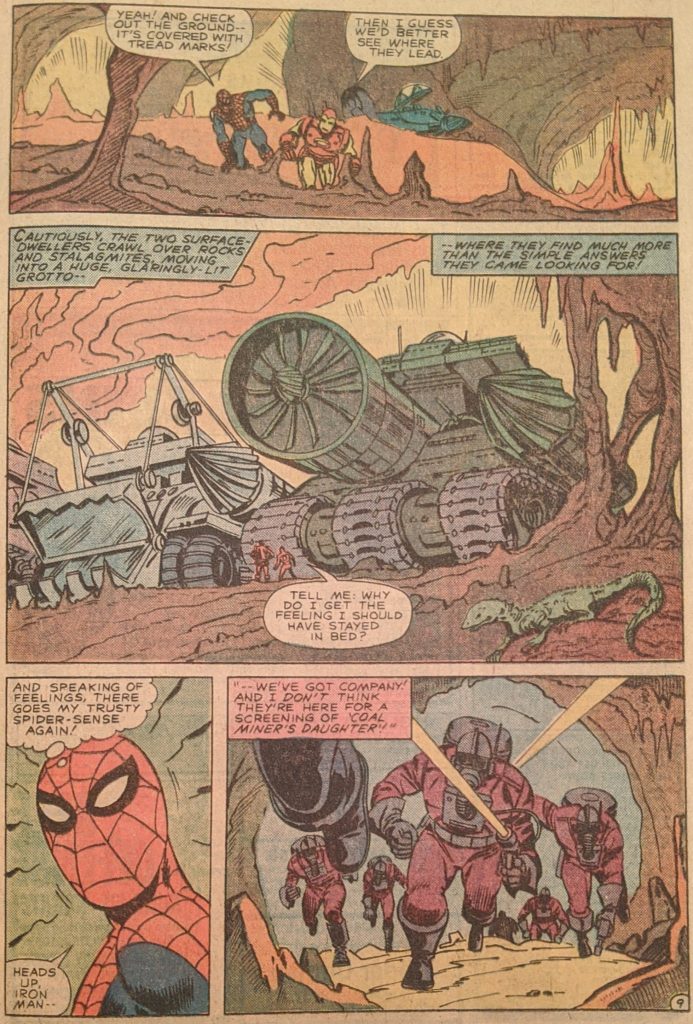 The small army of jumpsuited and breathing mask-wearing goons quickly realize they can't outfight 2 superheroes, so they go with the old gas option. Gas is, of course, Spider-Man's true archenemy, so he's going down, and Iron Man thinks it's going to be up to him to save the day, but then he gets zapped in the back by a stream of liquid magma by the villain of this bizarre adventure, uh, also called Magma.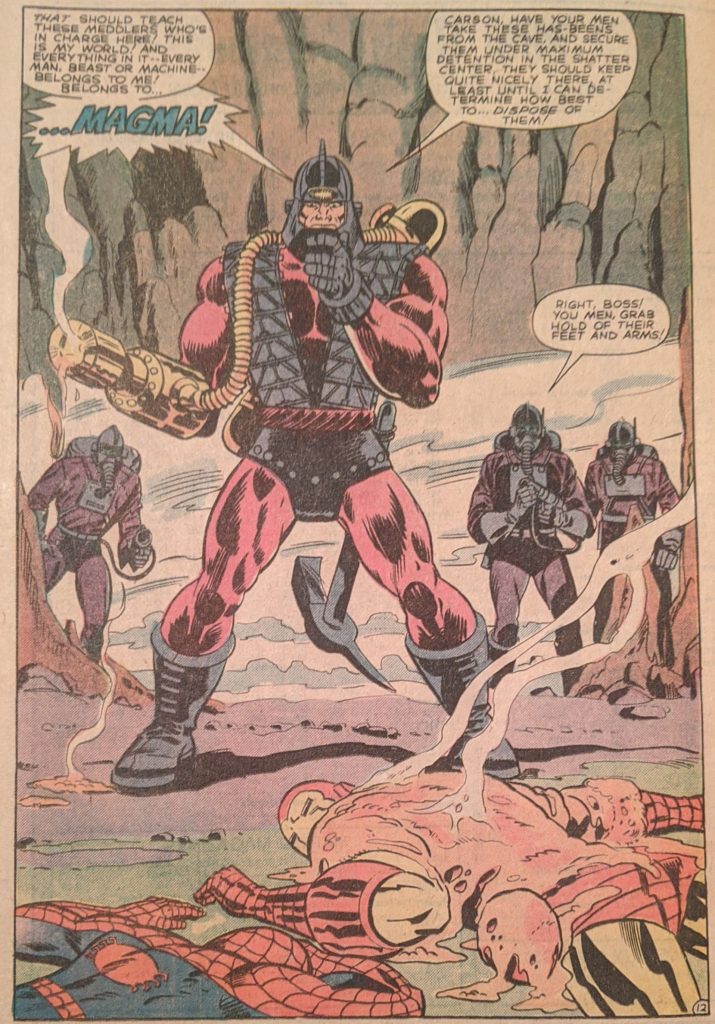 Hey, this guy ALSO looks like a He-Man toy. There's a theme going in this month's Spider-Man comics. Iron Man is put in an electromagnetic field, while Spider-Man is chained and kept gassed up in a tube. They really had these measure just lying around? Then, both of them still unconscious, Magma starts tell him his origin to no one in particular. He used to be… no kidding, he used to be just Jonathan Darque, mining tycoon, who used special techniques of his own devising to be, like, super good at mining. People protested and decried him for stripmining the Earth, but he ignored them… until his wife drove off a cliff "swerving to avoid demonstrators." Ok, that's definitely on them. The rest, though…
FUP FUP FUP! He also takes credit for the eruption of Mount St. Helens before saying he plans to destroy New York unless the government gives him one hundred million dollars. When Iron Man points out New York will never be able to raise that kind of money, Magma just says "I know!" while flying off on some kind of hoverbike (Sold separately). Iron Man immediately finds a way to shoot the controls for the traps they're in, and then he & Spidey set to beating up all the goons.
Ed Koch is all over these Spidey comics! I wonder if he knew. Iron Man and Magma duke it out for awhile, as Spider-Man takes out more of Magma's goons on his way to finding the device. His first instinct is to destroy it, but his Spider Sense warns him that it's boobytrapped. Back in New York, Iron Man's fought Magma to a standstill, and he gets so mad he decides to just destroy the city now.
That's rough, even for Spider-Man. And that's that. Magma: Not a great supervillain! And also, sadly not dead, although it will be quite a while before Spider-Man sees him again. How do you figure a guy like Magma keeps a standing army in his cavernous underground lair? What do you have to pay to get hundreds of dudes to go live in a cave and wear gas masks all day? What do they do when he's not trying to destroy New York? I feel like there needs to be a comic about this.