It's a fill-in issue, so all bets are off! "Ghost starring!" We got a story by Michael Fleisher, with pencils, inks & lettering all by Bob McLeod. Let's see what they got. The issue opens with Moon Knight beating up a bunch of dudes stealing gold bars. The gang defeated, cops rush in only to see Moon Knight making off with the loot!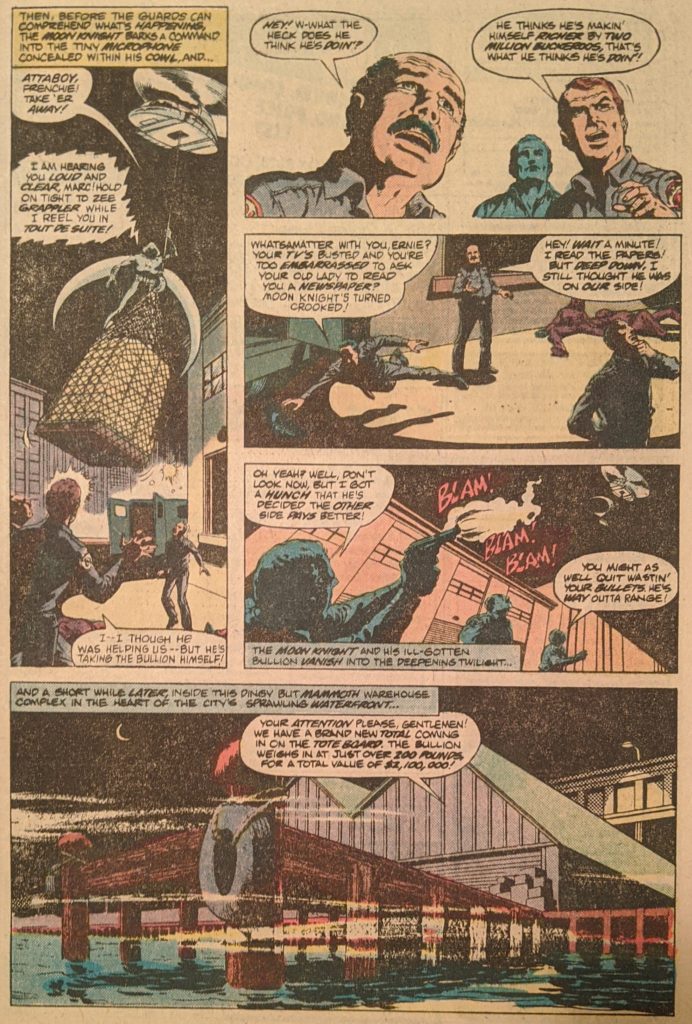 Inside that warehouse, there's some kind of competition to steal money underway, and after that heist, Moon Knight is winning, beating "The Rat Pack" and knocking "The Midnight Mob" out of the competition. Oh… kay… Then a guy gives us that sweet, sweet exposition…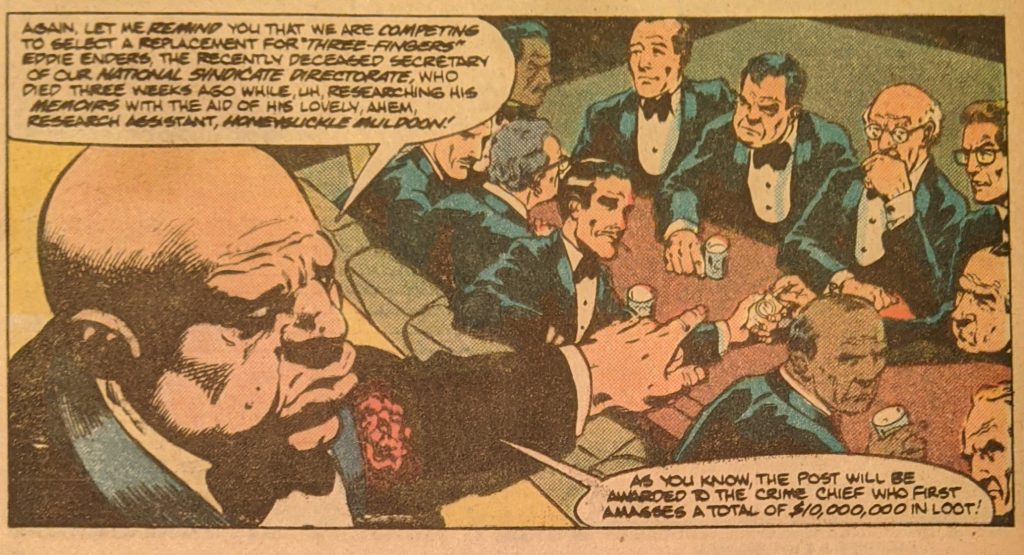 Honeysuckle Muldoon! Incredible name. The leader of the Midnight Mob storms out, convinced Moon Knight is a fake crook. I mean, I would assume so, too, but he's gonna have a hard time explaining these thefts once he busts this crime ring or whatever. Meanwhile, Spider-Man is swinging around, trying to make sense of why there's been so many high profile robberies lately. Whatever the reason, it's given him tons of photos, and he's on his way to sell them to JJJ. Except, defying all internet memes, he doesn't want pictures of Spider-Man. At least, not right now.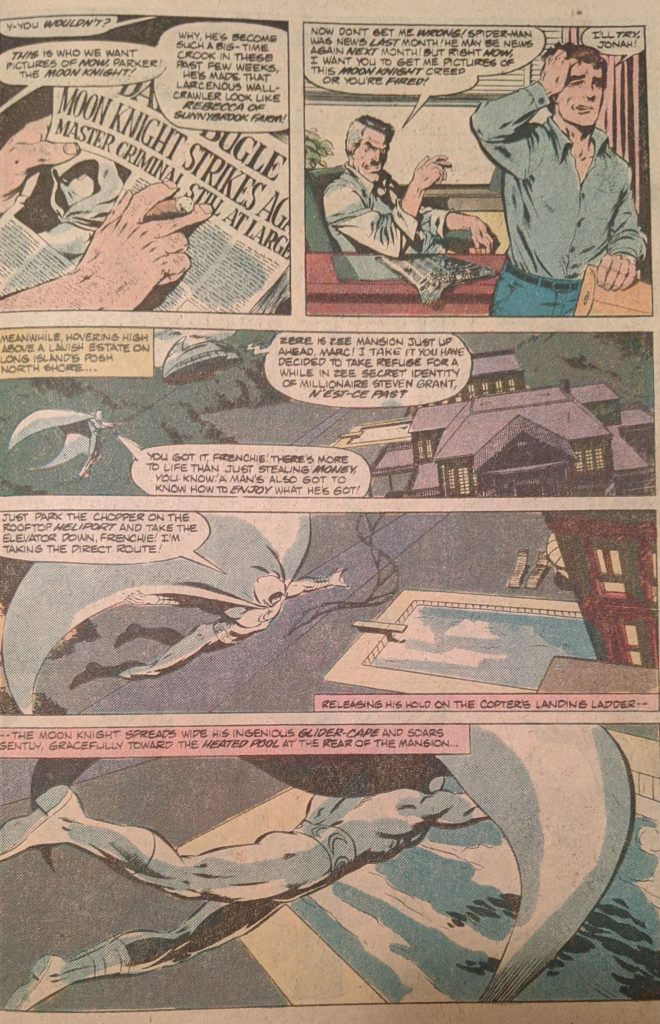 There won't be any pictures of Moon Knight tonight, though, as he enters the mansion of Steven Grant, one of the 3 other personalities rattling around inside his head, where his girlfriend Marlene is waiting for him. MK says he's got nowhere to be until the museum opening tomorrow night, so we then jump ahead to that, where Steven Grant & Marlene are checking out a VIP preview of "The Royal Treasures of Malta." Which is immediately held up. So..
What part of that suit is black?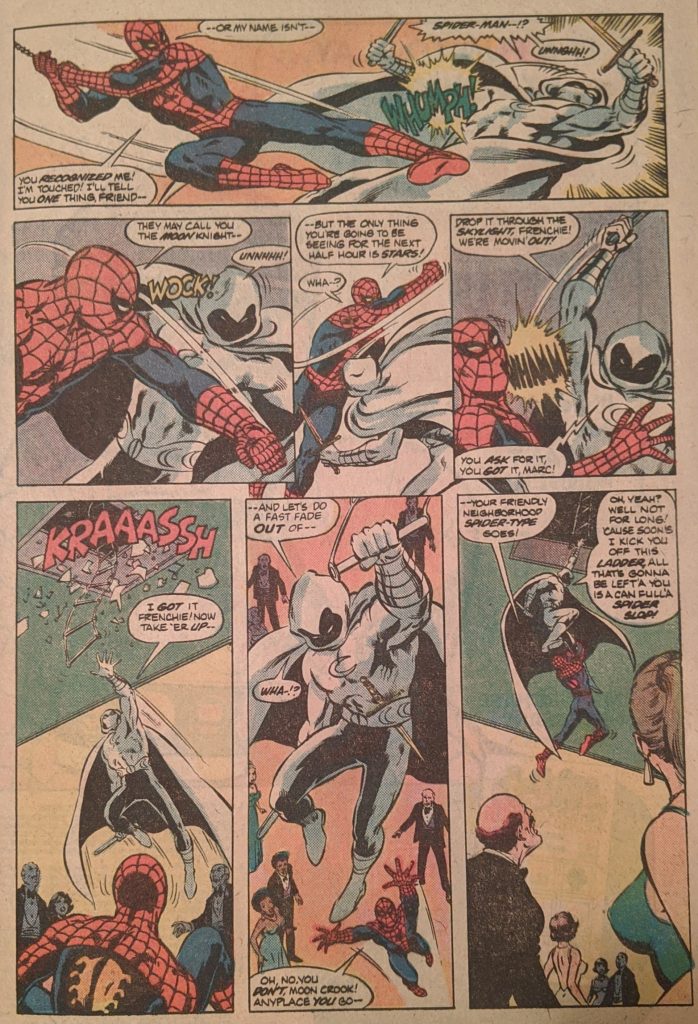 As the chopper reels MK & Spidey out of the museum, Spidey complains about how hard Moon Knight hit him back there, and Moon Knight whacks him in the head, saying they have to make this look good. Spidey falls off the chopper and MK makes his escape. And then, of course, Spider-Man thinks about how they set this up to look like MK has gone bad, but he really has a bigger scheme in mind.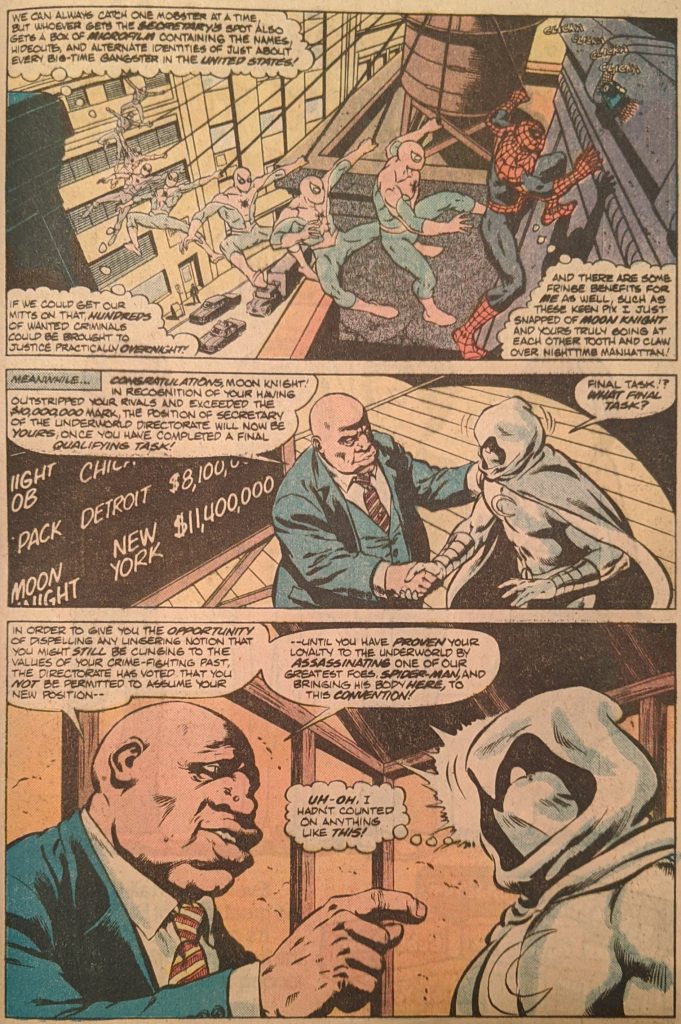 Ok, so that's more or less what I expected, but… Moon Knight is going to have $10,000,000 worth of stuff to return at the end of this. There's a comic I want to read. "Uh, here's your dagger back, sorry." "Here's your big palette of gold back, sorry!" Anyway, a flustered Moon Knight heads off to not kill Spider-Man. The Syndicate sends a guy out to follow him, to make sure he's not working with Spider-Man. When that guy finds out he is, Moon Knight spots him and knocks him out. Later, MK delivers the body of Spider-Man, as promised, into a coffin on the stage, and is pronounced the new head of the Syndicate.
No thought is given to returning all the stuff they stole. I suppose we're going to assume the FBI will find and return it all. Ah, well. The end.
But that's not all! This issue features an unexpected back-up story: An Aunt May solo adventure! What? Well, ok, why not?
Good for you, Aunt May!
Aunt May is a punk! Is Anna Watson suddenly in this nursing home, too, or just visiting? Anyway, yeah, ol' dude is aggressively trying to get Polly to leave the home. This guy sounds way more like an old person than any of the old people in this story. The band takes a break to fix a blown amp, Aunt May brings them snacks, one of them goes out to mingle a little, and…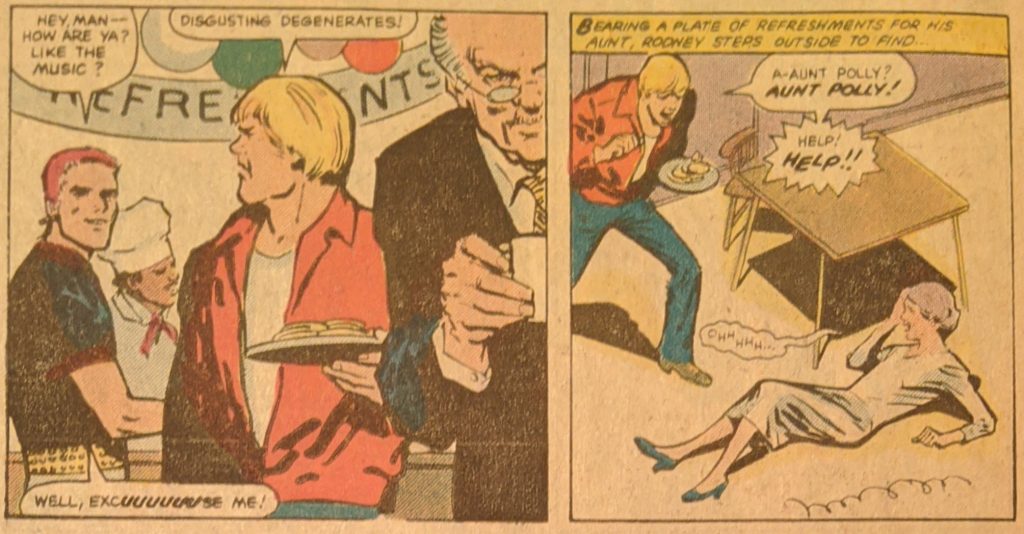 Someone strangled Polly from behind and stole the admission money! The fiend!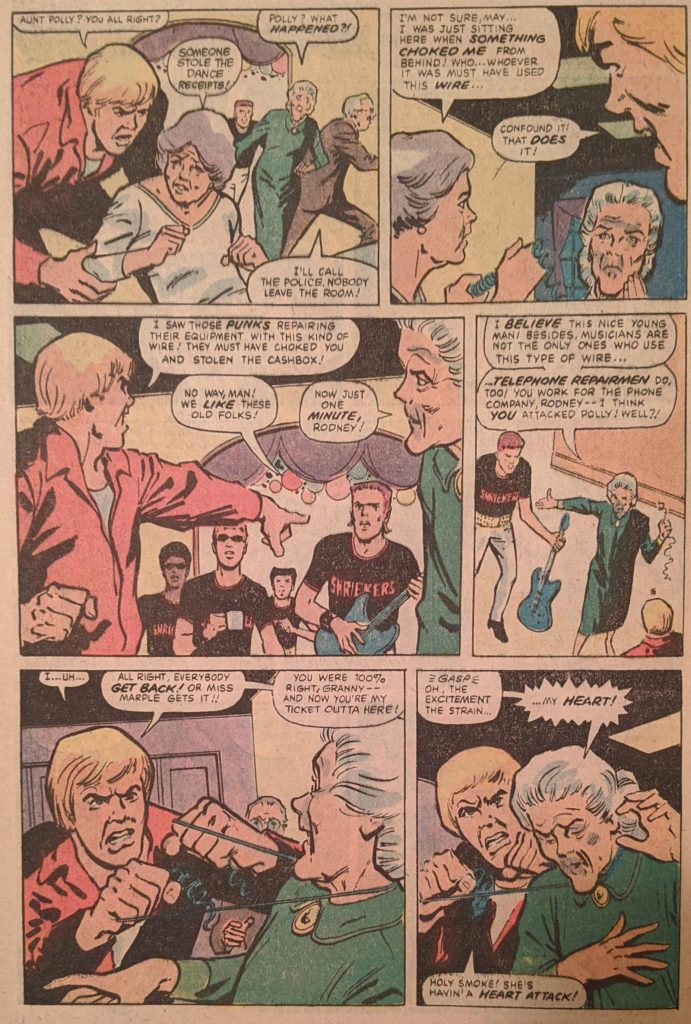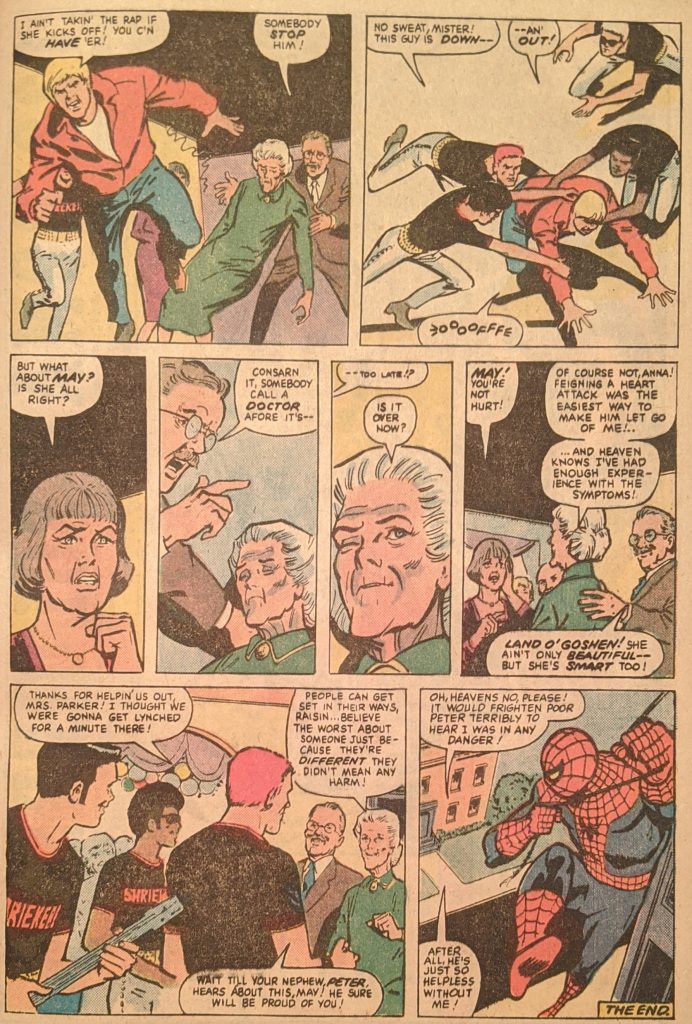 The day is saved, and relations between the elderly and punk rockers have never been better! That was delightfully silly. Ending on a high note. Aunt May should go on tour with The Shriekers.