Welcome back to 1979, where we're picking up with Spectacular. So, as it turns out, this issue picks up rrrrright after the previous one, which, you may recall, ended a surprisingly long 7-part story introducing Carrion. It's still Bill Mantlo, Jim Mooney & Frank Springer at the helm. We find Spider-Man swinging home in the rain. As he climbs in through the skylight, he thinks about how he must've passed out after last issue, and the rain woke him up. What a fun night for him.

How nice! Everything back to normal. Peter gets out of his Spidey gear and into his trusty bathrobe and decides to make some food. But he's Peter Parker, so his fridge is mostly empty and his milk is sour. A ring at the doorbell turns out to be Glory Grant, dressed real fancy, to tell Peter she's moving out of the building. Having started making more money working at The Bugle, she can afford a better place, but she wants him to have her potted plant, Harvey. Peter wonders why she's visiting at 5am, and she informs him his clock has stopped, and it's really 8, pulling aside the blinds to reveal a sunny day. But… it was a rainy night 3 pages ago and Peter hasn't slept yet? I dunno. Anyway, Glory leaves and Peter decides to sleep a little before an afternoon meeting at ESU. And, as it happens, at ESU there's a reptilian figure haunting the halls this morning, and Curt Connors seems very upset about it. Was it him? Doesn't look like him on the cover. Hours later, Peter arrives on campus, thinking he finished his missing gym credit, and can now move on to graduate school. Then a whole bunch of shuffling is done to the supporting cast, as Flash & Sha Shan happen by so Flash can say he's taking a year off school and they might not see each other much, and then Hector and Holly happen by to say they're going to start a "mobile college" in the South Bronx for school credit, so they might not be around much, either. Seems like Mantlo's trying to quickly make some room for the incoming grad school supporting cast, starting with…

Dr. Sloane & Marcy Kane, reporting for duty. Marcy is already giving Peter a hard time for being lazy when they see a flash of light in the bio lab and run in to find Curt Connors laid out on the floor. This leads to something I never considered before:

All these years of Spider-Man being friends with Connors, it never occurred to me when and how Peter Parker became friends with him. But, here you go. Thus, Peter & his new friends head to The Bronx Zoo, but Dr. Connors is acting weird, and his lizard is still setting of Peter's danger sense. Then Connors' eyes start glowing and he rushes off in a panic. Peter tries to follow, leaving an annoyed Marcy to talk to the students.Curt runs into "The House of Darkness," where he was scheduled to talk (Is that a real thing?), but the guard won't let Peter in, which gives him a chance to become Spider-Man and try to get to the bottom of this.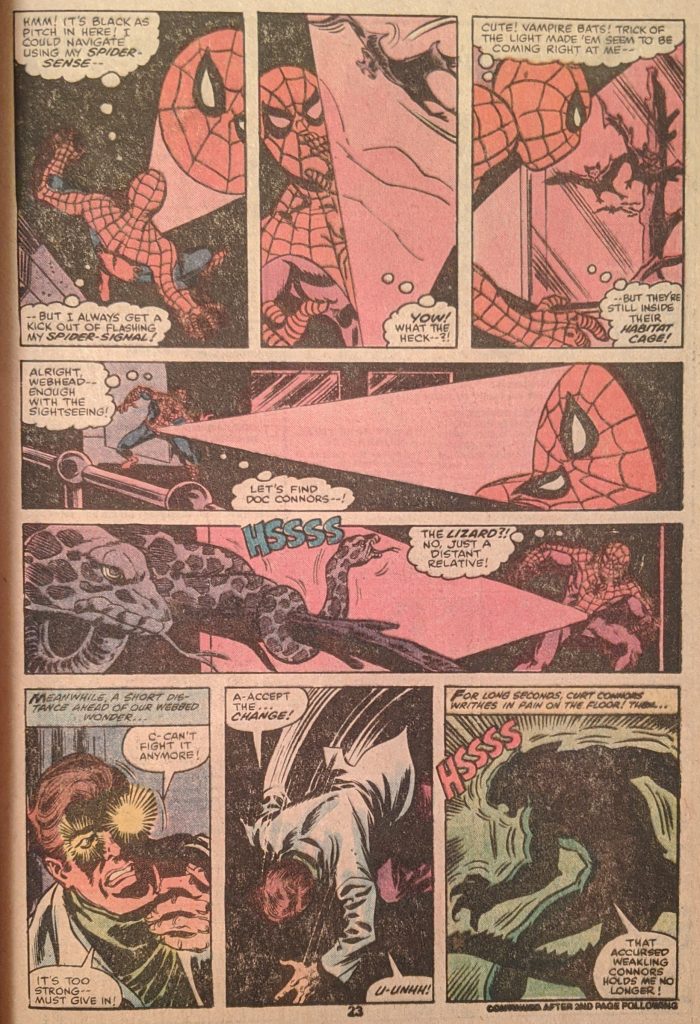 Well, that's weird. And not in the usual way for Dr. Connors. Soon, Spidey is attacked by a big lizard man, but not the usual big lizard man, leading to much confusion.

Aaaand we're off on yet another multi-parter. For all the complaining from certain sectors when comics started to have longer storylines by default in the late 90s and early 2000s, you'd think this never happened back in the day, and yet, it appears the 7-part saga that ended last month is leading directly into a 3-parter here with no break. Sheesh.