It's the dramatic debut of The Rocket Racer! I guess! I mean, he's not exactly the best villain ever, but here he is. Continuing the lng Marvel tradition of jumping on fads, it's 1977 and skateboarding is big, so somebody had to get a super-guy on one sooner or later. Frank Giacoia swaps in for inks, and Spidey's already chasing Rocket Racer on page one!

RR lands right on his board, then demonstrates how it can ride up walls and he can stay on it due to gyroscopes and magnetic clamps and whatever, then shoots little rockets out of his gloves like on the cover. Spidey webs up some shields to keep himself and the building they're on from getting damaged as RR escapes back down to the street. Spidey things he "may be as GREAT a menace as ANY I've ever faced BEFORE!" which seems like overselling it, Len. Spidey's fought Dr. Doom!

Well, there you go, The Rocket Racer died horribly on page six of his first appearance. What a brief, sad career. No, of course not, he is somehow still alive after all that. Meanwhile, Harry Osborn drops his beloved Liz Allen off at her place so she can get a nap in before an overnight shift at the hospital, but she finds her window open, and a mysterious figure she thought was dead asking for her help. GOSH, who COULD that be? Could this be related to The Fiend From The Fire? Is there a Spider-Man villain who has a fire thing AND a Liz Allen connection? So suspenseful. Nearby, Harry meets Peter Parker for a meal at a diner, where he asks his old pal to be the best man at his impending wedding to Liz, when who should hurry by the window but Liz herself. Harry rushes out , but she pretends not to see him and hops in a cab.

Glory suggests she could make an exception if Peter is volunteering, but he says he's just worried about Liz. Then JJJ comes out, demands Peter come in his office, and makes a big production out of how he can't get good help. Unprovoked! What's Peter meant to have done? Especially when he plops some (Kinda far away) shots of The Rocket Racer on JJJ's desk, which changes his mood instantly. But not as much as Glory buzzing in to say Dr. Marla Madison is here to see him.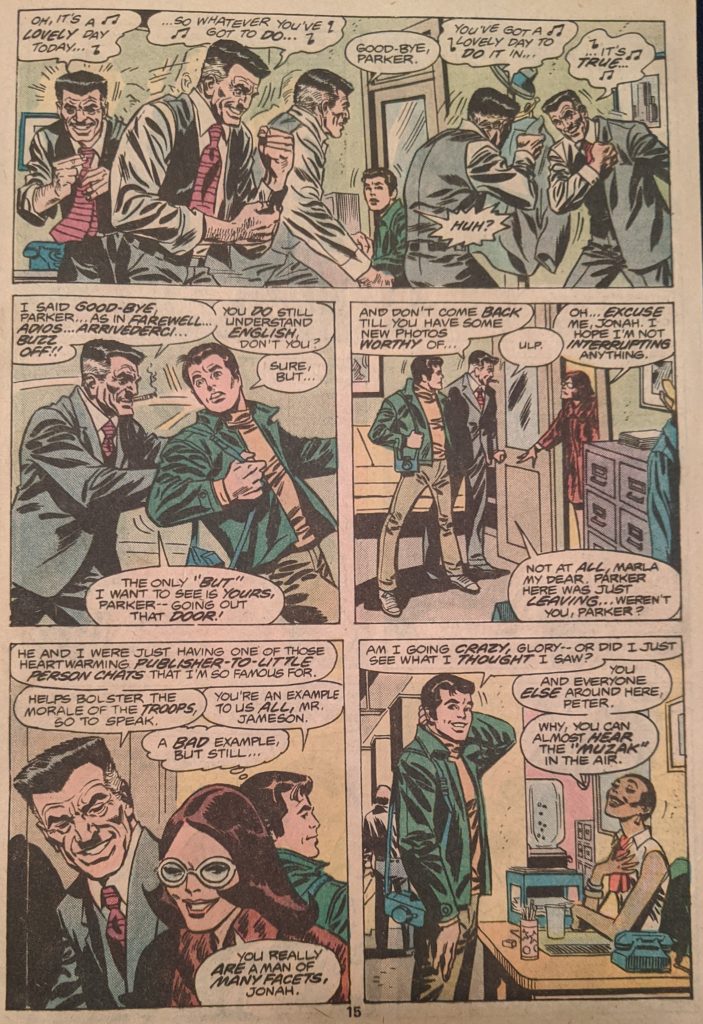 Yeah, I don't know if it's come up on the blog yet, but JJJ met his future wife building still more illegal killer robots. That he never went to jail for any of the stuff he got up to is absurd. Erik Larsen did a pretty funny JJJ riff in his Savage Dragon comic in the 90s (R. Richard Richardson), who financed some robots to kill The Dragon, and was immediately arrested for it. That was good. Anyway! Liz is in jail now! She was caught trying to steal various "drugs and chemicals" from the hospital, but won't tell Peter why. Pete gets Joe Robertson to front her bail (Robbie is legit the nicest person), and then switches to Spidey to get some answers.

Is this really going this way? What about The Rocket Racer? Did he really get beat up in the opening scene of his debut issue and that's it? Well, I guess, because a mystery man in a trench coat and jacket sneaks into the hospital to try to get the stuff Liz couldn't, and he burns through his asbestos gloves in the process, but then he's caught in the act by Spider-Man.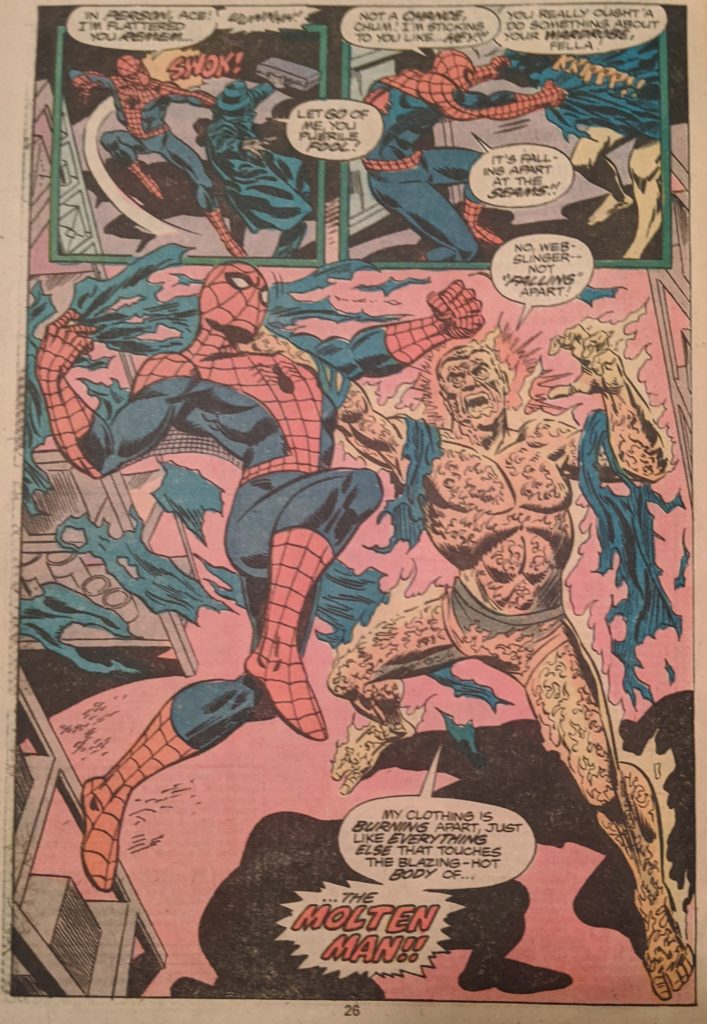 Except his undies, thankfully! Peter has called 2 people "Ace" this month. Weird. Molten Man looks more like Fire Man in Ross Andru's rendition. MM has no time to deal with Spider-Man, as he says his life depends on him escaping with his stolen goods, but Spidey's not going to let him get away, socking him in the face and stealing his suitcase. Enraged, Molten Man sets some sheets on fire, which distracts Spidey long enough for…

Rocket Racer really didn't come back. I can't believe it. Well, not Spidey's stuck in his familiar position of being blamed for a crime, so come back next time to see how it all shakes out.