Why tho? I guess we'll find out. This month, we got Chris Claremont in as guest writer, joined by penciler Jim Mooney, with reliable Mike Esposito still hanging in there on inks. As we begin, Peter Parker is watching in one of those surgery auditoriums as some doctors work on a kid.

Alrighty, then. As our hero is swinging to play guard to the ambulance, he flashes back to how this kid not only pushed him & MJ out of the way of an out-of-control truck, but then rather improbably leapt into said moving truck, found the driver unconscious, and turned it before it could hit any people. It instead just crashed into a wall, which allowed the container of neuro-toxin to fly forward and spill on him. Peter pulled him from the wreckage just in time for it to explode, and went with the kid to the hospital (We're told cops took MJ home? Why?). Now he's made it to the ambulance, only to find it has also crashed into a wall. Rough day for trucks!

As she beats Spidey up with her hair, Medusa says she has her own desperate need for this antidote, and that she'll kill him if he tries to stop her. Thusly, it's fightin' time. They pound the crap out of each other for awhile, but when Spidey tries to throw a chunk of chimney at her, she redirects the bricks right back in his face, knocking him out long enough to escape. When he wakes up, he's only got an hour left to save the boy. Luckily, he reveals he got a tracer on Medusa during the fight, so he gets moving. He soon catches up to Medusa at Coney Island, and after an initial scuffle, chases her up the rollercoaster. Hey, we're getting to the cover!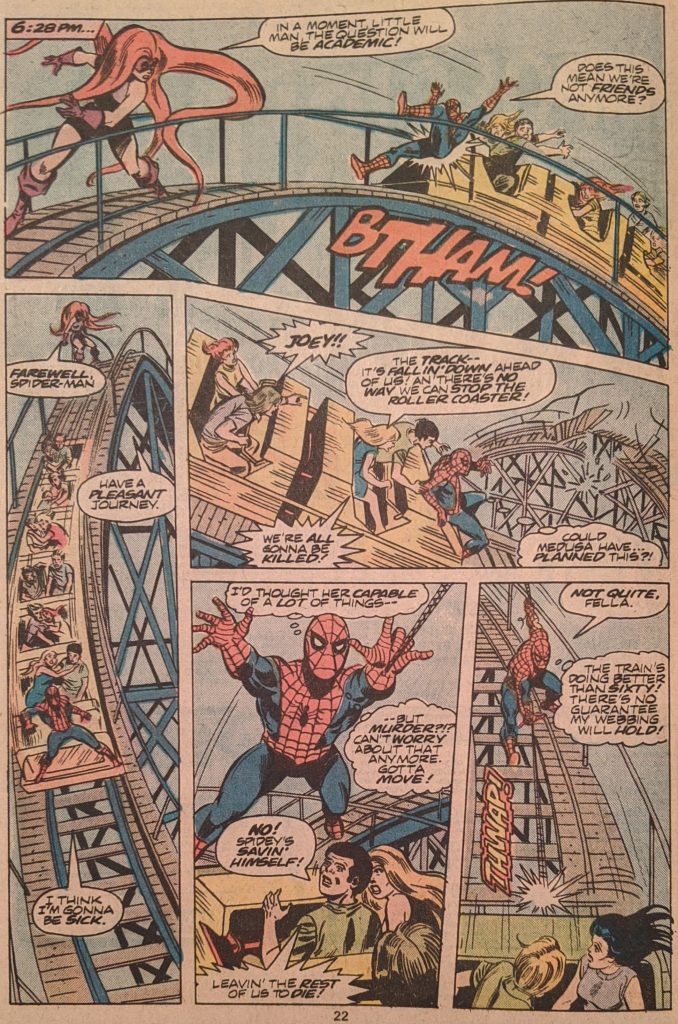 As Spidey stops the runaway coaster, Medusa arrives at a derelict shack at the far end of Coney Island. Say, you think it's the one from MTU 25? Inside, she finds… the rest of the Inhuman Royal Family? With a Kree who also needs the serum, thus all the fracas and such? What? Karnak asks what delayed her.

Spidey quickly dispatches Gorgon, but when Black Bolt makes no move to attack, Spidey realizes it's time to actually talk instead of fighting. He explains why he needs the vial.

So, this was obviously an issue of MTU that got turned into an issue of TAC, right? Maybe because TAC was going to miss a shipping date? I'm just guessing, but with the current writer of MTU showing up to do a story guest-starring Medusa and The Inhumans… seems pretty clear. Pretty wacky one. At any rate, come back next time for something a little different and momentous.