Welcome back. Hank Pym is still dead. Here's a villain who really seems lo like talking about his deal, probably because it's kinda weird. He's still talking inside, and some time has passed. Our old pal Police Captain Jean DeWolff is on the scene, trying to comfort Janet, but she's not having it. She's out for blood, understandably. But in her bloodrage, she also seems to have forgotten her zaps were no match for Equinox last issue, and Spidey has to tackle her away from a near death experience.

A cheery bunch! Remember how Equinox's Mom said she thought she knew how to stop him last issue and everyone was like "Nope!" She sez the futuristic ray gun thing she's carrying should be able to neutralize her son's powers if they'd just let her use it, so they do, but guess what, it doesn't work. And Equinox is so mad at her for trying to take his power that he's ready to kill her, too, so Spidey scoops her up and our heroes retreat. Janet says The Avengers aren't home and their lab is being rebuilt, but she thinks her Avengers ID will get her into The Baxter Building, so they head that way.

"Courruscating around my son's body like a corona out of Hell." Ladies & gentlemen, Chris Claremont! That brings us to tonight, when Terry ran away after seeing his mom finishing her gun to fix him. Janet's Avengers ID does, indeed, get them into the Baxter Building. The FF aren't home, of course, but they head down to the lab, anyway. Meanwhile, Equinox has a shoot out with the cops that ends with him blowing up a power station and plunging Manhattan into a blackout. Whoops! Not conducive to sciencin' in Reed's lab, but don't worry, the FF's emergency generators kick on. But do worry, because the rebooted security system now sees our heroes as intruders and opens fire on them, while also slamming shut the doors to Reed's lab before Wasp can follow Spidey and Dr. Sorenson inside.

The air duct begins emitting a gas, but Jan finds she can tear the airtight grill off and escape. She's feeling faster and stronger than ever, and suspects Hank had something to do with it as she flies on through the building to the security room. She sees the computer is about to douse the whole building in knockout gas just before she turns it off. This turns out to be because Equinox is scaling the outside. In the lab, Spidey has taken Dr. Sorenson's ideas to stop her son and modified them, saying she wasn't factoring in enough raw power to really work on him, and building a harness for it, too. Always nice when Spidey's science skills come into play. But as soon as that's ready…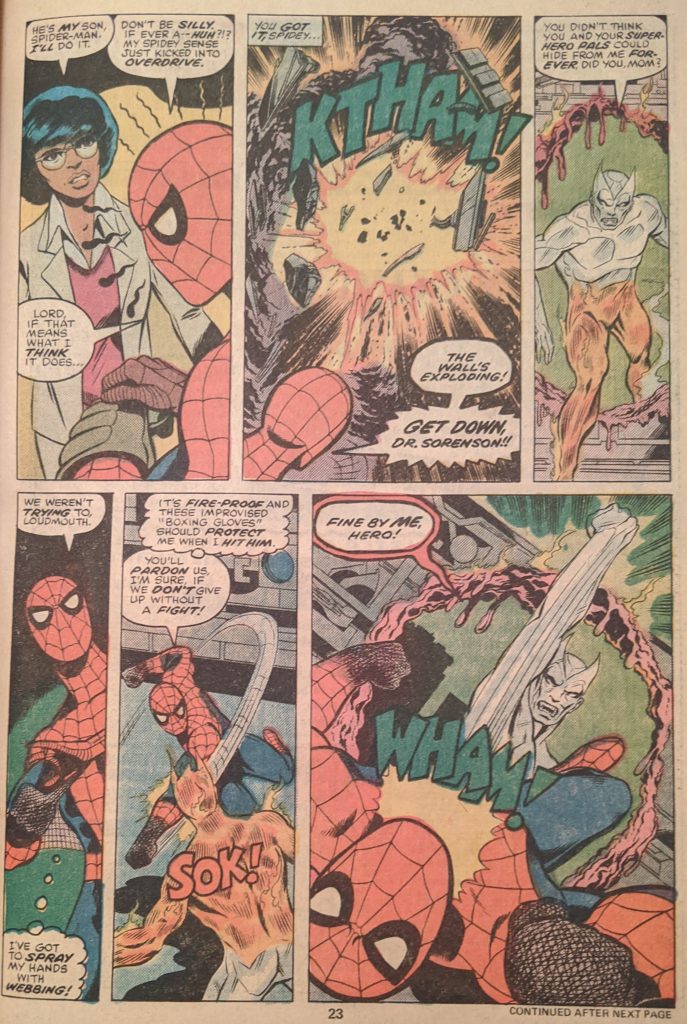 Spidey and Equinox have a pretty brutal showdown for a bit until a voice off-panel tells Equinox he's finished.

What a shock!

Why must MTU have these absurdly long storylines so often??? This is going for another 2 issues! Sheesh. Well, come back next time to see what hijinks can come next, I suppose. Jan spent all last issue aggressively thinking to herself about how she sucks and her powers suck, and whaddayaknow, now they don't. How convenient! Just have your husband experiment on your physiology without telling you, let alone asking you, it's easy! If only that was the worst he'd ever do to Jan but, well, that's not our purview.