It's time to hang out with comics' most dysfunctional couple at maybe their most dysfunctional! By now, Hank Pym has been through a ton of supernames, and is now Yellowjacket. Here's the thing about that: Yellowjacket is the result of him breathing some crazypants chemicals and suffering a psychotic break, announcing he, Yellowjacket, had killed Hank Pym, before kidnapping longtime girlfriend The Wasp and asking her to marry him. And… she said yes. She figured if she played along, it might help him get back to normal. So, they got married. Janet Van Dyne married Yellowjacket, not Hank Pym. I know, it's literally all red flags. It's a parade of red flags. But somehow, it worked out? Almost immediately, superhero business jarred Hank back to reality, and the 2 stayed married and it was all love. Um… for awhile. And now we're meant to believe Hank would die in a guest appearance in Marvel Team-Up. Seems legit!

This issue sees John Byrne join Chris Claremont, already writing a couple of months, on the title. The team who first worked together on Power Man & Iron Fist are now taking on Spider-Man, and in just a few months, Byrne will join Claremont for one of the most beloved X-Men runs of all time, all while they keep doing MTU together. Dave Hunt is on board as inker. Spider-Man, minding his own business, is shot out of the sky by some kind of heat ray on page one, only to get hit by an ice attack on page 2 and plummet into the river. Then we wind the clock back to see Janet & Hank about to enjoy a nice evening at home, nearby, when…

One of Hank's superpowers is being able to cram a ton of exposition into any panel! Spidey has a nightmare about being attacked by The Human Torch and Iceman, and also Gwen Stacy's dying in there for good measure, and then he wakes up in the home of Yellowjacket & The Wasp. Janet brings him some hot chocolate as Hank returns from looking for whoever put Spidey down so hard, coming up empty.

It's a good thing I accidentally got MTU 23 even though it's not a Spidey comic at some point in my quest! This is a much more friendly meeting than the first time these 3 got together.

The comic Hank referenced up there was published exactly 5 years before this one! Really hangin' on to that debt! Well, guess what, it's Equinox, and he wants to kill Spider-Man. Spidey attacks him first, but punching him in his icy face hurts Spidey's hand, and then Equinox grabs him and starts trying to burn him. The Wasp swoops in to try to zap Equinox and make him drop Spidey, but he instead starts swinging Spider-Man around like a human-sized fly swatter, which is pretty funny, before just throwing him at Janet.

That is some crazy aggressive foreshadowing. Yellowjacket blasts Equinox out the window, causing the woman to yell "Terry!" He has a name! She's his mom, it seems. He starts doing the Iceman ice slide thing, saying he's not gonna play by mama's rules anymore. The 3 heroes give chase and start trying to fight him again, but it goes about as well as it did before. Then…

Hank tackles Equinox while Spidey helps Jan to a safe distance, so they can get some of that sweet, sweet exposition.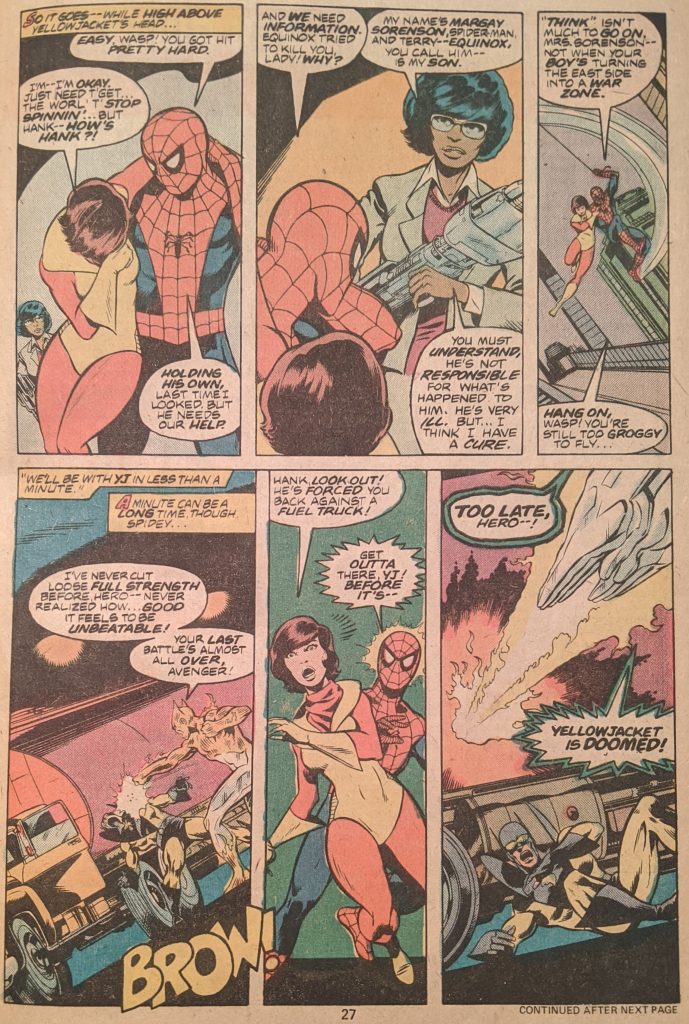 It's Chekhov's Fuel Truck!

Well, that can't be good. The editor of Avengers is gonna be furious somebody killed Hank. I guess we'll see a funeral next issue…