The Man Called Nova! Nova was supposed to be the new Spider-Man. I'll wait for your laughter to die down. His first issue said "In the Marvelous Tradition of Spider-Man!" right on the cover. The cool new teen hero for the 70s! And they were pushing that hard. I mean, "Marvel's Two Greatest Heroes?" I know it's the 70s, but how high are you right now? Insane. Instead of setting the world alight, he's about halfway through the entire run of his first series here. But look who's joining him, so here we are. Nova is created and written by Len Wein's bestest pal and future ASM scribe Marv Wolfman, so it makes sense they'd do a crossover. Nova's basically Green Lantern, in that he's an Earth man given the power of a member of a space police force, except Nova is a teen named Richard Rider. Mm hm, Marvel was betting the hero of the future was named Dick Rider. As we have seen repeatedly on this very blog, if you pick up any random Marvel comic from the 70s, chances are Sal Buscema drew it. Guess what, this is one of those. He's inked by Frank Giacoia. The splash page promotes this issue as a murder mystery, and also says there's a guy in this comic named Franklin Risk! Ok! Let's get to it, already.

"Calm down, dude, it's just a murder!" This guy is one Jason Dean, who asserts there hasn't just been a murder, but a GRISLEY murder. He says he was at Uncle Ralph's house with a bunch of other people "to bid on his latest invention" when a supervillain melted a hole in the wall, belted Jason across the room and went for Dr. Rider. So now Jason says Rider may already be dead. I thought there was a grisley murder, not a possibly grisley possible murder. Meanwhile, Richard has tired of waiting and walks to the very same police station to use a phone, how convenient. Soon, all 3 men are at Dr. Rider's house, where they find him lying on the ground next to a groggy… Peter Parker? Rich just starts beating on Peter immediately and calling him a killer.

Based on this page, I think Dr. Rider is/was an idiot. Richard calls his dad to tell him his brother is dead (Rough) while Captain Steele rouses one… sigh… Harry "Happy" Daze, yet another person who was in the house during the attack. This man is legit called Happy Daze. Richard changes into Nova and takes off to look for clues, still sure Peter is the killer. Peter takes the chance to change himself.

Some old guy is really putting a beating on SPIDER-MAN? Sheesh, they'd job our hero out to anyone in the 70s.

They do the ol' Two Heroes Fight Over A Misunderstanding for a bit and then stop. Nova flies off the collar the guy Spidey was fighting, and then delivers him back to the scene of the crime just as yet another dude who was in the house at the time of the murder is being questioned. Busy place!

Peter Parker appears, and the cop tells him he can't leave until this is sorted. Then he continues questioning Franklin Risk, a business man with a shady rep who says he was here for the same reason as everyone else: to bid on Dr. Rider's "transistorized nuclear device." Oh, right, one of those. Risk is told he can't leave either, and then Steele talks to the butler, improbably named Manners, who says he has something to say about all this.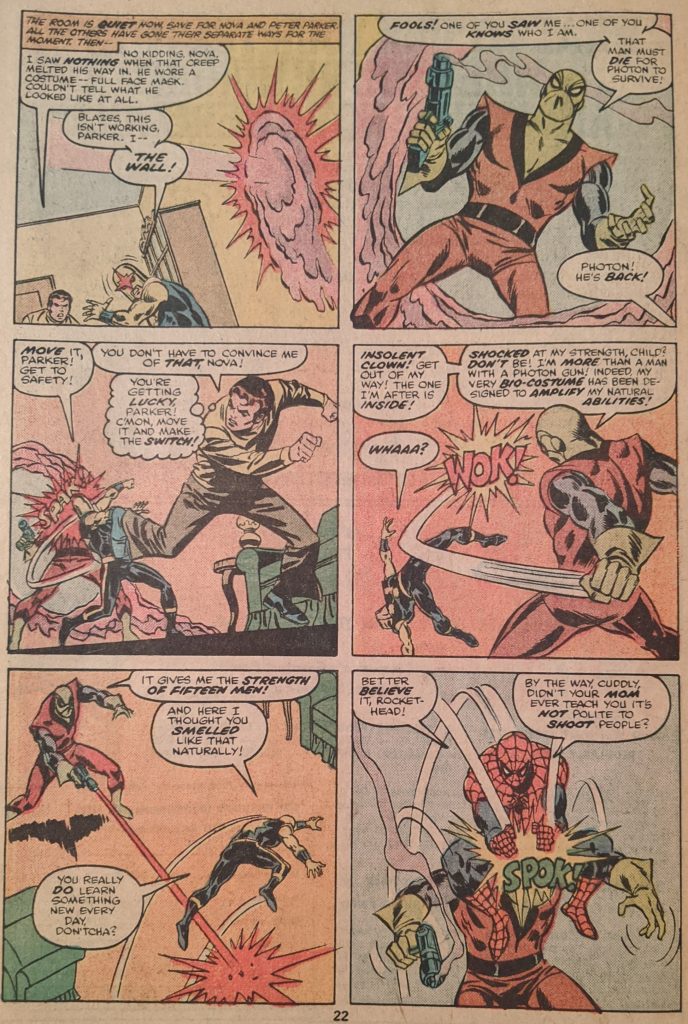 Whaaa? This is a very busy issue. Elsewhere, "Manners" tells Steele that he heard Photon say something during his initial assault which one of the suspects repeated just now, but before we can hear about that, Photon's trying to melt his way into that room to kill the butler. The heroes keep him busy, and Photon decides to escape. He sets some curtains on fire to distract the heroes and flees. Nova tries to chase him, flying past a very suspicious-seeming Happy Daze, but doesn't find the villain.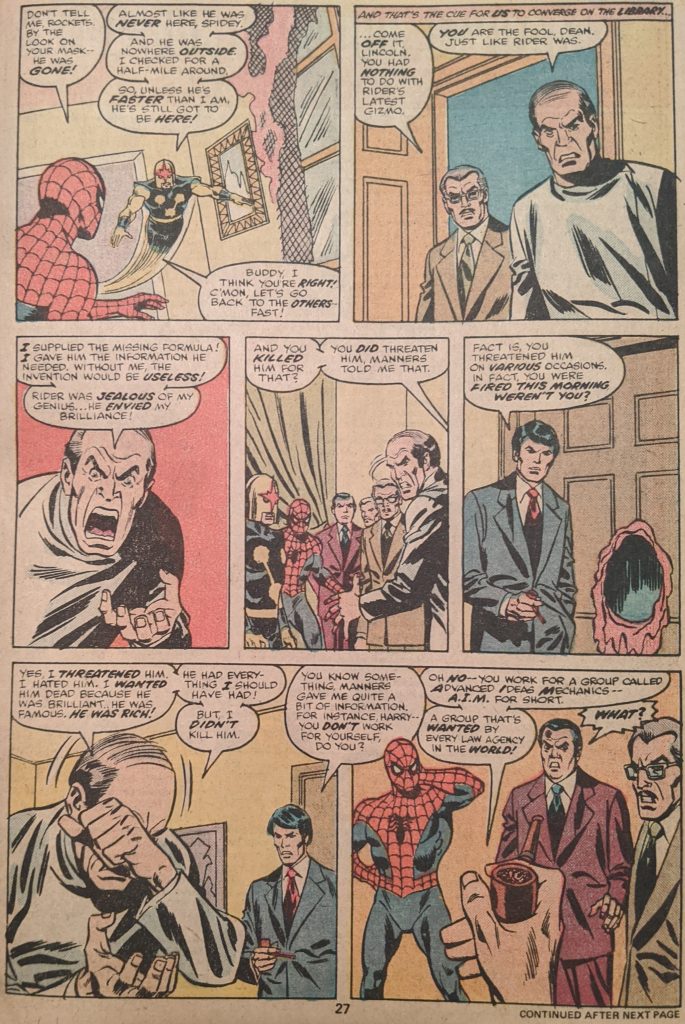 That's right, there's plenty more with this dynamic duo in our next post! But first, it's time for another ridiculous Hostess ad, this time featuring a familiar name:

Man, that's insane. I have to assume O'Neil saw this had liked the name. So funny. Anyway, come back next time to see whodunnit. I, for one, have no idea.