The stakes on this cover are so obvious that Spidey feels like he's overselling it. What, like Herc would just drop it? I don't know why there's a sticker on there saying this is Fantasy Masterpieces #4. That was one of Marvel's many reprint titles in the 60s. This is an eBay purchase. Who knows? This month, MTU is Gerry Conway, Jim Mooney and Vince Colletta. I wonder how Mooney, often an inker himself, felt about the wildly controversial Colletta inking his work. As things get going, Spider-Man and Hercules are wandering New York separately, lost in thought. Spidey swings around thinking he's been looking for a new apartment for 2 weeks. Herc ruminates on income inequality amongst humans (Really!). But then, the whole of Manhattan starts shaking like an earthquake!

That seems preposterous, but ok! Elsewhere, the drunk that got Herc thinking about human wealth disparity is in similar straits.

Spidey saves the girl, in much the same way he caught Gwen when she died, and is extremely relieved that it goes better this time. He also notices the quake has suddenly stopped. He drops the girl off in the window she came from and then swings away. Soon, Peter Parker is at the Seismography Lab at school, where he's not the only one who's come to see one Professor Aldritch about what's just happened.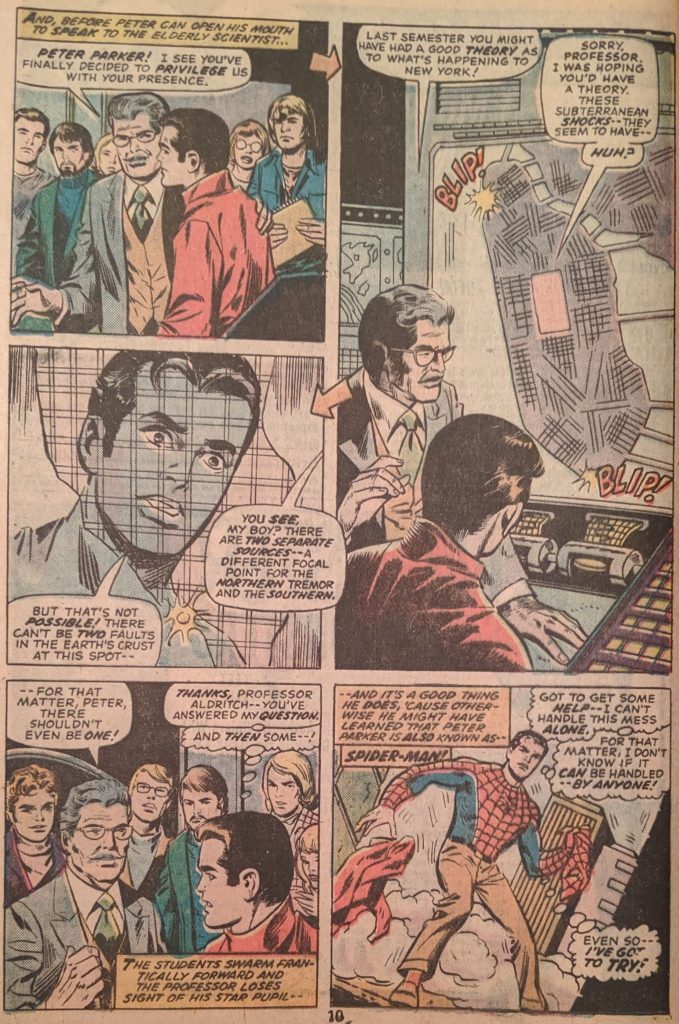 This seems like it should bring out basically all the superheroes. The Avengers, The FF, The X-Men, etc. And yet, the only person available is apparently Hercules, who's wandering the wrecked streets following aftershocks to the source of what he suspects was tno a natural phenomenon. As he gets closer to the source, the shaking ramps back up.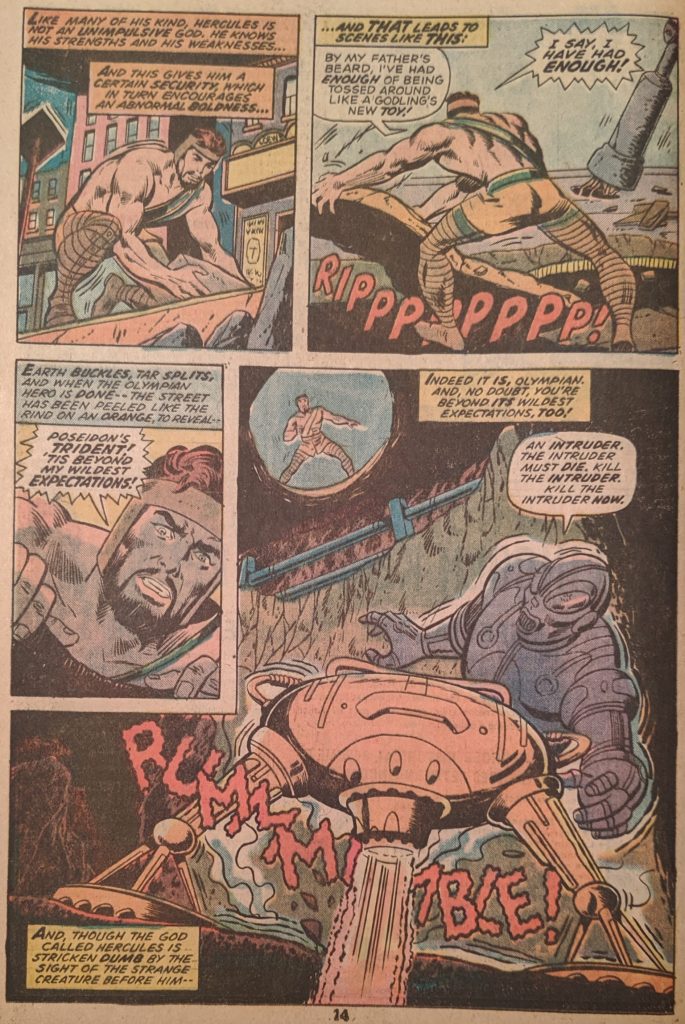 That seems bad. At the other source of the trouble, Spider-Man, having been unable to find a single superhero in the city they all live in, happens upon a similar dude with a similar machine, and they throw down. As they fight, it becomes apparent the dialogue coming out of the robot guys is coming from someone directing them. The robot guy grabs Spidey by the legs and slams him into the ground, knocking him out, as the voice says it has 10 minutes to finish its task.

A second later, Herc is hit by a zap of some kind that takes him out. That didn't work out so well. Spidey asks the robot what's going on, and the voice tells him: They're stealing Manhattan. They're digging out the foundations, and unless the governor gives them $2 billion, they'll sink it (Not really stealing it, then, are they?). Exposition acquired, Manhattan begins to move, as a "special nuclear sub" begins to drag it out to sea. Spidey breaks his own chains and dives into the robots, yelling at Hercules to wake up and do the same, and so it's fightin' time. As they battle, Herc notes that these robots seem like hollow men…

We're almost out of pages, you better have a plan, Spidey! Then there's a 2-page spread of… Hercules pulling Manhattan back to where it belongs by the same chains the sub used to drag it away. Uh… ok. He's walking on land somehow to do this. I don't… I don't know. But he's doing it.

I'm not sure I've ever seen an editor disavow an ending for being too ridiculous in the actual comic it's ending before. Wow. I'm completely with Roy on this one. What a goofy comic. Will we ever learn who was behind this? I haven't a clue. The cover was a lot more compelling than the story it sold. Ah, well. This is where we say good-bye to Conway & Andru and hop forward to Wein & Andru once more. But before we go, you should know the Marvel Value Stamp is just fine!