Spider-Man and the Hulk! Marvel's most popular characters at this time, and yet, they still rarely appeared in the same book. This one's banged up, and a previous owner wrote their name on it (I see you, Kim Cobb), but it's Spider-Man and the Hulk! It's Len Wein, Jim Mooney and Frank Giacoia kick ing off the issue with Spider-Man trying to break into a prison! Cops and soldiers and all kinda dudes are shooting at him, but he webs away and… takes off in his car.
The Chameleon, as advertised. Peter Parker hears what Spider-Man's accused of now, and since he's been studying all day, he's pretty eager to find whoever did this and teach them a lesson.
The finer points of mayhem! Not a typical Spidey phrase. Meanwhile, the Hulk IS IN SPACE.
Good grief. I know Hulk's ability to leap huge distances is part of his kit and all, but that looks hilarious. How did you not see him? He's the Hulk! And he quit the Defenders half an hour ago! Now that's some tight continuity. Hulk gets extremely angry that the person driving the car doesn't have a face.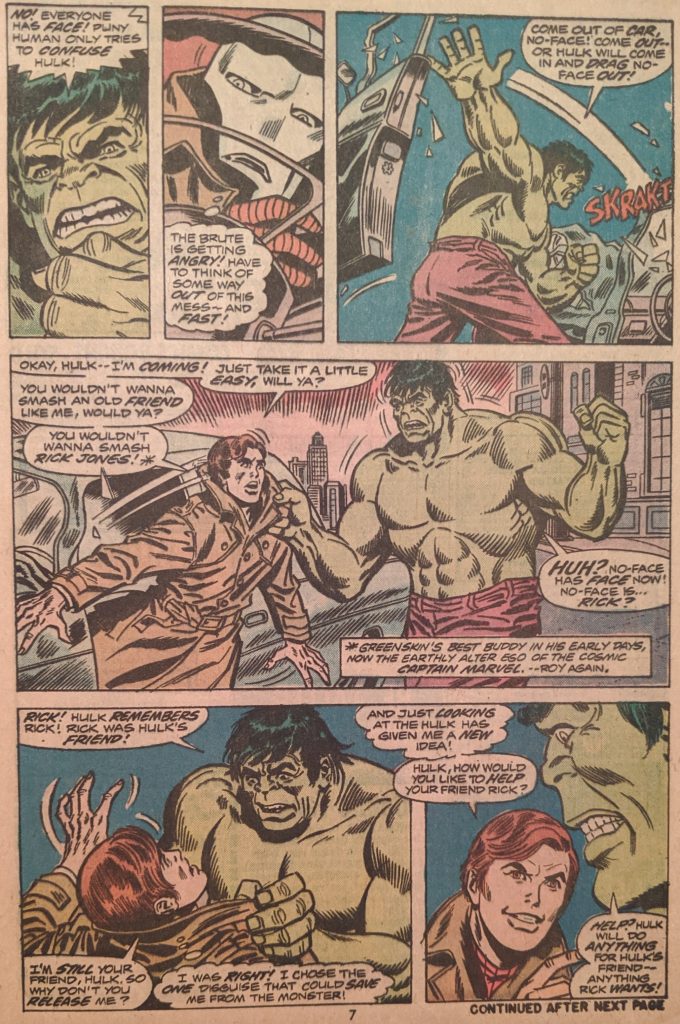 And so, the cover's caption about Hulk breaking into a prison shall soon come true. Spidey doesn't know about any of this as he reaches the prison and changes to Peter. The guards don't want to let him in, but it turns out, all kinds of press are there, including J. Jonah Jameson & Ned Leeds. Still not wanting to work for JJJ but willing to use him, Peter falls in.
The warden tells the assembled press they don't know who Spider-Man was trying to break out, as we pan in on a very worried looking prisoner, and then the scene suddenly shifts back to Hulk & "Rick." Chameleon convinces his friend Hulk to bust his friend Joe Cord out of the prison, which happens to be across the street, so Hulk goes right through the wall immediately.
Spidey attacks like he thinks that'll do anything, and Hulk grabs him by the leg and throws him across the room. I don't think I've mentioned yet this thing in comics of this era where people are having their internal monologue and then start talking in mid-sentence, but it's so weird. I just wonder what everyone else thinks when Spider-Man yells the back half of a sentence. Look, he did it again: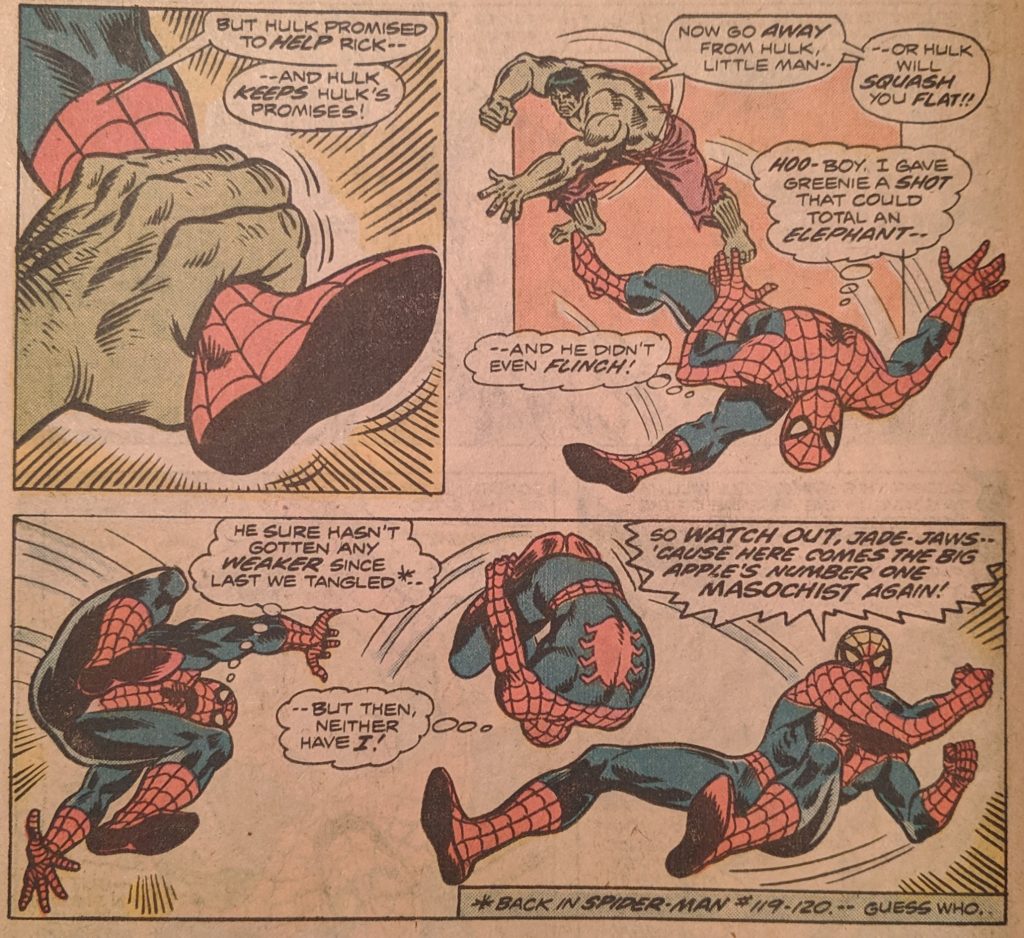 Spidey tries to wail on the Hulk, but it was never going to work. Hulk scampers off, and Spidey webs up some guard to keep from getting shot. Hulk produces the newspaper clipping of Joe Cord Chameleon showed him earlier, and just walks through the prison looking for him while every inmate yells that he's the one Hulk is looking for. It's a fun bit. A delighted Hulk finds his man, but the guy understandably doesn't want to go anywhere with The Hulk, and that's when Spidey catches back up.
Hulk calling the guy "Rick's friend" is one of my favorite bits of Hulk-speak I've ever seen. Hulk delivers Joe Cord to the waiting Chameleon, who says Cord saved his life when they were children, and how he's returned the favor. Ah yes, I imagine Russian spy Dimitri Smerdyakov and Joe Cord had great times together in Russia. Ahem. Spidey shows up and webs Chameleon's mask off. And we know how Hulk feels about people with no face.
Spider-Man webs up Chameleon's exit, and once he's out of the car, he's quickly surrounded by cops who don't particularly like him at the moment. Joe jumps in front of a bullet for him…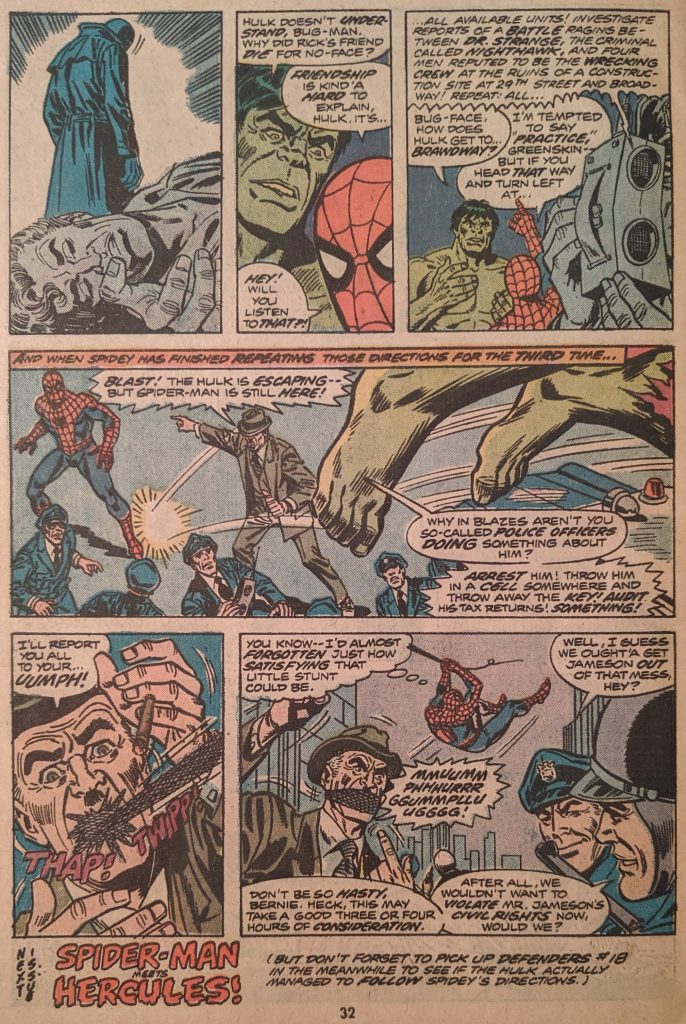 And that's that. Joe Cord and maybe a fellow cop are dead in the street, but it's time to laugh it up with New York's finest. They're as happy as I am knowing my Marvel Value Stamp is intact for this issue!