Boy, that's a cover image. You guys know what madness means?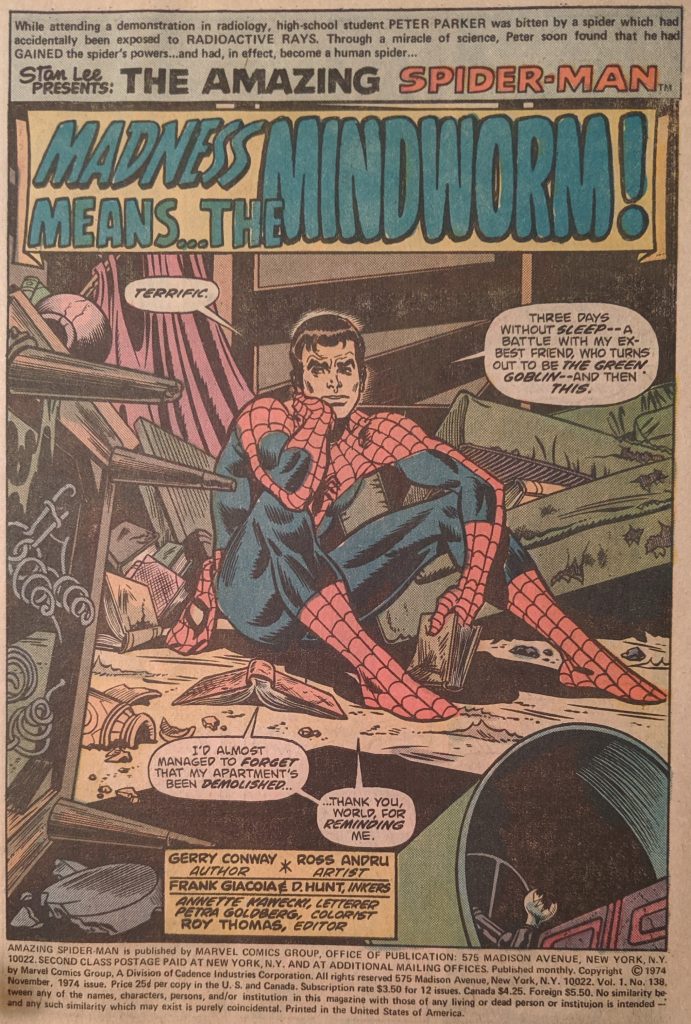 Yeah, world, thanks a lot for the ability to perceive the conditions around me, real nice. But there's no time for the world to respond, as the landlord comes banging on the door. He takes a look at the place, tells Peter the whole building is ruined, and rips up his lease. Now… this seems unfair. It's probably better for Pete to live somewhere where Harry can't find him, and this place is trashed, but it's not like Peter did this. Surely there's a police report, surely there's evidence of a bomb. Dick move, Mr. Templeton. Dick move. Suddenly homeless, our man makes some phone calls…
Six years, eh? The sliding time scale is finally making an appearance. It's been 12 years since the first appearances of both Spider-Man and Flash Thompson, and they'd obviously known each other some amount of time before that. But someone finally considered what happens when Peter Parker is suddenly 40, and time has slowed down. Pete-o takes a cab out to Flash's place, but his luck isn't improving any time soon, because the presence of "power" and "a strength of will" is noticed by the weirdo on the cover, skulking at a window down the block.
Pete & Flash sit up for hours talking until Flash falls asleep. Peter is surprised to see how well they get along. But with Flash out, he decides to do some webswinging in his new neighborhood. He barely gets outside before…
He wants Flash to tell him if he's imagining things, but Flash is already gone, sleepwalking down the street with everyone else. Everyone's walking toward a run down old house at the end of the street, and Spidey swings over to investigate. Inside, "The Mindworm" recaps his particularly grim backstory. How he was born weird and weird looking due to "the experimental compound the government opened outside town" (wut) causing a lot of abnormal births wherever he came from. How he ruined his parents' life and seemingly drained the lifeforce out of his mother, then influenced his dad to run in front of a speeding car. Then he was sent to an orphanage, where he permanently damaged the brain of a kid who picked on him. And how, by the time he left the orphanage, he was a big buff dude in addition to having mind control powers. Then he moved into this house, and now we can continue. Some passing cops report in the strange phenomenon before succumbing themselves, and when the dispatcher tells his captain, he orders in a riot squad. Meanwhile, at the house…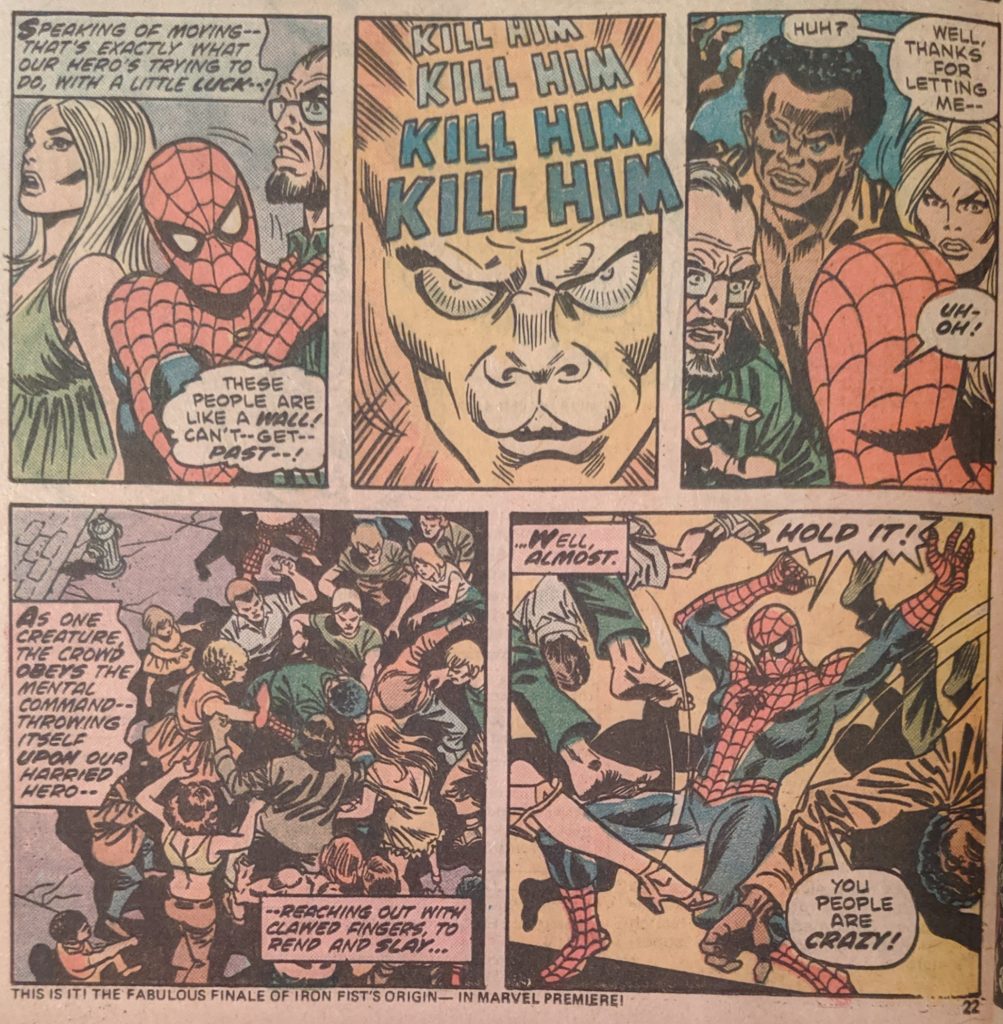 Spider-Man tries to escape the mob, as the police cut off all access to Far Rockaway and send in the aforementioned riot squad. Spidey better wrap this up before he has to fight dudes with machine guns and helicopters. He smashes into the house, and The Mindworm tries to use his power to subdue him. It almost works.
They bash each other around awhile, and this extremely weird villain finally sort of explains what his deal is…
Uh… ok. Not a particularly auspicious debut for The Mindworm. Will we ever see him again? Can't say I hope to. But at least Peter has somewhere to live again. Not only that, but this issue's Marvel Value Stamp is right where it should be. Everything works out.