In addition to the resurgence of horror comics at the company, Marvel in the 70s is also characterized by diving headfirst into the new stuff happening in popular cinema. Cashing in on "blaxploitation" with Luke Cage, and cashing in on the kung fu movie craze with Iron Fist, and also with Shang-Chi, Master of Kung Fu. So, since Spidey "met" Marvel's big horror character last issue, it only makes sense for him to meet their kung fu superstar in #2. On a personal note, I'm excited to say this one smells fine. Len Wein, Ross Andru, and Al Milgrom on deck. Ross Andru is out here drawing the monthly Spider-Man, plus 30 additional pages of Spider-Man every other month in this title. These days comic book artists can't do 9 issues a year, and this man was going in like that. Also, is this Al Milgrom's earliest work on the blog? I think so. Anyway, Spidey meets Shang-Chi! I am terrified this is going to be wild racist, here we go…
We get crackin with some goons in the distinctive garb of supervillain henchmen robbing The Guggenheim, and Spider-Man swinging in to stop them. A caption says Spidey will face "literature's most diabolical villain," so this is definitely going to get racist, and I apologize in advance. But this is no ordinary band of goons, they're all eager to show off their kung fu skills! Between them and Spidey, the dialogue helpfully lets you know this fighting is called kung fu, those things are "ninja stars," these things are"nunchakus," etc. Just in case you don't know.
Spidey beats up all the goons, kung fu or not, and then questions one of them about what they're up to. When the guy decides to spill the beans, he gives up a surprising boss: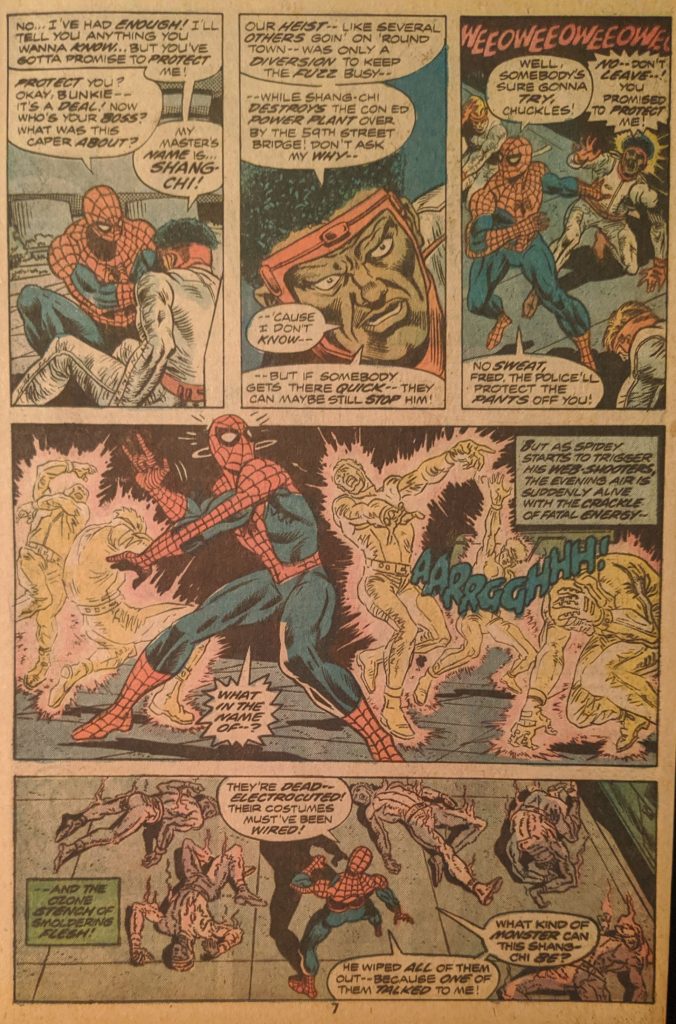 This is setting up the most reasonable "two heroes fight over a misunderstanding" I've seen in awhile. The scene cuts to someone watching the action on a monitor, and it's time to meet… Fu Manchu. Y'all know about Fu Manchu? He was an extremely popular character in the 30s and 40s. An international criminal mastermind who starred in a zillion books, pulp stories, radio shows, movie serials and all that. He is also a gross stereotype of "the mysterious Oriental," very representative of his day. Here he is:
In Marvel comics, he's also Shang-Chi's dad. He's up to something big in New York, and has decided the biggest threat to his scheme is Spider-Man, so he's put plans in motion to make Spider-Man and his son fight. And that's our cue to go see how Shang-Chi gets pulled into this. Shang-Chi narrates all his adventures in first person, not too common in this era. He's walking down the street in NY when he happens upon some goons beating up an older Asian man and calling him a slur. Uuugggghhh. And they're all dressed in Spider-Man-themed outfits, so Shang-Chi will assume Spidey is evil.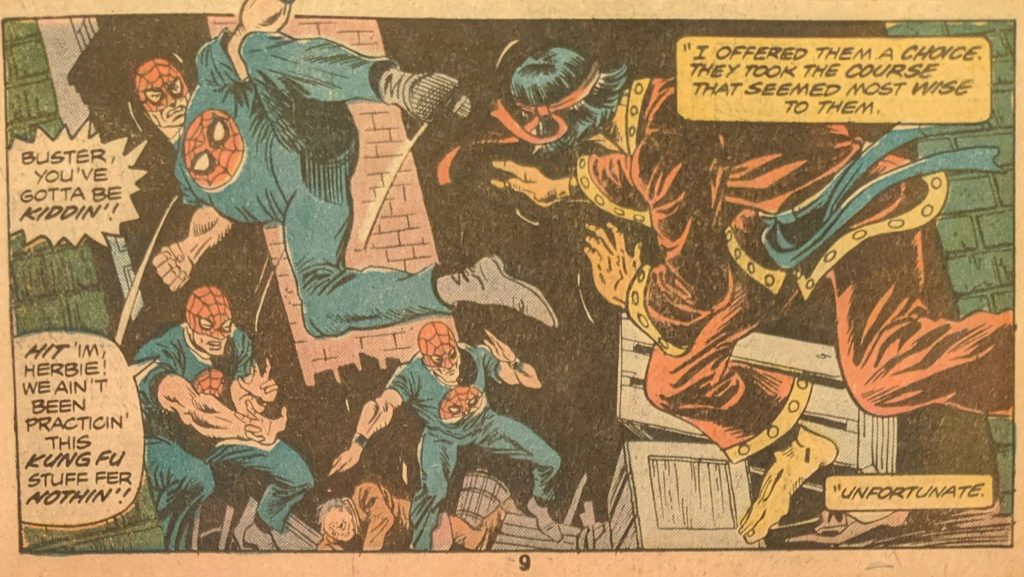 The Master of Kung Fu defeats the assailants, one of whom makes sure to mention Spider-Man is their leader…
…there's 2 more racial slurs, and our scene shifts to the home of Denis Nayland Smith, a friend of the old guy getting beat up, and also, an old foe of Fu Manchu. Shang-Chi brought him there. The old guy says he's learned Fu Manchu has ordered Spider-Man to destroy the same power plant the goons earlier told Spider-Man Shang-Chi was going to destroy, then dies. So, naturally, Shang-Chi volunteers to go stop him, and now the stage is set. Both men travel to the power plant to stop the other, and it's fightin' time.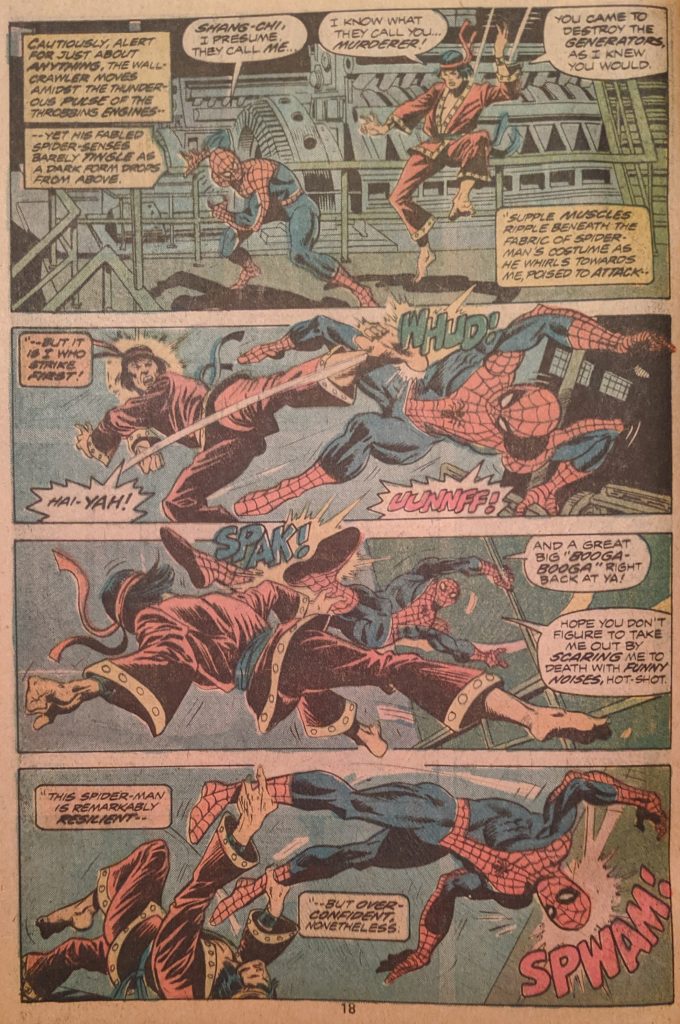 They dance awhile. Spider-Man is faster and power powerful, but Shang-Chi is far more practiced, so they can't quite get over on each other. Eventually, Shang-Chi finally declares that he won't let Spider-Man blow up the place, which lets Spidey know they've been had. He asks for a truce, but Shang-Chi thinks it's a trick, and launches a powerful kick right at Spidey's head. Realizing there's only one way to prove he's sincere, Spidey just stands there, and Shang-Chi twists out of the way just in time, unwilling to attack a defenseless target. They compare notes, and now they know what's up, set out to find Fu Manchu. They start by interrupting a guy trying to shoot a fleeing 2nd guy on the street.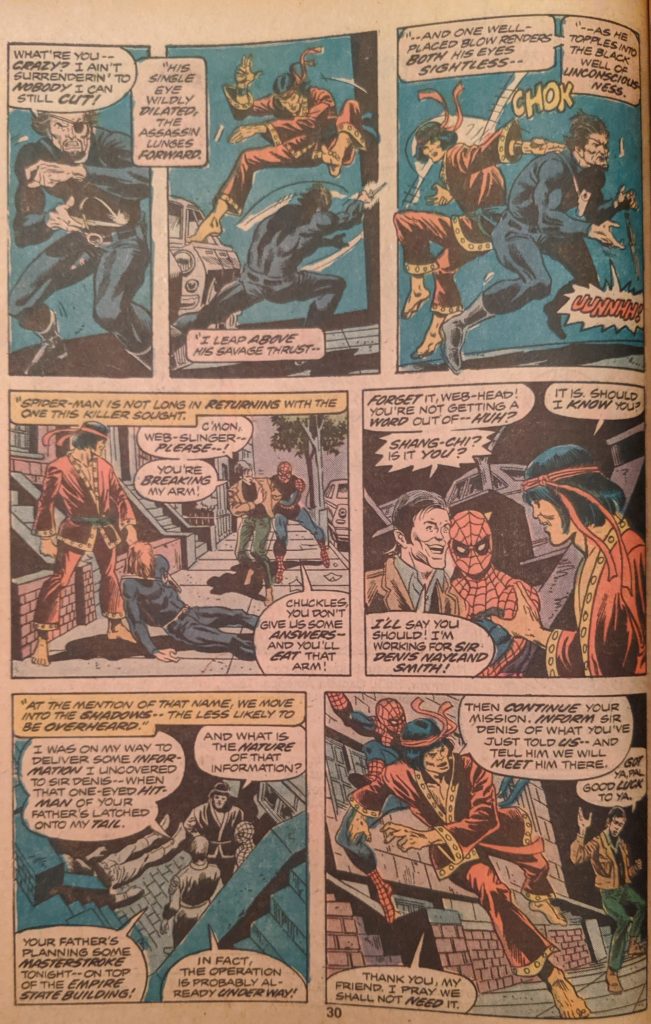 The heroes head over to The Empire State Building, while Fu Manchu himself tells us he's replacing the TV antenna on top of the building that was destroyed in a recent issue of Daredevil with a new one that will broadcast subliminal messages to help him "subjugate the entire Eastern United States," and Shang-Chi can't stop him this time. But he doesn't know his son and Spider-Man are on their way to the top of the building now. They run into an evil sumo wrestler who works for Fu Manchu, so Spidey fights that guy while Shang-Chi continues to the top of the building.
That joke makes no sense to me. Shang-Chi proceeds to fight a whole army of goons.
When a guy almost gets the drop on him, Spidey shows up and webs him away. Then, back to back, the two heroes continue wailing on the assembled goons. Spidey steals a catch phrase…
The battle is cut short when Nayland Smith's guys arrive in a helicopter and gas the roof, which allows Fu Manchu to escape as a gang of good guys drop down onto the roof. They realize he's already almost to the street, so they dive out a window 86 stories up, and Spidey makes a big web below them to land in. They rush back inside to catch the villain when the elevator gets down, but…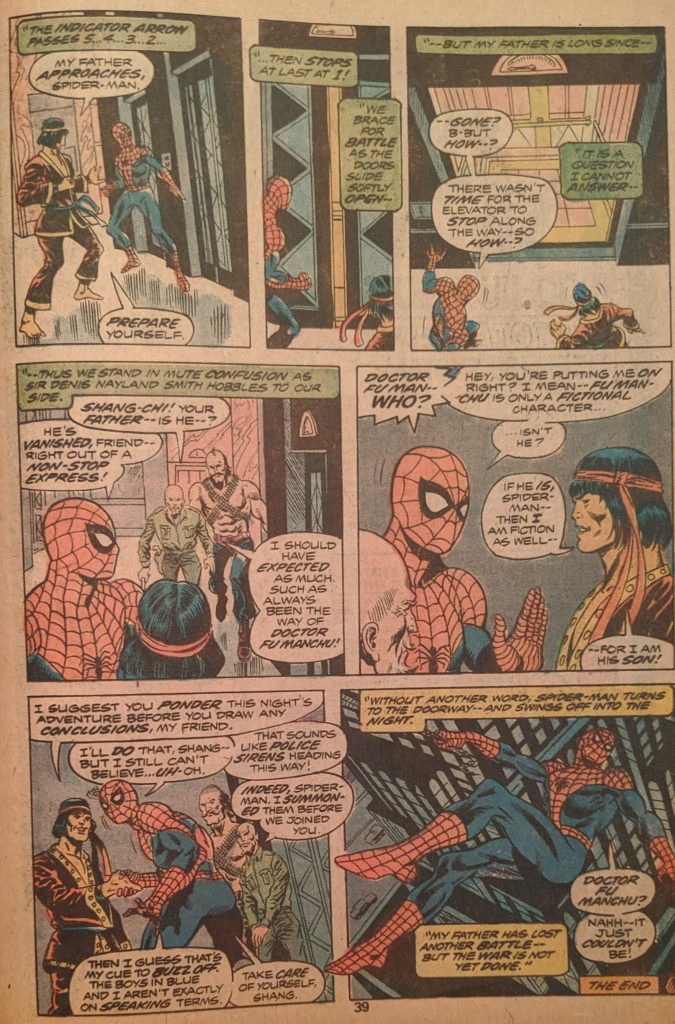 (Terrible trim on this issue) Well, that could've been worse, honestly. Fu Manchu is a complicated figure. I mean, not really, he's super racist. But the caption calling him "literature's most diabolical villain" speaks to just how well-known he used to be. He has a big place in the history of western fiction, a popular character from the 1910s through the 1950s, star of books, pulp stories, radio shows, movies and comics. And while Marvel continues to use Shang-Chi today, they can't technically call his dad "Fu Manchu" anymore, and probably don't even want to, and have to jump through hoops in the now-rare occasions he comes up. I have seen him in comics as recently as 2011. It's a weird, weird situation.
The rest of the issue reprints Amazing Spider-Man Annual #3, which we've already covered.