Yay, Daredevil! But… The Unholy Trio, huh? These guys don't exactly inspire fear in the hearts of men. Some, uh, unique costumes. I guess they're actually called The Unholy Three, and this is a mistake on the cover. I gather these losers are minor DD villains. Most DD villains are minor DD villains, really. You got bona fide classics like Bullseye and The Owl, Frank Miller kinda stolen Kingpin from Spidey for him, you got Typhoid Mary, and… there's a real steep drop-off after that. Not every hero can have the bench of villains Spidey and Batman have. At any rate, The Unholy Trio, who are Cat Man, Bird Man and Ape Man, not Len Wein, Jim Mooney, Frank Giacoia. It's nighttime, and Spidey is hanging from a ledge reading Marvel's answer to Mad Magazine, Crazy, because not much is up, when he sees a cat burglar dressed like a cat-burglar. 

Hoo boy. Spidey is apparently cribbing a bit from comedian Flip WIlson there, though I certainly didn't know that before looking it up. He keeps failing to hit Cat-Man, who just jumps all over the place, when Daredevil swings in and kicks Spider-Man across the alley. Oh boy, is it time for Two Heroes Fight Over A Misunderstanding?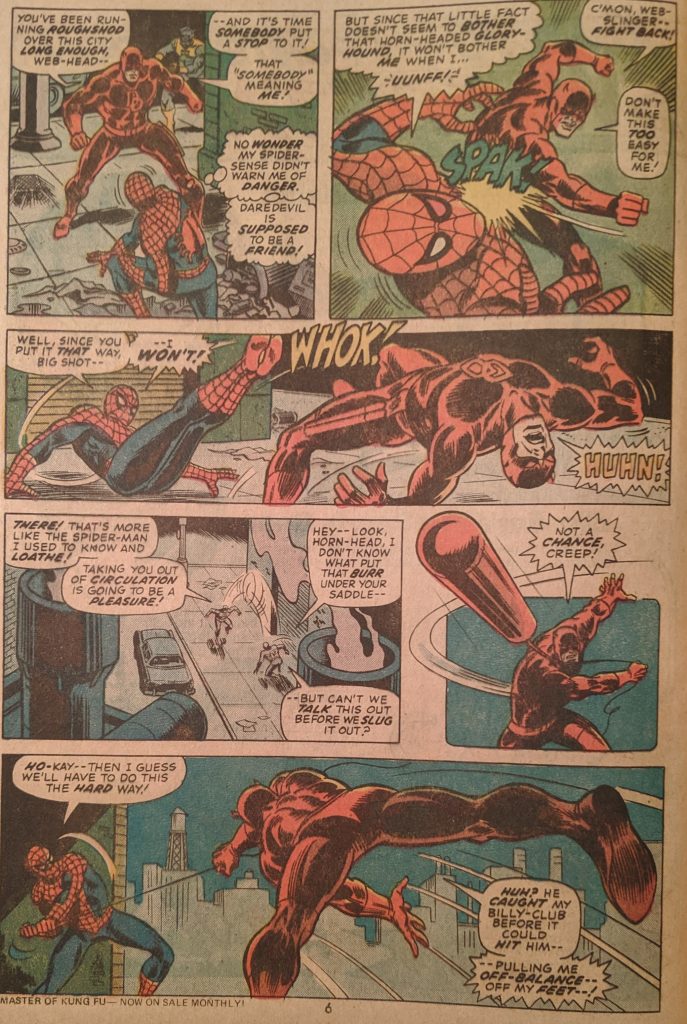 Sheesh. Cat-Man finds he can't get his bag out of Spidey's web, so he just runs off, the 2 heroes too busy beating the crap out of each other to worry about him anymore. But once he's gone, DD calls the fight off, and says he's been fighting Spider-Man to save a girl's life. Oh, sure, that checks out. Turns out, the daughter of some rich dude was kidnapped by Bird-Man and held to ransom. The rich guy had Nelson & Murdock on retainer, and the Unholy Three demanded Matt Murdock make the money drop off since he could never identify the kidnappers (Uh, not exactly incognito during the kidnapping, geniuses!). So Matt gave Cat-Man the money, and then switched to DD (DD tells Spidey he & Murdock were working together) to follow him back to his hideout when guess who stopped Cat-Man from getting home with the loot?

In a "decrepit seaside bait shack" in Coney Island, Cat-Man comes back to the others to announce his failure, and Ape-Man is so mad he decides to just kill the girl (Great plan!), saying there's no one around for miles to hear her scream, but of course, in yet another 2-page spread (One per issue for so long I've lost count. Was this supposed to be MTU's signature move or something? Doesn't matter who's drawing it), there's actually 2 heroes on the scene, and the girl's scream tells them where to go. Rather hilariously, DD just walks up and knocks on the door, and when Cat-Man answers it, DD punches him in the face before he can react. This serves as a distraction for Spidey to sneak in through a window, put up a web between him and the girl and the goons, and then get her out. 

Spidey's actually got some solid jokes this issue. DD takes down Ape-Man while Bird-Man goes after Spider-Man and Cat-Man just makes a run for it. A lot of -Mans in this issue. Spidey puts the girl down on a roof and then heads back to help DD, running into Bird-Man and dispatching him easily, as you'd expect. That just leaves DD following Cat-Man into a haunted house attraction.

The End. Just kidding, as DD exits the building, Spider-Man catches up to him, and then, all of a sudden, Ape-Man has the girl. He was beaten unconscious 3 pages ago, but I guess he got better. And somehow immediately found the girl up on some random rooftop and then brought her back to Coney Island to taunt the heroes with her. In spite of whatever ape powers he presumably has (His only powers so far seem to be getting angry and getting knocked out), he's produced a gun to just shoot her if the heroes come any closer. Why'd he come back here, then?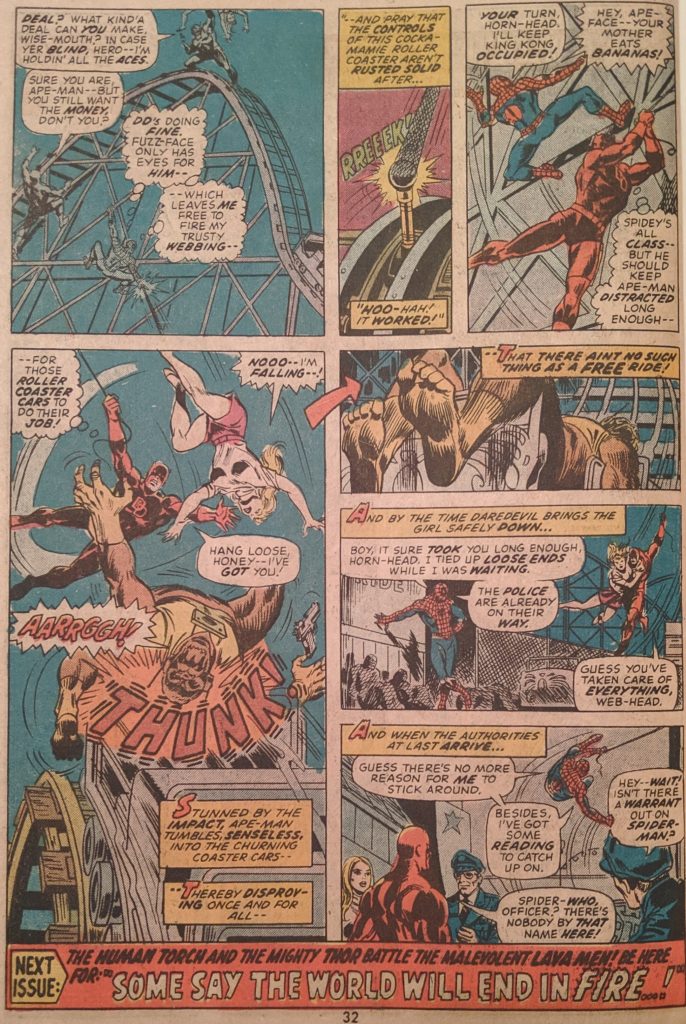 Well, that's that. Abrupt ending. I don't think we'll be seeing The Unholy Three's hilarious crop tops and booty shorts again on this blog. They shall not be missed. And don't worry, True Believer, Marvel Value Stamp: Intact!