Look at that perfect Romita Spider-Man on the cover. Welcome back, welcome to another issue of Amazing Spider-Man. Same creative team as last issue, Gerry Conway on script, Ross Andru on pencils, Frank Giacoia on figure inks and Dave Hunt on background inks. Things get rolling with Spider-Man out looking for trouble because he couldn't sleep. And he's found it, in the person of several goons in yellow & blue outfits climbing out of the sewer, armed with your typical supergoon laser rifles, talking about robbing a skyscraper. Spider-Man leaps into the middle of them…

The last guy says he'll die if he talks, sez his boss has the power to kill him if he even says his name. He barely gets the sound "ha" out of his mouth before his eyes start glowing and he dies! That's rough. Spider-Man has a bad feeling about the coming days. Meanwhile, we check in with a villain whose name starts with "ha" meeting The Jackal.
It's hard to tell what The Jackal hopes to accomplish here. He apparently offered to help Hammerhead, then just made him super angry, and then scampers off, saying it's all part of his plan? One also has to wonder about the heights of supremacy he mentioned, considering this is his 2nd appearance and he's proud to have no gang. What is there to rise to supremacy over? Maybe we'll find out. For now, we check back in with Spider-Man, who's swung by the Baxter Building to see the Spider-Mobile Johnny Storm has worked up for him.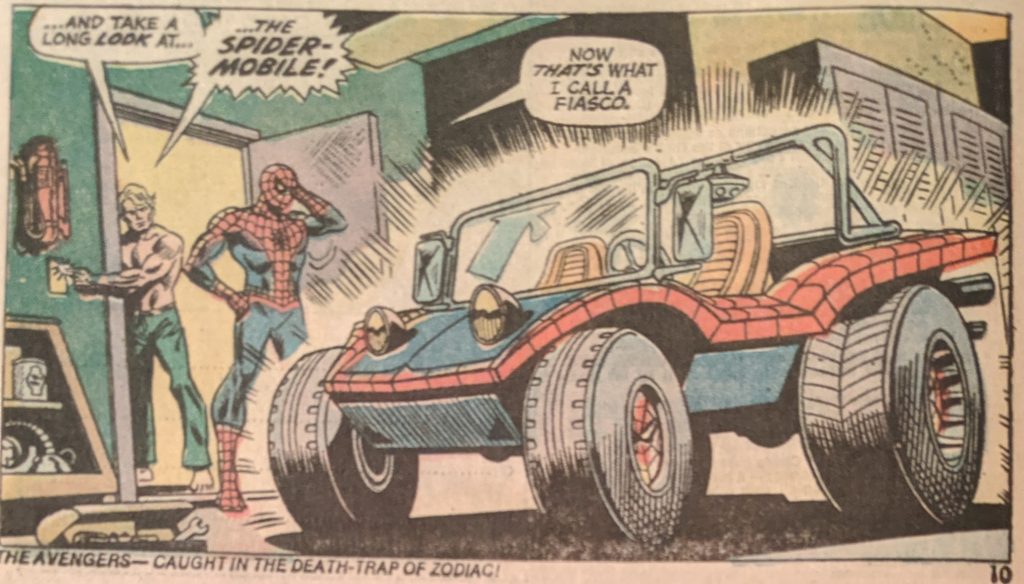 This can't end well. Spidey decides to take the car out for a spin. One problem, though: He doesn't know how to drive. Maybe shoulda thought of that before now. He learns it shoots webs, then drives into the wrong lane of traffic, onto the sidewalk, and just barely avoids hitting all sorts of people before The Human Torch stops the car and demands to give him some driving pointers. Unbeknownst to the heroes, their driving adventure has been observed by Doctor Octopus! Man, there's a lot going on in this issue. Doc Ock just got out of jail, and heads over to the Pan Am Building to get in a helicopter, on his way to an as-yet-unknown scheme. Meanwhile, Peter Parker returns home just in time to get a phone call from Aunt May, still improbably, living in a mansion in Westchester with Doctor Octopus. Peter is still not sure how to handle it. He starts trying to tell her she should move back to Queens, but he's only able to talk a moment, because Mary Jane shows up. She mentions Professor Warren being worried about him missing class…
Days later on Christmas Ever, those goons in the yellow suits are back out and about, and now they have jet packs. They blast their way out of a building hauling a bunch of file folders, but are stopped by Spider-Man in his ridiculous Spider-Mobile. He slides around shooting webs out of its webshooters, managing to wrap up all the goons, but then their boss shows up.
The fight ends pretty quickly, with Hammerhead actually getting the better of Spidey, knocking him out. When he wakes up, some cops are looking over his Spider-Mobile. He webs them up and prepares to drive off, but then notices a letter that fell out of all the folders the goons stole, and it's for Aunt May! Spidey thinks he might have just figured out what Doc Ock's plans involving Aunt May are, and as he drives away, he doesn't notice The Jackal watching. The Jackal says he planted that letter there, to give Spider-Man information to use against Hammerhead & Doc Ock in the hopes they'll all destroy each other. Soon, Pete has driven to Betty & Ned's Christmas party.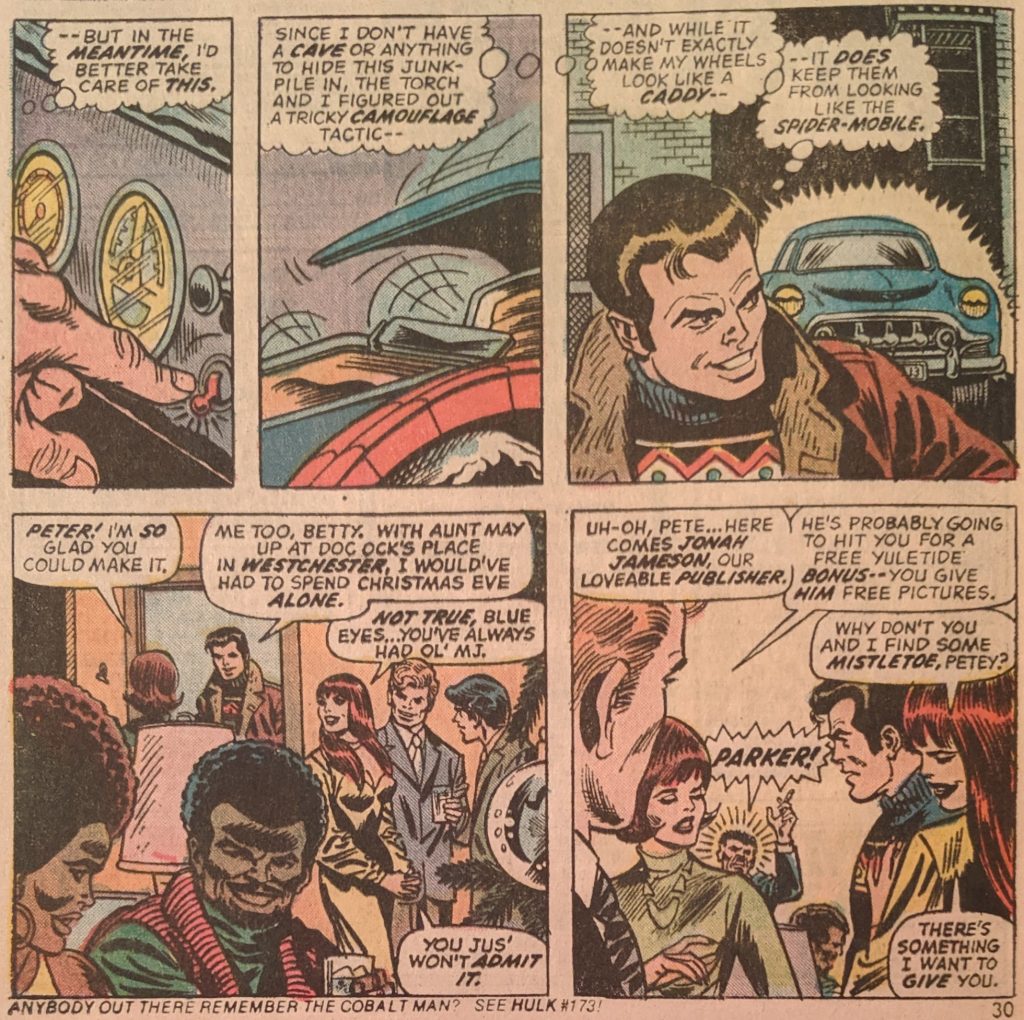 MJ is not one for subtlety. JJJ shows up, and gives Peter his Christmas bonus: One of his cigars. MJ continues to really push the mistletoe thing, but Peter is still mourning Gwen and just isn't on board. He ducks into an empty room and reads the letter he found. He's so riled up that he says he has to go warn Aunt May, switches to Spider-Man, and leaves the party. He travels up to Westchester and sneaks into Doc Ock's mansion, where he stumbles upon one of the most infamous moments in Spidey history:
Oh yes. It's about to get real wacky next issue.