Just swinging the guy around like a bat! While he's debuting a snappy green version of his usual ensemble here on the cover, you'll be relieved to know The Kingpin is in the usual white & purple version inside, as he gets right to the business of beating up Spider-Man. Here, Heck & Esposito are credited only with "an admirable assist," and yet I suspect they did all the penciling and inking, same the last few. Stan's credits were… not terribly helpful, a lot of the time. And yet, from what I understand, the early 60s Marvel comics were some of the first to reliably credit people at all, so… I dunno. At any rate:

They keep at it until Kingpin really does pick Spidey up by the ankles and swing him around. But he gets so wrapped up in his new hobby that when he lets go, he accidentally throws Spider-Man right into the big brainwashing machine, sending his science goons into a panic. Spidey gets zapped pretty bad smashing through the equipment, but it also causes the room to fill with smoke, allowing him to slip out a window before anything worse can happen. Somehow, after Kingpin shuts off the machine, his goons are able to get it back in working order remarkably fast. And poor brainwashed George Stacy has been sitting in the chair this whole time.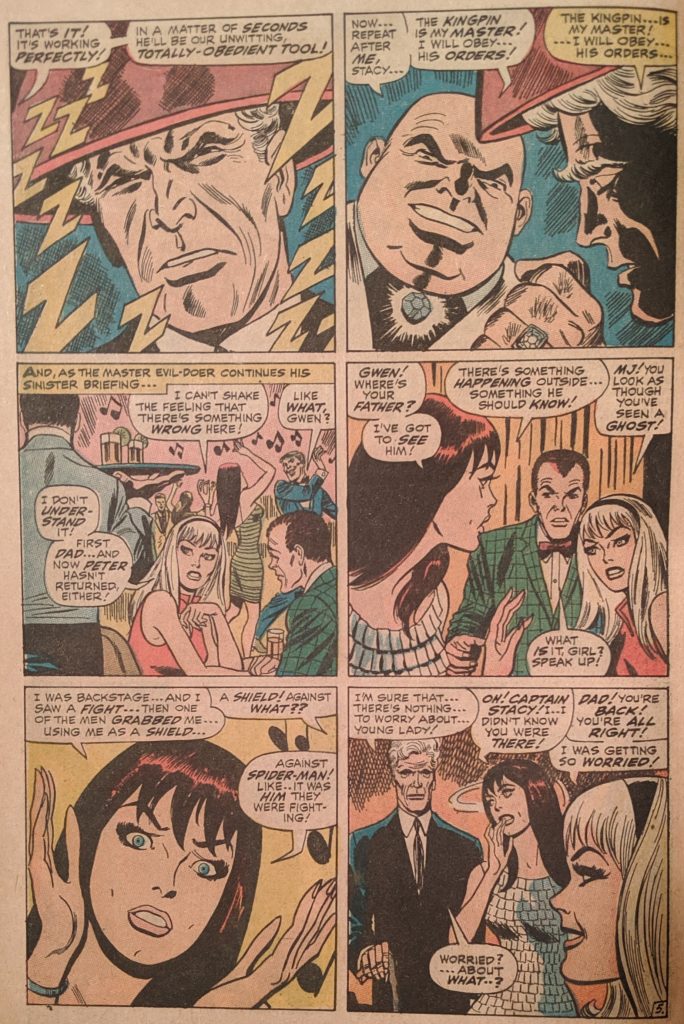 This page looks pretty Romita-y. Maybe Heck didn't pencil the whole book. Who knows? Captain Stacy keeps talking like a robot and no one seems to mind. MJ gets ready to get back to work as Harry surmises Peter has run off on the trail of news pix, but the truth is, Spidey is so messed up that he's seeing double and can't concentrate. He tries to get down off the building he's perched on and manages to almost kill himself 3 times on one page.

Peter officially has a crush! But what bad timing. Rather absurdly, Peter goes and gets on his motorcycle and drives to Gwen's house. He thinks how he has to go slow and be careful, but come on. In this condition? After a little flirting with Gwen, he asks to see her dad, and tries to get him to act weird and confirm that he's brainwashed. Which he does almost as soon as the word "Spider-Man" comes up. He comes at Peter with his cane, and Peter instinctively swats him away, worrying a split second later that he may have hurt him.

As he flees, Peter thinks Gwen would only seem so betrayed if she felt the same way he did (I mean… ok…), but now it's too late. He wants to go back to Kingpin's lair and get to the bottom of this, but knows he can't act until his vision is back to normal. Back at the house, Gwen says she couldn't bring herself to call the cops, but she'll never forgive Peter. Once he's alone, Captain Stacy calls The Kingpin to tell him about Peter, who Kingpin says must be silenced. As he orders some goons to go kill the teenager, Peter is going to see Aunt May, who seems to be in good shape, and is still calling people "pussywillows," like this is the funniest gag in the world.

Peter is obviously only more upset when he realizes Harry's been shaken down because of him, and even though he's not totally back to normal yet, he gets in his suit and swings off to finish this, lamenting all the trouble it's caused along the way. When he gets to the club, he sees Captain Stacy getting in a car with some goons, so he follows them to… a police station. They're able to just waltz in with a beloved retired cop leading them, and he sees them going into a vault for "vital records." After setting up his camera so he can get some proof of what's going on…

After what happened last time, Spidey just lets Stacy whack him in the head, and in his condition, that puts him down for a minute. Stacy and the goons flee, talking about saying they caught Spider-Man breaking in, but he knows he has pictures that prove George was already rifling through files before he came in. But now he's got to decide if he can break Gwen's heart in order to clear himself. Things are looking pretty bad! Maybe the tide will start to turn in our hero's favor next month. In the letters, the gang gets a missive from someone with a very appropriate name…