This is one of the ones I got for half off the marked price because they were water damaged. But ASM 52 and 93 ended up being perfectly legible inside, will this one? Well, looks like some discoloration around where the staples were, and as with the others, the staples are gone. This is maybe the worst of the 3, actually. But, still legible. Doc Ock is already answering Aunt May's ad for a boarder on page 1. They previously met in ASM Annual 1 (We'll see it eventually) and inexplicably liked each other, so Doc says now that he knows May is the one renting the room, he'll take it sight unseen!

Aunt May's blindspot for Doc Ock is just such a strange plot device. While Ock's taking the tour, Spider-Man is out canvassing the city looking for him. But since he'd never think to look at Aunt May's, he comes up empty.

Ominous! Ock moves into his room, opening his suitcase so his arms can start unpacking while he talks to himself at length about how smart and great he is. Then he contacts one of his goons to tell him the new plan. The next morning, Harry Osborn invites his roommate to breakfast, but Peter is making web fluid with his costume on full display, and has to hurriedly hide all his stuff. This leads Harry to think Peter doesn't trust him and rescind his breakfast offer, leaving to go see his dad.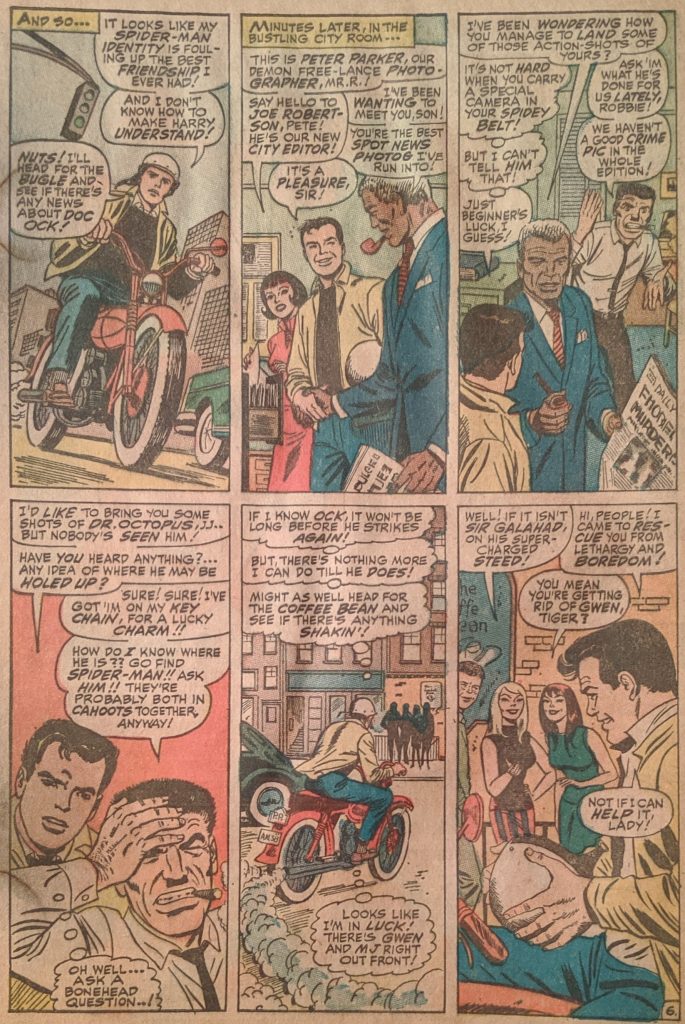 You may recall Robbie only just debuted in ASM 52 in the previous block from this period, so here he is getting to know everyone. Gwen and MJ endlessly sniping at each other makes Peter suddenly remember he should go check up on Aunt May and meet her new boarder, so he takes off. Kinda weird that lovable loser Peter Parker is now in a Betty & Veronica situation. Almost inevitable with Romita on art, though. His background in romance comics is too much of an influence. Anyway, Peter's Spider Sense starts going crazy at Aunt May's front door, because she & Doc Ock have just sat down to tea. Ock is unusually cordial to our beleaguered hero, but Peter's not buying it.

It's bizarre, but it's a pretty fun hook. Peter's worrying himself sick as he's forced to leave Aunt May with Doc Ock. Ock suddenly talking like a cartoon wiseguy is pretty funny, also. He decides all he can do is come back at night as Spider-Man and hope to catch Ock slipping. But when he sees Ock receive a delivery, he jumps the gun, shining his spider signal in the window. Which comes as a pretty big shock to Otto, considering he thinks he killed Spidey. Spidey hoped to lure him out, but Ock knows that, so instead he radios his trusty army of uniformed goons to come get his foe. I love me a matching goon army. Soon, the battle is joined.

Spidey puts a hurt on the assembled goons until one of them gets him with a gas grenade. Yes, gas, Spider-Man's deadliest foe! That lets them beat on him for awhile, but he shakes off the effects of the gas remarkably quickly, and soon is back to pummeling them. Spidey draws a crowd whupping the goons, and as the cops show, he notices that crowd includes Aunt May, so he feel free to break into the house and go for Doc Ock. He smashes through the window, right into the arms of Doctor Octopus.

Oh ho. Spidey has Doc Ock on the defensive for once, so of course Aunt May walks in. The sight of the two of them fighting is too much for her and she passes out. The distraction allows Ock to escape, but Spidey doesn't care about that anymore.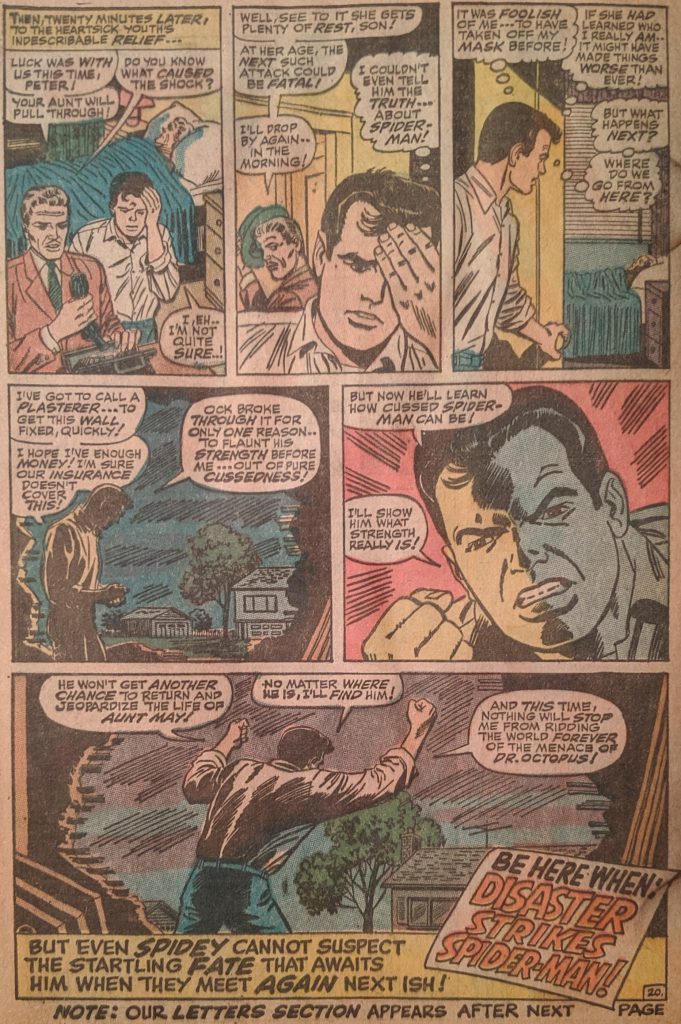 Lotta cussin' all of a sudden. We'll see what happens next time. In the letter page, there's this weirdo talking about ASM 51: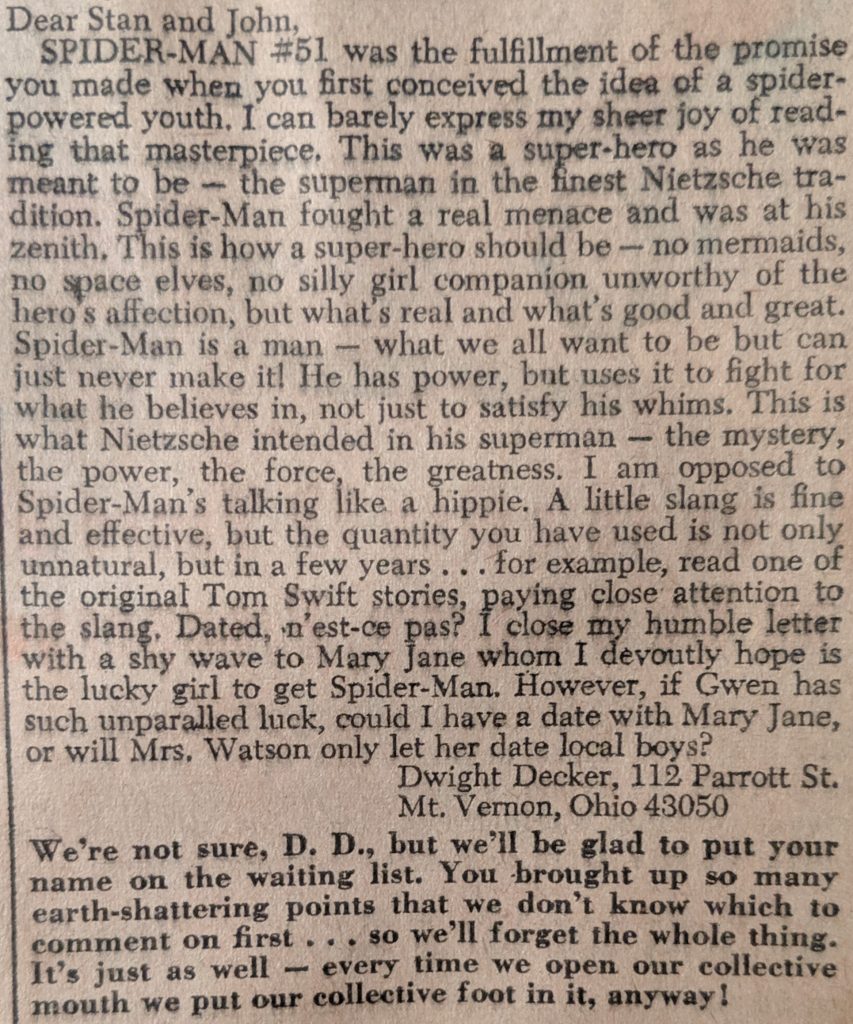 The way this short letter careens from "Spider-Man has achieved the Nietzschian ideal" to "Those damn dirty hippies" to "can I date Mary Jane?" gave me whiplash.