Hey, a Spider-Man comic! So, yeah, it's '67, Stan Lee & John Romita at the reins of ASM, this issue in particular inked by Mike Esposito using his Mickey Demeo alias. Romita is still slowly crawling out of Steve Ditko's shadow, but is definitely coming into his own, both in style and in storytelling. After a splash where Spidey is reading JJJ's version of their adventure with The Kingpin in ASM 50-52 in today's Bugle…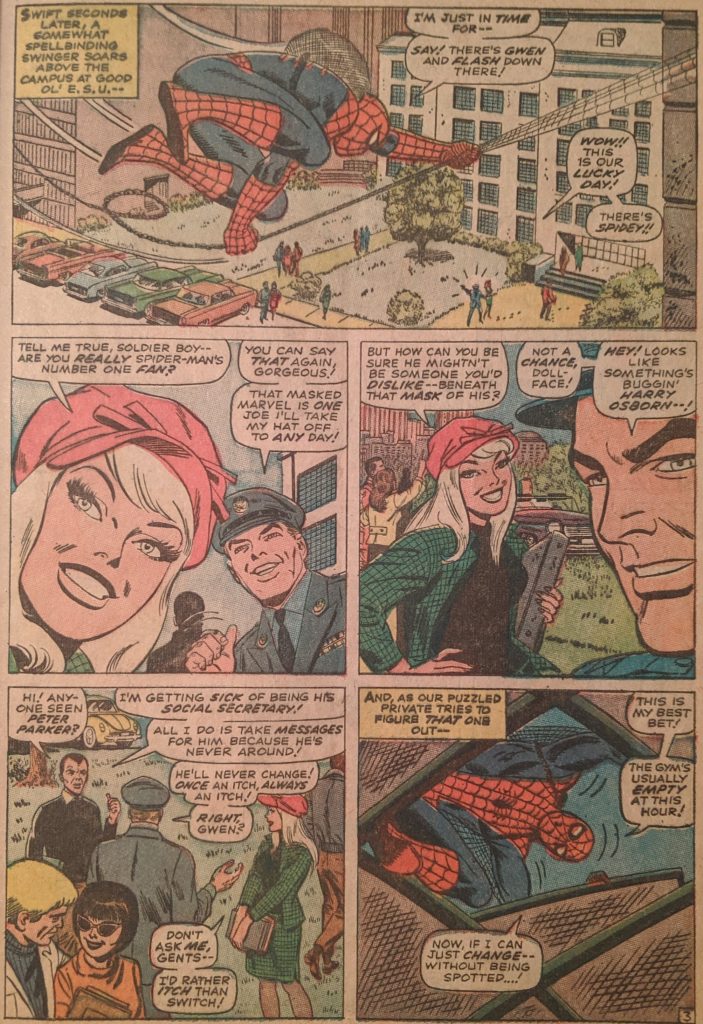 That gets us back into the groove of the era pretty well, I think. Pete tries to change as fast as he can in the gym, but Professor Warren walks in, and he leaps up the rope for that rope climbing thing people used to do. Warren sees him, though, so he has to make an excuse about wanting some exercise. Warren also tells him to tuck in his undershirt, which is actually his Spidey mask hanging out of his pants. He tells Peter he's got 2 tickets to a science exhibition tonight, and he should bring a friend. He promptly runs into Gwen, and after getting the cold shoulder from an angry Harry Osborn, asks her to the science thing. She reminds him she's a sci major, too, and would love to go.

Tensions running high in the gang! Peter, Gwen & Professor Warren drive to the exhibition, which is to be about a missile defense system called "the nullifier." It's so dangerous the pieces have been shipped here separately. As they get inside, Peter's Spider Sense goes nuts. He's trying to hide that he's freaked out, but Gwen notices, of course. Then the presentation begins.

Not a great disguise, Doc! How did no one stop him on his way in? Everyone goes crazy, and Peter escapes into the crowd to do his thing. Cops arrive and shoot tear gas at Doc Ock, but, in a move I don't think he's ever used since, he whirls his tentacles around so fast that it disperses the gas and puts the cops on their backs. As he's crowing about being "the most dangerous human alive," Spidey shows up. Incredulous, Ock asks where he came from.

Ock throws Spidey and his cape out the window, but of course, Spidey just sticks to the wall outside. Ock then climbs to the roof, whie Stan strangely has him talk about climbing down to kill Spider-Man, even though… he is clearly going up. And he reaches the roof as Spider-Man catches up. We cut to Gwen & Warren watching the battle from the ground, Gwen wondering where Peter could be, then back to the fight as Spidey does the usual and webs Doc Ock's eyes.

Spidey manages to get the nullifier with a web, but while he's gone, Ock escapes. He lets us know he got a tracer on Ock, and figures he better get back to Gwen, anyway, and finds a place to change. Meanwhile, Doc Ock is returning to his old hideout, last seen in ASM 33. He explains to himself how he got out of the watery deathtrap their last confrontation ended with by using his arms to grab an oxygen tank and fled. All caught up, he finds Spidey's tracer on his back, but decides he can use it to lure him into a trap. Then we cut back to the scene of the crime, where Peter tries to explain that he ran out to "find a camera" to take photos, but Gwen doesn't even care for his excuses, she's just happy to see him.

Peter takes the excuse of making sure May & Anna get home safely to cut out early so he can go look for Doc Ock. Speaking of whom, he's really getting into this trap, having made a dummy of himself, arms and all, to sit at a control panel with the tracer. Now he's just waiting for Spidey to show up, and he's on his way. It only takes him a few panels to find his tracer, but as he gets closer to the shack on the waterfront it's leading him to, his Spider Sense kicks into high gear, letting him know it's a trap. He has a look inside before just blundering in there and sees the decoy.

Maybe I should add my own sound effect.

Yes, it's time for Aunt May and Doc Ock's surprisingly long and complex history together to begin. Ya gotta hand it to them, it's a pretty unusual twist. Back in the letter page, there's a very unique one. Flash Thompson's sort of perfunctory military storyline in these pages hasn't exactly reflected the seriousness of the Vietnam war, and that's never been more clear than here…

Somber stuff, especially for a comic of this vintage.