Hey, Electro is back. It's been exactly 100 issues since he last appeared in Spectacular. Also: "him." Weird cover. Mike Esposito continues to ink as Electro is very annoyed. He spent a lot of money on blueprints to a bank so he could rob it, but as he's shown up to do so, the bank is being hit by some kinda localized earthquake. Not only that, but the vault is already empty. And that's when Spider-Man shows up. He says he's late for an important meeting…

Electro thinks he's been set up. Then the cops show and blame Spider-Man for the whole thing, while somewhere else, the cover's mystery man enjoys what appears to be a paper grocery bag full of cash. Surely there was more in the vault than that! Spidey swings on to his previously mentioned meeting at The Bugle, and is the last to arrive, so it starts when he gets there.

He has done it! What does this mean for everyone? We shall see, but not yet, because meanwhile…

Let's have another look at Robbie & Tombstone's fall from that helicopter back in 155:

And I'm supposed to believe Robbie broke a leg and Tombstone was fine? This is ridiculous. I keep hoping some more credible answer will appear. At any rate, Electro has gone back to the guy who sold him those blueprints, a guy who installs security systems. He says he would never sell to anyone else, and only sold out this client to Electro due to Electro having some incriminating info on him. He gives Electro some new blueprints, and suggests he ally with some kind of criminal organization for protection, but Electro says he works alone. That prompts this dude to think his employers will be very displeased. Hm. We go from there to Peter & Mary Jane heading down to Harry & Liz's place for a fancy dinner party. The only other guest is Flash Thompson, though. Just a bunch of old pals. It's nice.

Terrible timing. It's the same thing as before, an earthquake has taken down the very building Electro planned to rob. Electro is not happy as Spider-Man shows up, and it's briefly fightin' time. But Electro zaps some rubble and buries Spidey long enough to escape, ranting about how he's gonna kill that guy, Hector, who sold him the blueprints (Why's he buying stuff from a dude he's blackmailing?). But he left his blueprints behind, and with the company name on them, Spidey has a lead now.

Nice one, Robbie! But we leave them to go see Electro threatening that guy Hector when the person who's been causing him such grief shows up: The Shocker. He wants to know why Electro's been following him around on his jobs.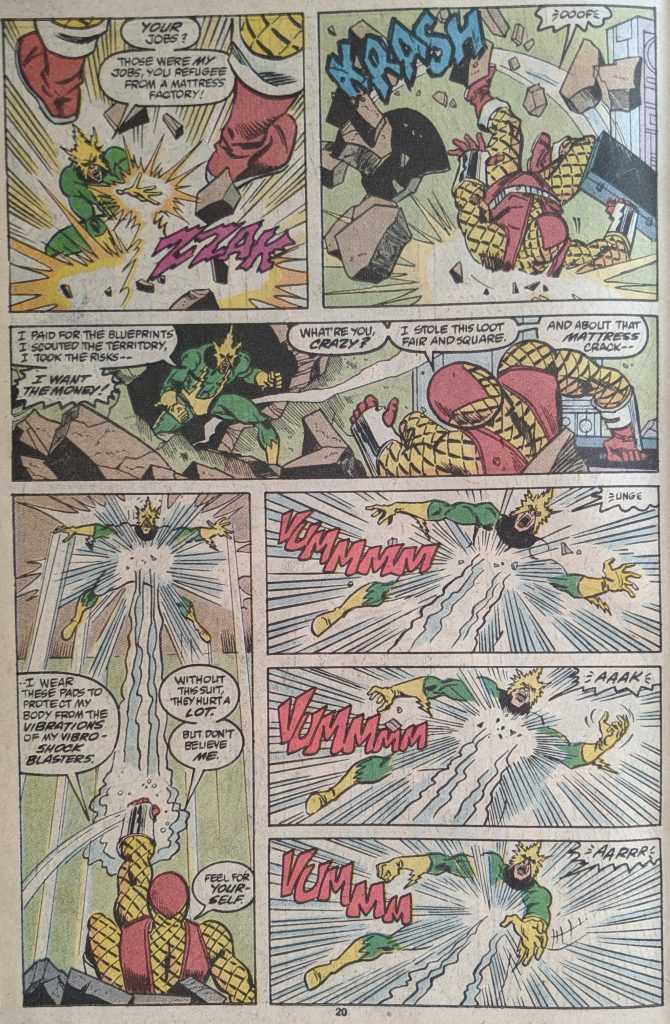 That wraps that up, albeit not in a way that'll satisfy our hero, but it leaves us free to go back to Lancaster County, where Tombstone has just caught Robbie and thrown him into a barn yard, still talking his usual weird intimidation stuff. He messed up, though, because he threw Robbie into some farm equipment.

That's… quite an excuse.

And actual ending is pretty unusual around here. In the letter page, editor Jim Salicrup explains that Mike Esposito has been inking lately because Sal was starring in a production of The King & I and didn't have time to ink his own pages. Neat! Good for him. And here I thought it was just the ramped up production schedule, but I should've known a little thing like drawing & inking 2 whole comics a month wouldn't be enough to slow Sal Buscema down. This is the last regular issue for this block, but we got something unique and special for our final post before changing time periods.