It's The Red Skull! Surprise! Did you see him coming? I certainly did not as a kid. Seems rather left field, but I've not read it in many years, let's see. McFarlane's back in time for Spider-Man to be denied security clearance to keep helping with this Assassin Nation Plot. It's mostly a bunch of recapping disguised as drama.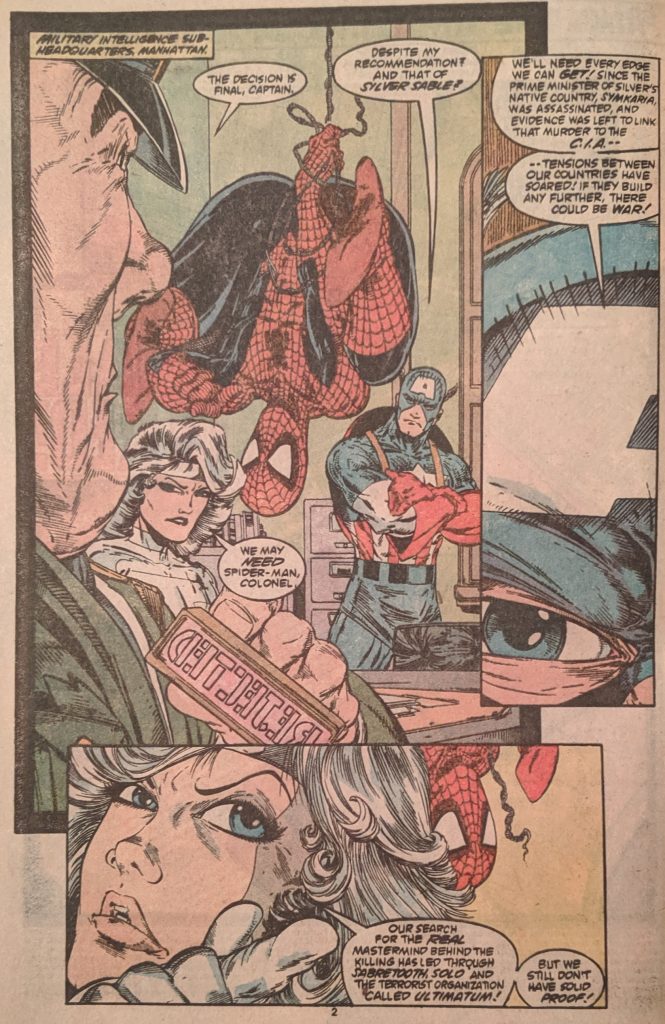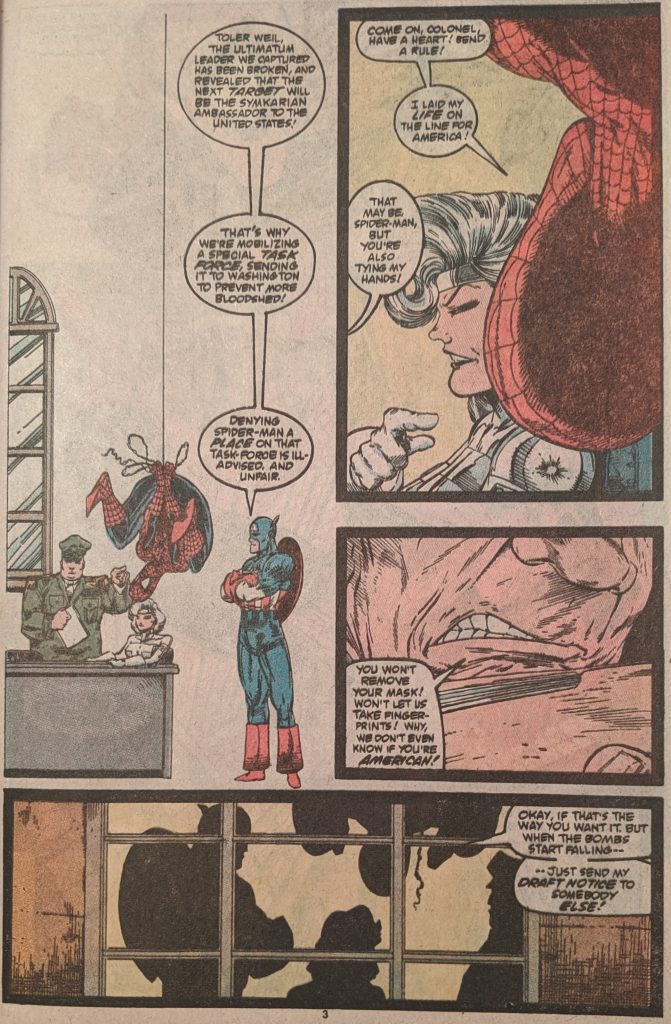 People sure do a lot of pointing without speaking on these pages. Spidey swings off, wondering why this bothers him so much. He says he's never been overly patriotic, but he still feels like a child whose parents have told him he'll never be good enough. Peter finds Mary Jane among the boxes of their packed up life and asks if she feels like listening for awhile. Once he's laid it all out, she says her piece.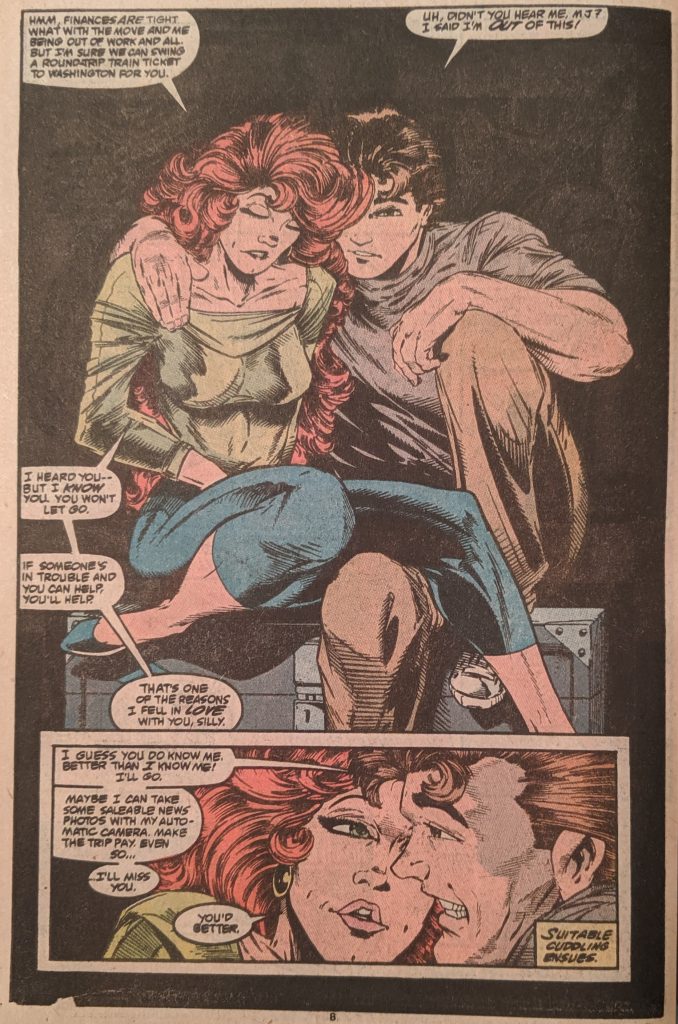 So much of this era is MJ as Peter's moral compass, sounding board and partner. They're a team. This is where I came in. There's a lot of controversy and debate about them being married, even now, but I saw it working when I got there, so I never questioned it. At any rate, the next day in DC, Captain America & SIlver Sable participate in a planning session to guard an ambassador at the Pentagon. I don't actually recall who they're protecting, that sort of came out of left field here. Is it the US ambassador or the Symkarian ambassador? Why is he a target? Whatever the case, Cap wants to make sure Silver won't try to kill their enemy once he's flushed out like she (sort of) did with Sabretooth. Did they really just leave his body in that rubble? Not even kind of check to make sure he was dead? I can't get over this.

Cap reiterates that he can't deviate from the plan, but subtly lets Spidey know where Weil is so he can do his own thing. And looking at the Ultimatum uniform rather inexplicably laid out on the briefing table, Spidey has an idea. Soon, a lone Ultimatum agent busts Weil out of jail, saying "the boss" sent him and some other to break him out. As Weil escapes, Spidey hits him with a tracer, then gets out of his dapper beret to follow him. He follows Weil to The National Archives, thinking if someone stole the precious documents there and framed Symkaria, that could be the last straw. Then he gets shot at.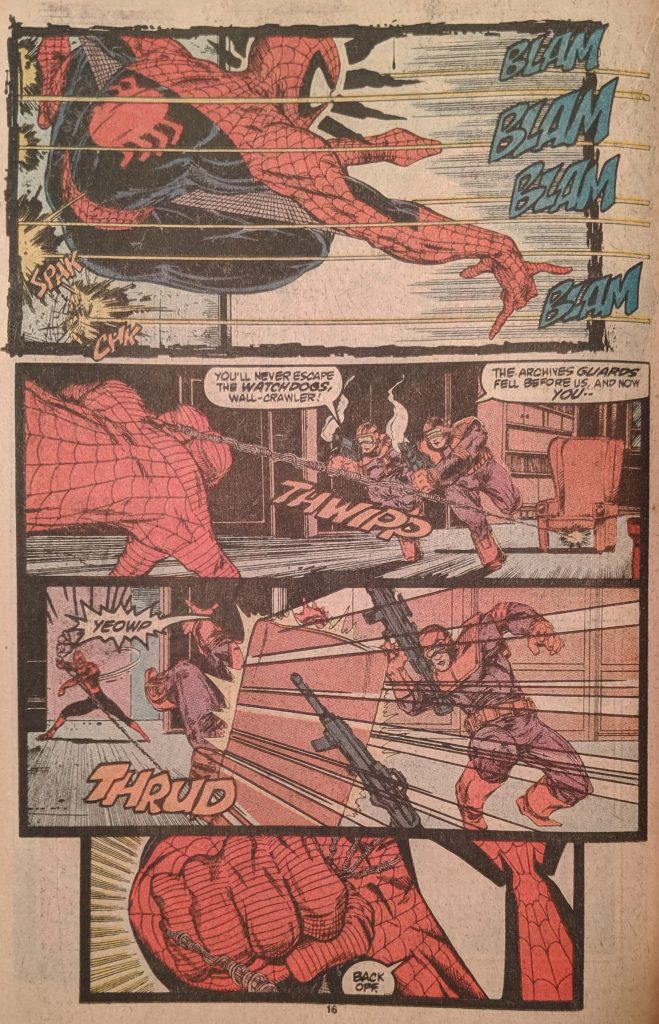 Oh, hey, the Watchdogs, the group "Skinhead" was apparently drummed out of in WEB. They're another white nationalist group, and also another foe in Captain America comics of this period. Their armor sure looks like Silver Sable's Wild Pack, though. Kinda confusing. Spidey takes out the goons, then sneaks into the ventilation system to go try to figure out what's going on.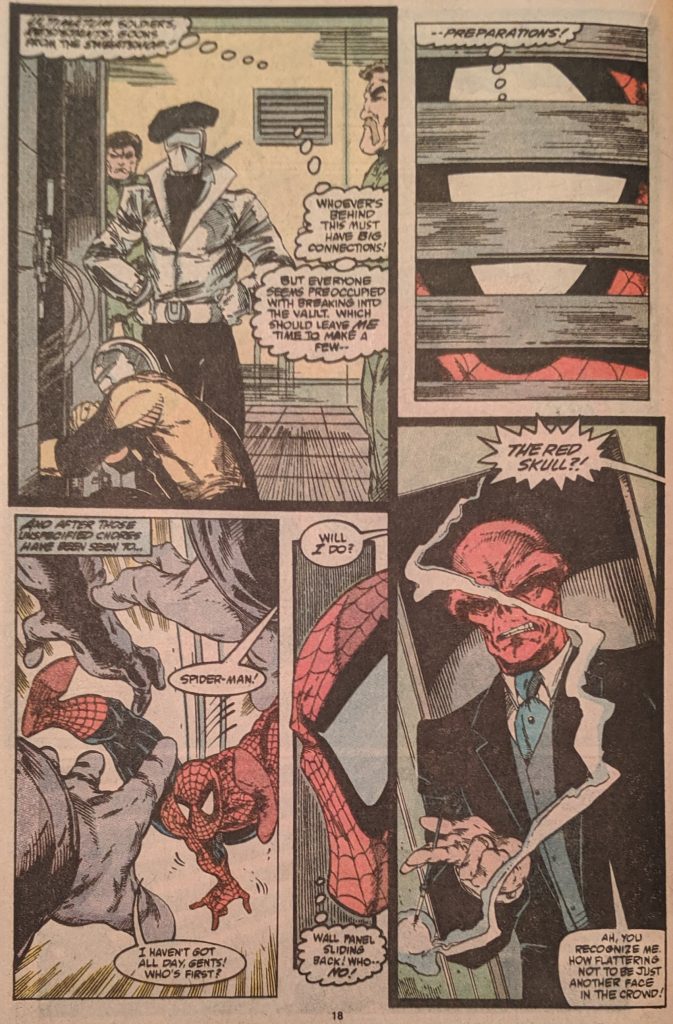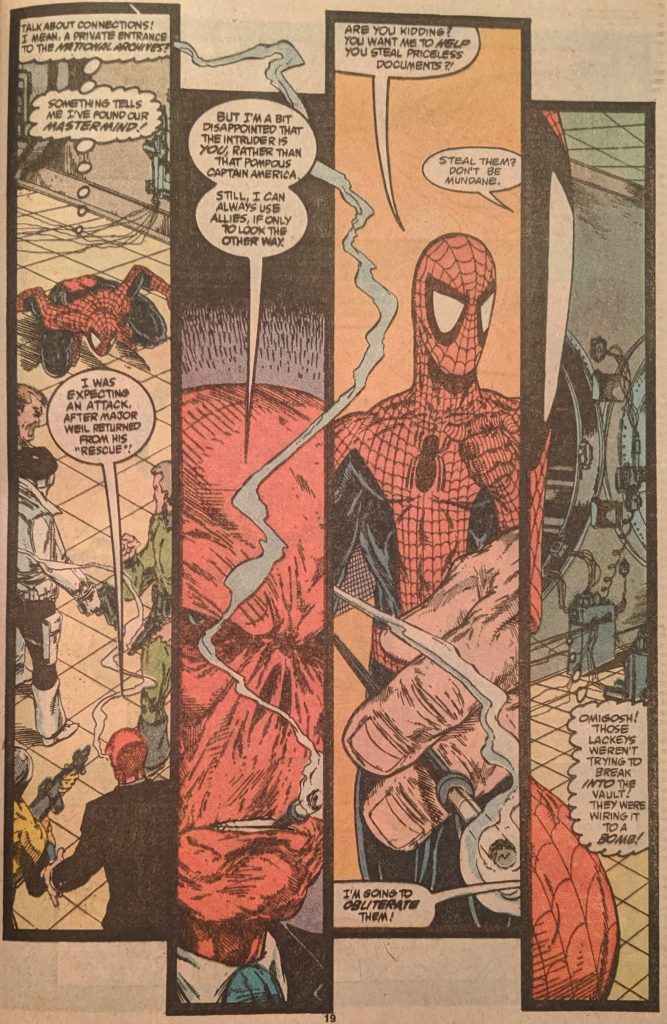 There he is. This really does sort of feel like a Captain America plot focusing on the wrong hero. So, like, not to get too into Cap stuff on a Spidey blog, but in this era, The Red Skull has escaped death by having his mind transferred into a clone of Captain America (Yeah), has renounced Nazism as an outdated ideology and decided to kill The United States from within using capitalism. He's been pulling the strings on all sorts of plots from behind the scenes, from getting John Walker installed as the new Captain America for awhile (As seen in TAC 137 & 138), to funding various hate groups like The Watchdogs and The Resistants Spidey referred to. He's very busy trying to corrupt US business and the US government (What, like that's hard?). And all that has spilled into our Spidey comics for an issue. Therefore, as part of his new capitalist agenda, he offers Spider-Man one million dollars to help him. That's 1989 USD, too! A lot of money. He has enough connections by now to know that the government has rejected Spider-Man, and asks if it wouldn't be better to help someone who actually wants him. He's got the cash in a suitcase and everything. You won't believe it, but Spidey says no, so The Skull leaves his goons to kill him.

Note the poorly inked hand down there. What's that about?

Crisis averted, Spidey fights his way through the remaining goons, but when he follows The Skull…

And that's our show! The day is saved, war is cancelled, Spidey is a national hero. Cap will go back to his own title just in time for the wild 6-issue Bloodstone Hunt storyline. And The Red Skull is on his way off to participate in one of Marvel's most unusual summer events, Acts of Vengeance. That one will take center stage in the next Michelinie/McFarlane block. For now, it's time to check back in with TAC. Feels like it's been a long time, but it's only the 6th of the 7 Spidey comics published this month. Whew!