Boy, I'm glad crazy stuff like white nationalist riots only happens in comics. Hang on, where's this one come from? No mycomicshop sticker, no McKay's sticker. I don't recall owning it as a child. Pretty sure I'm about to read it for the first time. A mystery. Ok, I looked it up. Mycomicshop, but way back in 2015. Huh. Wonder why I took the sticker off just this one. I've had this for over 5 years before actually reading it, that's absurd! As we get rolling, Peter is once again testing some new web fluid, in a nice bit of synergy with ASM for a change. It's not going well.

Grim, sadly relevant stuff. Peter gets in his work clothes as the Nazis declare their intent to burn down the "Hall of Afro-American Studies" while spewing some pretty horrible racist language. But as Spider-Man prepares to hop down there, in comes Rocket Racer. Spidey sees he's about to engage the racists, so he intercepts him, trying to prevent things from getting anymore out of hand. The Nazis assume Spidey's on their side.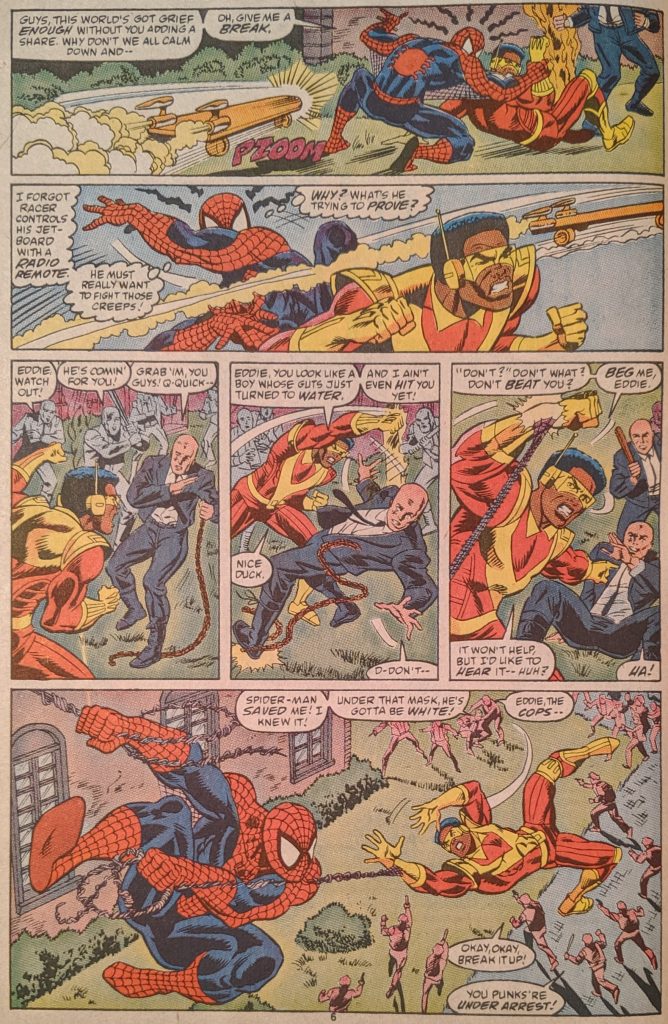 The cops arrest Eddie, the leader, one of them recognizing him from busting him at a Watchdogs rally recently (The Watchdogs are a different white nationalist group Captain America has been fighting over in his own comic). Eddie sees Spider-Man hanging out with RR up on a roof and vows revenge. Not sure what this little turd could do to them, but I guess we'll see. Spidey wants to know what's going on. RR says today was his first day as a student at ESU. How he got a scholarship, and flashes back to how proud his mom and little sister were this morning.

Spider-Man swings off, thinking not all skinheads are bad (I guess Conway had read about SHARPs?), but this Eddie guy and his goons are trouble. Meanwhile, we go see Mary Jane, out on the town with some pals, where she asks what they think of her starting her own modeling agency. They shoot her down so hard! MJ's pals are downright cruel! But Regina suggests if MJ wants to change careers, she should look into acting. Mary Jane totally bails on her agency idea and starts thinking about acting instead. Geez. I would very much have liked to see Mary Jane: Business Woman. And I would, in late 2010s Iron Man comics, of all places, but you know what I mean. At least she seems happy as she heads home. Some people are not…

Peter sits down and thinks about how Aunt May always seemed on the verge of dying in the old days, but it's Nathan who's actually in bad shape. Then he thinks about what's happened to Robbie, thinks about The Lobo Brothers and Glory Grant, just about how things have been pretty messed up lately. Then the phone rings.

What time was it? Feels like it had to be pretty late to be calling a boarding home full of old people. What do I know? Nice moment for Pete & MJ at the bottom there. It's fleeting, though, as Peter heads to school, where tensions are still running high. Cops are trying to corral the Nazis, but Peter overhears them planning more mayhem later tonight, so we cut to…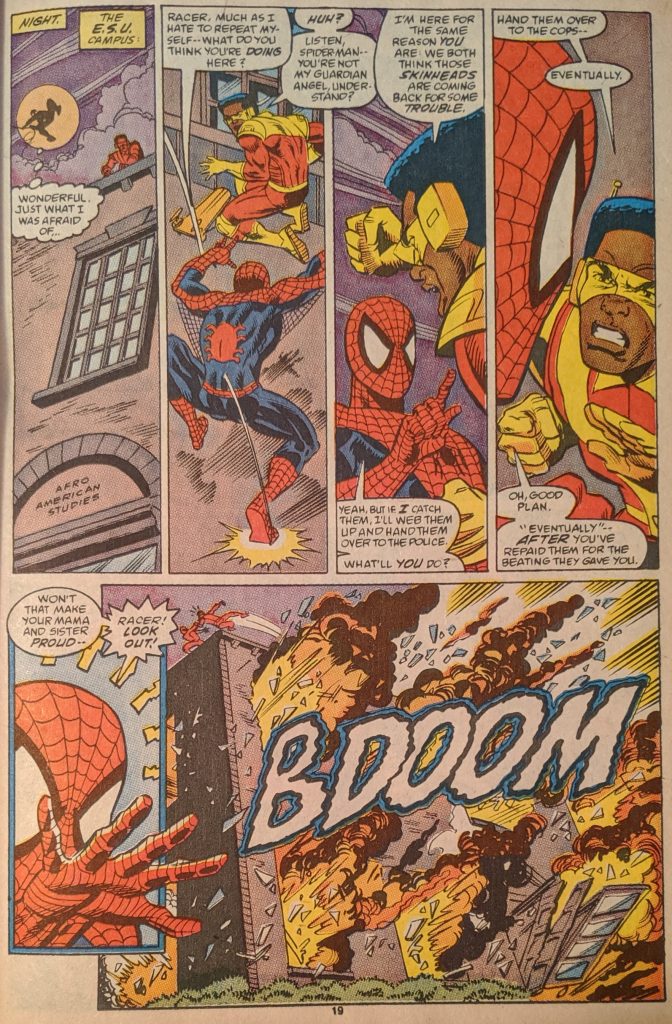 Spider-Man doesn't seem to get what he's dealing with. Rocket Racer jukes him and dives into the Nazis, causing Eddie to flee into the science building. RR chases him into, wouldn't you know it, Peter Parker's lab. Spidey is desperately trying to keep them from blowing themselves up when Eddie picks up a big jar and prepares to throw it at Spidey. Rocket Racer shoots it with one of his mini-rockets, but of course, it's Peter's highly corrosive new web fluid, and it's now pouring all over Eddie.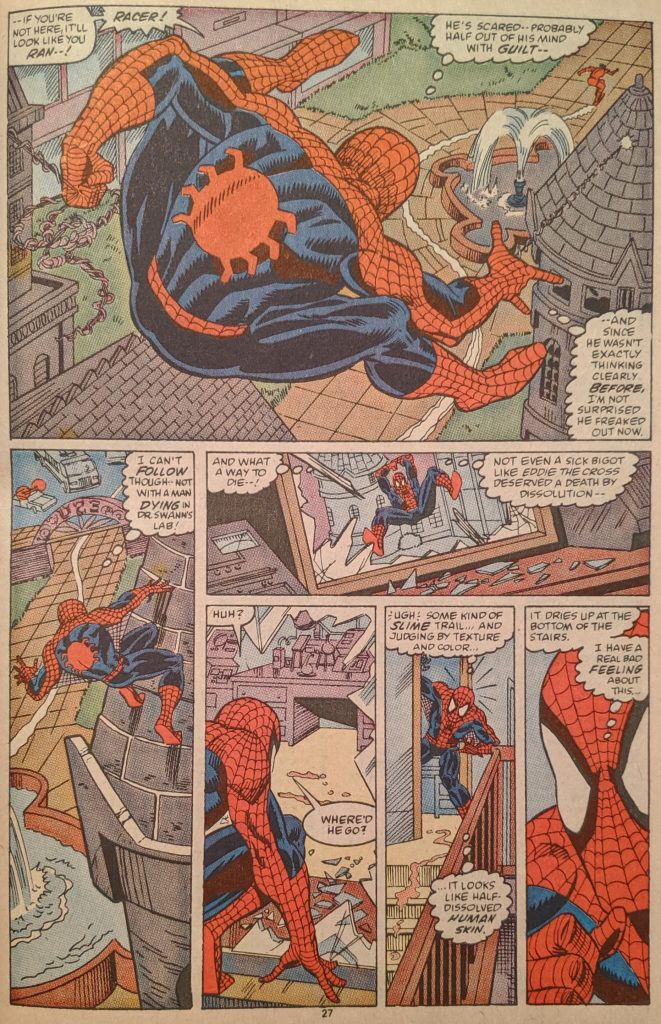 Goodness! Hang on, there's more:

WHAT!? WHAAAAT?! Spider-Man's failed webfluid somehow turned that guy into a monster!? How?? What!? That is preposterous! Good grief. But wait, one more thing…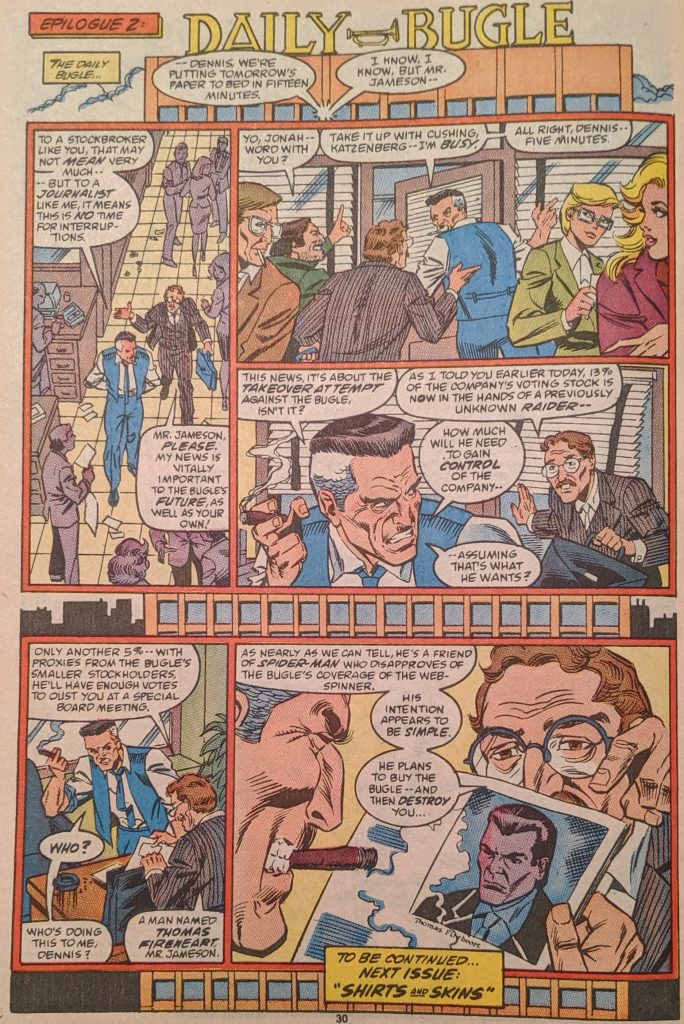 Shocks abound! We'll pick this all up next time.