Like, what is really going on with Spider-Man's legs and pelvis here? Full dislocation? As tends to happen an annoying amount around here, the timeline's getting all of whack. Conway references just enough of what's going on in ASM to make it really hard to reconcile where things are falling. And in the November & December cover dated issues, things will get even more complicated, as WEB AND TAC also begin publishing 2 issues a month. It's going to be… a challenge. Pretty sure this goes here, though. 4 people are credited with inking this one, including Bob Sharen, Gregory Wright, and 2 guys whose names I can't guess from last name only. We catch up with Spider-Man and Paladin beating up some dudes. Spider-Man is being extra violent, and when Pally calls him on it, he thinks it's because he heard Aunt May has 6 months to live. Then Paladin saves him from a dude shooting at him. Sort of.

How much… time does that buy? "How will we ever walk several feet in either direction!?" Paladin runs inside and steals whatever they're there for while Spider-Man comically webs all the goons up in a big ball outside, and that's it for this mission. The heroes split up, Spidey hitching a ride on top of a subway train, worrying about Aunt May. At The Life Foundation, Carlton Drake and his board are worried their operation is compromised now that Paladin stole whatever he stole, but Drake thinks they can maybe salvage things, and orders "The Protectors" made ready at their new installation. We don't care about that, though, we care about this:

There ya go. The truth is out. Peter feels guilty for being relieved it's Nathan instead of May, but is, of course, still sad for Nathan. May says she's thinking of phasing out the boarding house so Nathan's last days can be as peaceful as possible. Later that night, Peter & MJ talk about the prospect of having to get out quickly, which, considering how hard it's been to find a place, looks pretty grim. But, their immediate concern is helping The Osborns move the next day.

What on Earth is Flash doing to that TV?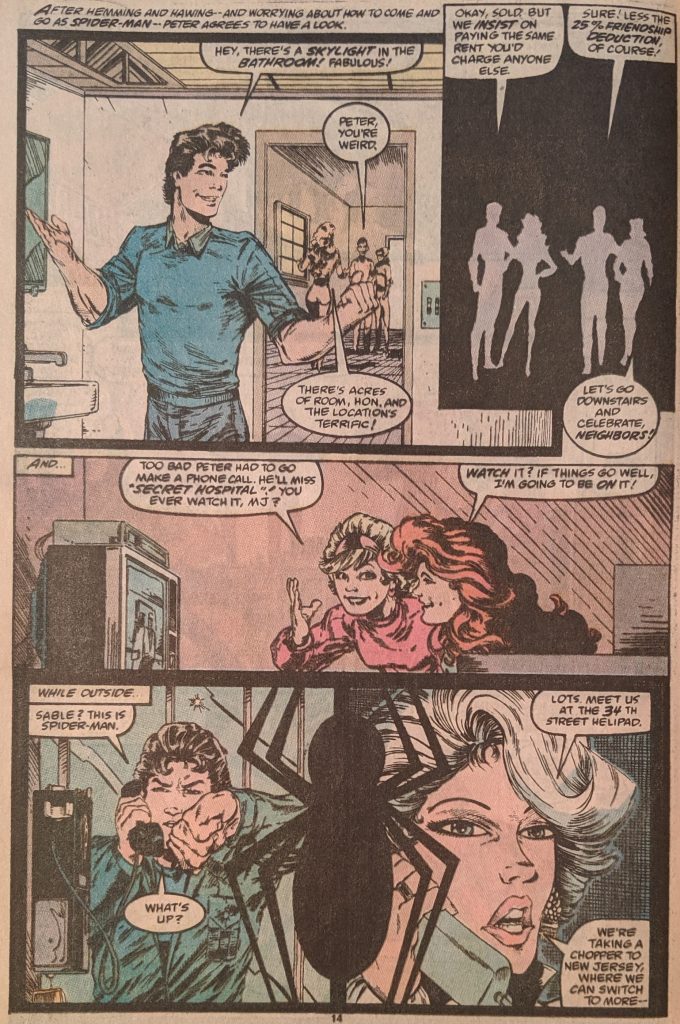 Problem solved! For some reason, that skylight bit was pretty funny to me as a kid. Can't say I get why now. Now Peter has the privacy he needs, and there's the chance to have Harry & Liz around more, it's a solid move for the books. Anyway, Spidey is soon on a fancy high tech glider ship thing with Sable & Paladin. They're headed to North Jersey, where the shipping records they stole indicate The Life Foundation is up to no good. Silver has programmed her glider to crash into the river as a distraction, so the heroes hop out before it can. Crashing the glider succeeds in distracting a single guard Silver immediate kicks in the gut. That plan made zero sense. Then they sneak into the ventilation system and away we go.

Well, those are some genuinely terrible character designs Even as a kid, I couldn't make any sense of them How did turning that guy's hand into a meat rake help anyone do anything? Paladin gets punched into a store room with comically tall stacks of boxes he can push over on one of the big blob dudes. Elsewhere, Spidey gets knocked into a weather control room (Wut) and hits buttons hoping to do something to help, but creates an indoor blizzard (WHAT). Where'd Silver go?

Spresh and Kbrak to us all. Spidey hooks back up with Paladin, and they use the blizzard (Cannot get over that) to sneak up on the remaining blob men.

(I had no idea what Paladin said up top as a child) As the heroes are whisked away in a helicopter (Coulda just kept the glider), Silver says that Chakane guy revealed that The Life Foundation was hired to hide an assassin who will try to kill the King of Symkaria at his Silver Jubilee Celebration. As a result, Silver plans to head home immediately, and says she may need help when she gets there.

Money makes the world go round, after all. So, we're off to Symkaria. But first, an issue of Web that kind of has to come next. This timeline thing is the worst.