Guys, remember Amazing Spider-Man? It's been so long. Here's a big personal milestone: I bought this issue from Walgreens with my allowance. It's the first comic I ever bought. After reading ASM out of the library for awhile, I was hooked. This Todd McFarlane guy was awesome, I loved Spider-Man, and this was me buying in. In a real way, it's a reason this blog exists. And also the beginning of a star-studded, twice-monthly summer mystery! It begins with Peter Parker getting busted testing a stronger new web formula by Dr. Swann. He says it's a polymer he read about in Scientific American and jams it in his pocket as Doc Swann mentions he really should be doing the work he's paid to do as his assistant. Whoops! 

Michelinie continues his interest in Peter trying to upgrade his gear. It's never a huge change, but it makes use of his scientific skills, so it's nice. Meanwhile, at Aunt May's, there's a phone call for MJ. May says she wants to keep the phone line open and asks if MJ can make it brief. It's Harry Osborn, asking if Pete & MJ can help him & Liz move into their new place this weekend. Mary Jane says sure, then hangs up, to Aunt May's satisfaction. What's that all about? That's for later. Right now, Spider-Man has spotted some unconscious guards at "Eat Well Caterers," and drops in to investigate. An investigation that leads him to his old pal Paladin.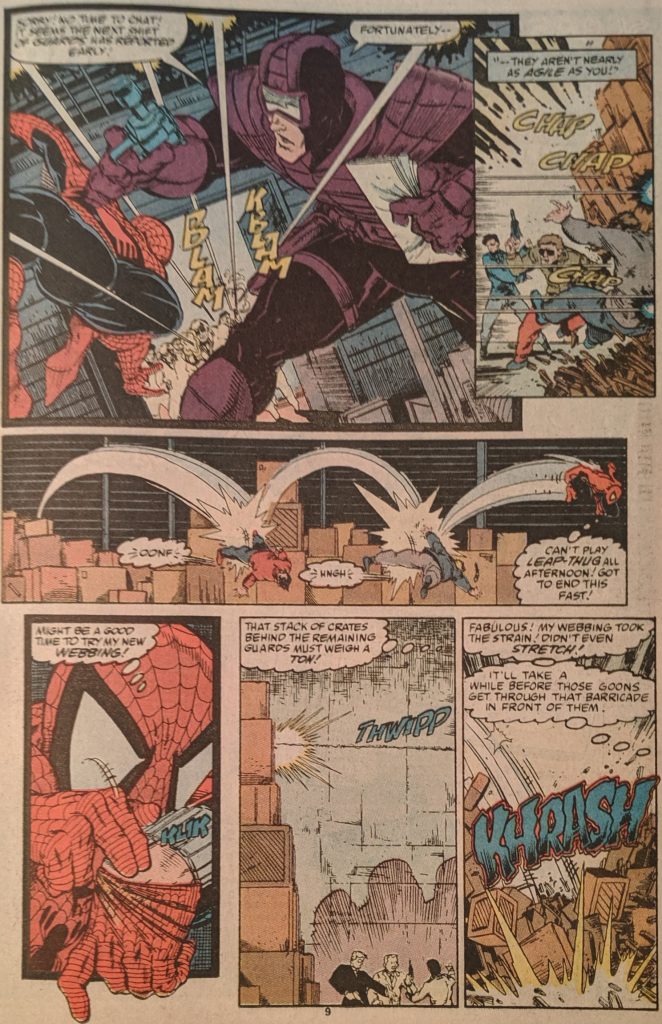 "That stuff must weigh a ton! I'm gonna straight up murder these guys!" Paladin takes the opportunity to run off, and while Spidey tries to follow, he's stuck. His new webbing is so strong, the nozzle didn't cut it off when he let go of the trigger, leaving him webbed to that junk. He has to break the web with his spider strength. Oh ho, but you see, he has traditionally not been able to break his own webbing, and this is supposed to be stronger! As I recall, this will be the subject of much debate in the letter page soon. He rifles through the stuff Paladin was looking through for clues, but only finds the guest list for a fancy party at the Waldorf Astoria hotel. When he gets back to Aunt May's house, it's the 1980s, so MJ is doing still more aerobics. And you get pages like this:

Blatant exploitation. But also, at least a good place for Michelinie to make MJ important to a Spidey plot again. Thus:

He should, that's Carlton Drake from The Life Foundation, last seen in ASM 299, which tells you where this is going. They begin to leave, so Peter bails immediately. Saying his goodbyes, he puts his hands on MJ's face in a weird way like he did last issue (Why is McFarlane so into this?), then switches to Spidey. He sees Paladin following Drake's car, and follows Paladin as he follows Drake all the way to an import car dealership in Brooklyn.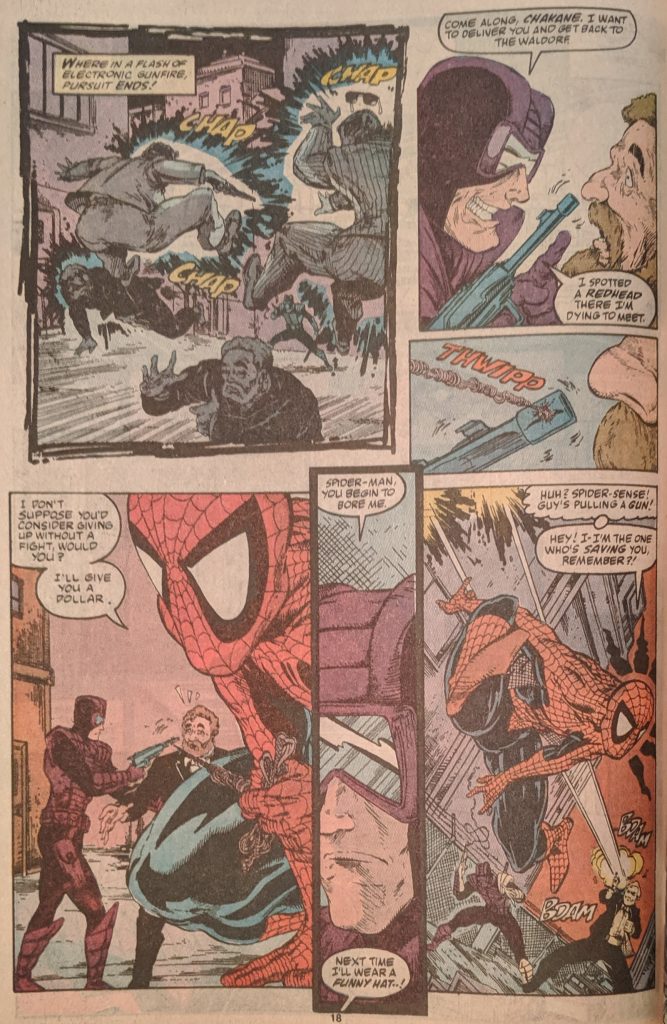 Spider-Man, who still hasn't recognized the Life guys, is suddenly fired upon by a small army of well-armed goons. Goons! My goodness, how long it's been since we saw some good ol' fashioned costumed goons around here. As he dives into them, some more goons bring in some tanks. This is getting serious. One of the tanks takes Paladin out of action for a moment.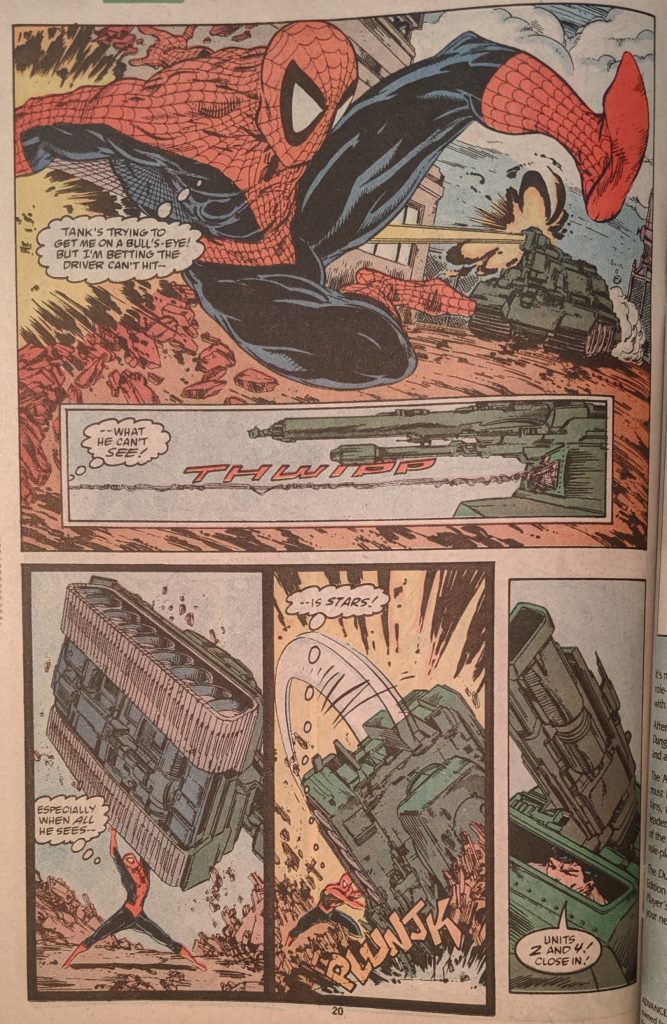 On a gratuitous pin-up pages, Spidey & Paladin rush toward their remaining attackers. They quickly finish off the remaining tanks, Paladin grousing that Spidey let Drake get away. Spider-Man STILL doesn't remember who that is, and then a helicopter shows up to get Paladin. Spidey tags along to see who he's working for.

Well well! Silver says they've uncovered evidence of an international conspiracy against her country, and that guy Chakane from The Life Foundation is part of it. Spidey's so embarrassed about messing things up that he offers to help out for free. But she says they need to gather more intel, so for now, he just goes home.

Oh no! Could it be? Is Aunt May dying?? It's been awhile since a health scare was her subplot. But… is it? We shall see!