Back in the post about TAC 154, Eduardo Lobo said he & his brother had to wait for the next full moon to finish their war with Kingpin. And I thought, "That's… gonna be a while, right?" Well, it has! This issue begins "almost a month later." Thus, the last few posts going where I put them. Works for me. But if they're mutants, should their transformation be dependant on the moon? How'd they do all their preliminary attacks on Kingpin's mob? New Mutants' Wolfsbane is a mutant werewolf, and she can just change at will. I have many questions, none of which are likely to be answered in this, the possibly stunning conclusion to the Lobos/Kingpin gang war. The month has passed, and The Lobos are wilding in the streets, just attacking people out in the open.

Spidey barely saves some people from the collapsing sign, thinking he's been chasing The Lobos for almost 24 hours now. As The Lobos escape again, insult is added to injury when Spidey spots Nick Katzenberg making money off this. Spidey thinks there's only one person who can help him stop this, and as a van pulls up to The Lobos' hotel and they hop out, we switch to her perspective.

Glory, you really messed up on this one. The next day, Kingpin startles The Arranger when he returns to Fisk Tower.

Something like order is restored at The Bugle, but Katzenberg isn't going anywhere. Peter walks over to try to talk to a despairing Glory, and then… immediately notices he's late to meet MJ and leaves her in the lurch. What a guy! He's meeting her to look at another disaster of an apartment, which is mostly an excuse for Conway to recap the drama in their personal lives. Then Spidey is off to try to do something about the whole werewolf situation.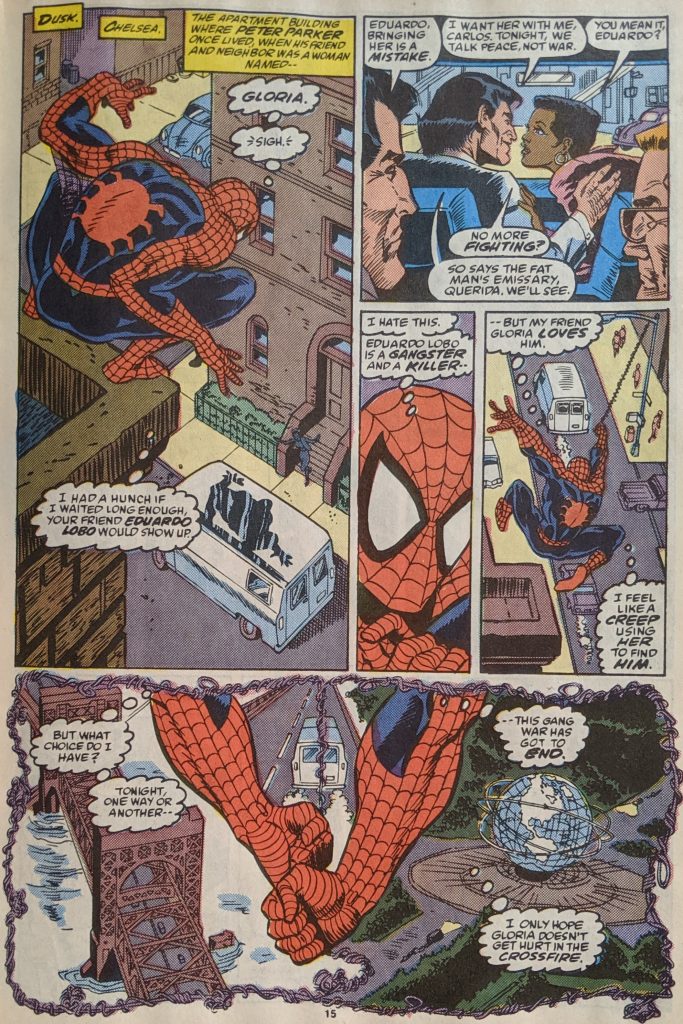 Saviuk is really embracing the new webbing. At the site of the 1964 World's Fair… which I am pretty sure is where the end of the Scorpion story in ASM happened, though Spidey doesn't mention it (Since ASM is an alternate reality), the two mobs gather to talk, and Spidey sneaks in to watch. The Lobos say they want The Arranger in exchange for peace, but before Fisk can give an opinion on that…

Spidey is on top of the big ball that figured into the climax of ASM 319, this is so frustrating.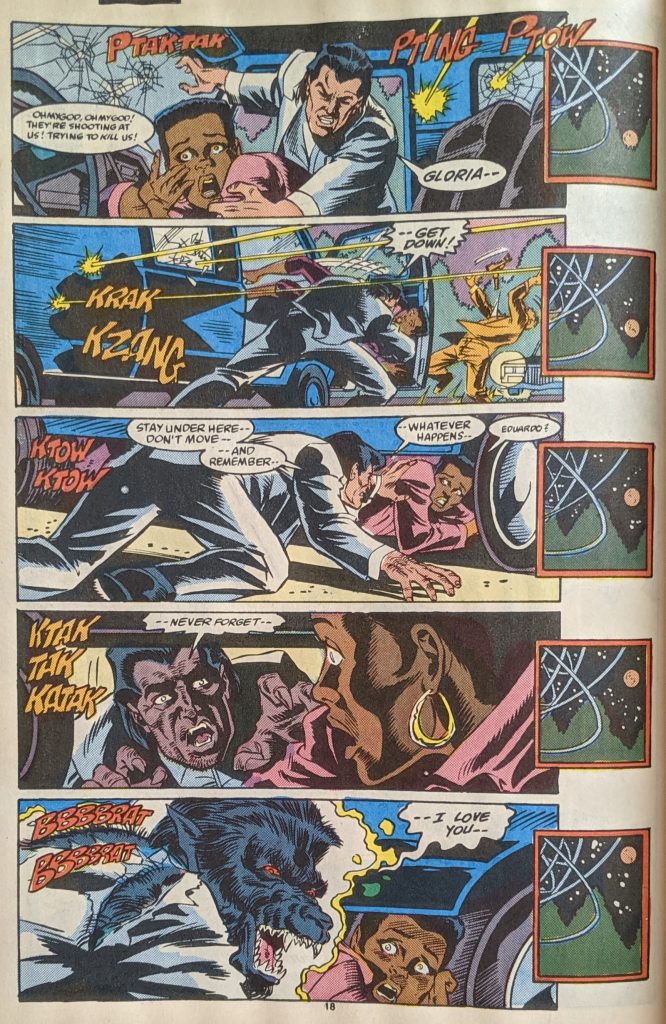 Eduardo goes after The Arranger, but Spidey gets in the way. In the chaos, The Arranger loudly yells that his gun is full of silver bullets like a doofus, and then that gun gets knocked right under the van with Glory, what a coincidence. Arranger demands Spidey protect him because they had a deal.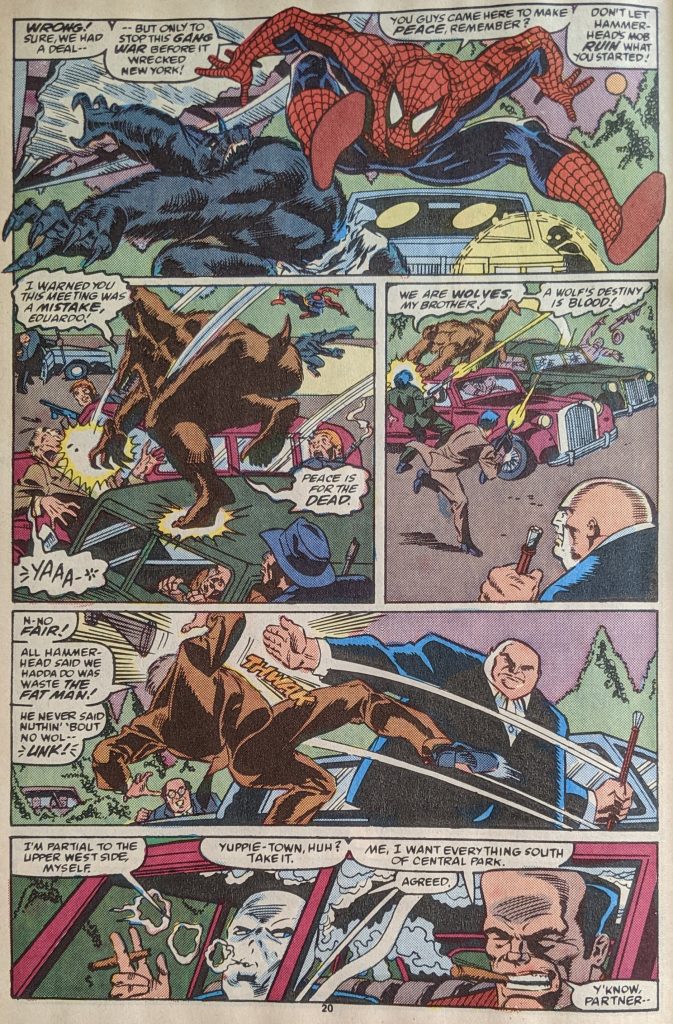 Fisk tells Arranger he had his cane tipped with silver in preparation for this fight, so his wolf is down. And so are basically all the mobsters on anyone's team, leaving Spider-Man fighting Eduardo as Kingpin and The Arranger leave the scene.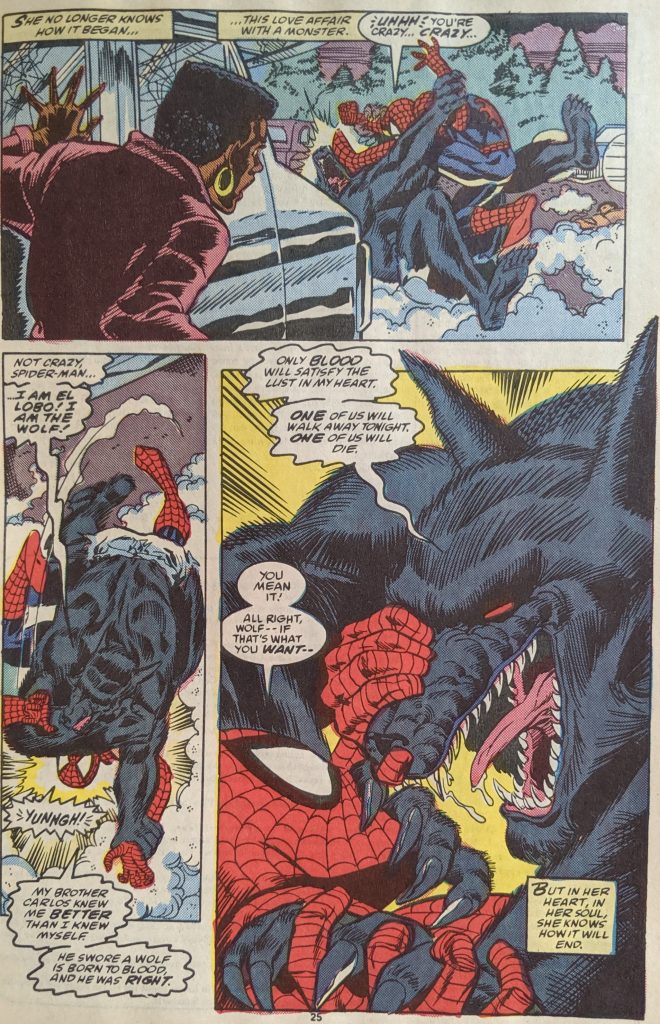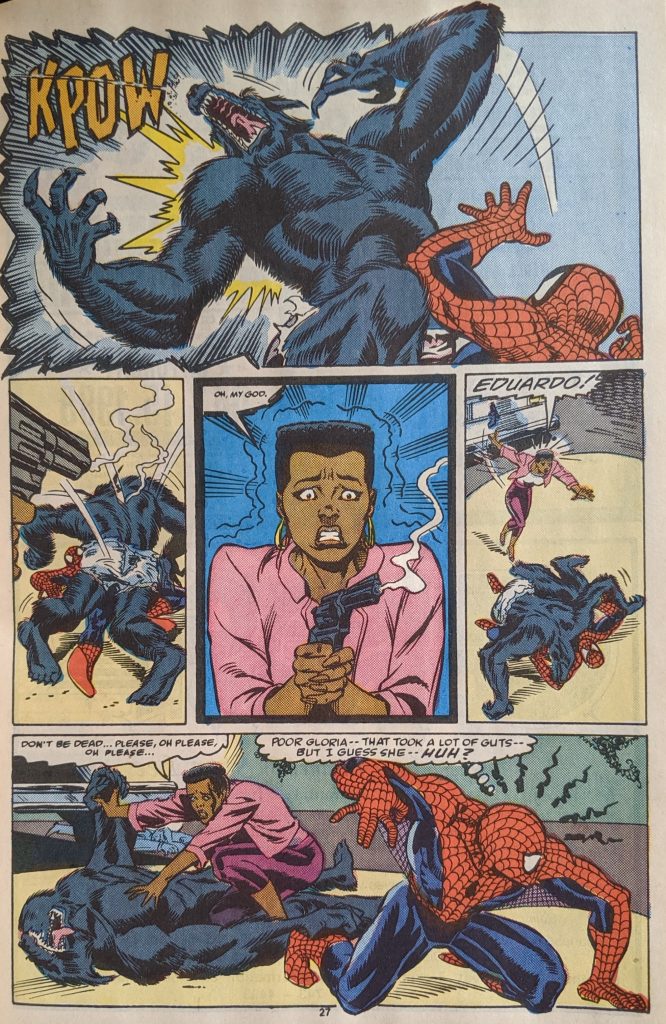 It may say "The End," but it sure doesn't feel like it. Things wrapped up pretty grim here, and the fallout will surely continue to be grim. But I think that's it for The Lobo Brothers. If Carlos comes back, I'm not aware of it. Pretty wild stuff. Maybe not as epic as it seemed to me as a kid just seeing bits and pieces of it, but pretty wild.