Look out, Atlantis Attacks! This was a 14-part crossover threading through various 1989 annuals, including all 3 Spidey titles. Unlike The Evolutionary War the previous year, these annuals were more tightly connected, telling a more complete narrative. Which makes the fact that I only had 3 of them as a kid more than a little confusing. I had parts 4, 11 and 14 of the event. And 14 is a Fantastic Four Annual, so it's not even part of our mandate here.

Lurking behind that John Byrne cover is the blog debut of Rob Liefeld. Liefeld is an inveterate huckster who somehow found himself in the right place at the right time to be one of the few people to ever become a millionaire by drawing comics, despite the fact that he sucks at it. In his earliest days, he was just doing a crude and embarrassing Art Adams impression, but somehow, his art only gets worse as it becomes more his own. But, he was coming up alongside Todd McFarlane and Jim Lee and the like, and their unusual art in an era where house styles were still common pegged them all as The Next Big Thing, and so they were. In Rob's case, he became The Next Big Thing while repeatedly swiping other people's art, having a shocking disinterest in panel-to-panel continuity, drawing people with 2 left hands more often than you'd think, denying the contributions of his co-creators, screwing his employees, and by "creating" a library of characters that were transparent, 2-bit knockoffs of existing Marvel & DC characters. His most lasting contribution to comics would be Wade Wilson, aka Deadpool, a ripoff of DCs's Slade Wilson, aka Deathstroke. And yet, aside from the visuals, everything people love about Deadpool was invented by others long after Liefeld had left Marvel, so even that has an asterisk by it. And he got rich. Lunatics still love him today. It's a bona fide tragedy.

It's already Part 4 of Atlantis Attacks. I've never read the whole thing and still don't really have a good feel for what happened in this story, but we have this box:

Wait, Llyra was an Atlantean last time we saw her. Is she really a Lemurian or is that a typo? Maybe we'll see. This chapter comes with a plot by Gerry Conway, script by David Michelinie, pencils by Liefeld, inks by like 4 people credited last-name-only who I don't recognize and colors by Gregory Wright. On Magneto's island (Is Magneto there?) Lord Ghaur is further recapping how he had Captain America villains The Serpent Society find 4 mystic talismans in the X-Men annual, bringing him closer to summoning Set to conquer the Earth.

You really gotta study those middle panels to understand Llyra's on some kind of big viewscreen, and even then, good luck explaining her first panel, there. Ugh. What's Spider-Man doing?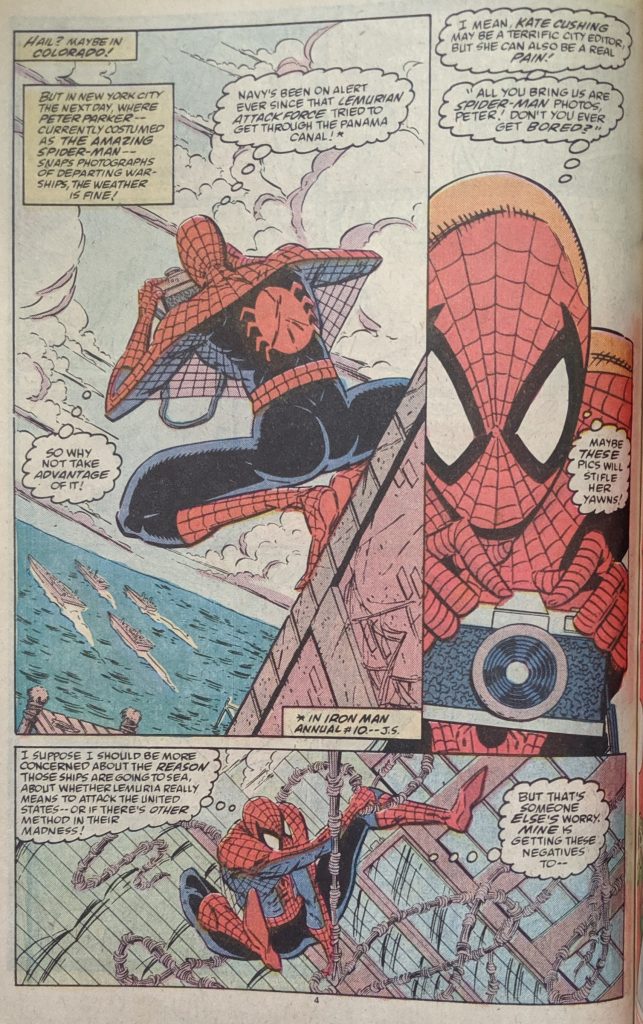 (I believe that Iron Man Annual was part 1 of the event)

Wooooooo, that MJ is horrible! Look at that hair! Good grief! The story on TV is about Hulk foe The Abomination being freed from prison, seemingly by Lemurians, but the gang is interrupted watching that as She-Hulk bursts out of JJJ's office. Not like her cousin, though. She's here in her capacity as a lawyer, in a suit, carrying a briefcase, furious at JJJ for being a jerk. I believe at this point, Jen was She-Hulk 24/7, so she did her civilian business as green as her superheroics. She's mad at JJJ for an article about shipping the homeless to New Jersey, and apparently came for an apology. Why? Who is she representing? And even Jonah doesn't seem like he'd actually print that, that seems super out of character. None of that flew for me. Anyway, we skip to lunch…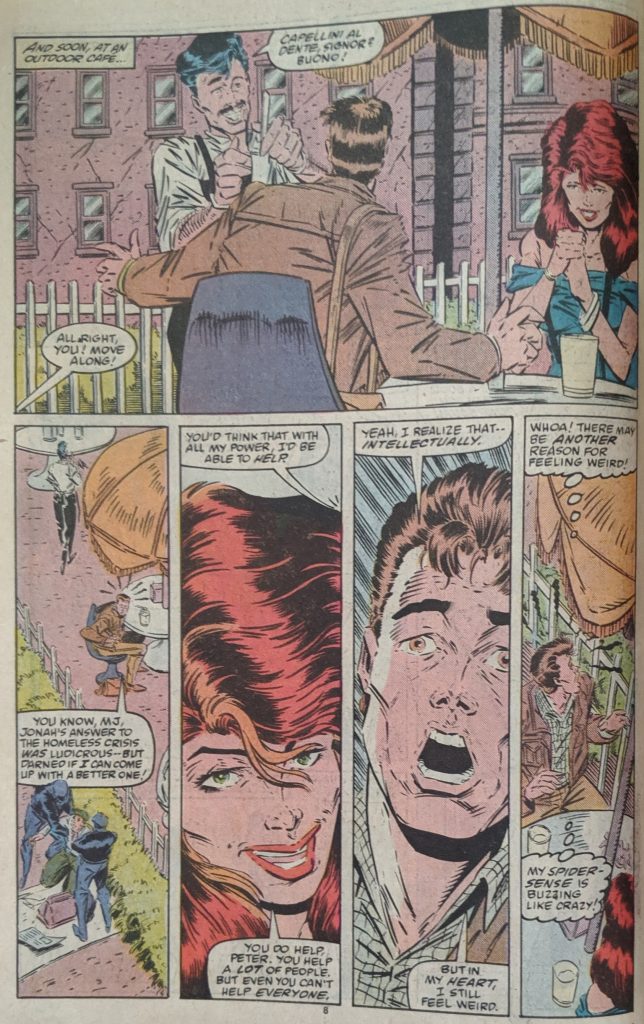 Look at these random, nonsensical facial expressions! Uuuugggghhh. Peter's Spidey Sense was triggered by a van containing Llyra and The Abomination. At their destination, Abomination demands to be returned to human form. Llyra says that will happen soon enough, and calls him Tyrannus, which is the name of another Hulk villain, and then Lord Ghaur announces that to get Tyrannus back to normal, "another essence" must take his place as Abomination. And, as it happens, they have the real Abomination, Emil Blonsky, currently looking like a regular dude, in a tube, ready to go. They begin some kinda transfer process, but they use so much energy they cause a power surge.

Look at Jen's hair! What is he doing!? I know it's the big hair 80s, but come on. Why do Spider-Man's feet look like… that?? Back at the never-named location, Tyrannus is normal and Blonsky is The Abomination once more, but the transfer has made him a mindless beast. The Lemurians take Tyrannus off to participate in the rest of the crossover as Abomination smashes through a wall and out onto the street, where he's met by our heroes.

Spidey looks like his feet are on backwards. Jen is adopting a classic Liefeld pose. We're off to the races. As Shulky and Spidey rush to save some civilians too dumb to flee, Ghaur spots She-Hulk during his escape.

I am always hesitant to try to guess what's going on behind the scenes, but all the tossed off dialogue feels like Michelinie just saying "whatever" when he gets these terrible pages to script. Anyway, the wall collapses on the heroes. We cut to Aunt may for no reason as she's watching it on TV and hopes Peter isn't there. Then Flash Thompson just happens to run up to the scene for some reason?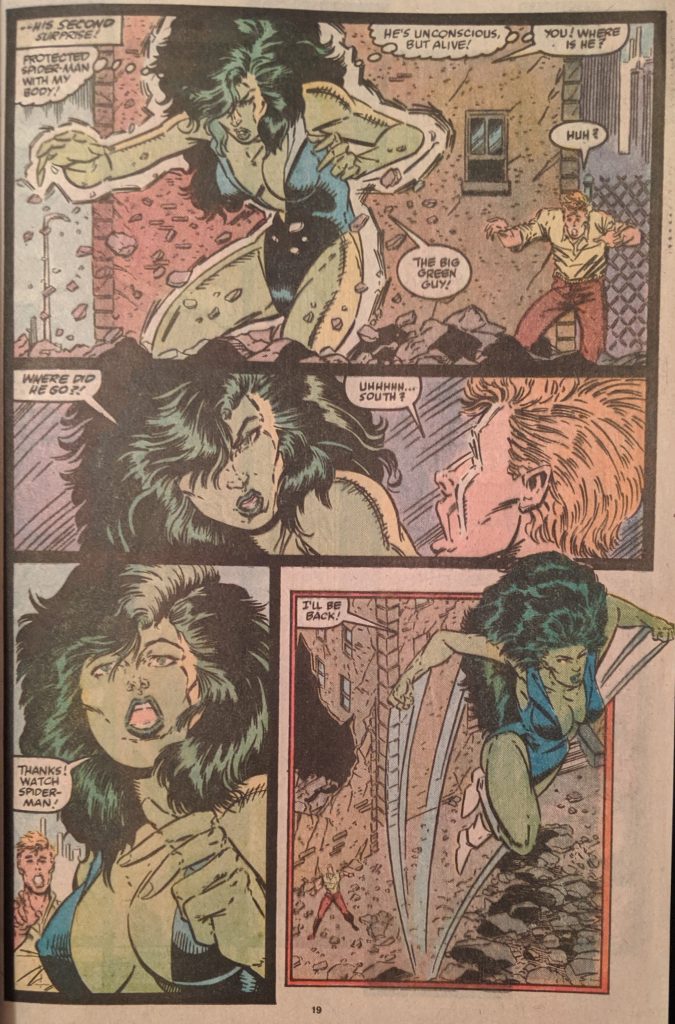 As Shulky bounds away, we see Ghaur is actively chasing her now, having decided she would make an excellent Bride of Set. That's a thing later. We cut to Kingpin "wondering what effect this conflict might have on his city" for no reason, we see Kate Cushing watching and wondering the same thing, we cut to MJ wondering if Spider-Man is ok, why all the cut aways? Then back to The Abomination, currently pummeling some cops when She-Hulk catches up to him. Meanwhile, Flash shakes Spidey back to consciousness.

"Don't look now, but don't look now" is a pretty solid gag. Don't ask me how Ghaur just burned something into She-Hulk's indestructible skin. She wakes up none the wiser to see Spidey still fighting big boy, there's more totally lifeless "action," then She-Hulk rolls up with a whole oil tanker.

Gross comment, Jen! Spidey is clearly celebrating their victory in that one panel, all dialogue to the contrary. Spidey & She-Hulk part ways, Spidey thinking this probably isn't over, and 2 days later, Tyrannus shows up at a federal prison housing former HYDRA leader Viper under the guise of a "Dr. Tyrone" What could he want with Viper? I don't know, I don't have the next part. But it turns out, TAC Annual 9 is part 6, so we'll pick it back up rather quickly.

This is an annual, though, so there's plenty more stuff. First, Gerry Conway, Mark Bagley, Mike Esposito & Andy Yanchus retell Spider-Man's origin almost panel-for-panel, except with a new narrative device of Peter discussing the events as part of a science project entitled "The Effects on a Test Subject of Isotopic Radiation Transmitted by an Arachnid." Then, Tom DeFalco, Ron Frenz & Chris Ivy do a primer on how the Spider Sense works, and I hope Gerry Conway read it.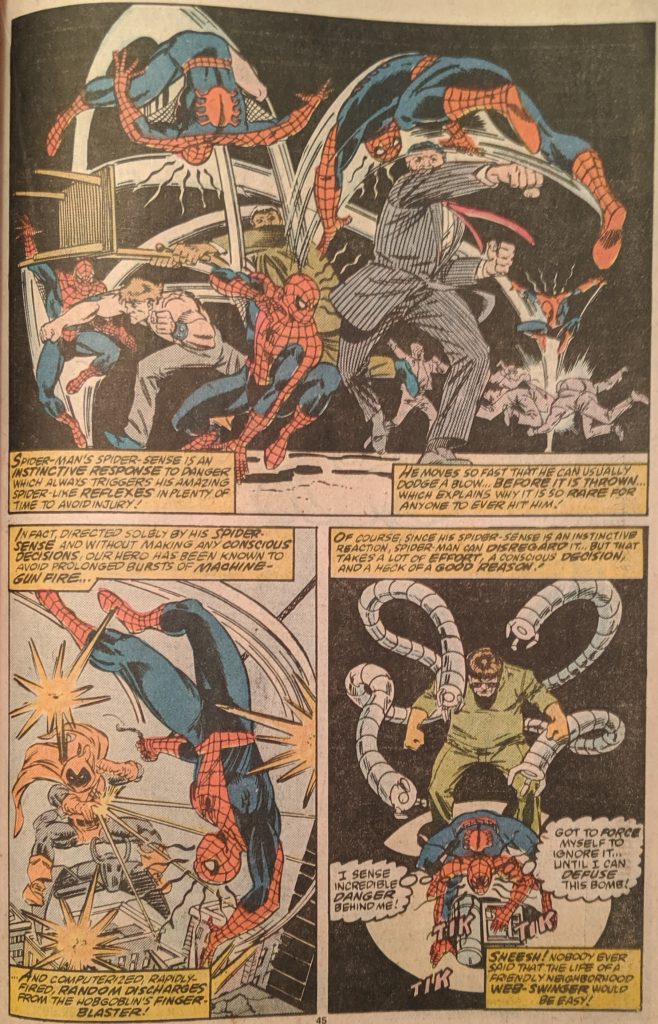 Next, Gerry Conway, Richard Rockwell, Andy Musynsky & Don Hudson and John Wilcox do a goofy bit where Nick Katzenberg applies to rent a room at Aunt May's boarding house. It's all so he can try to dig up dirt on Peter, who has just gotten home as Spidey as this is unfolding. But the more Nick talks, the more Aunt May gets a measure of who she's dealing with.

Very sweet. Then Fred Hembeck ranks Spidey's to 30 villains, and it seems pretty arbitrary.]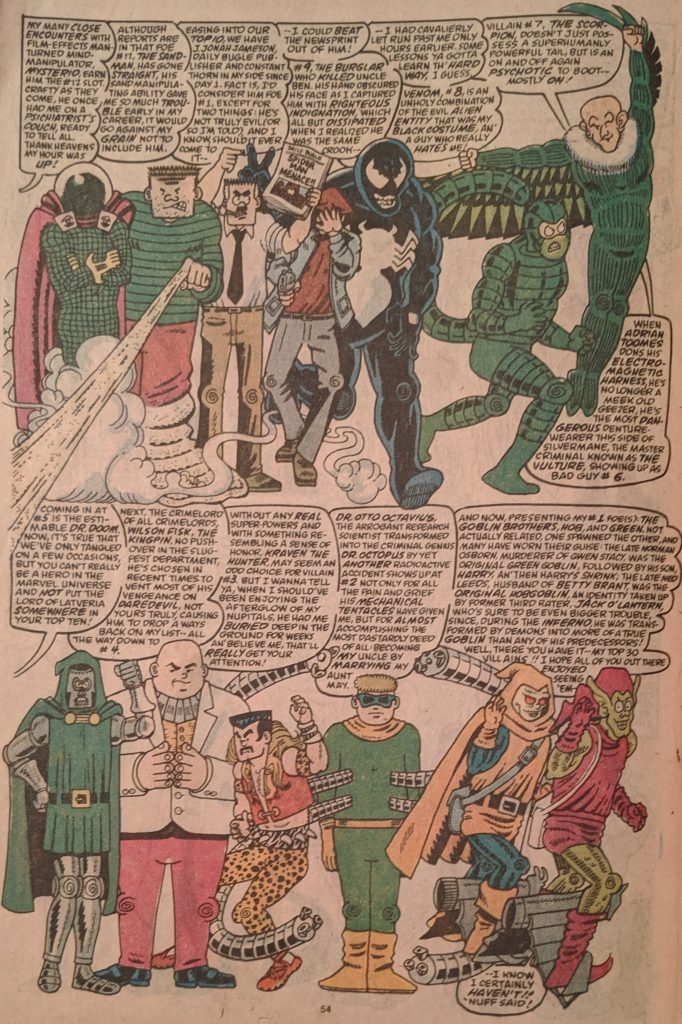 Kraven at #4? Jonah at #10? Ok. then Hembeck does 3 pages summarizing Spidey's history with JJJ. Finally, there's the 4th part of "The Saga of the Serpent Crown," a 14-part back-up story running through all the annuals. Not really our thing here, so come back next time for Atlantis Attacks Part 6.