Hey, look, it's Daredevil! John Romita, Jr. may not have worked on Spider-Man in a couple of years, but he can't get away that easy. This is nearing the end of Romita's phenomenal run on Daredevil with writer Ann Nocenti, inker Al Williamson and colorist Max Scheele. We've already seen how JRJR's art was stunningly different in the 90s compared to the early 80s. He continued to evolve on X-Men after leaving ASM the first time, but it's really this long and fantastic run on Daredevil where you watch him discover his style in real time. It's completely fascinating watching the master find his voice, so to speak. I mean, I love John's art in all his periods, but he went from being one of the best guys in the Marvel house style to being an unmistakable, one-of-a-kind presence in these pages. Few artists have this kind of incredible evolution. Barry Windsor Smith. Bill Sienkiewicz. Travis Charest. Stuart Immonen. It's a rare and beautiful thing. He's well into making his stuff blockier and more 3D here, but he's still pushing, not quite there yet. By the end of his time on DD, his stuff is really crazy. But hey, what's DD and eventually Spidey up to in this issue? Looks like trouble! The issue begins with a sort of grim legendary quality, telling the story of a hilltop where, over the course of centuries, horrible things just kept happening. Murder and death and sorrow permeated the place. People stopped going there, nearby houses were abandoned one by one. The place grew covered with twist thorns and the grass turned dark. And now, as a young man dares his girlfriend to go to this haunted place, and then begins pushing her into a situation she's not ready for, the ground splits open, and out comes…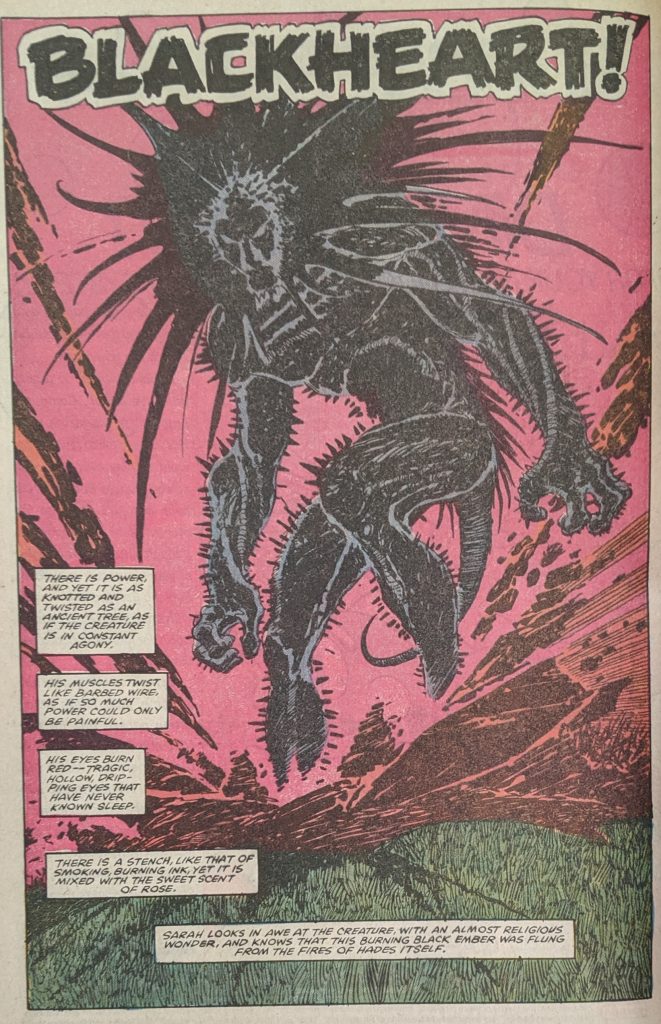 Certainly not like any other Daredevil comic we've seen so far! In the beginning, this run was more or less what you'd expect. Supervillains, girl troubles, New York stories. The debut of Typhoid Mary as Kingpin's new assassin following the death of Elektra. But by now, Nocenti and Romita are working toward a unique, supernatural crescendo in their time on the character. I don't know, but I believe Romita, Jr. may be the first person to depict Mephisto as something creepier than the capering trickster he has traditionally been. As DD leaps around this abandoned amusement park, he begins to sense something strange. That something is Blackheart. They wasted no time getting their new villain to their hero.

Speaking of heroes, there's our reason for seeing this issue, finally. Back at the amusement park, Blackheart has shed his sort-of-human form and is silently focused on trying to kill Daredevil. For his part, DD has no idea what's happening, but the effect of being around this demonic creature is really messing with his enhanced senses. As Blackheart's rampage damages more and more of the park, DD finds even dropping the broken ferris wheel on him doesn't stop him.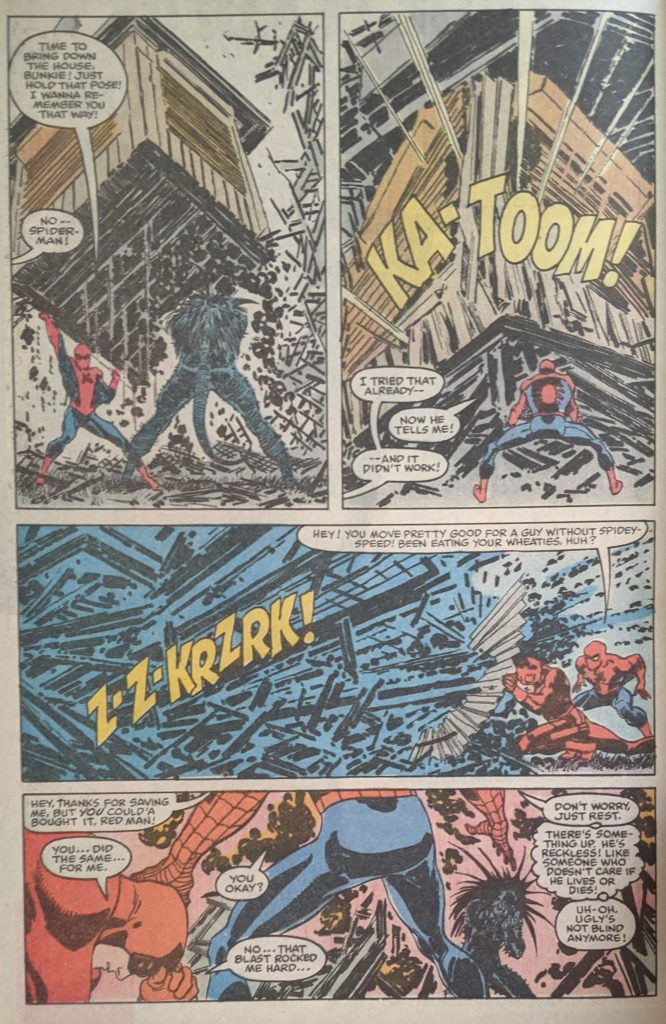 Nocenti's Spidey has a pretty Stan Lee quality here. By now, a crowd has gathered, and just being near Blackheart is starting to terrify everyone in the area. As Blackheart senses the peoples' fear, he pauses for a moment, and faced with the heroes risking their lives for each other, decides to "make a mockery of sacrifice." DD notices Blackheart is standing on metal, and that there's a downed powerline nearby, and decides to kill him.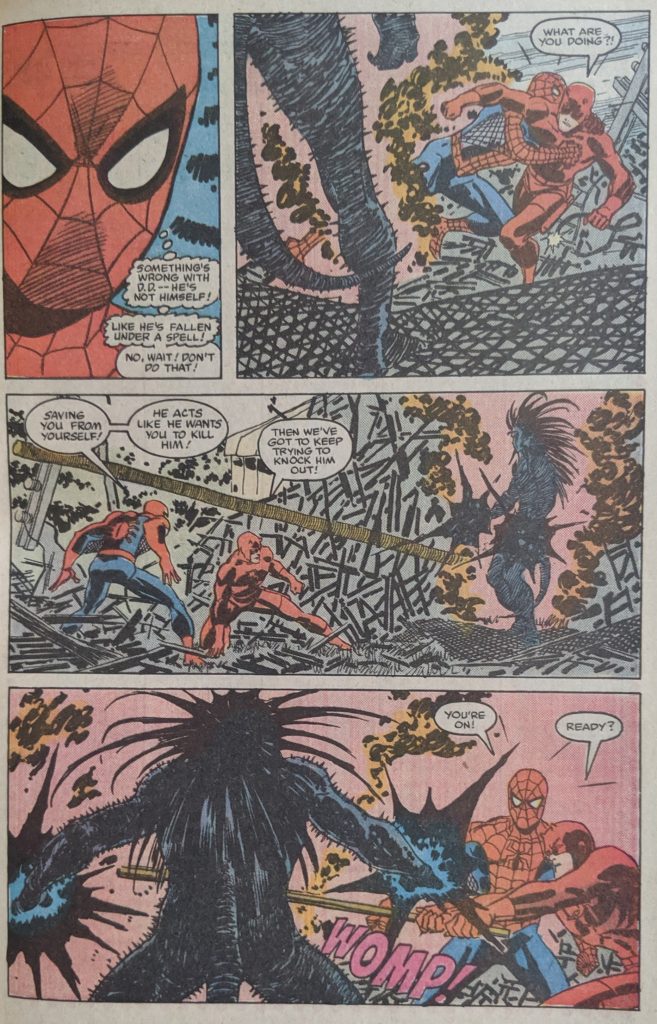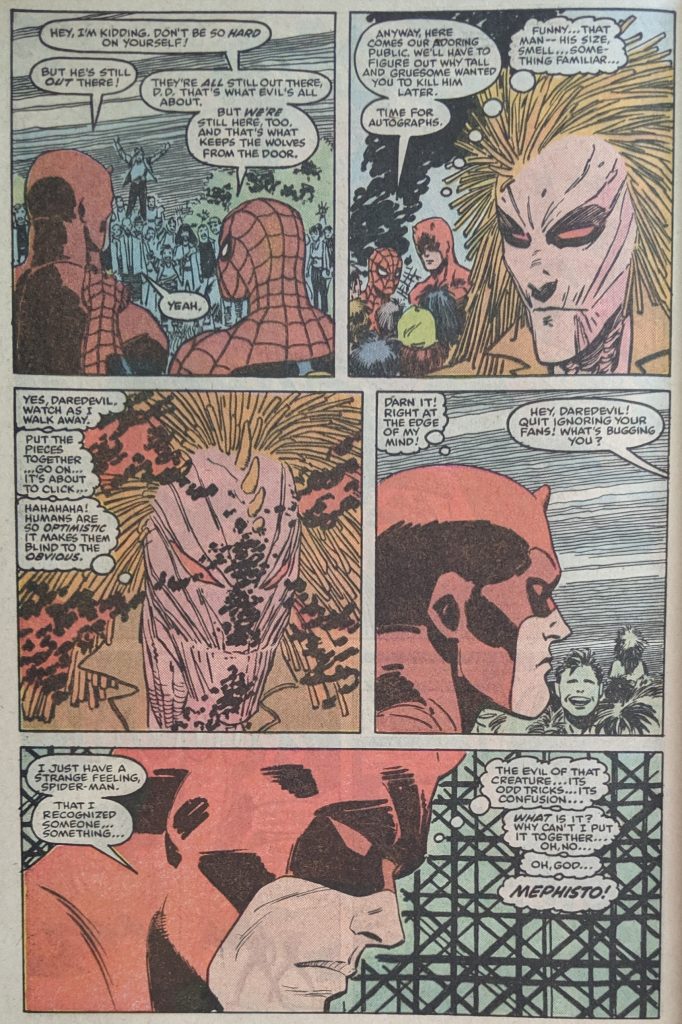 On the last page, Blackheart returns to the hill he was born on, hurt and confused and angry. And I know you're not gonna believe this, but that's not the last DD would see of him. So, yeah, not your typical Daredevil adventure. Ann Nocenti was interested in testing Matt's Catholic faith as only a superhero comic can, and has him on a collision course with (A Marvel version of) The Devil. It's a novel approach, and will result in some wild comics as Romita wraps up his time on the book. Hunting the Nocenti/Romita DD and the Stern/Romita ASM were my primary quests at any comic shop for many years. Nocenti was telling very unique, surprisingly personal stories on the book for almost 5 years (DD 236-291), and Romita was with her from 250-282. Issues in the run John didn't draw were done by such Spidey-centric names as Sal Buscema, Keith Pollard, Todd McFarlane, Rick Leonardi, Mark Bagley and even Steve Ditko, among others. Most of this DD run has never been collected (as of this writing), and that is an absolute tragedy. I was first exposed to Romita Jr.'s work with his final issue of this title, #282, one of the books in the magical comic box I've spoken of elsewhere, and then, 11 years old and in the thick of McFarlane mania, I hated it. HATED it! Like Jack Kirby, it took me getting older and smarter to "get" it (In the pages of Spider-Man, of course), but once I did, I quickly became a devotee for life.