I distinctly recall this cover, but never owned this issue until recently. I think my cousin had it. The Chameleon impersonating JJJ, like Robbie going to jail and the Lobo Brothers, was a plot I was aware of, but not really seeing on a monthly basis. I'd just read these random single issues out of sequence and try to pick up what I could. This one has a guest art team that is going to puzzle me in the form of Frank Springer and John Romita, Sr. I think of Frank Springer's art as cartoony balloon people, but Romita has spent 20 years bringing other peoples' art back on model, at this point. Who wins? Let's see.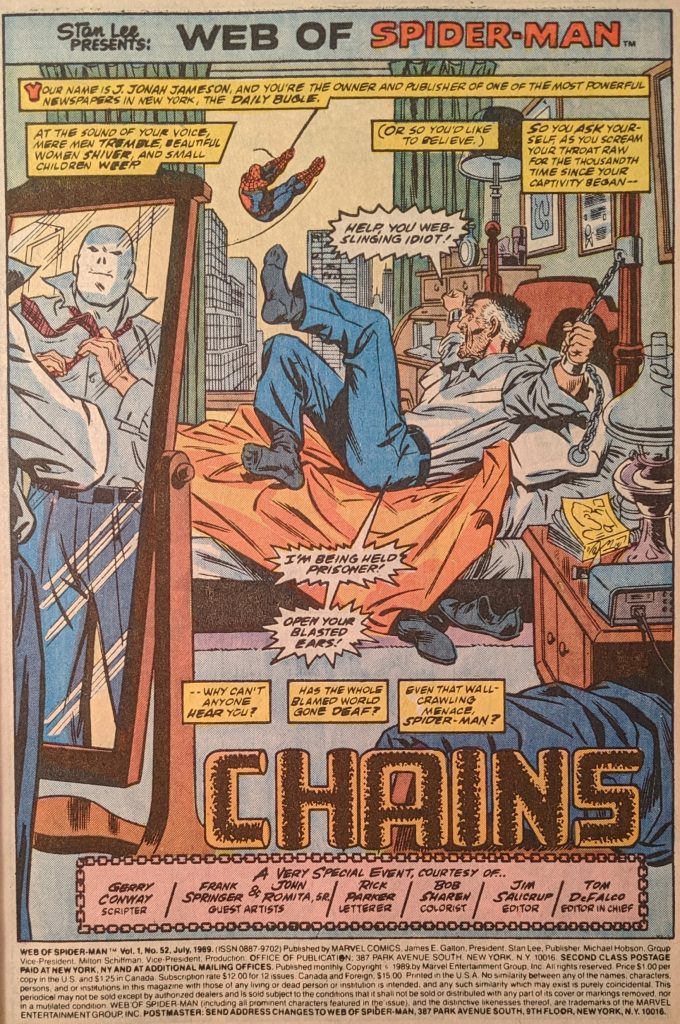 You'd think you'd do "CHAINS" in, like, chains…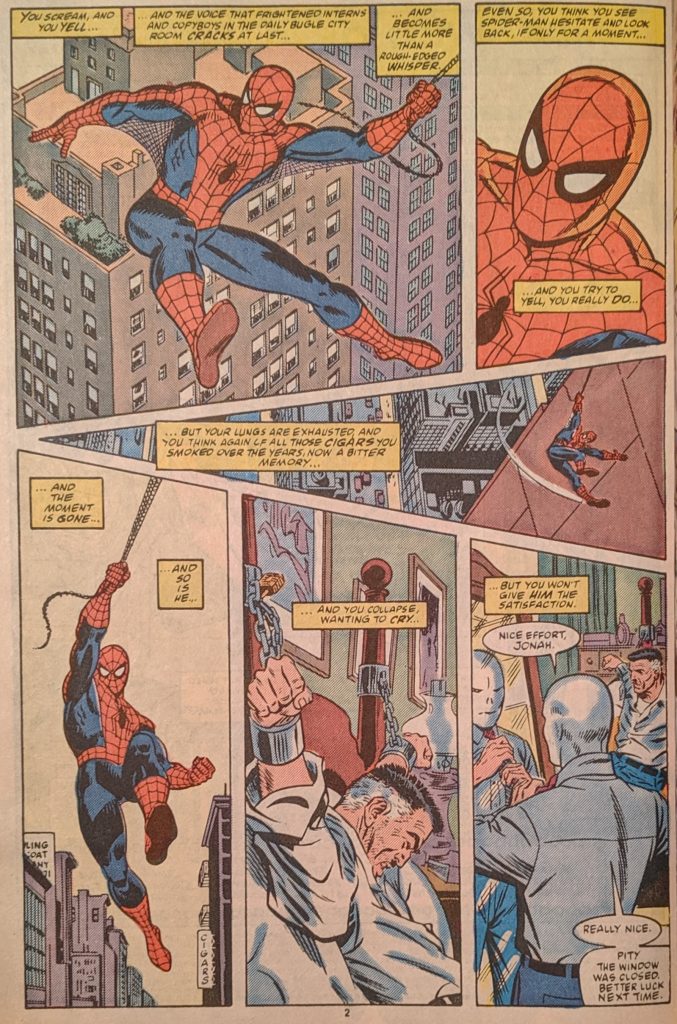 Ok, I'm gonna say Springer did layouts, maybe breakdowns, and Romita is doing finishes here. There's barely any trace of another hand on these pages.

Chameleon only loosens the chains a bit rather than uncuffing him, saying he's no fool. He declares he's doing all this as part of a bid to overthrow The Kingpin and departs. JJJ then starts trying to escape, using his feet to drag a full-length mirror inexplicably standing on a sheet or something close to the bed, but then he starts flashing back to his origins when he sees his reflection.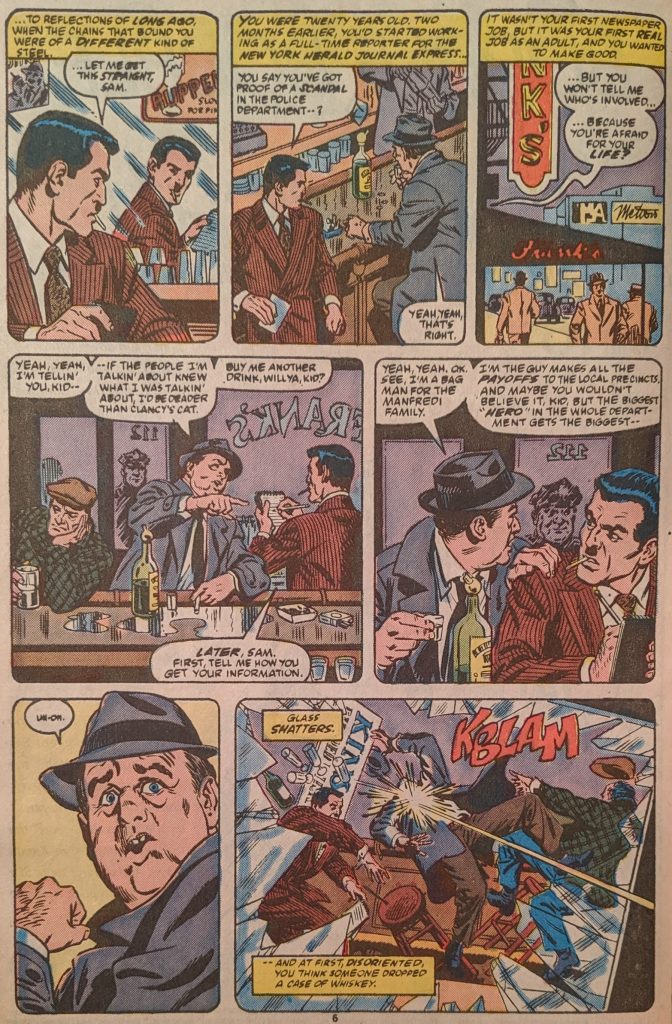 Ya know, more of Springer is peeking through as we go. JJJ saw the cop who did it in the reflection of the shattered mirror behind the bar and was afraid, but now we snap back to the present, where he shatters the mirror in his bedroom and, after cutting his hand, uses a piece of glass to reflect light at a passing helicopter. Remarkably, it actually works. Well, it gets the pilot's attention, anyway. But it just annoys him and he leaves. Then JJJ flashes back to his story on police corruption getting spiked in the old days. His editor won't run it without more facts. JJJ says if he's ever an editor, he'll treat his writers with respect (Har har), and then a copyboy named Danny follows him as he sets out to get more info.Unfortunately, the cops are waiting outside.

Ouch. Back in the present, JJJ starts trying to use the blood streaming out of his cut hand to wiggle it free, while flashing back to the owner of The Daily Bugle, one William Walter Goodman, giving him his first cigar in a bar.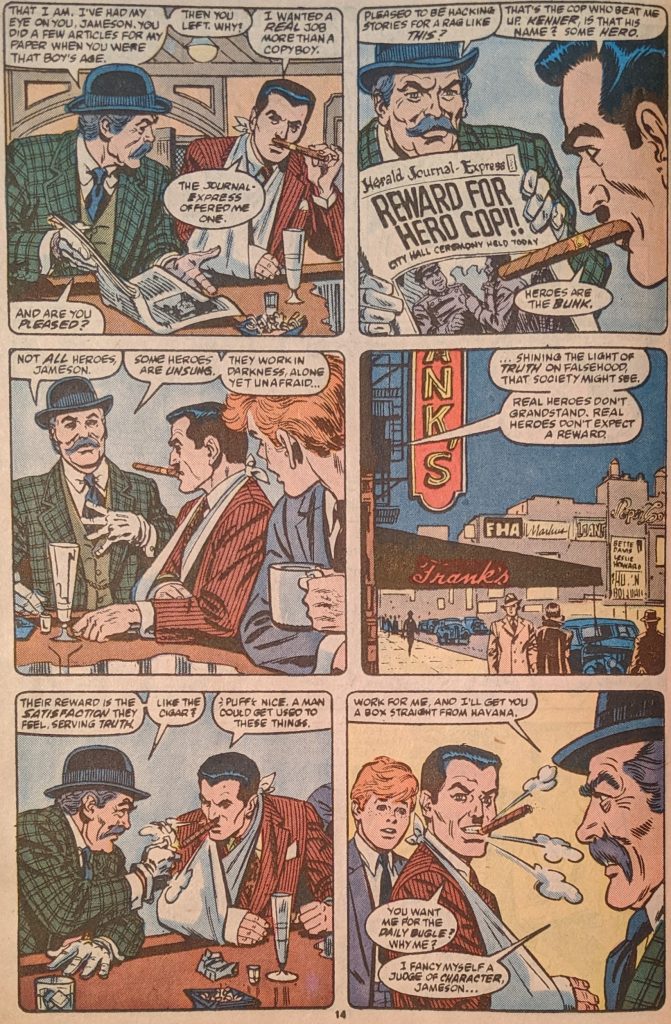 (JJJ looks a lot like Peter Parker in the bottom right) Goodwin says he believes JJJ is a man who values truth as much as he does (Maybe back then), and JJJ accepts a job at The Bugle. In the present, he manages to get his hand out of the shackle, though it's extremely painful. He starts trying to get to the key Chameleon left on a dresser, while in the past, a veteran cop gives young JJJ the key to a locker in the Port Authority Bus Station, saying there's a record book in the locker that details all the cops on the take. He says he's ashamed of what he's done and wants to make amends. But when JJJ & Danny get to the bus terminal, Kenner is waiting, so JJJ sends Danny to open the locker. He realizes his mistake too late.

Ya know, if dirty cops made me accidentally get a kid blown up, I might hate so-called heroes, too. On the other hand, JJJ just being jealous of Spider-Man, as established by Ditko & Lee, feels more correct. JJJ is a "law & order" guy. He's usually with the establishment, and doesn't really hate "heroes" so much as he hates Spider-Man. I mean, a backstory is nice, but… I'm not sure I like it. At any rate, JJJ frees himself in the present, but the exertion and the blood loss result in him passing out, which takes us to the past, where he was passed out drunk with guilt & shame over the death of Danny when Goodwin found him and riled him up to go do the right thing. In the present, JJJ staggers to his feet and beings limping to freedom, while in the past, he marches right into the police station to confront Kenner directly in his own office.

So close! You may not see much of Springer in most things, but you certainly see that's not Romita's Chameleon. Chammy chains JJJ up in a closet in his underwear this time before leaving again for The Bugle, but almost escaping has only hardened JJJ's resolve. And that's it. Will he get free? How long will this go on? We shall see. I wonder why Romita was on this. Does he just have a lot of affection for Jonah? Getting a kick out of working with Conway again after like 15 years? Very unusual, but pretty cool.