With Dan Jurgens leaving pretty abruptly, we got us a fill-in. One I did not previously own, as you can see from the mycomicshop.com tag there. Here we gotta deal with the blog debut of Luke Ross. Ross is an artist who has stumbled through a long career in comics just jumping on whatever train was leaving the station at the time. In this era, he is shamelessly ripping off 2 popular artists, as we'll soon see. A few years later, when "photorealism" took comics by storm, suddenly he was into that. And so on, right up to the present day. You can always find the guy following a trend, never really establishing his own style, and never really becoming a thing as a result. Who's he ripping off here? Well, page one makes no secret of one, uh, "influence"…

The main figure there is an awkward approximation of a McFarlane Spider-Man from SM #8, which we'll, of course, see someday. Ugh. Marvel just kept hiring people copying or even outright tracing Todd McFarlane during the 90s, but they all sucked. And Ross is only stealing from McFarlane for Spider-Man. As Ben races to the hospital Peter's in, we see the other person being ripped off here…

…beloved X-Men artist Joe Madureira. His vaguely manga-influenced style was setting off a wave of imitators in this period, and thus you find our man, Luke Ross, among their ranks. Mad and McFarlane's style are not terribly compatible, making this a terrible idea, but… there you go. Also along for the ride this month are Todd DeZago, Al Williamson & Gregory Wright. Ben goes in to see Peter, who puts on a show of feeling ok. Ben suspects clone degeneration is coming for his "brother." Then Flash Thompson shows up. And he's not alone.

Oh, this is hideous. We're entering the absolute nadir of 90s comic art now, in my opinion. Things will get pretty ugly. Anyway, a nurse begins trying to shoo everyone out of the room, and Ken Ellis gets a tip about a suicide jumper on The Rand Building, so they rush off to get the story, and Ben switches to Spider-Man and follows. When he arrives, he finds the jumper has really gone the extra mile.

UGH, really? That joke woulda been tired a DECADE before this issue came out! Spider-Man tries to talk the guy down, guy says he's a worthless loser who needs to die, etc, and then for no reason, the pilot of that helicopter loses control and crashes into the building. I know!

As with all the McFarlane impersonators, the difference between stuff they swipe and stuff they do without "reference" is pretty striking. Spidey swings down to help the chopper, but one of the panicking guys inside tips it, and Spidey has to start webbing people and things to make sure no one gets killed. He swings some people up to George, telling him to call 911 and see if he can help the injured before heading back down. While he does that, over at the hospital, Peter begins convulsing. I guess. I'm not totally sure from the art. Back at the chopper…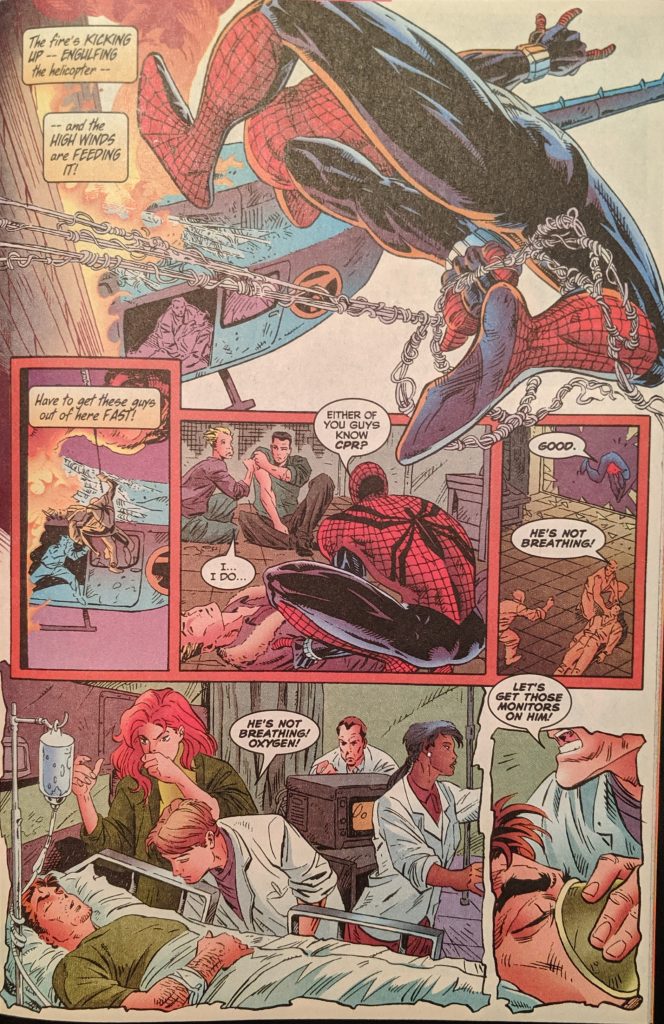 That's George who knows CPR, unless you can't tell. Spidey rescues a few more people (How many dudes are normally in a news copter??), a doctor announces Peter is in cardiac arrest, and then the chopper falls out of the building, one guy still inside, naturally. As Spidey swoops down, the guy George is administering CPR to starts to stabilize, and so does Peter at the hospital.

Would that no one here was "da man."

Well, you know what that means. But that's a Spectacular Spider-Man plot, this being written by DeZago and all, so we'll check back with Curt in a couple posts, I presume. It is my sad duty to inform you that this is not the last we'll see of Luke Ross, either. But that's for later.