Did you forget about Spider-Man Team-Up? Well, it's a thing, and here's more of it. That Dan Jurgens/Bob McLeod cover is actually relevant to the interiors, written by Dan, drawn & inked by bob and colored by Tom Smith. Itty bitty hand on that wizard guy! I am not too familiar with the FF in this period, but does Reed have a mullet? Why, 90s, why!? As we get going, Spider-Man is breaking into a building he says probably has the finest security in America, if not the world. He takes the chance to explain his powers in case you somehow bought this book by accident as he goes.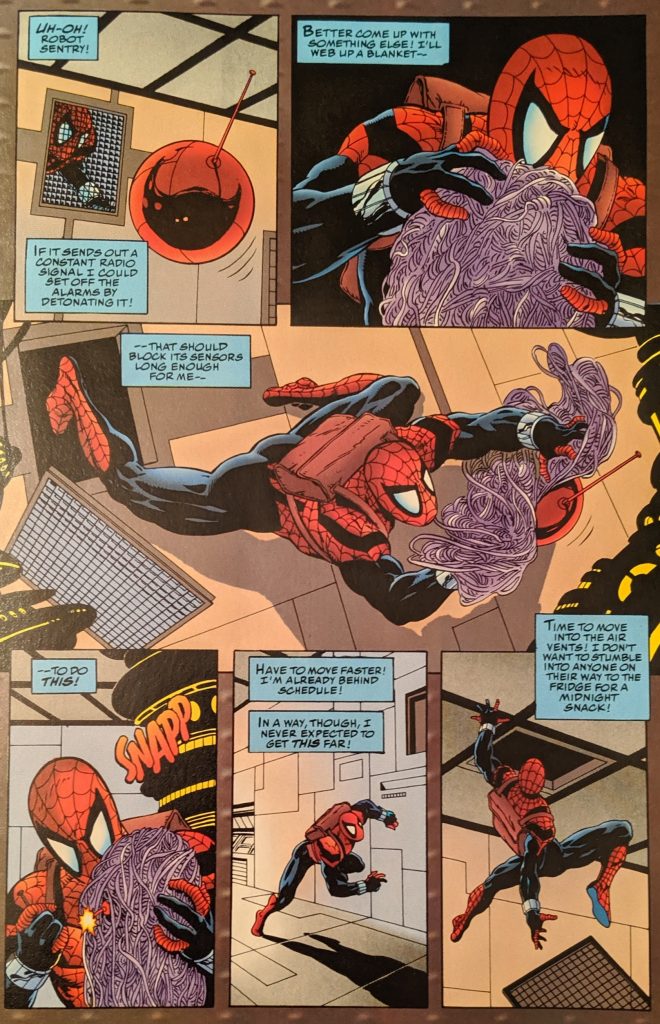 He finds his way into what looks like a child's bedroom based on the posters on the wall, leaving what looks like a plastic explosive. He sets a timer for 60 seconds and takes off.

Yes, it's all an elaborate birthday prank on Spidey's oldest frenemy, The Human Torch. Which means, as alarms start going off, Spidey is trying to escape the home of The Fantastic Four. Hey, remember how Johnny didn't believe this was the real Spider-Man when he first debuted, but now he recognizes him by his voice? /shrug Naturally, Spidey can't escape before they catch him. Specifically, The Thing grabs him by the neck as the rest of the FF comes running out in their bathrobes and whatnot demanding an explanation.

Reed DOES have a mullet. Ugh! Reed was "dead" for awhile, replaced on the team by Ant-Man, if you can believe it, but he's back. And much like when Jurgens killed Superman and then brought him back at DC, he's back with a mullet. That was just how you cheated death in the 90s, but growing your hair out. It becomes clear quickly that Jurgens falls into the trap of writing Reed like a robot instead of just a smart guy who overexplains things. Back in Johnny's bedroom, a shimmering gold portal in the air has appeared. Ben leans in to say it's pretty, then a tentacle snakes out and drags Ben through it. Johnny finds he suddenly can't use his powers, and Sue says she can't make force fields anymore, though I don't know if that's a previous thing or whatever's effecting the Torch, but Reed is able to reach into the portal and grab… someone…

I take back my comment about the tiny hand on the cover. Here's some of that guy's deal, I guess?

Lil Gandalf says he tried to teleport to the world he saw, and was greeted by "angels, he assumes" singing happy birthday. No one can figure out why he thought he was going to a space battle as they argue about what's happening, until…

Sooooooo Johnny had a video game… just running while he was asleep? Wut? It's Ben Sue says they've forgotten, of course, who has been falling through space the whole time and smashes through the roof of a castle into… well, into this:

Hm. Can he say "Crom's beard" right now? Wow, yeah, 1996 was the last year Marvel held the rights to publish Conan until 2018. I didn't realize they had it quite that late. Anyway, I'm not sure this is actually meant to be Conan stuff, in spite of the invocation of Conan's god, but at least no one'll be sued. 1996 Marvel can't afford it. The goons there say none may enter the royal bath chambers but their lord & master, Rasheed Ven Garmchee, supreme wizard of Perrinois. Which is not the name Lil Gandalf gave the FF. The goons break all their weapons on Ben's skin and then run in terror, leaving him to wander the castle trying to figure out what to do. He thinks he sticks out too much, so he… pulls out a little gem he says Reed made to give him "a concentrated blast of cosmic rays," turning him human. What? Is that really a thing? Ben not being able to return to normal is such a big part of his deal most of the time! I have to assume something like this would've come from the FF comic, but… huh. Oh, well, Ben meets some guards looking for him in his rocky form and tells them he ran off into the woods, but he's no closer to getting home. Speaking of:

The… the what now!? It's 1996 and people are still pretending asbestos won't kill Johnny!? Holy hell. And since when is Spidey's web fire proof? It's like every 3rd page is a slap in the head. Reed, Sue & Spidey lower themselves into the portal, while back on Azeroth, Ben decides to fight his way back into the castle so he can go up one of its towers to watch for the FF to come rescue him (Reasonable assumption) when he runs into the previously mentioned supreme wizard, who looks just like the one in Johnny's room, but wearing red.

The wizard turns into a big red monster he calls a Bordock, but Ben just zaps himself with that super convenient thing again, and is suddenly The Thing again.

Bordock or no, the wizard is no match for Ben in a fight, with Ben pulling down a stone pillar and battling the wizard right through a wall. Up on the parapet now, the wizard returns to his regular form and summons an army of demon dudes riding dragons. And that's when the rest of the heroes show up, dropping right into the madness.

"Your-jokes-do-not-compute-Spider-Man!" Ugh, terrible. Lil Red Wizard realizes this is all due to his brother, Lil Purple Wizard, naturally, and assumes the FF & Spidey are his brother's minions. He looks up through the portal in the sky and sees his brother, even, so he fires some green bolts up into Johnny's room. Shiwa, though, is just playing the space game and babbling about wanting to go to space. Down in the other world, our heroes have changed their plan to making sure these monsters don't make it to Earth. Sue can still turn invisible, so I guess she's just lost her force field powers for now.

Take that, Murder She Wrote! Jurgens swinging at anybody now. And still writing a very 70s Spider-Man. As the monsters continue to advance on the portal, Spidey shoots a web up into it, what must be miles!, and somehow webs Johnny's Super Nintendo and drags it down to them, finally getting Shiwa's attention. Spidey says he'll give the lil guy the console back if he seals the portal.

That was prrrrrretty absurd. Dan Jurgens having Johnny refer to his unnamed-but-obvious-SNES as "my video game" sure was hip. Weird. Good looking comic, though. Bob McLeod is a class act. There's something else unusual about this one. It barely fis in and out of its bag, and the backing board reveals…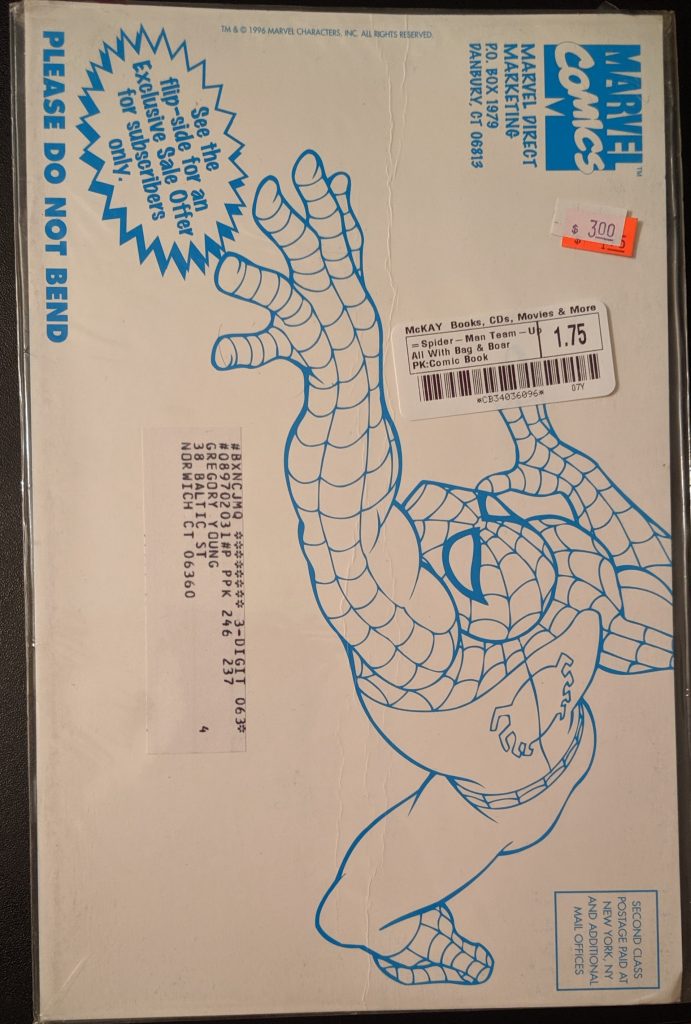 It's a subscription copy. I had no idea they came like this. I got your comic, Gregory! And I know what you did with it…

…you sold it to Sarge's Comics. Naturally! That was an interesting discovery.