Which of these brand-new characters no one has yet developed any empathy for will DIE??? Fake Spider-Man? Evil Fake Spider-Man? Soul Patch The Hunter? YOU decide! For now, because obviously, they will reveal it soon. Guest artists Mike Manley and Joe Rubenstein hop on to finish this troubled tale. A whole new creative team on Web this month and a guest art team here? Messy. We rejoin Ben Reilly passed out on a roof after Kaine beat him unconscious.

But, of course, we know Kaine is actually about to fight Grimbo the Clown, and we jump over to them just as the battle begins. Kaine internal monologues that Vlad can't be allowed to interfere with all that he has striven to accomplish as they mix it up, while Ben makes it to the building finally.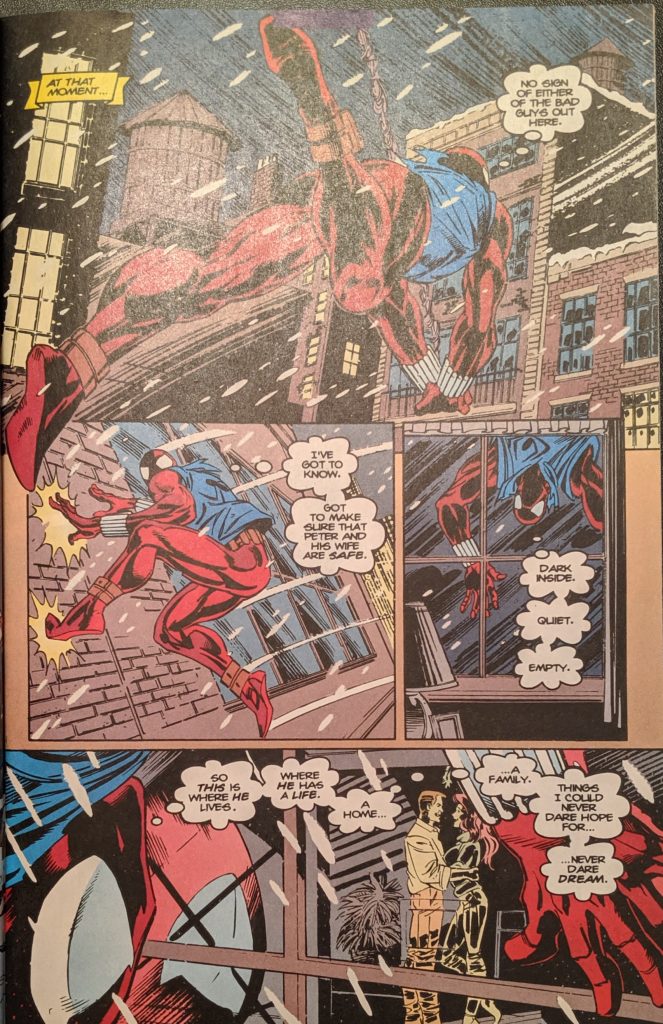 Then there's FOUR PAGES of ads for baseball cards, and then Ben keeps whining about Peter's great life before getting over it and heading to the roof to look for the tuff guy brigade.

Trainer has so far only been pictures dressed vaguely like a SHIELD agent, and I don't remember that at all. Back at the fight, Ben finds the two villains beating each other up down on the street now? Maybe they used Kaine's ability to seemingly teleport anywhere. Ben is still pretty messed up, and as he tries to get involved he gets dizzy and falls out of the sky onto a taxi. Very heroic!

Ben retreats to his crappy hotel room only to find Trainer there. Trainer says he's back to finish up their "little testing," but when Ben tells him Kaine is in town, Trainer gets scared. Speaking of Kaine, he's stalking through the snow wondering if The Grim Hunter is who kills Mary Jane in his vision of the future. If so, he plans to stop him. But Kaine is hunting a hunter, who gets his scent on the wind and sets a trap for him, dropping out of the trees above him to resume their battle.

Kaine implies he & Ben have been fighting for years as they get into it. Ben gets Kaine with his dopey stingers, which bounced off him with no effect just last issue and now suddenly work on him AND have a paralysis component (LAZY), causing him to fall into a frozen lake. Ben dives in to save him, and when he's unable to find him, just… takes off. He says he has to warn Peter, so he leaves Kaine maybe dead and The Grim Hunter just standing there. Abrupt! But it had to be, because we're almost out of pages and someone has to DIE!

I read Howard Mackie offered up his guy to get jobbed out to Kaine to prove how scary he is. Maybe he realized this guy was a one-trick character already. Can only remake the first issue of Kraven's Last Hunt so many times. If ol' Greg actually shows up for revenge, I don't remember it. But if you're sad to see Baby Kravey go, don't worry, his heretofore unheard of brother will be around soon enough. And he makes The Grim Hunter seem like a great idea!