This is weird. A whole guest creative team steps in for part 3 of this story. On the one hand, you wouldn't think you'd schedule a break for your regular team in the middle of a 4-part story, but on the other, it seems unlikely writer, penciler and inker would all get sick at once, so… here we are. It's Todd DeZago writing, breakdowns by Phil Gosier and inks by Sam De La Rosa and Randy Emberlin, with colors by regular colorist Kevin Tinsley. They get under way with some goons beating up a homeless woman until Kaine steps in.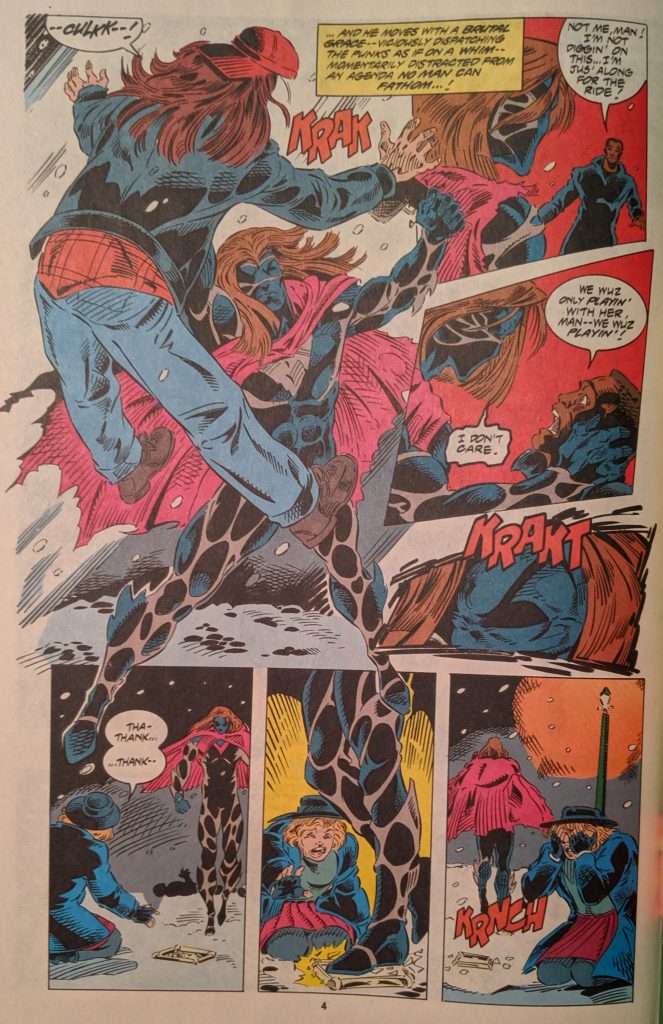 An agenda no man can fathom, eh? Seems unlikely! Elsewhere, Ben Reilly is racing to Peter Parker's apartment, afraid The Grim Hunter is on his way there to kill Peter, when a cab driver loses control below him.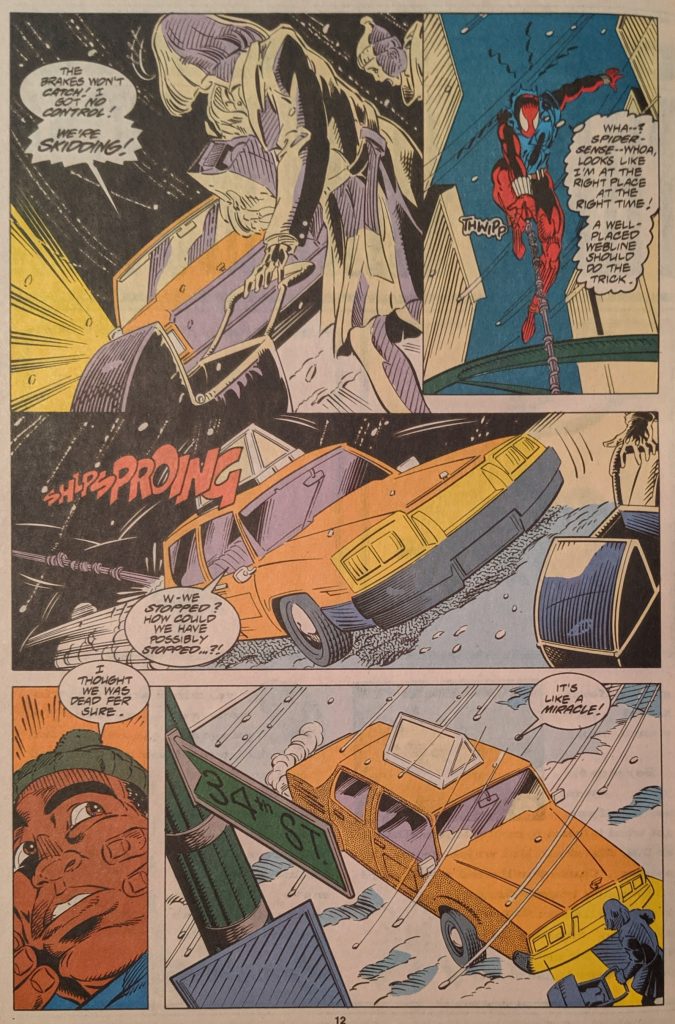 Turns out there's no rush, as Vladimir has gone home to run around naked with incense burning like his dad while his guy Gregor thinks about how scared he that Vlad has inherited his father's madness. So basically every Grim Hunter scene. This is really repetitive. Then Vlad finally puts some clothes on and declares they're going back out, and we leave them for that Jacob Raven guy.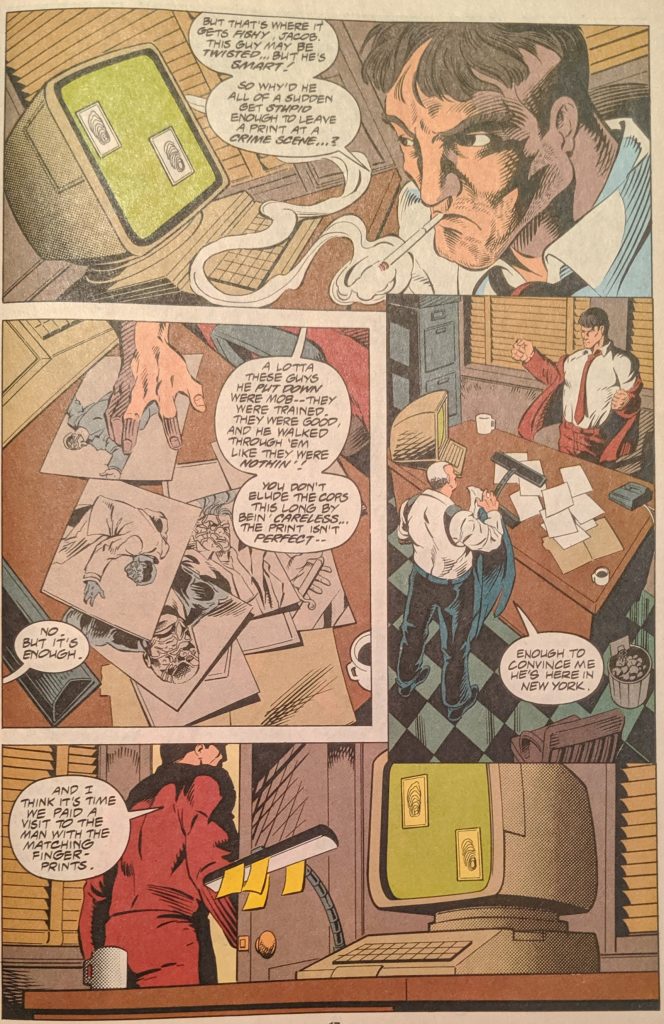 Goodness, whoever could that man be? At that mans' place, Ben Reilly is staking the place out, but nothing's happening yet. And Kaine is somewhere nearby watching Ben watch the apartment. As Kaine punches a chimney in half for literally no reason whatsoever, he thinks that he won't let Ben interfere with his plans for Peter & Mary Jane Parker. MJ's part of the plan no man can fathom now. Then we switch back to Ben, who gets sucker punched from behind, his assailant not setting off his Spider Sense, which means it's…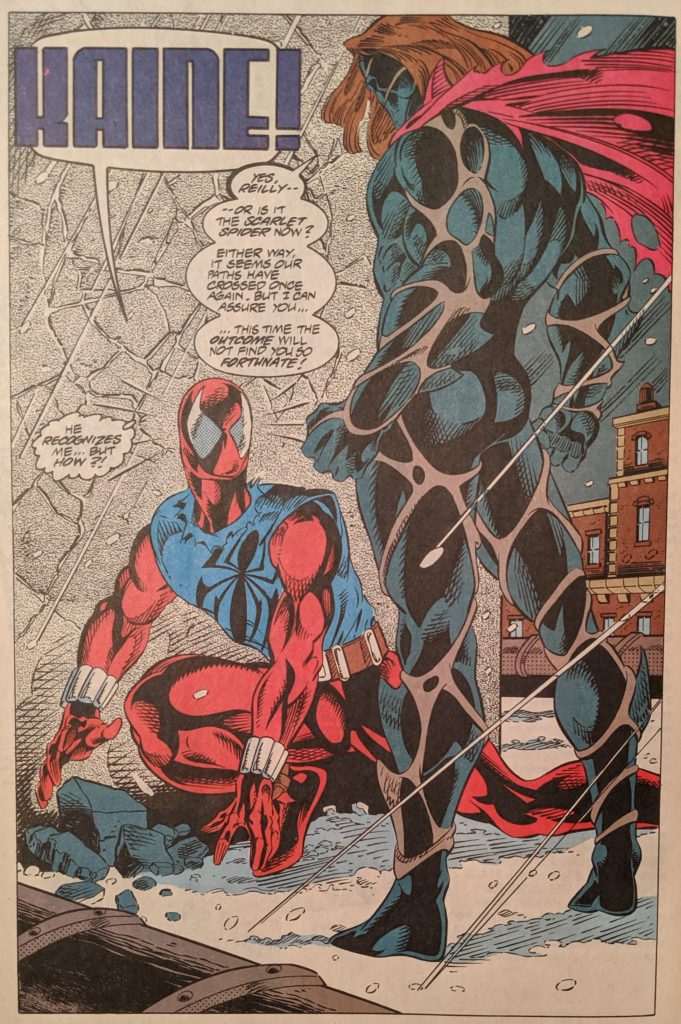 HOW? How could he recognize, you absolute idiot!? Good grief. I dunno, maybe Todd DeZago wasn't privy to the plan here. Oh well, it's fightin' time. Ben finds his new stingers just bounce off Kaine's face (W… why?). His impact webbing sticks Kaine to a wall for a second, but he tears loose and socks Ben in the face with the chunks of concrete his hands are still webbed to. Lookin' like a jobber, here, Reilly.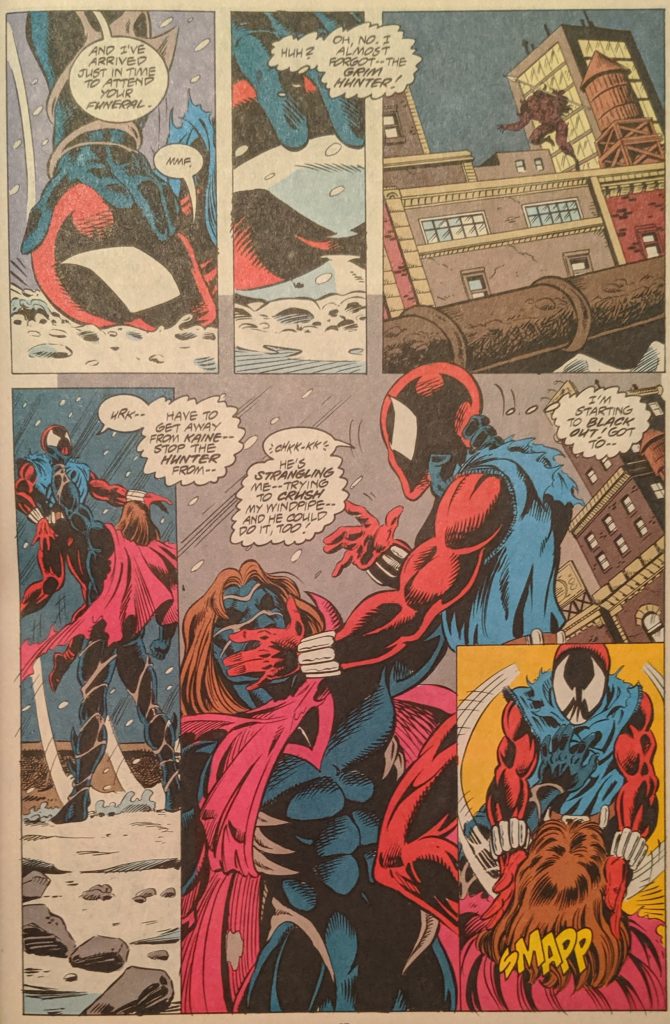 Ben gets loose, but it doesn't help him, and Kaine knocks him out. Then The Grim Hunter arrives at Peter's place, narrating to his dad about blah blah blah, it's the usual, but before he can smash through the skylight, he notices someone behind him.

Except for putting Kaine in the mix with Ben & Vlad this issue mostly spun the wheels. Which is about what you'd expect with a temp writer and artist, I guess. I wonder how different it would've been with the regular guys. We'll never know.