A pretty significant change happens with this issue of Spectacular: The man, the myth, the legend Bill Seinkiewicz comes on board to finish for Sal Buscema's breakdowns. This will continue for awhile. They are a mismatched odd couple. As we've seen plenty of evidence to support, Sal's a real meat'n'potatoes superhero guy. Bill, though, is one of comics' true fine artists, abstract and experimental in his own work, loose and inky when working with others. He established his style, unlike anything in comics, in the 80s, and he did a lot of inking jobs in the late 90s to early 2000s for some reason. He's here for 10 issues. Also this issue, Tom DeFalco is back to writing his own script. And since Tom is old school, as the book picks up with Doc Ock narrating as he tries to save Peter's life, while his outlook and motivations still don't jibe with the entirety of the character's history, his "voice" is back to normal: theatrical, pompous and definitely Doc Ock. But speaking normally or not, he's been working for hours, and has no idea how to save his hated enemy. His enemy, meanwhile, is having another vision that indicates he's the clone.

More could certainly be made of Doc Ock's reaction to learning Peter Parker is Spider-Man. He unmasked him way back in ASM 12, but everyone thought it was Peter playing a prank. And, of course, we recently saw him trying to murder Peter's whole family (Including, you know, that very decent woman) because he didn't get to marry Aunt May back in the day in Parallel Lives. This seems like a momentous occasion no one is playing up. At any rate, he sends Stunner out to have a big bouquet sent to Aunt May (In costume no less), while Kaine watches and does his usual foreboding vagueness thing. Kaine looks far spookier under Sienkiewicz's scratchy inks. Speaking of Aunt May…

This scripty text is so unpleasant to read. MJ is thinking she & Peter need May back to help get the old Peter back. How she's learned some news that will change their lives forever, and she's not sure how Peter will react. Goodness, what could THAT be? Whatever could it be? What… could it be? Is it not screaming obvious? Seems like it is. Anyhow, back at Doc Ock's mysterious lab somewhere or other, Otto says Peter is going into cardiac arrest and will be dead in minutes unless he acts, so he jams a new chemical into Peter's IV, and Peter bursts off the table and starts bouncing off the walls, blind with pain.

Sal Buscema only knows how to draw people punching the blue hell out of someone. As we saw with that Cussler guy back in 215, there's no way to tell realistically how hard Spider-Man is meant to be punching someone in a Sal Buscema comic. He shoulda snapped that Cussler guy in half. Is Stunner meant to be getting smashed with the full strength of a guy who can pick up a car, or is he just sort of swatting at a barely seen enemy as he blindly runs away? The art gives us no idea. Peter goes careening through the city, Kaine watching as always, until his adrenaline runs out and he drops to certain doom for the 2nd time in 2 issues.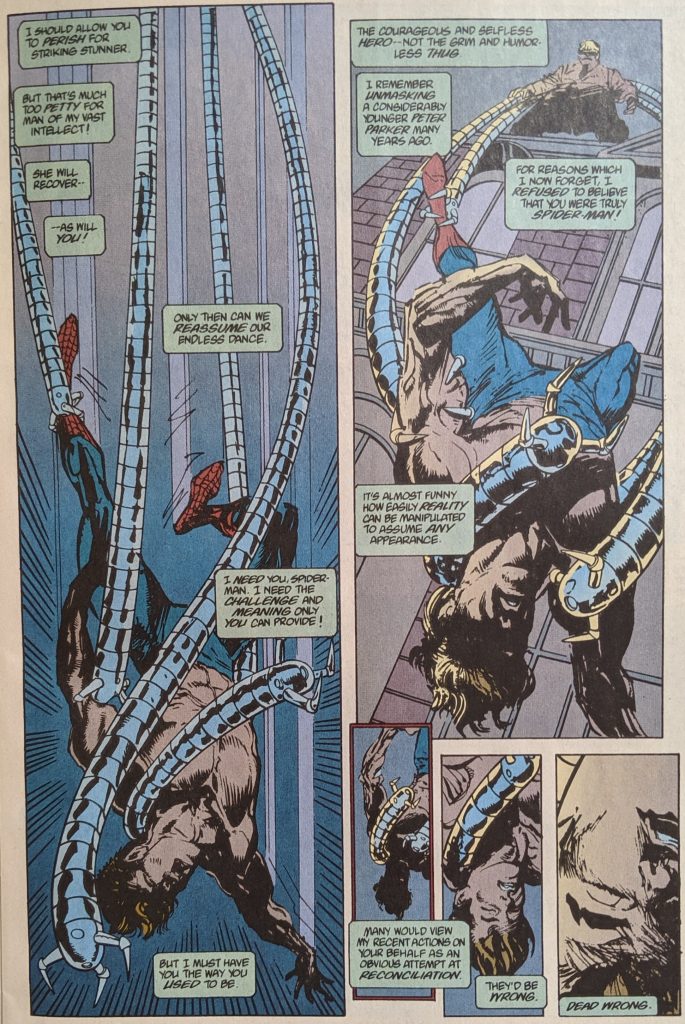 The premise that Doc Ock is doing this Joker/Batman "you complete me" thing is just laughable given the characters' history, but at least he does remember ASM 12.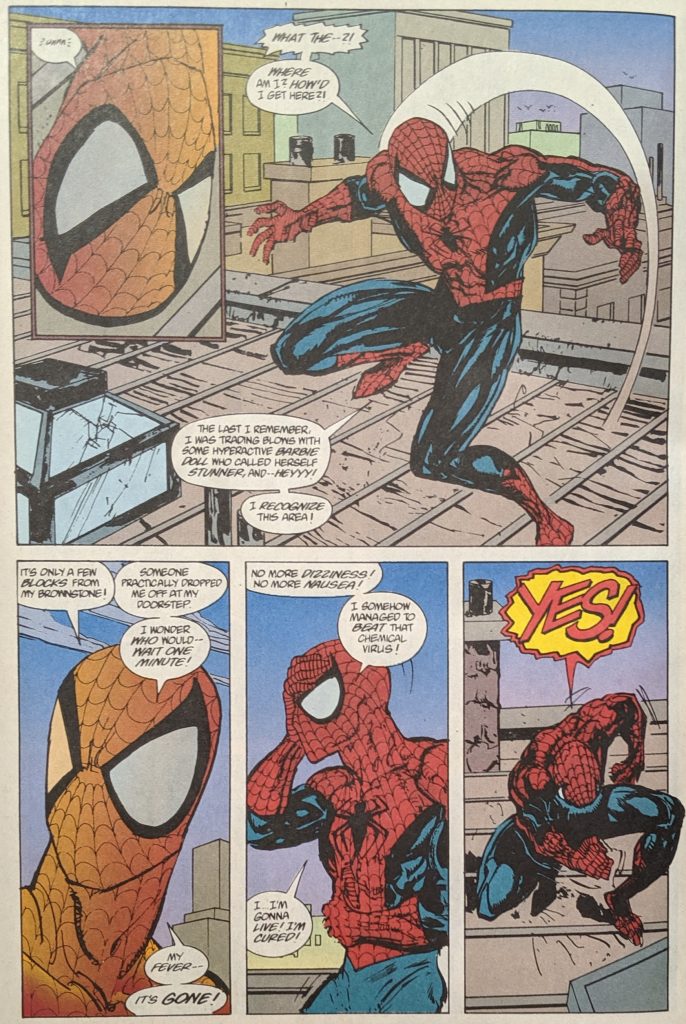 It'd sure be nice if that were true. Alas… Anyway, Kaine is now peeping on MJ, apparently able to just teleport to any location where a character more interesting than him is doing something.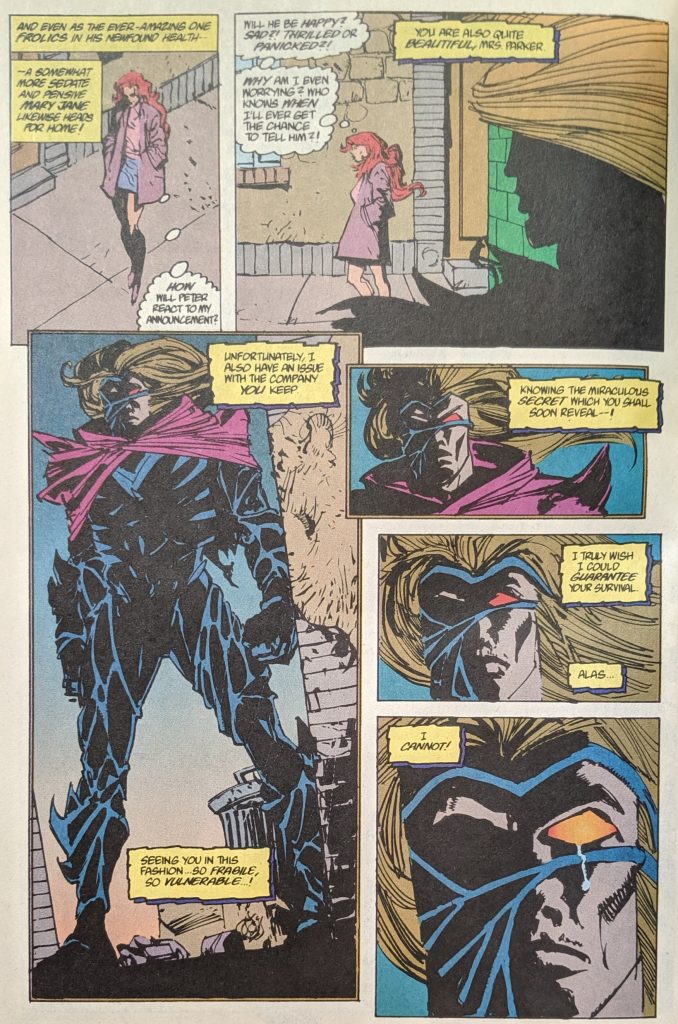 The art team repeats the bottom of this page from watching Stunner earlier, adding only the teardrop. As MJ walks home, Spider-Man drops in through the skylight, totally his old self again. He showers and puts on normal clothes for perhaps the first time since ASM 389, and wonders how MJ could ever forgive him for how he's behaved. A fair question! But, of course…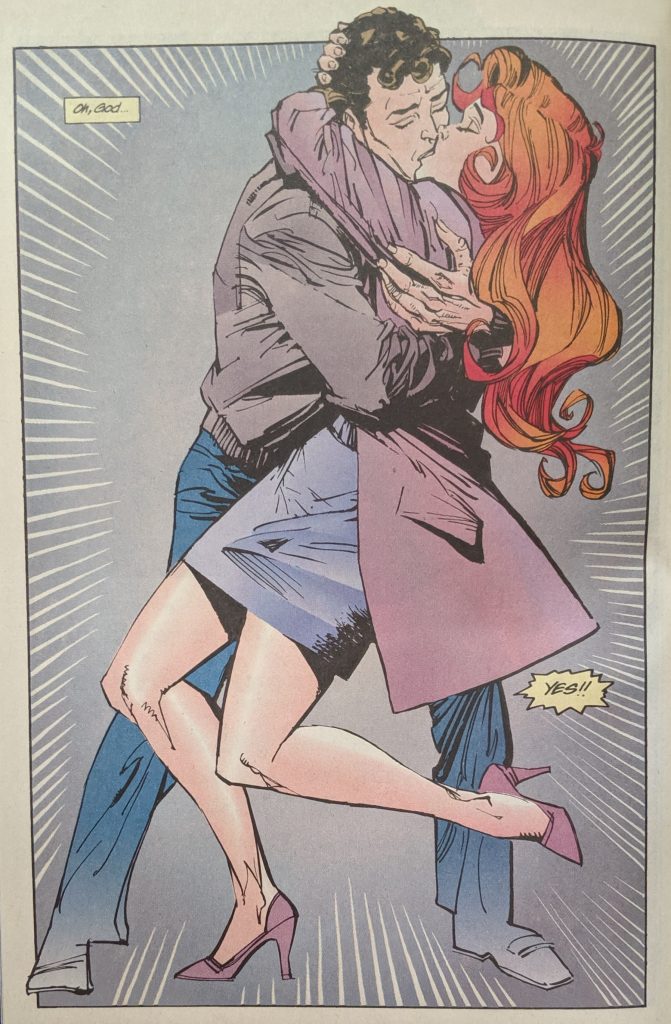 Real soapy. Outside, Doc Ock watches, smiling, and then walks away. Where's Kaine? Can we get Kaine's reaction? Maybe another hilarious teardrop? Pete & MJ order a pizza and put on a record and dance to show us that they're totally back to normal (for the moment), Peter thinking that tonight they're renew their vows and maybe just live happily ever after. However…

It's funny to me that DeMatteis is writing Stunner as what a clueless dude thought feminism might be in 1994 while DeFalco has her in classic Stan Lee helpless girlfriend mode (And look at that insane posture!). At any rate, Peter is yet again not really cured (2nd time in 2 months!), and now that he's actually stopped being a baby, he's gotta go tell his wife he's dying…

Face it, Tiger: There's no way this ends happily!