A heartwarming Christmas issue! Or… not. It's Peter Parker, after all, things were going way too well in his personal life. This is another one I have memorized from my childhood. Backwards and forwards. And another I bought an upgraded copy of in 2018. Honestly, kind of regretting that choice. Most of my old comics are in pretty good shape. Not, like, near mint, but I'm not really trying to have the most pristine copies. Books like this one probably didn't need replacing. But this is no time to worry about that, Spider-Man's getting evicted! Page one presents the more realistic version of the cover, Peter & MJ being served notice that they're being evicted on Christmas Eve!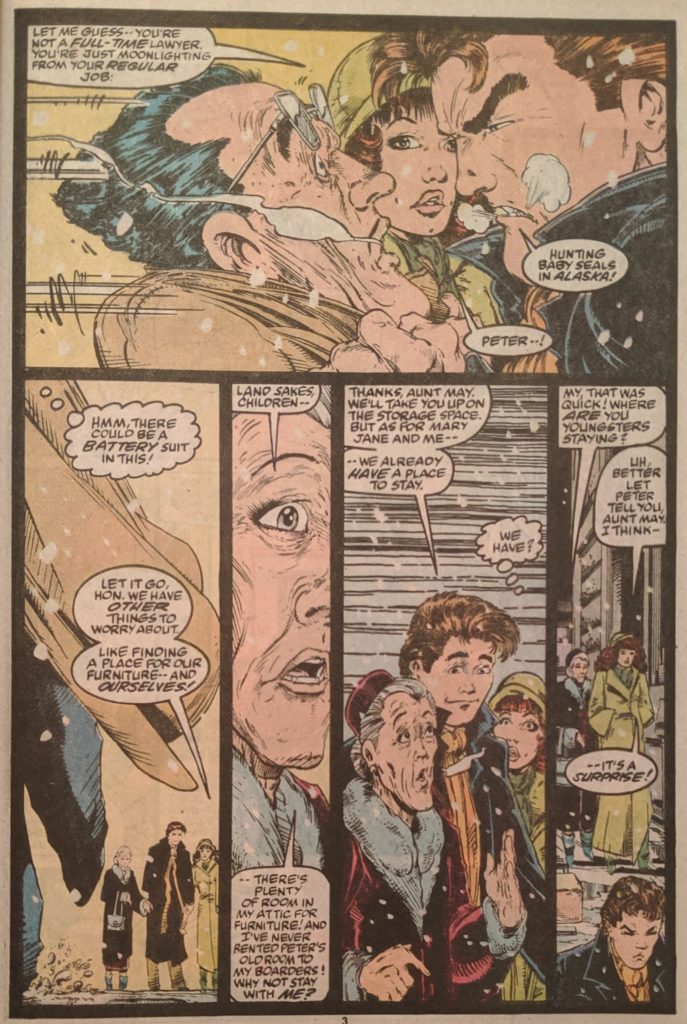 Do what? No time to dwell on that now, we're off to the office of one "Howell Thurston III" (Really!), manager of a department store and general Scrooge type-character. As he's being all crappy about Christmas, the Bob Cratchet in this scenario says he expects this Christmas, the 23rd in a row he's worked, will be especially rewarding as we see the gun in his briefcase. Meanwhile, Pete & MJ are paying to have all their stuff moved out of their place as they put Aunt May in a taxi home. With her gone, MJ finally gets to ask Peter where they live now.

I'm not sure Michelinie ever got MJ's "voice," but he sure made her a proactive presence in the book, and I appreciate that. Spidey webs up the mugger with ease, and his victim gives Spider-Man a Christmas present, which she says is homemade macaroons. Day saved, he swings off to rejoin MJ. We cut away to see the extra security "Mr. Thurston" ordered for his store has been tied up and replaced by as yet unseen bad guy types, then it's over to…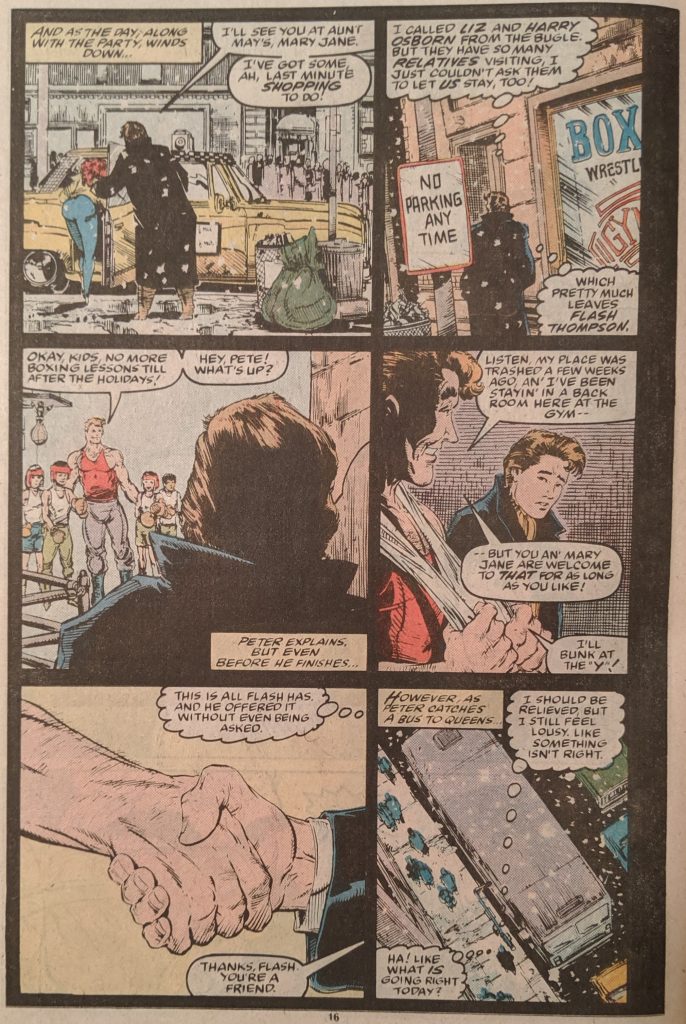 Ol' Flash has really grown up recently. Back at the department store, things finally go somewhere, as Clark, the Bob Cratchet guy, puts his gun in the boss's chest as the fake security guards begin loading the day's profits into their van. The fiends! Nearby (Rather improbably, if you asked me), Peter is visiting Uncle Ben's grave, wishing for his guidance while admitting to himself that just being here means he's maybe not as independent as he thinks (Does that make sense? I don't think that makes sense).  Meanwhile, Clark and his goons are about to get away clean when a real security guard sees what's happening. The goon guards open fire, and one of them takes a bell ringing Santa hostage.

The truck crashes into some trees near the cemetery, and as the goons spill out, Spidey picks them off one-by-one. Soon, all that's left is Clark.

Good times. Spidey breaks away and changes back to Peter, and in doing so, notices Aunt May has come to Uncle Ben's grave, too.

And there you have it. Pete & MJ move back to Queens for awhile. What hijinks await? We'll see!