The last of the Inferno tie-ins, and the only issue of TAC in my magical comic box as a kid. Weird place to start! As has been mentioned elsewhere, Ned Leeds is dead. I am avoiding the circumstances of his death if I can, but given the out of order nature of the blog, who knows. All I know for sure is Gerry Conway is clearly extremely excited about this "Night of the Living Ned" pun, as it has been printed 3 times in 2 issues, appearing again on the opening splash, which features Ned clawing out of the grave. A grave with actual dates on it, 1955-1986. So he was 31? This sort of thing is usually avoided anyway possible due to the sliding time scale, but they just put a flag in the sand. Ned was older than Peter, but Betty wasn't, and this makes their romance rather awkward. Anyway, zombies and whatnot.

Betty had some kind of waking nightmare. Flash runs in to try to calm her, fresh from nailing boards over the windows. Flash, er, flashes back to all the troubles in Betty's life recently, up to her cult experience, and thinks she's been working hard to get her life together since. She's turned on a camping heater because it's so cold now, but Flash points out that a gas heater indoors is dangerous. She says she's so mixed up she's not thinking clearly anymore. He continues trying to comfort her.

Right about now, I assume The X-Men are fighting the big battle on top of the Empire State Building. It's nice to put that in here for Betty & Flash to see. The demons declare that they want to play with their food before they eat and vanish. Flash continues boarding up the windows, thinking about how crazy things are, and about his regrets about the past. Wishing he'd finished college, feeling like he's not much use to anyone anymore as he heads up to the roof. Then his brooding is interrupted.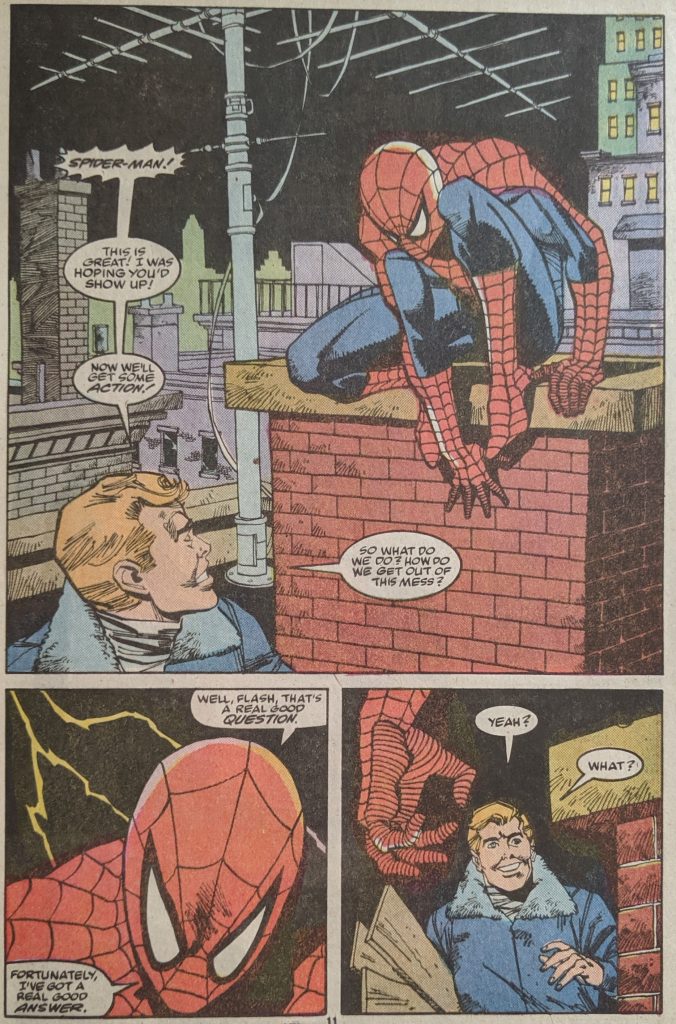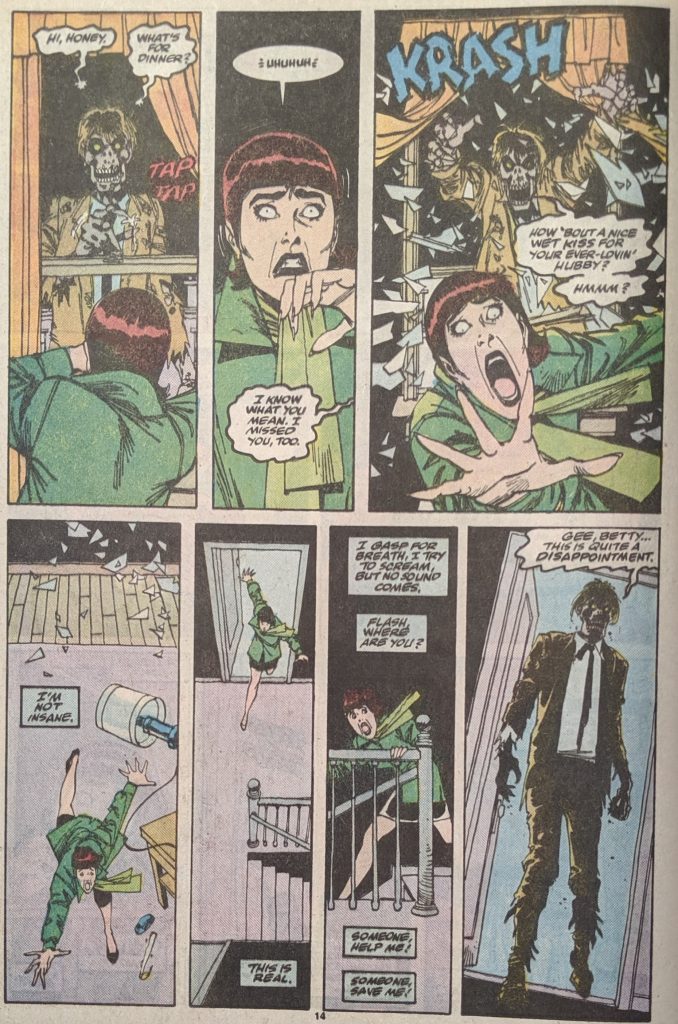 Pure chaos! Sal Buscema's angular, gritty style is well-suited to zombies. He should have done more horror stuff. Betty runs into the basement, cowering, losing it. Up on the rood, Flash has been webbed to a TV antenna and is being beaten up by his hero. "Spider-Man" says he's done it to see Flash get electrocuted, having removed the building's lightning rod. Flash asks why, and "Spidey" says because Flash annoys him.

That's rough. Back inside…

Hey, good for you, Betty! Up on the roof, Flash manages to free himself from the web. No way he coulda gotten out of Spider-Man's web with a screwdriver, but of course, this isn't Spider-Man's web, and Flash is such a superfan he realizes that immediately, tackling his tormentor and demanding to know who he really is. He gives him a good ol' fashioned Sal Buscema beat down and then rips his mask off, declaring he's not a loser.

Some pretty serious psychological exploration going on in this one. Betty, meanwhile, is slowly creeping through the apartment, intent on facing the Ned zombie. The apartment is now full of candles, and she eventually finds the thing saying he did it. How sweet. But she declares that she knows it's not really Ned, and it says the game is up.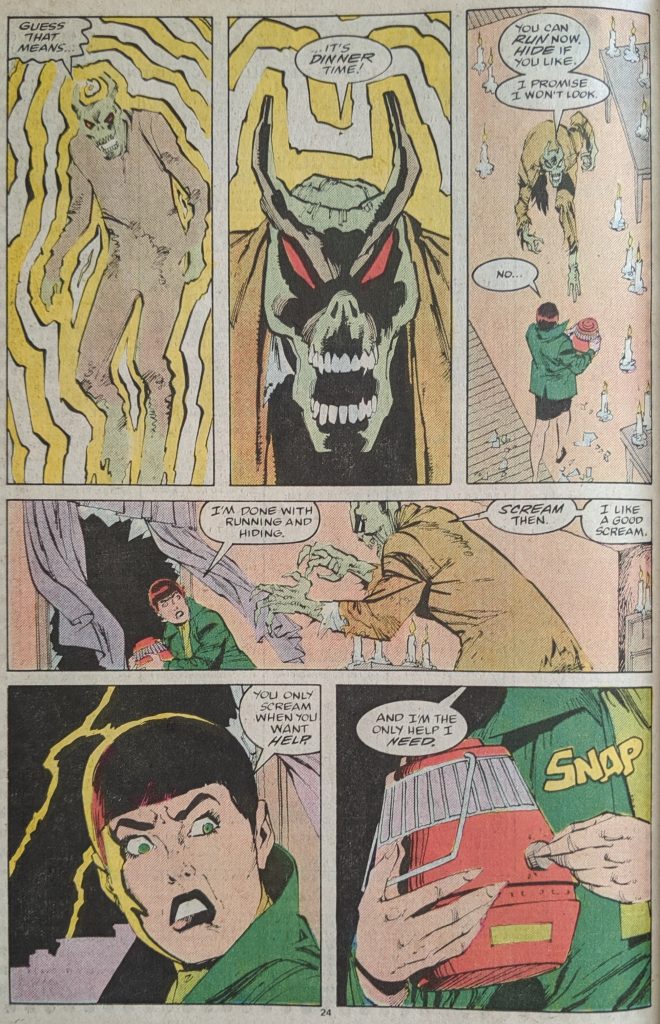 Checkov's gas heater! Flash and the Spider-Demon's fight above spills over the edge of the roof, and they come smashing through the window into the same room Betty's facing her demon in, how convenient.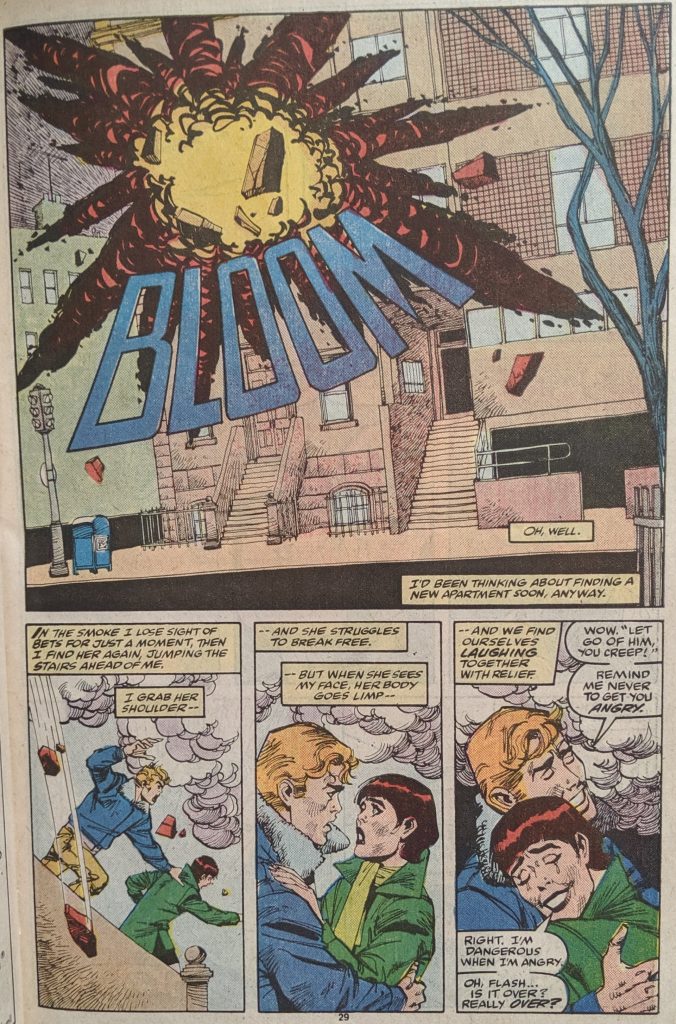 Weird way to express that Flash, but yeah. I quite enjoyed this one. A good look at a couple of characters who don't get much attention, and the ground level view of this sort of crossover event is rare and welcome. And now they've emerged stronger people. Betty especially. And that's it for Inferno. Don't worry, The X-Men saved the day. All the demons were driven out, Cyclops' wife who was actually a clone of Jean Grey and also The Goblin Queen got killed, N'Astrih got the axetrih, and all was well. Ish. X-Men is way more confusing than Spider-Man.