So, as mentioned in the last post, this was one of the first Spidey comics I owned. I had begun buying ASM monthly with my allowance by the time I got them ($1 a month!), but only recently. So these are some of the comics I've read 40 zillion times. I know 'em backwards and forwards. But I haven't read them in years, so let's get into this one, my first exposure to The Lizard. McFarlane has, obviously, already taken some liberties with the design on the cover. Pointy teeth, like, uh, a lizard? Not really. But, I guess maybe like a lizard man. Anyway. People who know me will understand how my worlds collided as a kid here on the first page: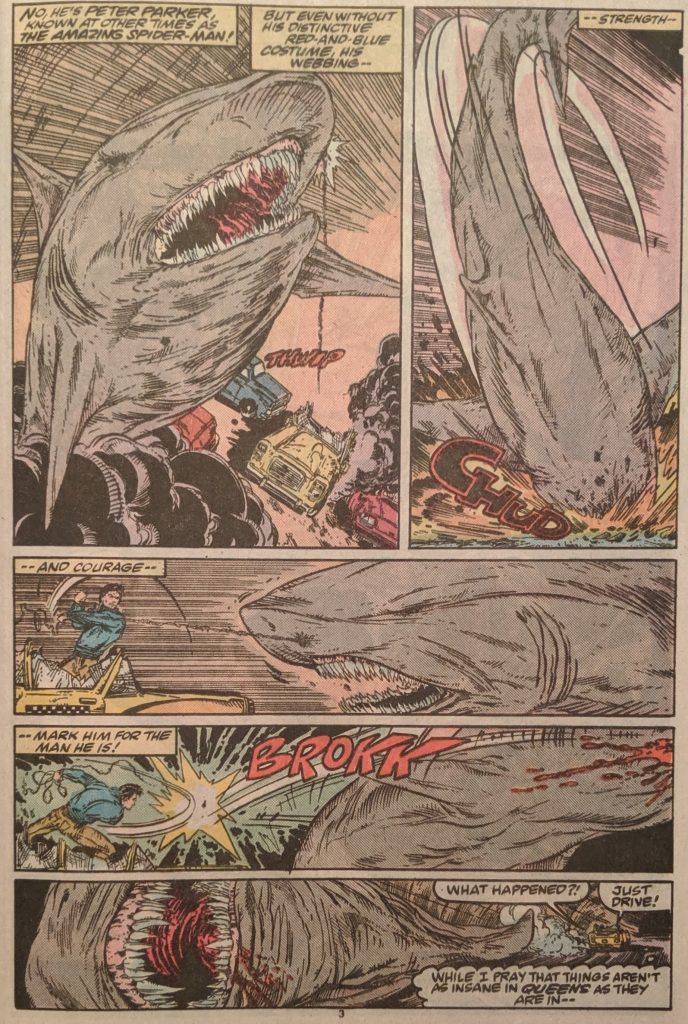 Spider-Man fighting a great white shark?? What could be cooler than that!? If you were a 10 year old obsessed with Spider-Man and great white sharks, anyway. The fact that it seems to have been drawn with little more than a passing knowledge of what a shark looks like didn't bother me at all. On the other hand, I'd say McFarlane's come all the way into his own by now. From here through the end of his tenure , this is his prime. Back in Manhattan, Curt Connors is desperately trying to convince himself he's learned to control his Lizard condition and won't change unless he wants to before promptly changing. So that's bad. But our hero doesn't know that yet, he's just arrived at Aunt May's house.

But as soon as Pete leaves, Aunt May comes back! A cop told her she can't get into Manhattan right now. Too bad this is pre-cell phones, all this coulda been avoided. As Spidey heads into the city, so too do Martha & Billy Connors, looking for Curt in their big ol' boat of an 80s car. Martha flashes back to Curt's origin for us and lets us know they split up due to, you know, him being The Lizard, but now that he's got it under control, they'd agreed to meet to talk out their marital issues today. Terrible scheduling. Spidey has arrived home, only to learn Aunt May's not there. And the doorman, Wally, apparently told Peter he heard some rumors that a gateway to hell has opened up. Doormen hear stuff! While he's more desperate to find May than ever, an evil possesses security guard leads the Connors to Curt's lab. Sort of. Not really.

The balloon thing, hilarious. Hmmmm, I'm not so sure it's gonna be alright. Also, Todd McFarlane's getting some free practice in for his weird take on demons later in Spawn. As that one goes flying out the window, Spider-Man happens to be swinging by. He wants to go help, er, The Lizard, but then he sees the him balloon stomping down the street and figures he better deal with that.

Pretty funny. The balloon pops, Spidey thinking its eyes were all wrong as he crawls out from under it (Yuk yuk), and then we learn The Lizard only saved his family so he could kill them himself. He goes into his usual spiel about wanting to repopulate the Earth with reptiles, you know how it goes, but then Spidey shows up and kicks the crap out of him. He drops a bookcase on The Lizard and then he and The Connors flee to the chemistry lab so he can get to work on the antidote. Pretty standard Lizard stuff.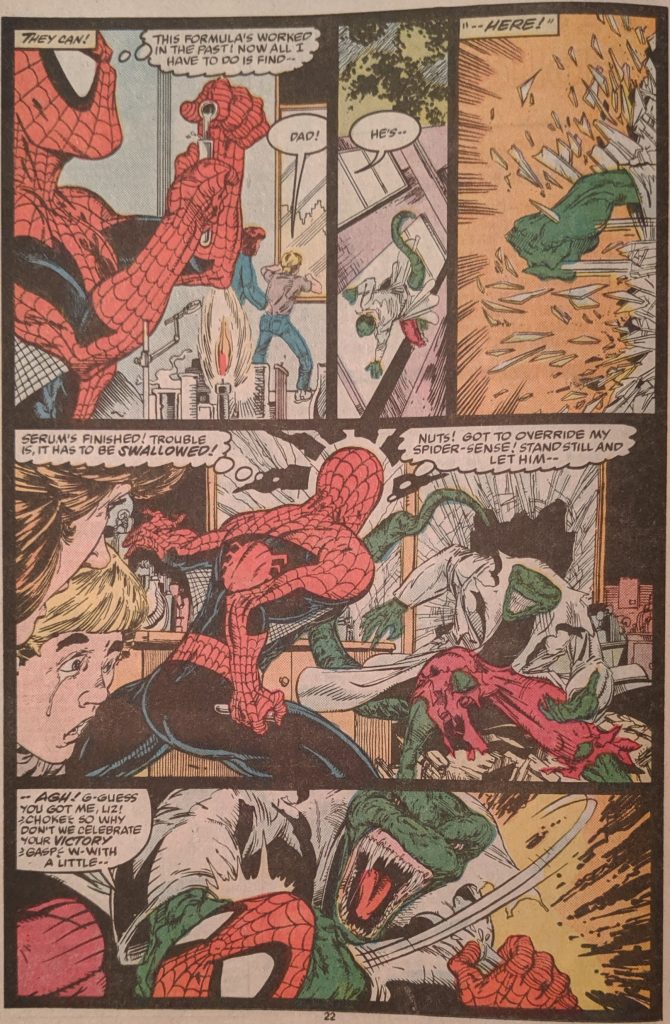 Non-standard Lizard stuff! As Spidey's contemplating electrocuting his friend, Billy grabs his arm and says not to hurt his dad, giving The Lizard a chance to tail whip him across the room. But then The Lizard is surprised to find his left hand, Connors' hand, reaching for the cable. He's losing the battle with Curt in his mind, and decides to just bite that arm off and grow it back later. But, luckily…

Curt says he can't be near his family for their own good, it's all quite sad. Then MJ shows up in a cab yelling, no kidding, "Anybody seen a student named Peter Parker? I have to tell him his aunt is safe in Queens!" I guess they had to resolve this somehow, and they only have one page left, and that page is this page:

Didn't take long for that guy to rear his head again. We'll see what dastardly scheme he's up to in the next ASM.

This is one of a couple that I got a new copy of during The Great Ebay Hysteria of 2018 because I'd worn my old one out. Back in the day, I would read these things over and over. That's a lot easier to do when you only have a few comics in the house.