Now this one… this one is special. One of several special ones, all coming up here. When I was a lad of 9 years old or thereabouts, I started reading comics out of my local library. They had a big selection, updated weekly. Me & a friend would check out tons of comics. That's how I first saw the Michelinie/McFarlane run of ASM, and that's why we're here today. When this comics thing proved it wouldn't be a phase, one Christmas, my folks got me a truly magical gift: It was my first comic box. But not just any box. It was an official Marvel Comics "short box" (Comic boxes come in 2 general lengths), orange for some reason, with black & white drawings of various heroes on the side. And inside, a pile of recent-ish Marvel comics! Like, a lot! I guess maybe 25? All across the spectrum. This, to me, was a gold mine. I probably didn't own more than 10 comics prior to this box. My very first issues of Fantastic Four, Iron Man, Captain America, Avengers, X-Men (Inferno issues), Daredevil, Hulk, Marvel Comics Presents, even more offbeat stuff like John Byrne's She-Hulk, Nth Man and the first issue of a miniseries called "Steeltown Rockers." It was a treasure. And also included in this box, this issue of Web, ASM 313 & 314, and TAC 148. Some of the very first Spidey comics I actually owned were during this wild Inferno event. This must've been either Christmas 1989 or 1990, so these comics were slightly older than the stuff I'd first read in the library, and all new to me. Magical!

Less magical for Spider-Man, though, as this one picks up moments after the previous TAC (A crash course in the shared universe concept for me), and he's sprawled on a table at The Daily Bugle, with some of his coworkers trying to help him out.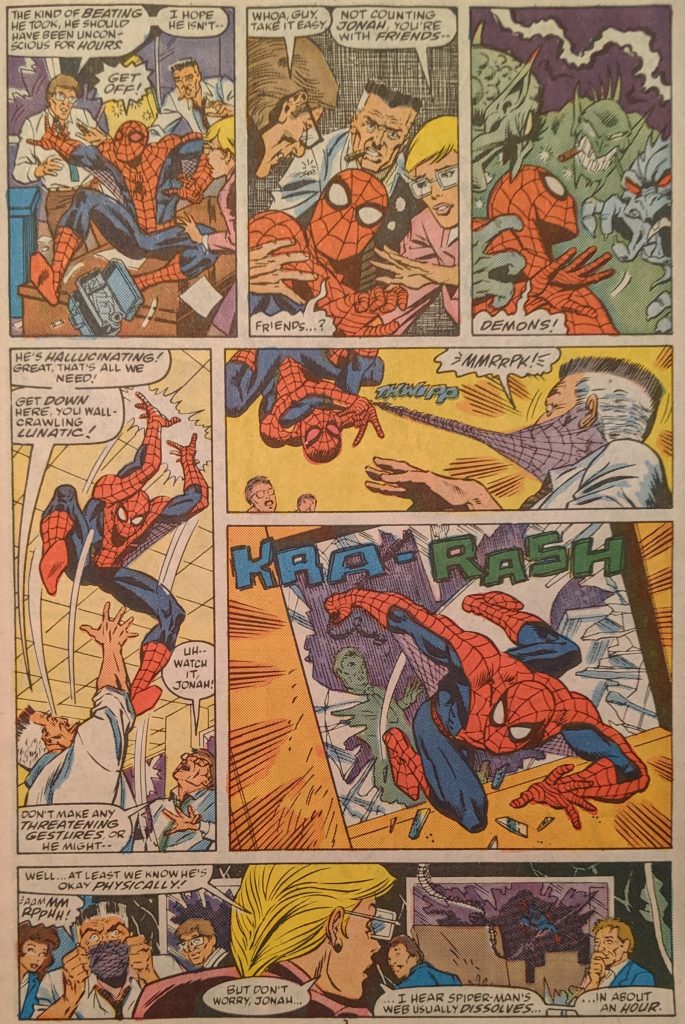 And he's off! The city is truly insane as Inferno heads to its climax, most buildings having been morphed into demonic structures. As his head clears, all Spidey can think of is Mary Jane, and he sets out to find her at Hal's studio, where she's been leading her own battle against the monsters. But elsewhere in the city, Glory Grant & Eduardo Lobo are fleeing through the pandemonium on street level.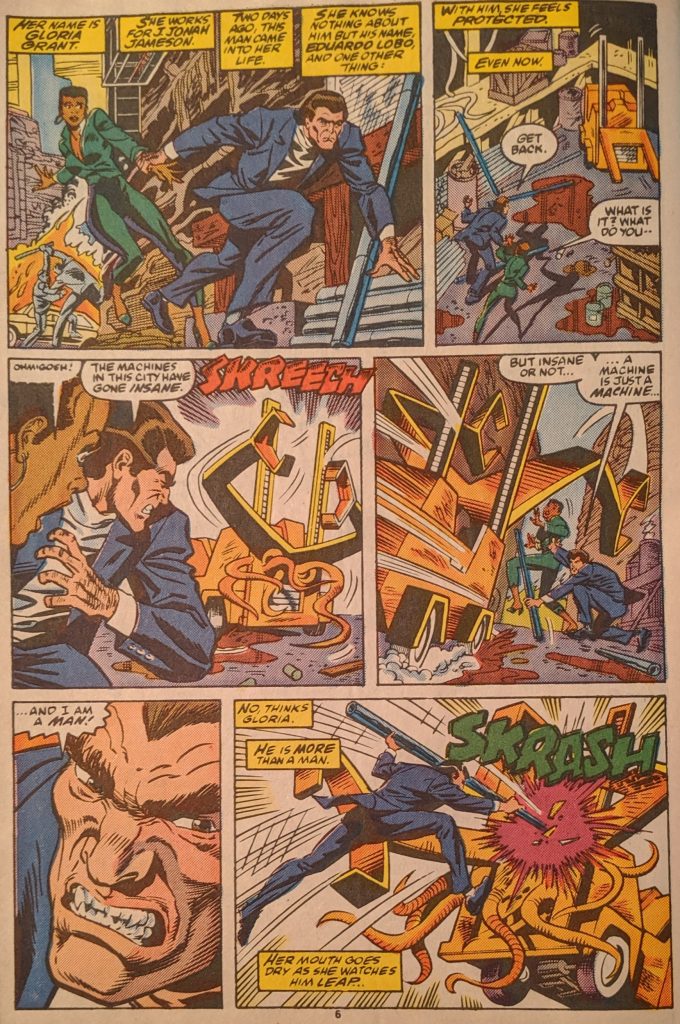 As Eduardo saves her, the captions let us know that Glory is now completely in love with him. I'm sure nothing bad will come of that. We then turn our attention to The Kingpin's office, where he's taking the battle with the demons into his own hands for a bit to save The Arranger. Only for a second, though. Where once this whole demonic invasion business would've really troubled a guy who thinks of New York as "his city," at present, he's so obsessed with Daredevil that even punching out a demon in his own house is a distraction that he's angry about. He tells The Arrangers to keep this sort of thing out of his day.

Lookin' a good deal less demonic than in TAC 147, though… for now. Spidey has made it to the studio MJ was working at, and fights his way past demons on the street to head inside. Not for the first time, Conway totally misused the Spider Sense, having it lead Spidey to MJ like a homing signal. He finds she and the crew have fled into the sewer. He bets it was MJ's idea, and is proud of her.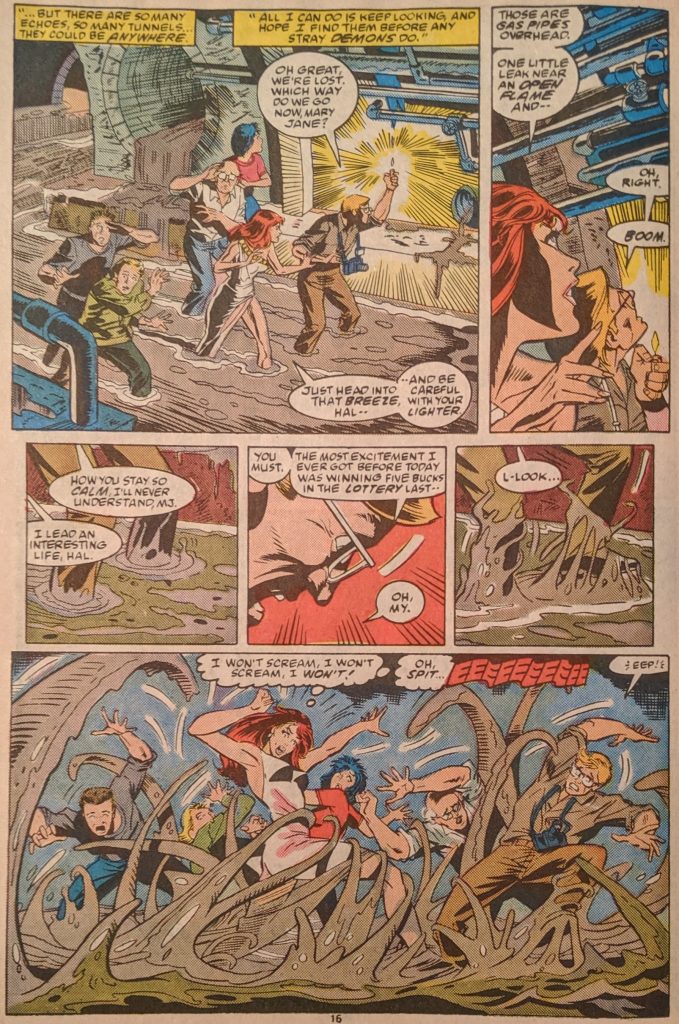 He better hurry! We cut away to Queens, where Ant May thinks it must be storming terribly in Manhattan with those dark clouds hanging over it. Cousin Kristy is there, internal monologuing about how boring it is out here, how she snuck away from home to come be a model like Mary Jane. Then Harry Osborn shows up, true to his word, to make sure everything's going ok. Aunt may says she has a feeling something awful is going to happen to Peter & Mary Jane. On that note, we cut back to Spidey, who hears MJ's scream in the sewer, but doesn't have a chance to act on it, as something explodes behind him…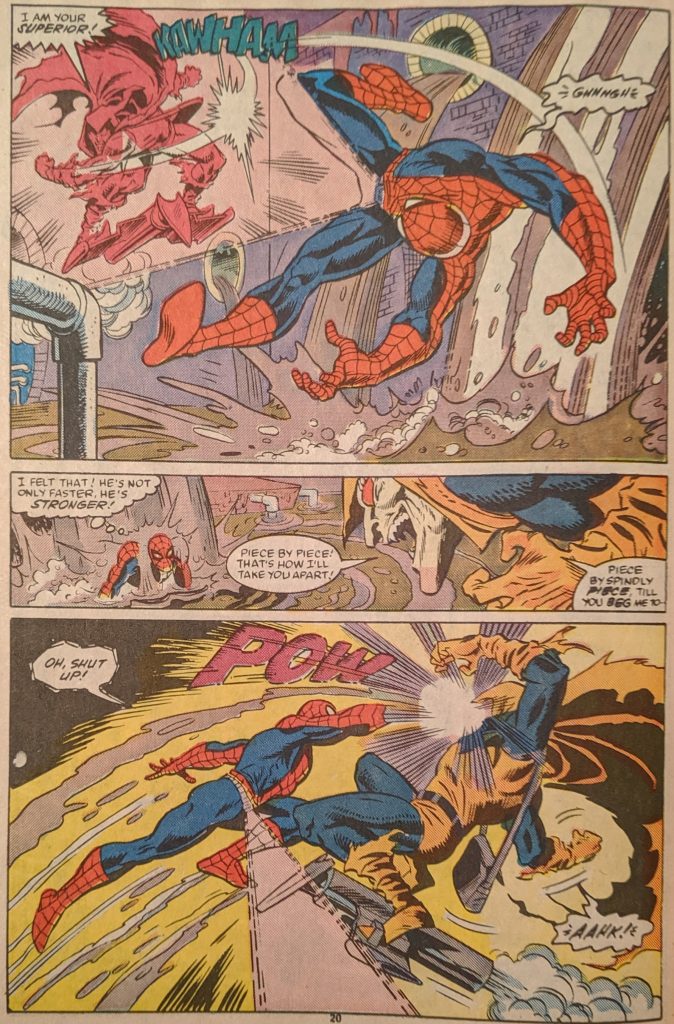 I'm not sure how getting demoned up would somehow make him fly faster on his glider, but whatever. That power punch doesn't even faze Hobby, who smacks Spidey back with another one. Spidey's beginning to realize he might just die here as, further down the tunnel, the photographer, Hall, accidentally sets off his camera flash, and the group discovers the light bothers the demon slime, so it's picture taking time.

Solid gag.

The tunnel explodes and collapses, certainly killing Hobgoblin forever, and the ceiling collapses for good measure, allowing Spider-Man to swing Mary Jane up out of the tunnel before going back for the others.

Aunt May's gonna go put a stop all this demon foolishness right now! Maybe! Only one way to find out…