Why is "The Awakening" written like it's "The Man-Thing" logo? Look:

Right? That's weird. This one is also new to me. And guess what, Gerry Conway is writing Web, too! He's gonna be doing ⅔ of the Monthly Spider-Titles for awhile. The art team remains intact from before 46's fill-in issue. Why did they keep drawing Hobby holding a wee skull on the cover of WEB? It's been 12 issues since his last appearance, and he had a tiny skull on that cover, too. Why? When has he trafficked in tiny skulls? We open on the esteemed Mr. Goblin frantically digging through the wreckage at the Osborn plant from last post when you-know-who catched up to him.

Now that's how you do a Spidey motion panel up there. Very nice. Hobgoblin is like "This is crazy, right? Things are crazy all over," the demonic invasion of New York so insane that even heroes and villains can have a chat about it, but Spidey is slowing being crushed by the animated debris, so Hobby takes his cue to leave. Spider-Man escapes, of course, and wonders if the whole city is going crazy or if it's just him (Classic Conway!), and then we turn our attention elsewhere…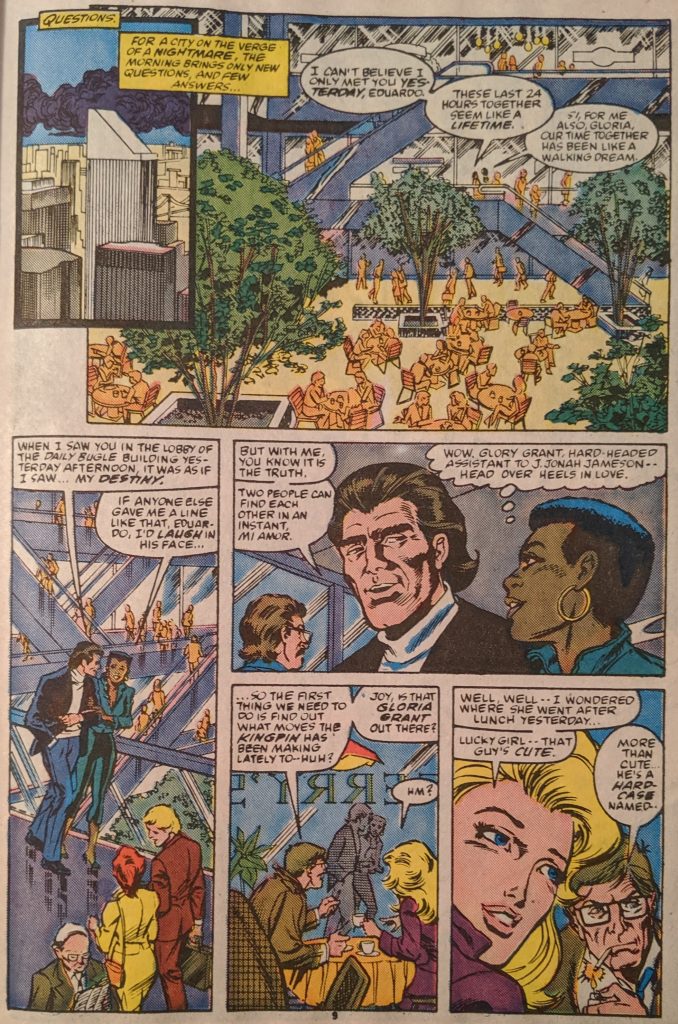 Aw, Glory, no. Ben is interrupted before he can name the wolf by an escalator coming to life near Glory & Eduardo, who just picks her up and leaps to safety like it's nothing as the whole thing collapses. Everyone runs for it, and Joy Mercado says they're not reporting the story, they're living it. Very dramatic, but given the situation, appropriate. Meanwhile, Spider-Man swings out to Aunt May's house. We're told he & MJ and cousin Kristy have been staying the weekend there. Various domestic hijinks unfold as we see the TV channels are no longer broadcasting due to the horror, but here, no one seems to have noticed yet.

Nailed it! That should keep Kristy out of their biz… or will it? As they take off for the day, Kristy seems to indicate she plans to try to break them up. Kristy is a real Poochie in this book for awhile, you ain't seen nothin' yet. MJ goes to work, while Peter goes to visit Harry Osborn, arriving only a few minutes before The Hobgoblin, who's hovering outside.

This seems like bad news, but the news outside is worse, as Hobgoblin is throwing his arsenal at Liz & Normie. He's so busy menacing the family and demanding to know where Harry is he lets Harry get right up behind him and hit him with a broom.

Spidey pushes Harry to go get his family to safety as The Goblin regroups and attacks again. He's really ruined the yard, and hit a water main, too, Spidey barely dodging his onslaught. Hobgoblin finally gets around to saying what he's after, and it's Norman's Goblin formula, of course. Like that would just be laying around the house.

Whoa, hey, it's the skull!

Harry finally tells Hobby the formula is in the Manhattan offices of Oscorp in a safe, whispering to Liz he doesn't know what Hobby is after, he just said that to make him leave. And he does. As Spider-Man heads after him, Harry says his dad would've defended his family, but he felt so helpless. Spidey tells him he did the right things, but doesn't think he listened. We cut to Manhattan to see things have gone totally insane now, with JJJ telling Ben Urich it looks like the end of the world. And then…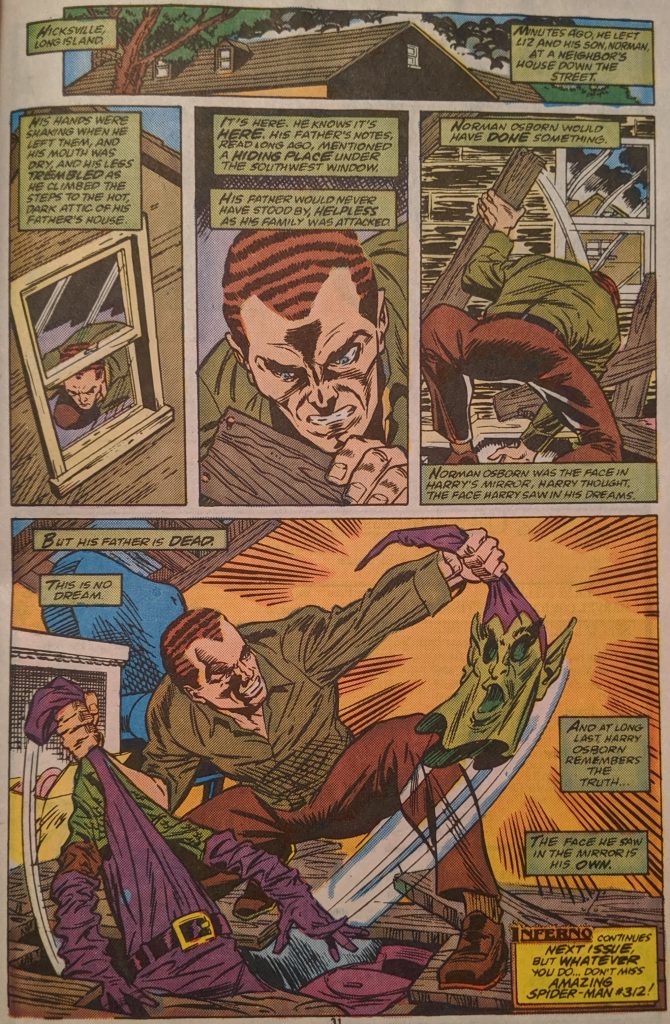 There you have it. After something like 10 years without a Green Goblin, looks like Harry's getting in the suit. We'll see how that plays out next time.

It's so jarring that you have Saviuk doing his Romita, Sr. worship and Sal Buscema, who's been in the game nearly as long as Romita, Sr., alongside Todd McFarlane's "tear up the rule book" art every month. One of these things is not like the others. Is it any wonder McFarlane blew up? Love it or hate it, there's no mistaking who drew it.