That seems bad. Kind of a goofy cover, but hey, it's Inferno, things are weird. This one is new to me. Spidey's swinging around thinking things are going well when a roof vent comes to life behind him.

It's not Mysterio, though, it's demons. He rips the vent out of the roof only to find it's totally normal, minus the moving and attacking part. He's more than a little freaked out as he reaches his home to find MJ has taken her cousin Kristy out shopping. Say, where was she last post? We cut to them walking down the street, Kristy shoveling sweets into her face with abandon, and MJ commenting on her ability to eat so much.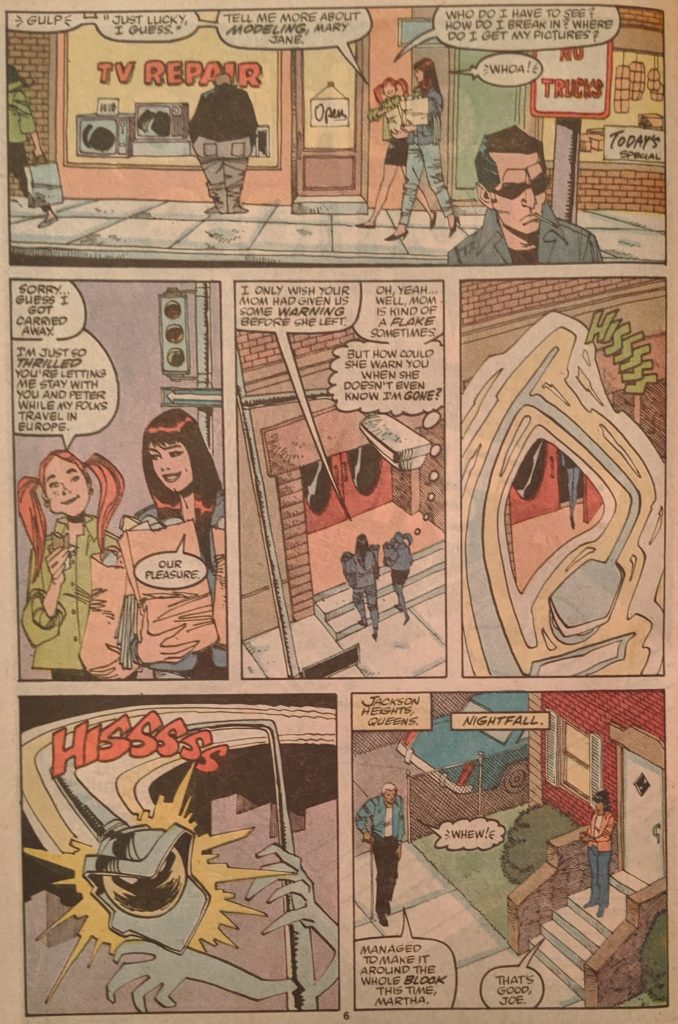 Joe's making some great progress, but he and Martha are at odds over his decision to face justice ("Justice") for his past with Tombstone. Then we cut to Harry Osborn, waking up from another nightmare about The Green Goblin. Liz tells him moving into the old Osborn family home was a mistake. She's probably right.

Nothing to be alarmed about on that page, no sir. What about the next one?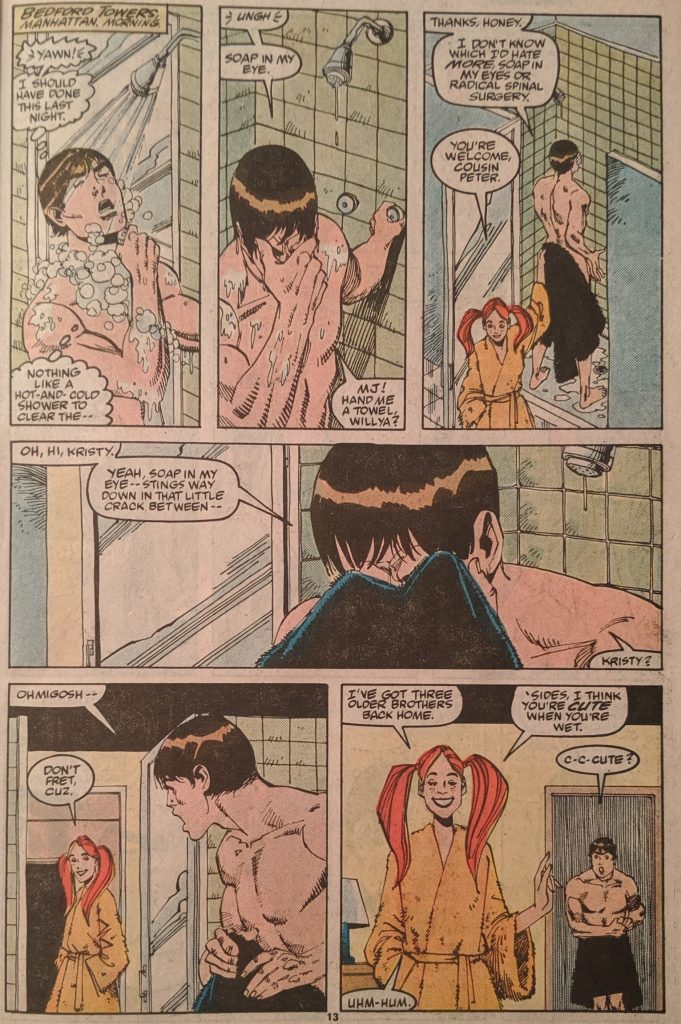 Things are getting real weird around here, and it's not just the demons. Meanwhile, Ben Urich is on the scene of the grisly murder of more than 20 mob goons, with a message written in blood that says "KINGPIN – WOLVES KILL," so you know. Those Lobo Brothers are up to no good. So many subplots in this issue! The Arranger shows up, but refuses to help, and a portly detective who keeps making fun of Kingpin's weight named Frank Farrow says he'll have answers, one way or another. Urich calls it in to Joy Mercado at The Bugle, who is then approached by Glory Grant, who says JJJ is looking for Ben. JJJ has taken a more hands-on approach to the paper again with Robbie on sick leave, and as soon we're told that, he comes bursting out of his office looking for Kate Cushing, it's like old times. He's objecting to a story about all the weird things going on around town, and they have it out over it. Then Glory Grant heads to lunch.

Still more subplots brewing! While Glory heads to lunch with a psychotic murder man, Peter meets Harry at his plant, as asked. Harry says he felt drawn back to his dad's house, but now he's having these nightmares. Peter lets us know about how Harry went nuts and briefly became The Green Goblin back when, let me check, oh yes, Gerry Conway was writing ASM, and how he doesn't remember any of that, and how he might be remembering now. Uh… History will show that Harry has already remembered all that, but… ok. Their conversation is cut short by Inferno stuff.

As Spider-Man fights to free Harry from the pipes and then help others, he considers that Harry decided to move back to the old house about a week ago, and that's when things started to get weird around the city, and wonders if there's a connection. He manages to get Harry out as all the workers flee, the whole place going up in flames. He thinks he sees a figure flying away through the smoke, but has to switch back to Peter…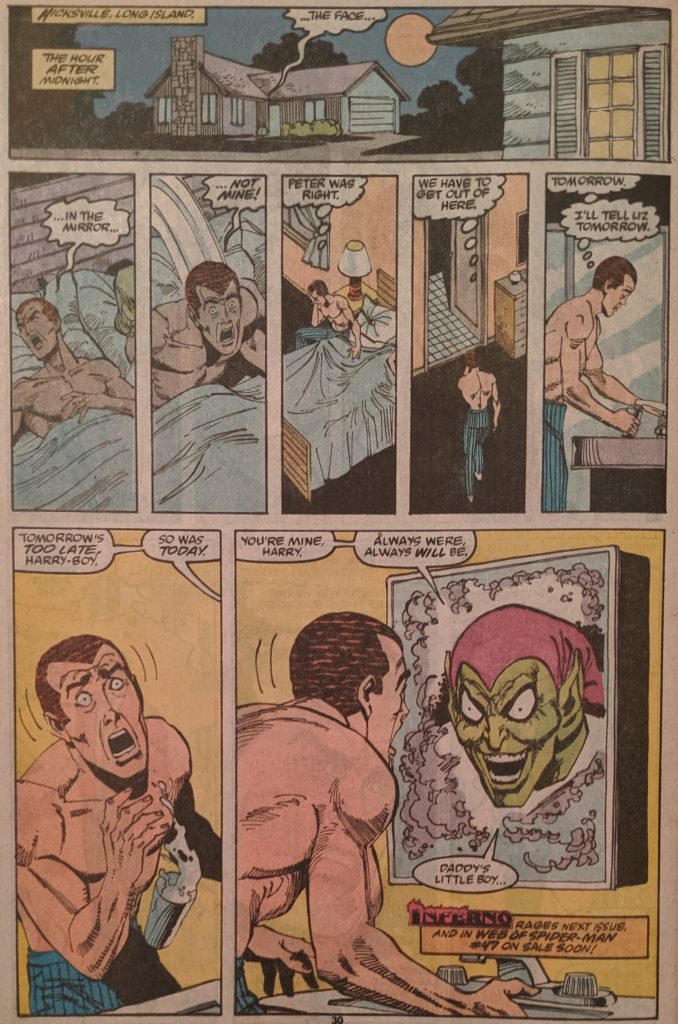 This can't be good. It's weird for Conway to dredge all this back up so suddenly. Everybody was cool with The Hobgoblin all these years, and even for years before that, people were cool with no Goblin at all. I dunno. Feels somewhat unnecessary. But, hey, look at this insane letter!

Chill, Michael, whoa!