Welcome to the first of quite a few Inferno tie-ins. Inferno is a big ol' crazy X-Men thing, and it swept in much of the Marvel Universe. It's a very unusual crossover event. All of Manhattan is slowing being taken over by demons from Limbo, you see, due to Various X-Men Reasons. But no one but the X-Men know why, or what's happening, or are even trying to stop it. Everyone else is just dealing with the bizarre supernatural phenomena sweeping the city. This leads to memorable stuff in many titles and some pretty important events right here in the Spider-books. Bob Sharen shares the color credit with Evelyn Stein this month.  How does a demonic invasion manifest across Manhattan? Well, right on page one, they manifest as the stone lion statues outside a library coming to life!

Todd McFarlane: vaguely aware of what a lion looks like. Spidey smashes the lions together as some guy with a radio notes their position. But then the shattered pieces of the lions keep moving, and it freaks Spidey out, so he leaves. Spidey immediately happens upon a regular ol' mugging, to his relief, one that even involves a hood he knows from beating him up so often. Spidey webs his gun away, saving a grateful couple, but then the walls start vibrating.

Prunch! Things take a grim turn with the brickman smashes Tommy, killing him instantly. Spider-Man is horrified. He chucks a car through the monster, but it's too late. That guy is dead. He waits around to talk to the cops, and then wanders home in a daze. MJ is there, thinking about how the AC is out and when you try to make a phone call all you get is some weird cackling noise, and then Peter shuffles in.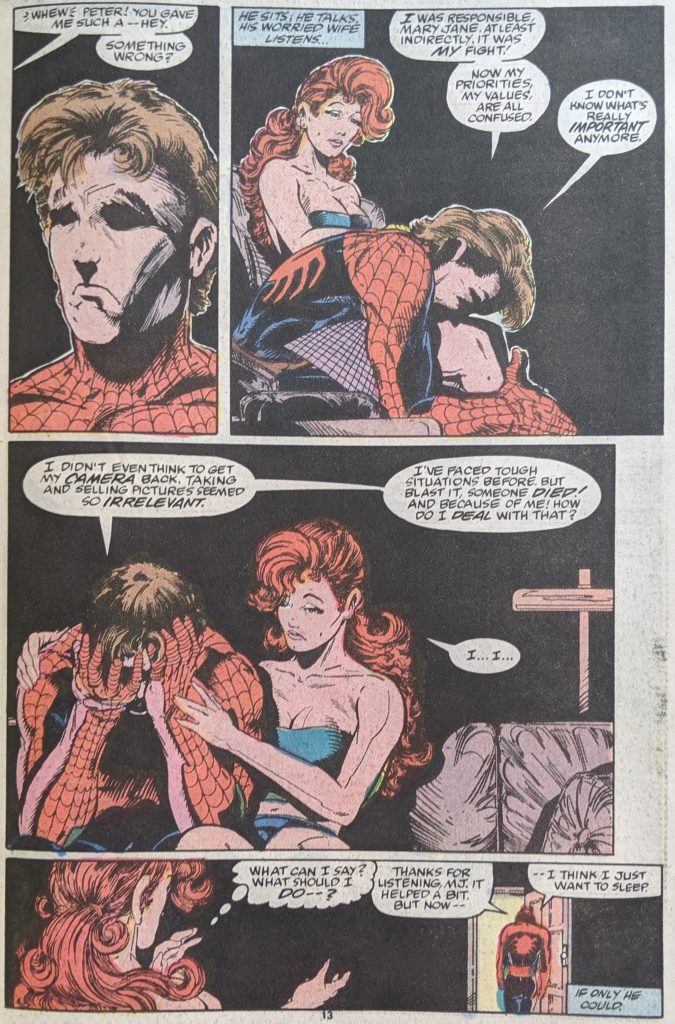 I mean… not really his fault, but he's Peter Parker, everything is his fault. The next day, he can't concentrate on the lecture at school, and walks out to go tinker in the lab, when he runs into our old buddy, Dr. Curt Connors. Peter says maybe they'll get to work together now that he's back in school, and a distracted Curt says he hopes so. But he thinks that he's been feeling odd lately, and McFarlane draws him looking at his bad arm and shaking, so… look forward to that. Pete goes on to see Dr. Swan and Anne. The college has kept Dr. Swan on in light of his scandal, but stripped him of tenure. Pete feels bad about that, too. Then you turn the page and you stop dead in your tracks.

Incredible. That angry dude breaks a bottle to start a good ol' fashioned honky tonk brawl, but Peter puts him in a headlock until he can be escorted out. Seeing he's still dejected, MJ says they need to go somewhere and talk.

Good job, MJ. The "lesson" in this issue is being spelled out in rrrrreeeeeally heavy-handed dialogue, but good job, all the same. Spidey returns to fetch his camera, and notices there's no debris, no sign of the fight. He remembers it was really foggy in that alley, and then remembers Mysterio exists. Cut to Spidey finding the hood from earlier in a favored bar, and demanding to know where the man who hired him is. Thusly…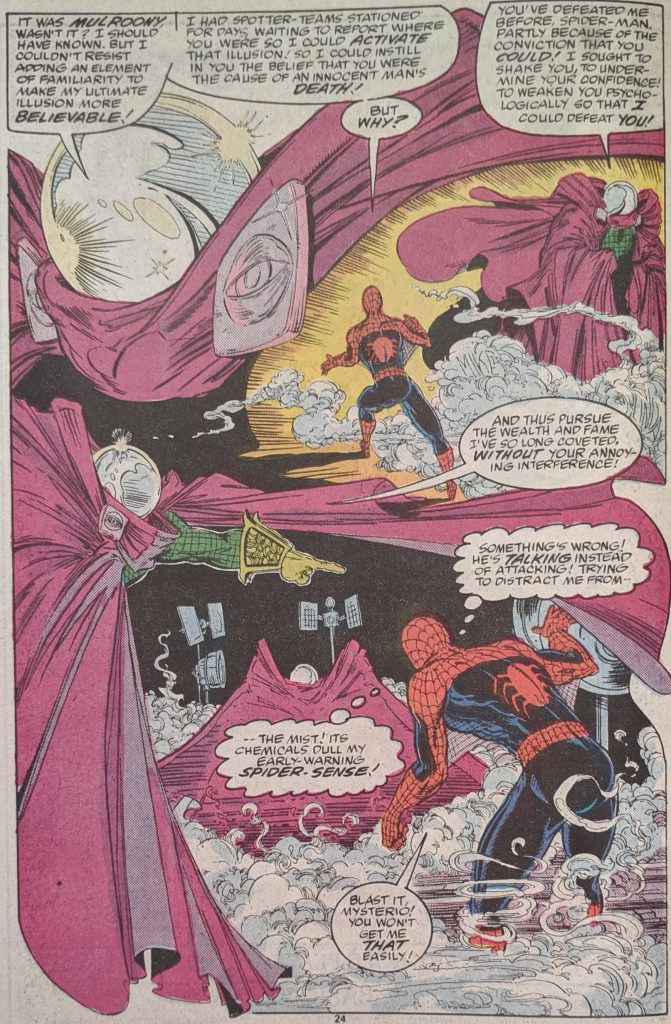 Eh. Ok. I mean, I dunno, but ok. Mysterio vanishes when Spidey tries to web him, not actually there in the first place. Spidey darts through the mist and then crashes through a door onto the set of a sci fi movie. He sees a weird tentacle monster and thinks it's some illusion.

Spidey thinks Mysterio can't do any of this without power, and decides to find and cut the power to the building. Which raises the question… really? You think that robot was just plugged into a wall somewhere? How does Mysterio's fog machine work? Does he have to taunt Spider-Man next to an outlet? That doesn't seem right. Anyway, Mysterio tries to hit him with the vengeful ghost of the guy who died… wait. Were the couple in it, too? If the wall monster was an illusion, how'd that guy die? Did that guy die? This is getting ridiculous. UGH, MYSTERIO STORIES. Anyway, Spidey ain't falling for that and, webbing up his hand for safety, punches through the power box, revealing Mysterio.

Quick defeat. I wonder how "Marvel Method" these issues are. Was Mysterio needing a power outlet to function McFarlane or Michelinie? Either way: Not so good! Plus: That elevator ate a dude! But wait, there's an epilogue: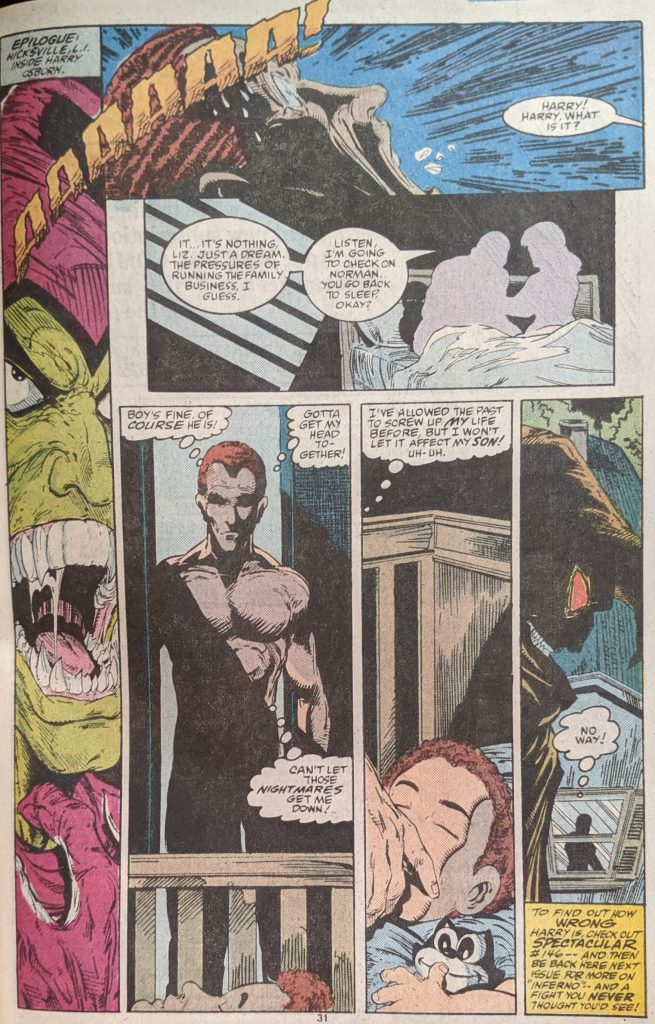 Uh-oh! We'll see how that goes soon. Yeah, this one was pretty bad. Using Mysterio during an event when the city is full of Mysterio-looking craziness that's actually real could've been really fun, but they didn't take any advantage of that. Maybe they didn't want Spider-Man to grasp the madness that's happening around him with a whopping seven more Inferno tie-ins coming behind this one across the Spider-Titles. Still. Feels like a missed opportunity. I don't remember this issue at all. Which is weird, because most of this Inferno stuff is burned into my brain. But we'll talk about that later. Next up: An Inferno tie-in I have never read!