Here we go! Gerry Conway, the man who became infamous for killing Gwen Stacy, the man who cloned Spider-Man, is back at it again. Or is he? It seems like a crazy move to pull this particular thread, but some men just want to watch the world burn. The Evolutionary War has just been a sort of weird interjection into the previous annuals, but this issue will find it much more central to the plot. Plus: The Young Gods! Not a rap group, as it turns out. Don't let the Buscema cover fool you, Conway is joined by Mark Bagley, Keith Williams & Bob Sharen to open this can of worms. As our tale begins, Spider-Man sits on a rooftop and is approached by a cat. He thinks about how Aunt May always told him he was allergic, because she worried about everything too much.

He absolutely has not known MJ since high school, Gerry, but we have some lovely parting gifts for you. Sheesh, you'd think the guy who first began to flesh out MJ as a character would recall the basics. Or at least brush up. It's The High Evolutionary's goon squad, chasing someone through the street (Guess who!). Spidey drops in feet first, and they never see him coming.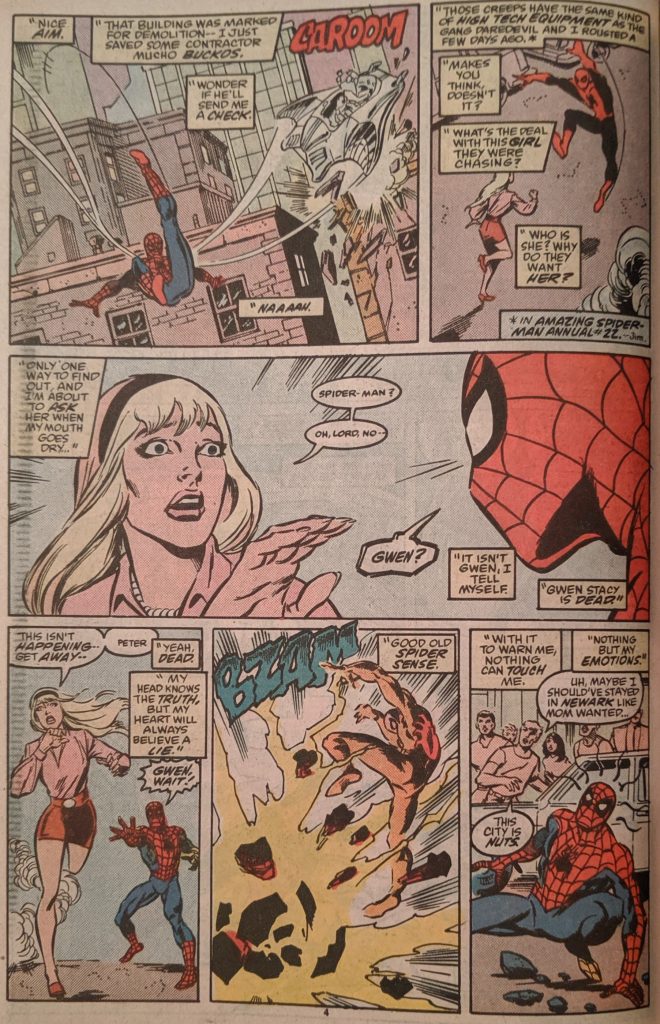 Not sure what else to do, Spidey turns his attention back on the Purifiers, who promptly vanish into thin air. Gwen's gone, too, but he has a feeling he knows where she's going, and think he's better go warn MJ before his dead girlfriend rings the doorbell. We cut away to a couple of interludes. Be it the 70s or the 80s, Gerry Conway loves him an interlude. The first one is The High Evolutionary's mobile base of operations in a giant submarine, where he's chastising his dudes for not getting Gwen. He says he needs to study her because she's a genetic anomaly. Then we cut to a spaceship that belongs to The Celestials, some of the most powerful and mysterious beings in the Marvel cosmos. The ship has a visitor: The High Evolutionary. He looks like he's doing Dr. Strange's astral projection bit, but I don't think that's in his powerset. Anyway, here's some exposition…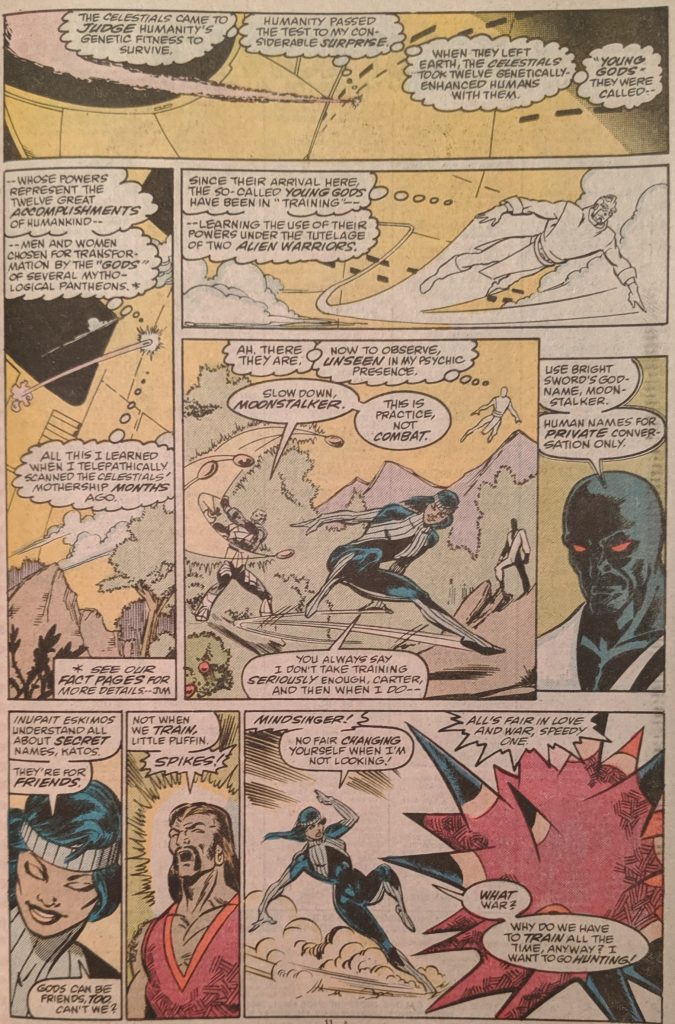 Everybody get all that? I'm not sure I did. Some of the Young Gods think they should go help Earth, some don't. Their teachers forbid it, but one of them just teleports the ones who want to go away, and that's that. The rest decide they have to go stop them from stopping The High Evolutionary. Back on Earth, Peter has told MJ who's coming to dinner, and Mary Jane is beating herself up, saying she knew she never had a chance with Peter when Gwen was alive, and now she's back.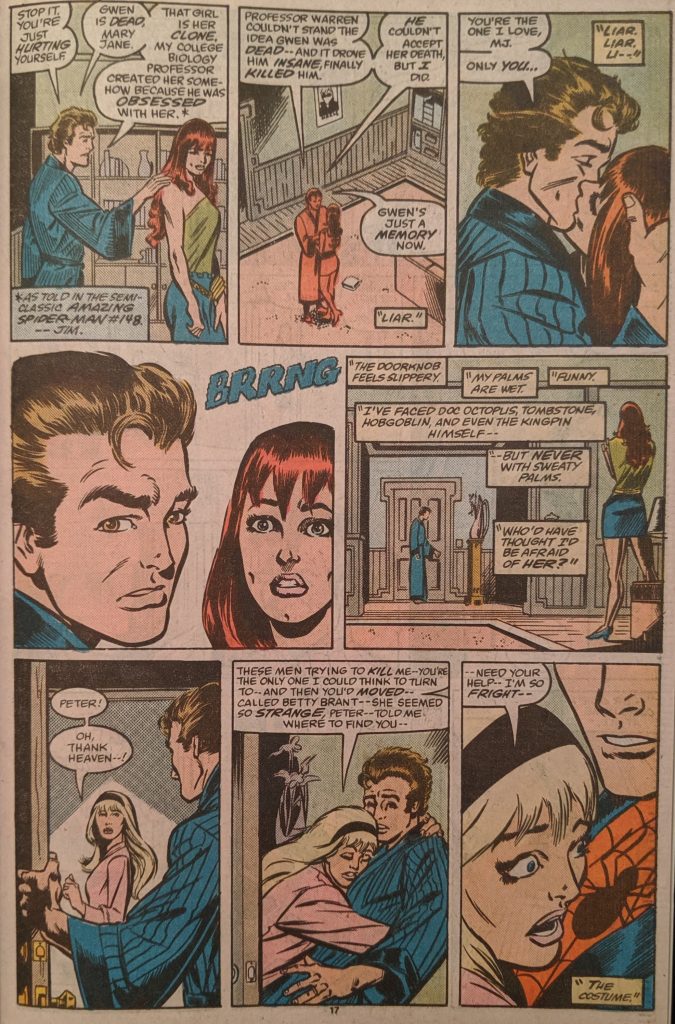 Not-Gwen runs away in a panic. Peter says he has to go after her. MJ says he still loves her, and he isn't quite able to deny it, which I am totally not on board with. Come on, Gerry, yer the one who made Mary Jane into a more human character and worked so hard to get her & Peter together, what is this? She says to come home with a clear heart or not come home at all, and he goes. He catches up to Not-Gwen and says they have to talk. She accuses him of killing her dad, so he has to defend himself from that for the first time in years, but then the Purifiers show up, and they whisk Not-Gwen away through a portal, and Spidey follows. Which turns out to be more intimidating than he expected…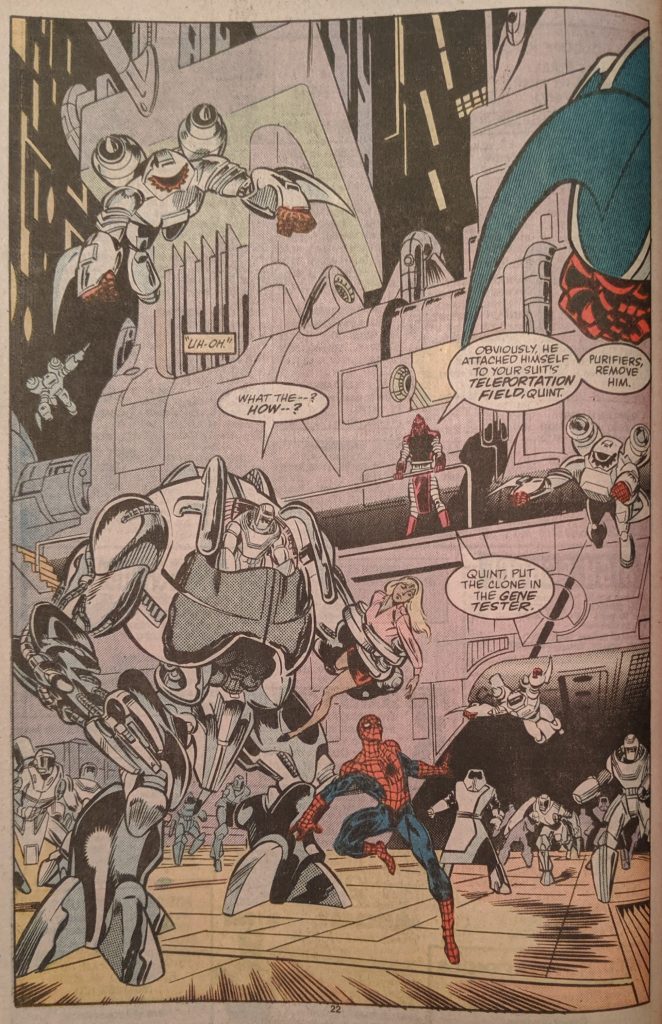 Spidey engages the goons as Not-Gwen is put in some kinda machine. As the battle continues, The Young Gods appear in the air, and they jump right into fighting The High Evolutionary's forces. Spidey sees where they're holding Not-Gwen and tries to get to her, but the fighting is too thick. Then the rest of The Young Gods show up, and now all these rejects are fighting each other in the middle of the fight with The Purifiers.

Why ARE those guys fighting each other? Why are they even here? They feel like a totally unnecessary complication to an already over-complicated story. They keep fighting, Spidey keeps fighting the goons, and then he finally gets to Not-Gwen, ripping her out of the machinery.

Aaaaaalright. The Young Gods have stopped fighting among themselves and The High Evolutionary's forces have inexplicably stopped fighting too, it's all love. The Young Gods decide they shouldn't have come here, and just as Spider-Man asks who they are, they just leave. What a mess. So now it's just Spidey and Not-Gwen in the middle of The High Eovlutionary's lair. And then things take a turn…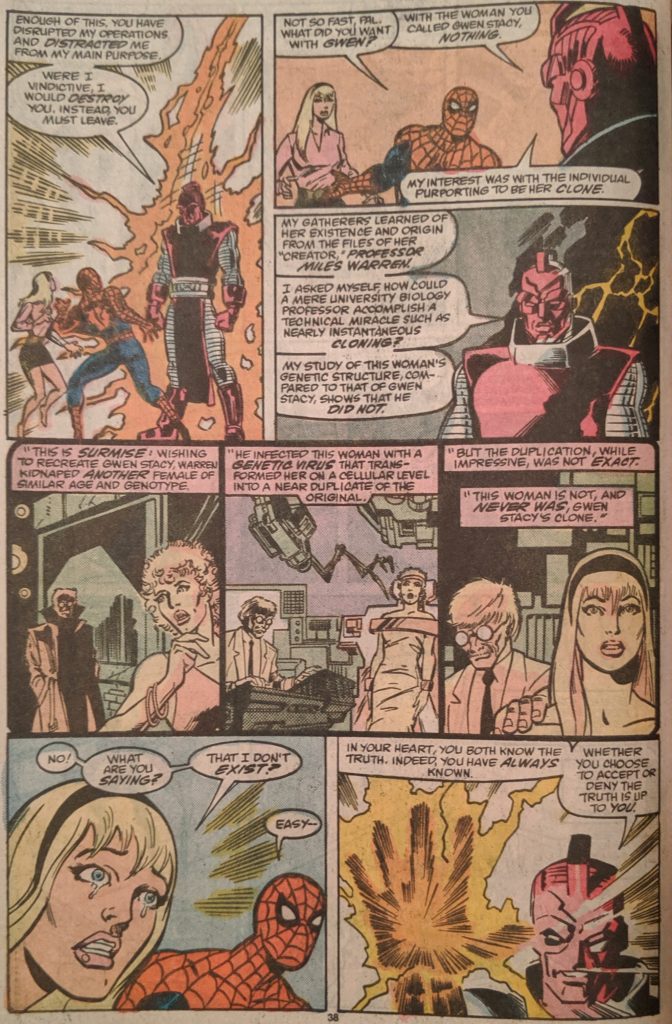 I mean… what? A lot to unpack, here. First of all, yeah, it's really dopey that Miles Warren was able to make clones, but Gerry Conway of all people coming in and throwing shade when it was his idea is weird. Then there's this woman. We're really gonna find out she's been wandering the Earth as Not-Gwen Stacy all this time, got turned back into herself through the most ridiculous Deus Ex Machina available, and just… left? Shouldn't Spidey ask her name? She knows his secret! Doesn't she? Does she even know what just happened? What is she gonna do now? Doesn't Peter owe her some help? In trying to fix or explain away his clone story, Conway has only made things more bizarre. And THEN, of course, as we know from this blog's out-of-order posting, there's the future stories which explicitly reverse this one. And they do, there's some stuff in there trying to handwave this away, we'll get to it. But what a mess! What a mess.

In keeping with the previous annuals, there follows a Young Gods solo joint and then another High Evolutionary story and that's that. As for The High Evolutionary's plans and whatnot? No idea, never saw this to the end. I assume he failed to mutate humanity with his genetic bomb, but I didn't see it, myself. It's funny, I was trying really hard not to spoil the clone stuff in the early days. That's why I cut the first Len Wein block so short. I figured that and The Hobgoblin mystery deserved to play out if I could let them. But circumstances have rendered that impossible. I shoulda seen this coming, I guess. I've had this annual since I was a kid. Not sure where it came from, but I've read it several times. Ah, well. We're done with The High Evolutionary. Next post is more regular ol' TAC.