Pretty striking cover! The regular art team hangs in there another month, but this issue's story is provided by one Adam Blaustein, a name I'm not familiar with. As things get underway, Spidey is still in Vegas, but excited to go home, swinging toward the airport and running low on web fluid along the way.

Oh boy. Meanwhile, out in the desert, we find The Vulture flying into a cave, where… I guess he lives now?

Oh, I guess when I read WEB 24 at some point, this will make more sense. From there, we check back in with Peter, now on his plane and in the air alongside all those weird cowboy guys from earlier, who are being awful and such. Then his Spider Sense goes off.

That's just rude. It's chaos in the plane as parachutes are quickly distributed to everyone. The Vulture flies around taunting the cowboys as they descend, saying they'll wander the desert suffering, never knowing when death will strike from above, then flies away. This is a weird one. He just assumed they'd all parachute out?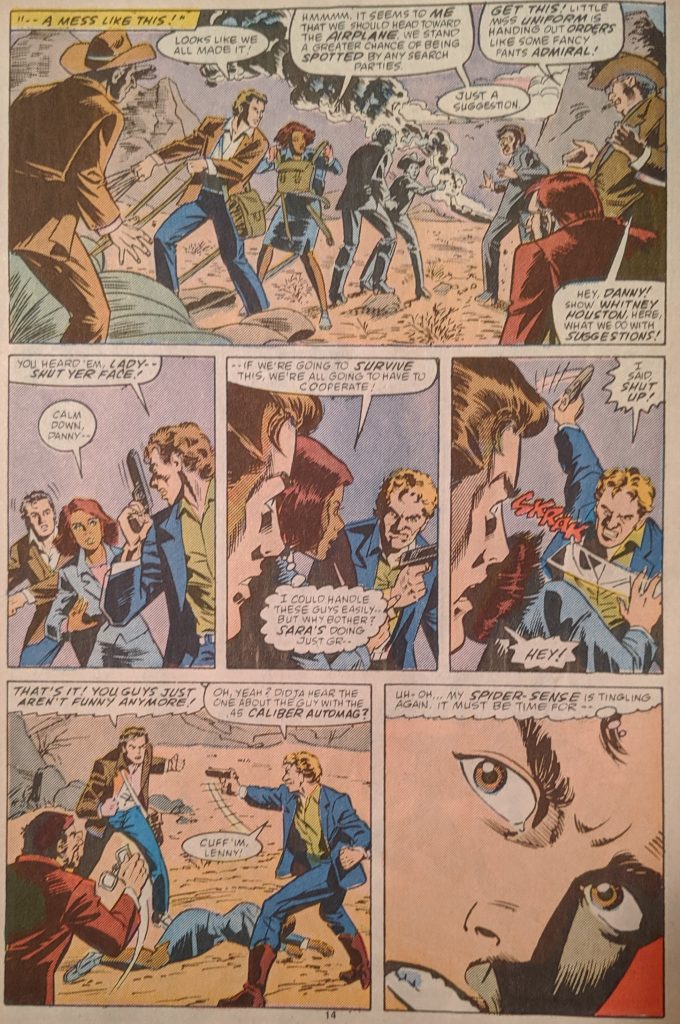 The Vulture swoops down and grabs the handcuffs, for some reason, then also grabs the Diamond guy, saying he has a serum that needs testing as he flies them away. The other goons chase after them, leaving Peter to decide what to do about the goons and the unconscious Sara. Thus, The Amazing Spider-Man is soon walking through the desert with Sara draped over his shoulder, worried she has a concussion and he could make it worse if he moves too fast, following in the direction everyone else went.

It's Spider-Man, somehow. He was just complaining about how the goons had a big head start and he couldn't move very fast, and yet seems to have beaten them here. And how'd he know to come here, wherever here is, anyway? At any rate, Spider-Man is feeling slow due to a day walking in the heat, and he notes he's only got one shot of web fluid, so he's going to have to be judicious. As The Vulture flies out of his cave…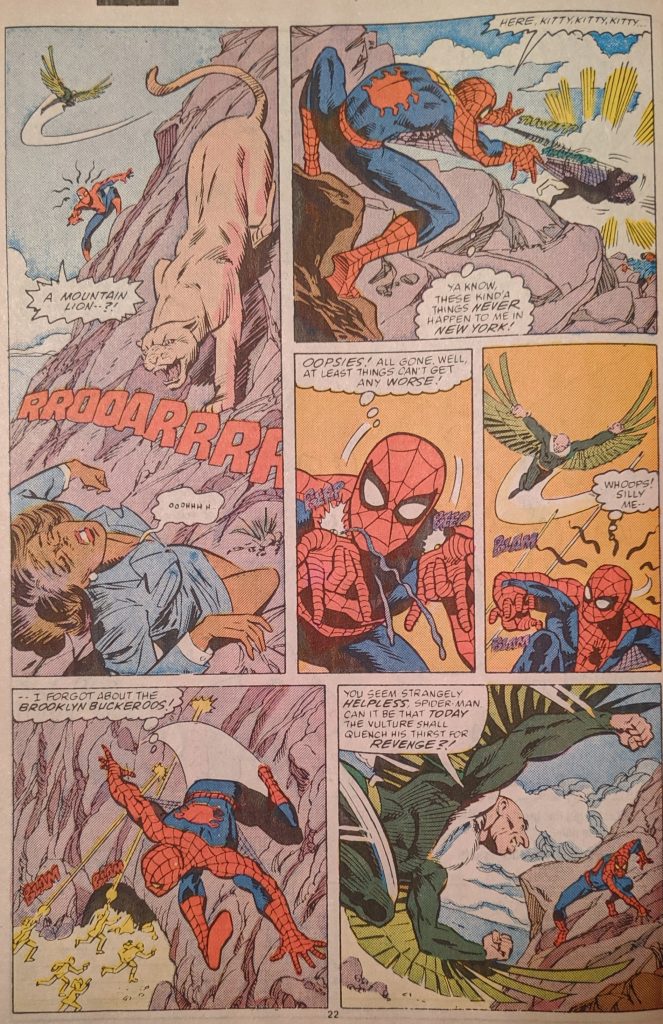 Probably not. The goons free Diamond as Spidey and Vulture careen through the air above them. With no web, Spidey winds up holding on to Vulture's belt, allowing Vulture to stab his syringe full of whatever into Spidey's arm.

Uh… ok. So does she know he's the guy from The Tonight Show? Couldn't she look in a TV Guide and figure out who he is? Why did Vulture have an antidote for what, if I understand it, was a serum to turn himself into a mummy when he died? I don't… get much of this. Weird, weird issue.