Starting with this issue, ASM is now on sale twice a month in the summertime, a trend that will continue for a few years. The other titles will jump on and off this bandwagon occasionally, but ASM is going to stick with it. As a result, Joe Rubenstein is onboard to ink this one, as not many artists could draw 2 books a month, let alone ink them, too.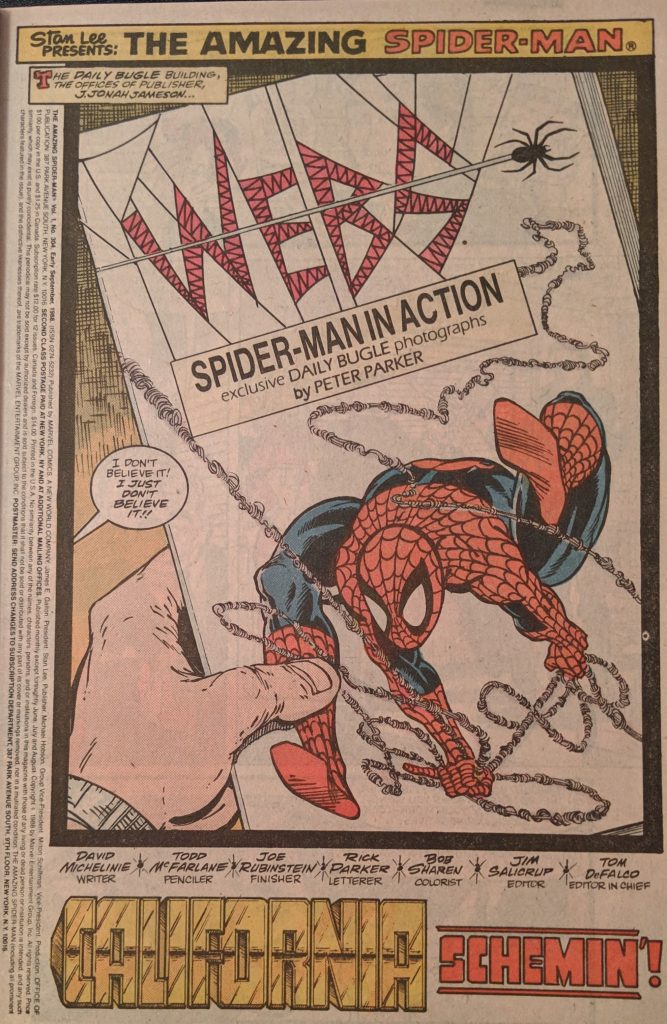 Well, that sure looks like a real, professional book cover.

Is this a commentary on how badly the creators of all the great superheroes got screwed? Is this how David Michelinie feels about his deal? We may never know. Peter is outraged, of course, but then told they want him to go on an all expense paid book tour, and that he'll get partial royalties on the book, which they project will amount to $25,000. Not bad for a struggling freelancer in 1988! They also want Spider-Man to go on the tour, and Peter blows up and says he doesn't know that guy and he'll do it alone. I think the record shows that Peter and Spider-Man know each other pretty well, even if you don't know his secret, but whatever. Switching clothes and swinging away, Peter thinks that for once, it would be nice to get some recognition as himself, and doesn't want his alter ego involved… in a book tour about Spider-Man. Then he swings by prototypes for McFarlane's Sam & Twitch characters in Spawn 4 years from now having an argument.

Right-o. He then heads home to tell MJ the news, and she's excited to go on tour with him, starting in LA in 2 weeks. Then he goes out to Aunt May's house to show her the book.

That's nice. Whose Mom wouldn't be proud to see their name on a book? But it's not all fun'n'games, as we move our scene to a mansion in Beverly Hills, where The Black Fox is doing his thing. Unfortunately. Once again, he's just looking for one last score so he can retire. That's the whole bit. And he just keeps on coming back. Look: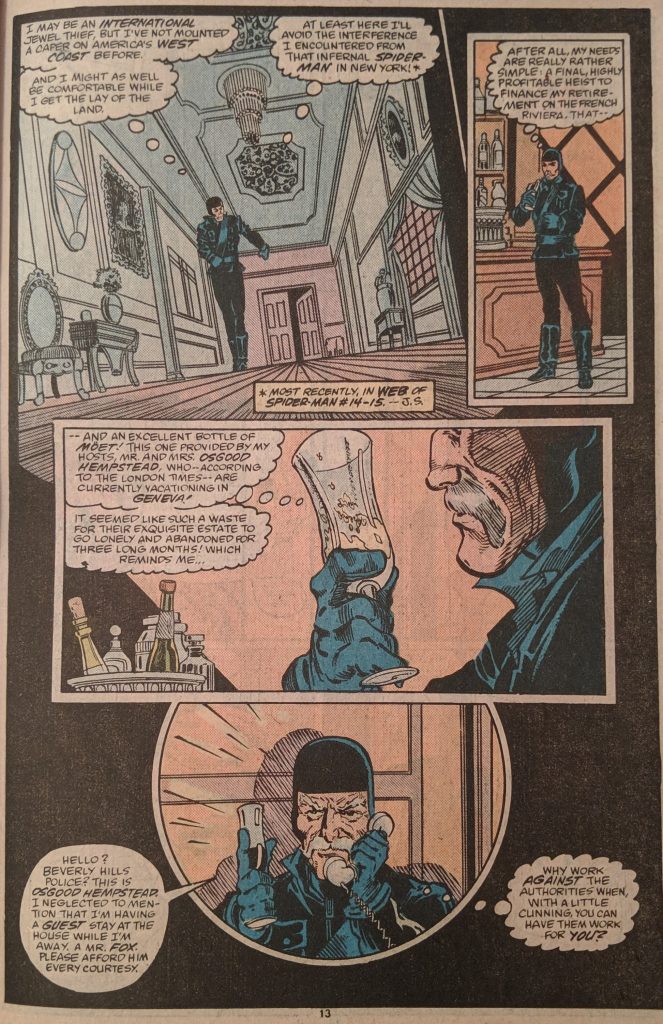 This is every single Black Fox plot. Ah, well, we're committed. We jump ahead to MJ & Peter getting ready to head out to LA…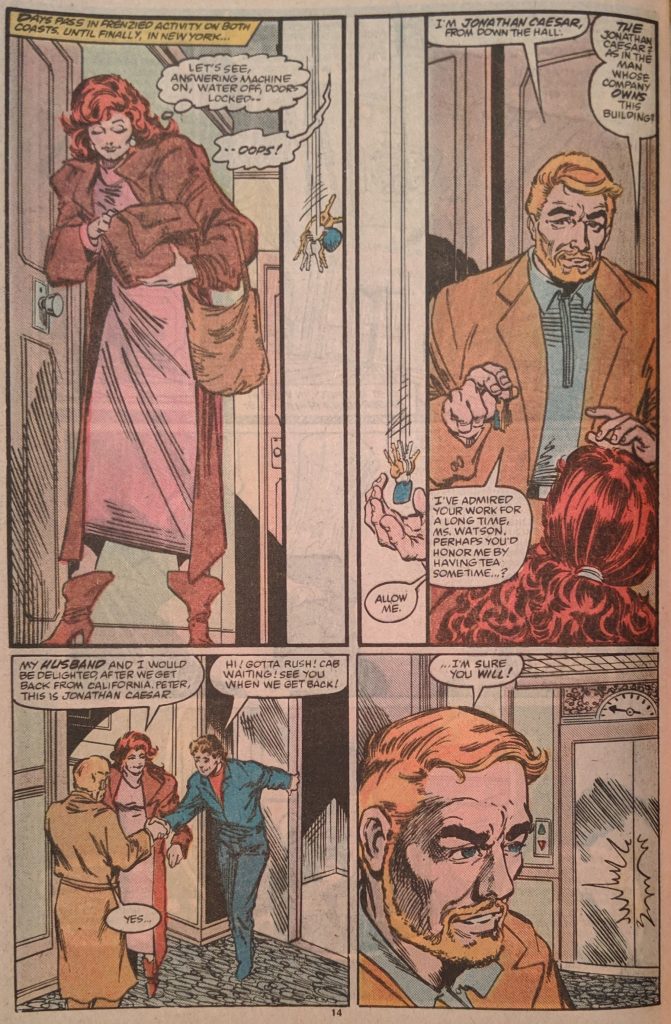 Well, that sure seems like something that wouldn't get a whole page for nothing, doesn't it? Our heroes take a private jet to LA, then a limo to their hotel, which they ride in with a publicist, one Ginny Edwards, who lays out their agenda. It includes a stop a charity gala hosting the famous Valencia Chalice, in case you were wondering how The Black Fox was going to cross paths with Spidey. But their afternoon is free, and Peter wants to go to Disneyland.

Well, that's a creepy thing to say, but sure. That night, they attend the gala, a repeat of the fish-out-of-water business where Peter has no idea how to act around fancy people we saw in some previous issues. But The Black Fox fakes his way into the gala, too, and Peter sees him immediately. Peter really doesn't want Spider-Man to appear on this tour, but he can't just let it go, so he makes an excuse to MJ and disappears. The Fox switches into his work clothes, incapacitates some guards and get his hand on the chalice, but…

The smoke slows Spidey, but of course it doesn't stop him. It does, however, cause him to dash through the wrong set of doors…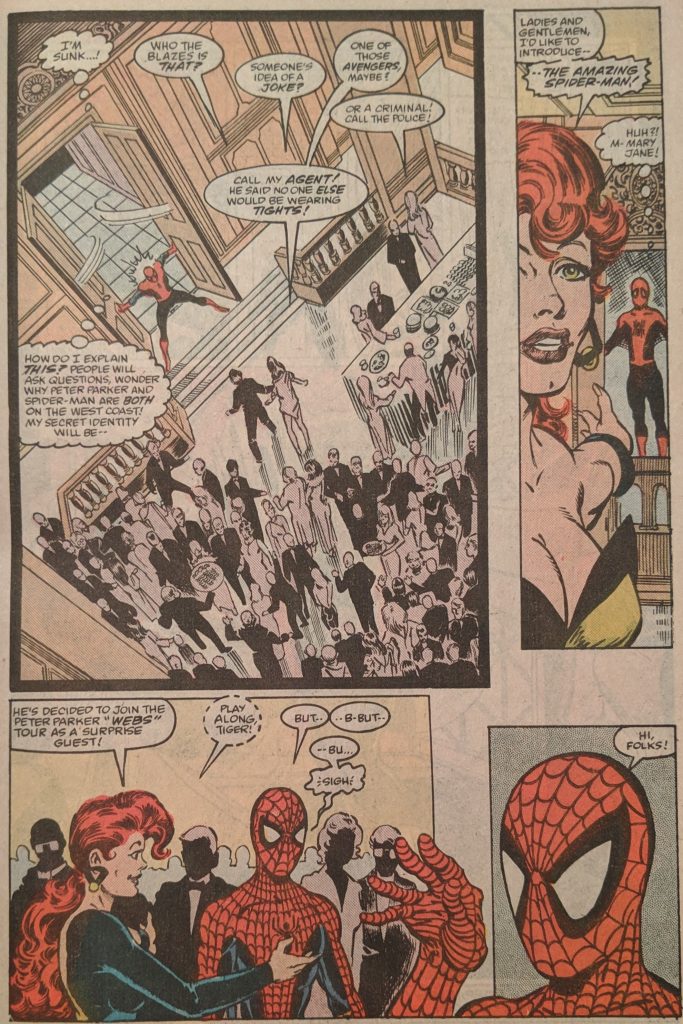 Quick thinking as always from MJ. But that's not all!

It's Spawn! Ah, I mean The Prowler. McFarlane clearly had no qualms about making The Prowler look more like his future character (Who he's been sitting on since he was a teenager, at this point). Come back next time to see how Prowler figures into all this.