This one is from McKay's, but that cover was way too cool to leave the sticker on. $1.25. Well, here we are. TAC has kinda been building to this since issue 73. The battle is joined on page 1.

Well, that's sure bad timing. Spidey runs away, flipping through the assaults of Doc Ock's arms as he manages to reload his webshooters on the fly. Not that the helps him too much. While he keeps fighting, the cops are making final preparations to move Felicia to a more secure hospital. Jean DeWolff has only just herded her, some cops and some hospital staff out of the room and onto the elevator when…

Spider-Man runs into the hall, shouting for everyone to leave the area. Ock is mostly ignoring anyone who isn't Spidey, who runs into a dead end.

Sure, man, why not? The fight spills back into the hallway, where some people are running into an elevator. Ock says Spidey has to stop running or he'll drop the elevator. Spidey says he wouldn't dare, for some reason, so he totally does cut the cables and send the elevator plummeting.

Spidey manages to lower the elevator to the ground, but leaves himself open to attack in the process, and the two combatants go tumbling down the elevator shaft, then explode out into the lobby of the hospital, then outside… right toward the ambulance Felicia is being loaded into.

Ock smashes a corner of a building so it'll fall on people, distracting Spider-Man so he can chase after the ambulance, and now it's a chase scene. Spidey's having trouble catching up as the ambulance and Jean DeWolff's car barrel through traffic. Jean sees they're not going to outrun Ock, so she tries a different tactic.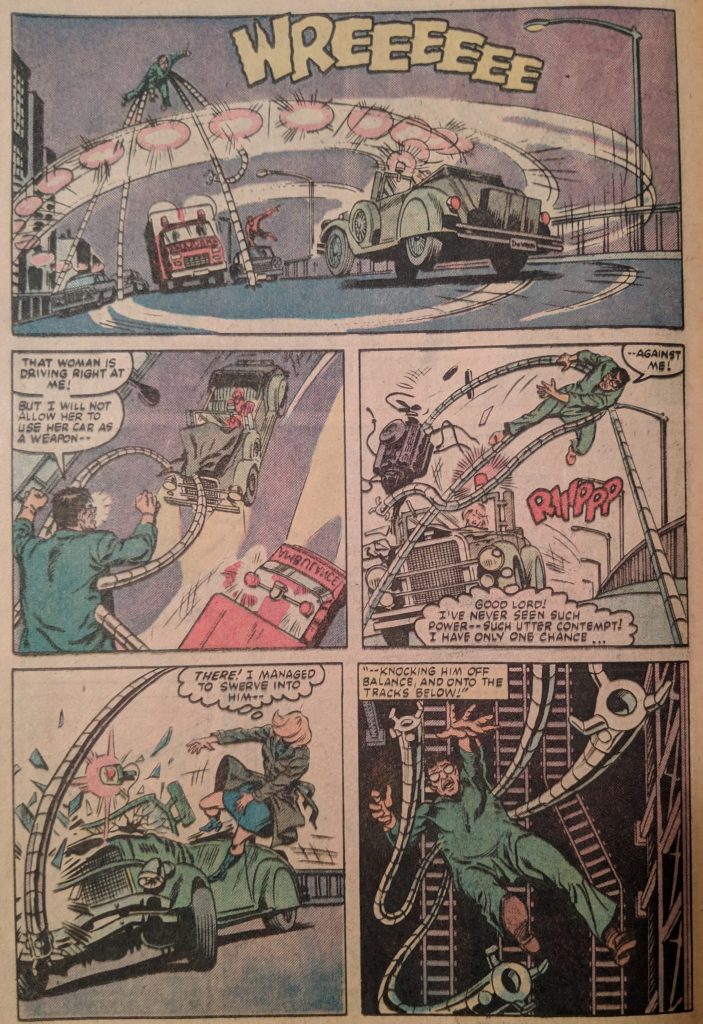 Spidey nabs Jean before she can hit the pavement, then drops down to the railyard below, where Doc Ock promptly throws a whole train car at him. When he dodges it, Ock gets a hold of him, and tries to hold him on the tracks as a train rushes toward them.

Spidey puts some space between them and webs up his camera, thinking he might as well record would could be his last battle, and then they start tearing up a construction site. This fight has really moved around. In the battle, Ock knocks Spider-Man's camera into the nearby river, so no photos for him, while Spidey disappears up into the rafters. He thinks about all the people who'll miss him if he doesn't get out of this, and suddenly comes up with a plan.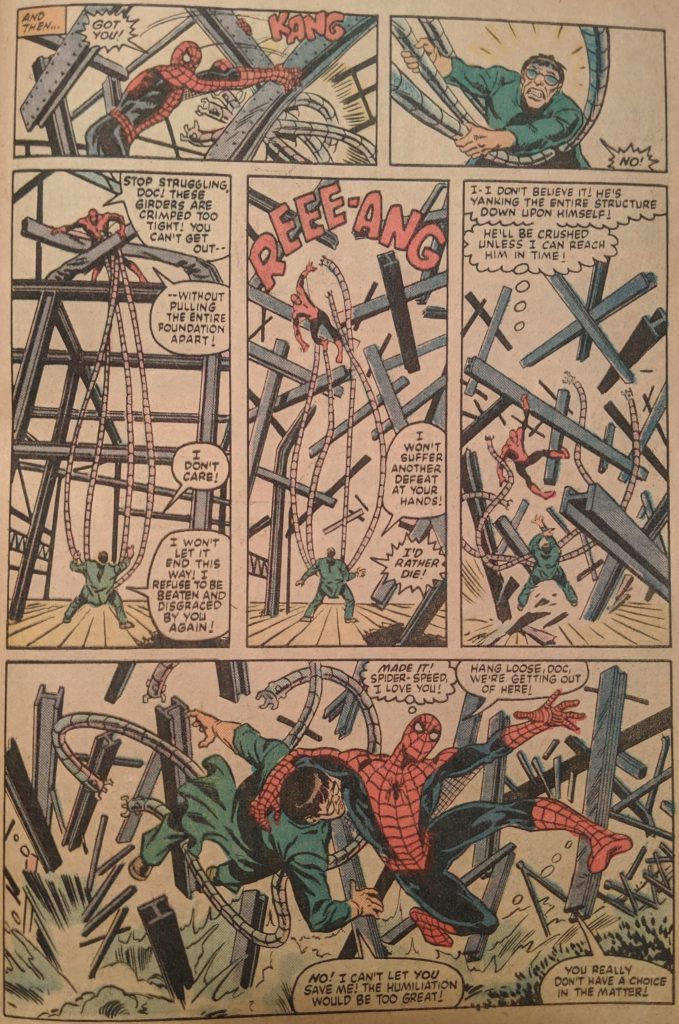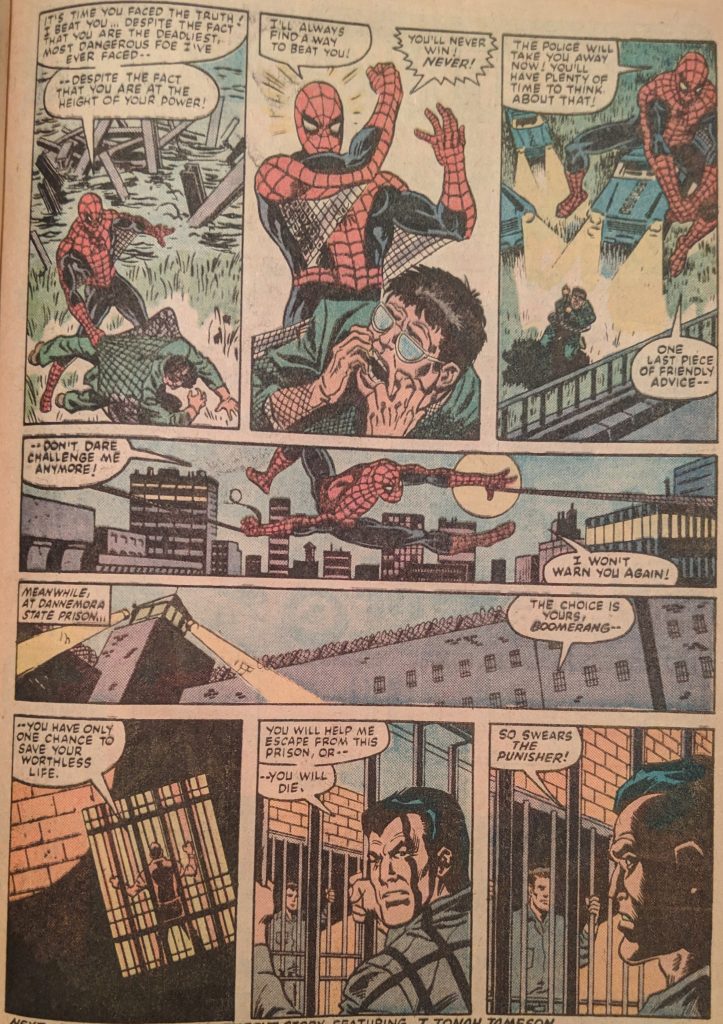 That was a crazy one. The "full-issue fight scene" is a tough thing to pull off. Nothing but fighting can be pretty boring. But they did a great job keeping this interesting. The constantly changing location and stakes were really well done. For a "final battle" between Spidey & Doc Ock, it was suitably intense. So, this is where Doctor Octopus became afraid of Spider-Man. But I know they'll meet at least one more time before the story we saw in ASM where he overcame that fear, and I'm curious how that'll go. We'll see one of these days.

And that's it for this trip to 1983. Next post, we'll jump back to the Michelinie/McFarlane era of ASM. I'm, uh, not sure why, to be honest. I plotted out these blocks a long time ago, and I don't know why I skipped Len Wein, Marv Wolfman, Denny O'Neil & Tom DeFalco in this go 'round. But, that's fine. Gives me more stuff later, as the last 3 eras have way, way more comics in them, and I could use more stuff to separate them. So, yeah, next post, it'll be 1987 again. See ya there.