We finally made it to ASM 238! This one was an eBay acquisition from the turn of the century. This one's pretty pricey in the present, and I actually remember I got it for relatively cheap. Not only is this the debut of The Hobgoblin, but it's a rare, always beautiful instance of Romita, Sr. inking Romita, Jr. And that's not all! There was a promotion in this issue and other Marvel titles of the month wherein a free temporary tattoo was included in the comics. This one's worth a lot more with the tattoo in it, and mine's got it. If that's not enough, this copy is even signed by both Romitas.


And it looks fabulous, it looks like it was printed yesterday. I really lucked out back in the day. We get rolling with Peter with Aunt May & Nathan as May signs the documents that make her an official landlady now that she runs a boarding house. He wonders what her tenants would think of they knew Spider-Man came of age in that house, and of course flashes back to his origin. Then he thinks about how he never thought another man would come into Aunt May's life after Uncle Ben died, but that Nathan is worthy. Then they finish signing all the paperwork and they're off.

And his particular method of blowing off steam has him swinging after the car chase in no time. He drops down on top of the chasing police car, thinking it'll give him a clear shot at the guys who almost ran Aunt May over, and then thinks "why not?" and webs his camera onto the lights of the cop car.

I've said it elsewhere, but the impeccable figure work and storytelling of Jr. mixed with the iconic look of Sr. is the pinnacle of Spider-Man art for me. The one guy makes a run for it, Spidey close behind, but he throws a smoke bomb, which surprises out hero, and then disappears into the sewer. Spidey drops down, too, but by now, finding the guy would actually be pretty tough, so he gives up and heads back to the surface. But the guy's still down there, not far away, and he discovers a strange door.

Gasp! As we've seen, Norman had safehouses hidden all over town. We leave that dude to ponder his discovery as we check back in with Aunt May & Nathan, arriving back at the house just in time for a phone call from Anna Watson in sunny Florida.

Stern felt he had to work MJ in there with John, Sr. involved, I suspect. In Chelsea, Peter is trying to call to tell May he's ok, but the line's busy, so he checks on his developing photos, then takes them to The Bugle. Robbie says they're his best yet, and asks if he hung off the roof of a cop car to get them. Har har.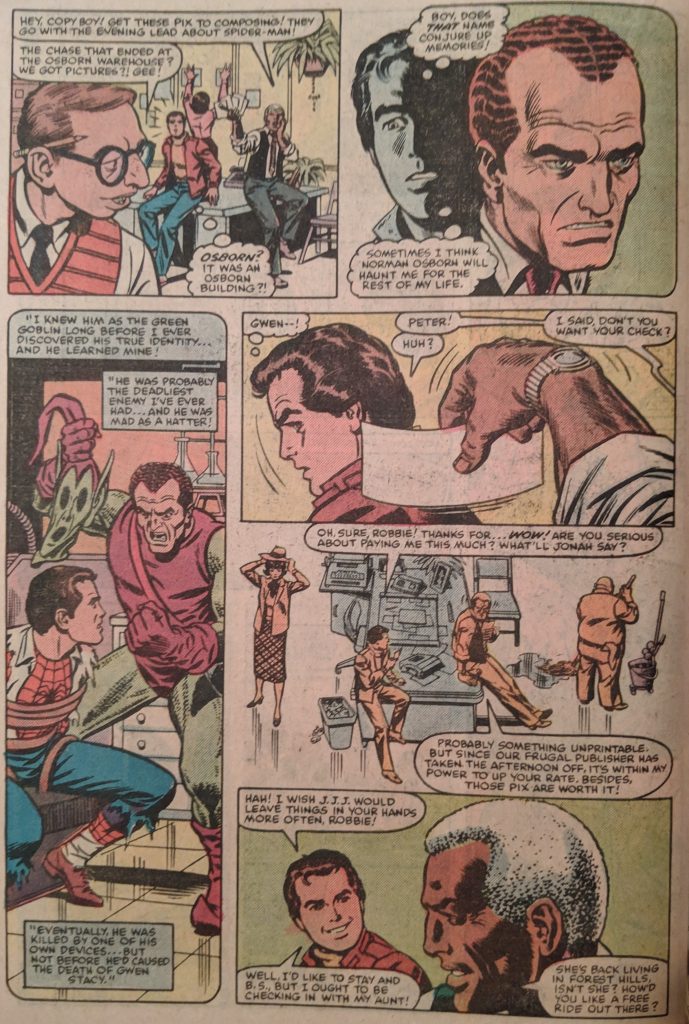 I mostly included this page just because it's fun to see The Romitas tackle a flashback to John, Sr.'s first issue. But as they head to Robbie's car…

Now, who could that be? Later, Pete & Robbie are nearly to Aunt May's. Robbie lives out in Queens, too, so he says it's no problem, and he enjoys the chance to chat with Peter since he's not around as much as he used to be. But an alert comes over the police band about a possible break-in at the site of Spidey's car chase earlier, so Robbie turns the car around heads down there. They find 2 things: that there's been a fire in the building, and that Lance Bannon is on the scene to get the scoop.

So now he knows there may be trouble ahead. He's already worrying himself to death as Robbie gets a call on the car phone. It's Aunt May, still hoping to confirm Peter is ok. She lost track of time chatting with Anna, but she's back in worry mode, and The Bugle gave her Robbie's number. Pete agrees to come over for dinner, but he's pretty distracted.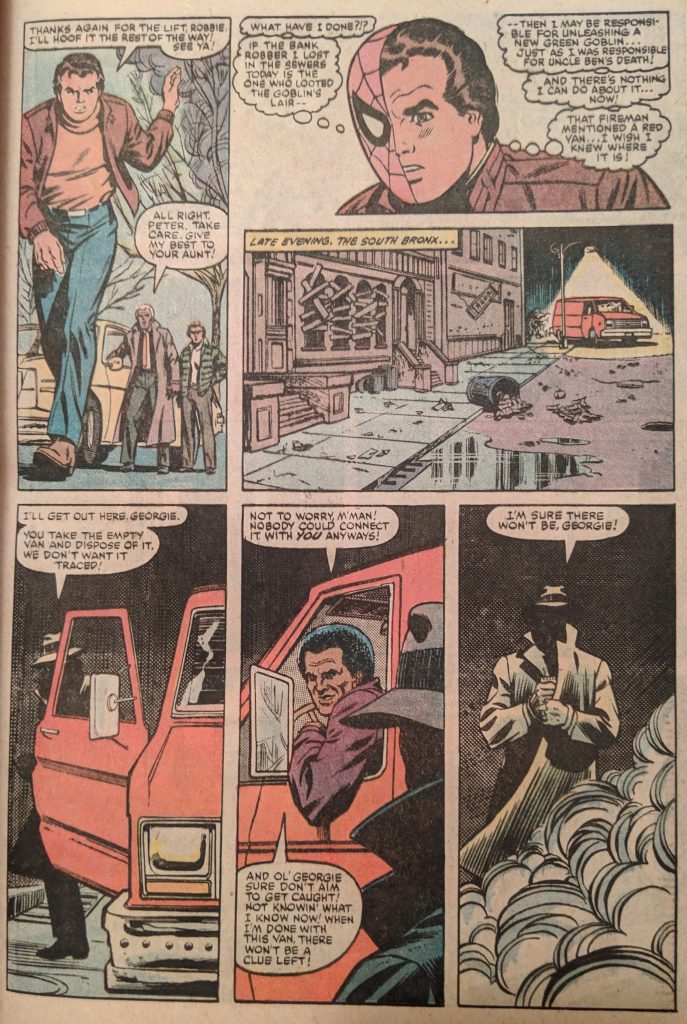 Considering the incredible impact this character is going to have on the book, I felt like the birth of The Hobgoblin warranted a few extra pages. To me, this is such a brilliant choice. People had recognized the hole in Spider-Man's rogues gallery left by The Goblin and tried to fix it before, but they just tried to put someone else in the suit, and there's only one Green Goblin. To instead keep enough of what makes the villain exciting and dangerous and roll it into a brand-new character, who can be as mysterious and fresh as the Goblin was in his day, is such a simple and elegant solution. The visual is so smart. Clearly evokes the iconic villain, but at the same time, you'd never mistake one for the other. The Hobgoblin was a huge hit right from the start, and the mystery of who was under that mask would come to overwhelm the book before it was resolved. But that's jumping ahead. Next issue of ASM, we'll see Spidey and The Hobgoblin square off for the first time. Before that, though, our regularly scheduled Marvel Team-Up.

Just for fun, here's the temporary tattoo insert that makes this comic more valuable. Comics are a funny business.